Blog 09/18/2021 - Best & Worst Tank Movies
MHT takes a look at tanks on film from George C. Scott in "Patton" to the Beatles in "Help!"
Best Tank Movies!
1) "Patton" (1970) 20th Century Fox - One of the great films to show tanks in combat. Early in the film, LtGen George S. Patton, USA took control of US Army II Corps and faces off against Field Marshal Erwin Rommel's Afrika Korps at El Guettar, Tunisia. What follows is one of the largest, most ambitious battles ever filmed as dozens of US and German tanks trade fire amid swarming infantry soldiers and air and artillery supporting arms. The tanks used for filming were real and operational, though post-World War II versions, meaning that the filmmakers re-created a tank battle to 100% scale.
George C. Scott won the Academy Award for best actor for his portrayal while the film also won for Best Film and Director Franklin Schaffner (amazing it was so good it overcame the unpopularity of the Vietnam War that was still raging.)
2) "Saving Private Ryan" (1998) Dreamworks Pictures - One of the most popular war movies of all time with Capt Miller, USA 2nd Ranger Battalion (Tom Hanks) and some of his Company C soldiers searching for Pvt Ryan, USA (Matt Damon) who is attempting to hold the village of Ramelle with a small contingent of 101st Airborne Division paratroopers during WWII.
They might have had a better chance if they weren't facing a German unit with infantry and Panzerkampfwagen VI Tiger Ausf. E more commonly known as Tiger I tanks. The finale—tank vs human soldiers—is exhilarating, violent, and intense, and it shows tanks to be rather durable and not easily destroyed.
3) "T-34" (2019) Central Partnership - This is a Russian WWII war film directed by Aleksey Sidorov whose title references the T-34, the famed Soviet medium tank. The film narrates the life of Nikolai Ivushkin, a junior lieutenant and tank commander who gets captured by the Germans. It also stars Vinzenz Kiefer as SS-Standartenführer Klaus Jäger as the two cross paths in a village outside Moscow in 1941 as the 11th Panzer Division (see ghost insignia) and then again in 1944 at a German concentration camp when Jäger recruits Ivushkinan to lead a tank crew from Soviet POWs to act as opponents for training the Panther tanks of the 12th SS Panzer Division Hitlerjugend. On the left the original stars but if we had an American remake here is our initial casting:
The film was released to generally positive reviews, with critics praising the production quality and visual effects. It was very successful commercially as currently the third-highest grossing Russian film of all time.
4) "The Beast (of War)" (1988) Columbia Pictures - This movie, set in Afghanistan in 1981, features a Soviet tank unit viciously attacks a Pashtun village harboring a group of mujahideen fighters. Following the assault, one of the T-55s commanded by ruthless commander Daskal (George Dzundza) takes a wrong turn through a mountain pass and enters a blind valley in the Afghan wilderness. A group of mujahideen return and begin tracking the lone tank to revenge those lost in the village. The Russians attempt to escape the trap, the film was not well received in theaters but has become a tank cult classic.
5) "Fury" (2014) Columbia Pictures - This ultra-violent film starring Brad Pitt as US Army First Sergeant Don "Wardaddy" Collier in the 2nd Armored Division. The story follows Pitt as a M4A3E8 Sherman tank commander, nicknamed "Fury", and his crew in Germany in the final months of WWII. The camera switches between the massive battlefield, where tanks fire at one another and a single hit can kill an entire crew, and the claustrophobic interiors of the tanks, as the crew works to survive. Directed by David Ayer it focuses on a deadly mission behind enemy lines. The film features the first appearance in a contemporary film of a real working German Tiger I #131 (captured in Tunisia) borrowed from The Tank Museum in Bovington, England. The film takes some Hollywood liberties with tactics in the latter part of the film that has raised a chorus of critics who love/hate the film.
6) "The Cross of Iron" (1977) AVCO Embassy Pictures - Is a war film directed by the master of action, Sam Peckinpah. It features James Coburn as Sergeant Rolf Steiner, a cynical, battle-hardened Wehrmacht infantry NCO. Set in late 1943 on the Eastern Front in WWII, the film focuses on the class conflict between Steiner and an aristocratic Prussian officer, Captain Stransky, (Maximilian Schell) who arrives as the new commander of Steiner's infantry battalion. Stransky proudly tells the regimental commander, Oberst (Colonel) Brandt (an excellent James Mason) that he applied for transfer from the safe and pleasurable duty in occupied France to front line duty in Russia so that he can win the Iron Cross. The T-34 tank and Russian infantry assault of the German position is a classic plus Senta Berger as a German nurse adds some romance.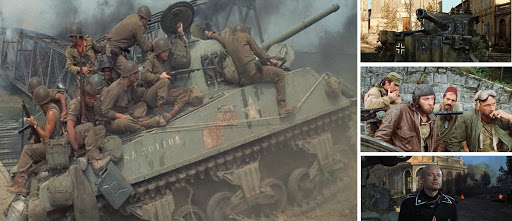 7) "Kelly's Heroes" (1970) Metro-Goldwyn-Meyer - Director Brian G. Hutton never reaches this film's potential as a M.A.S.H. type comedy but it does have some very well-choreographed battle sequences. In early September 1944, units of the 35th Infantry Division are nearing the French town of Nancy when Kelly (Clint Eastwood) learns that there is a cache of 14,000 gold bars, worth US $16 million stored in a bank vault 30 miles behind enemy lines in the town of Clermont. Kelly decides to go after the gold and recruits Supply Sergeant "Crapgame" (Don Rickles), a spaced-out M4 tank platoon commander known as "Oddball" (Donald Sutherland) and cynical infantry Master Sergeant "Big Joe" (Telly Savalas) to go along. After an excellent M4 battle at a train yard it ends with a Sherman versus Tigers in this caper inspired by tales of soldiers robbing the German National Gold Reserve in Bavaria. The German Tiger I's were actually modified Soviet T-34 tanks, and the film was shot in Yugoslavia because their Army still had Sherman tanks.
8) "Sahara" (1943) Columbia Pictures & (Made for TV remake 1995) Village Roadshow Pictures - Humphrey Bogart (James Belushi) plays Sgt Joe Gunn, commander of an American tank crew serving with the British 8th army in the Libyan desert in 1942. The crew must retreat into the Sahara Desert after Tobruk falls to Rommel's Afrika Korps. In both films the M3 Lee tank is nicknamed Lulubelle. The US M-3 had a 75mm added to the hull like a WWI design and was named for General Robert E. Lee, CSA while the British version was named for General Ulysses S. Grant, USA. It was a stopgap production to replace the too light M3 named for Confederate Cavalryman General J.E.B. Stuart that had only a 37mm gun.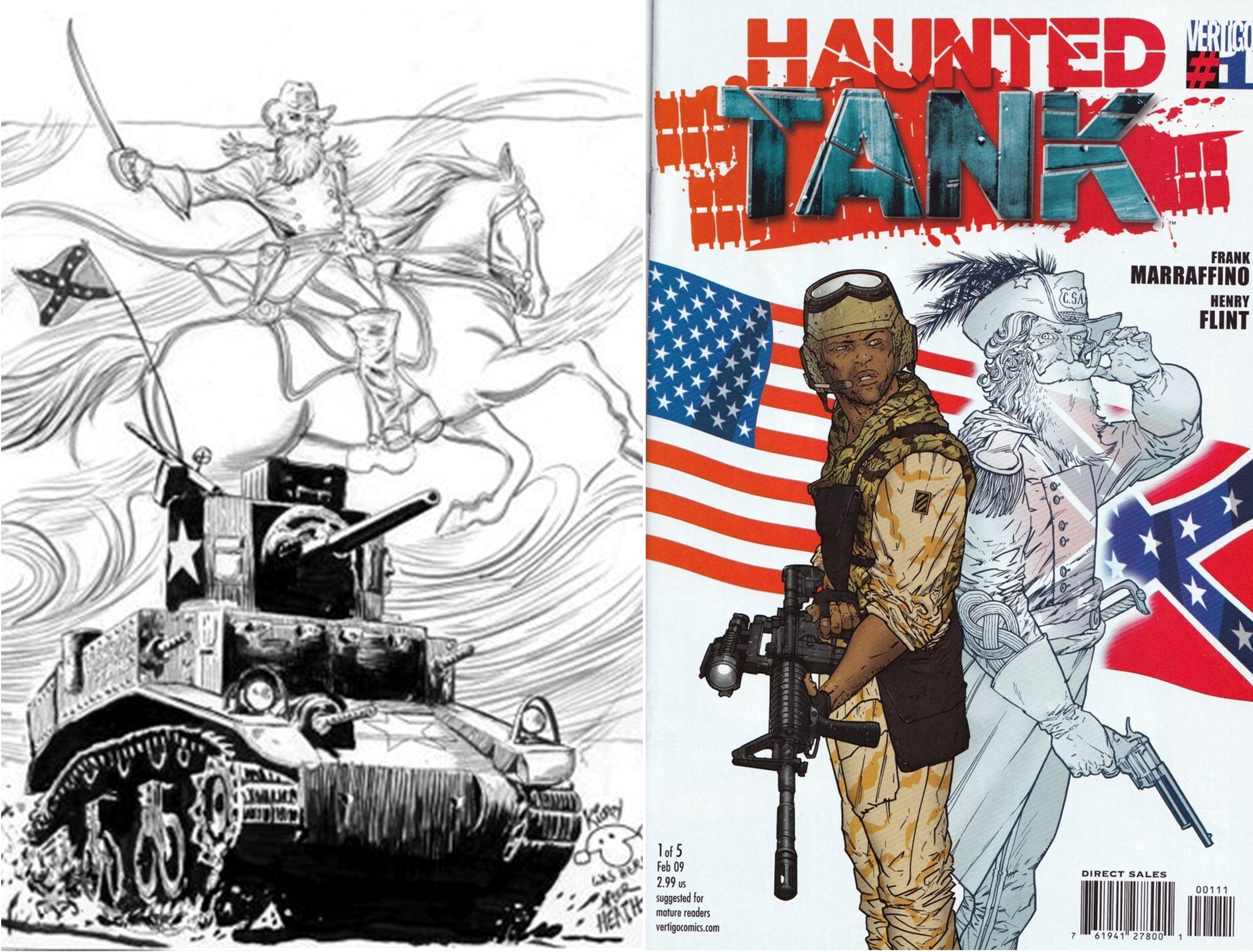 A Stuart was featured as the "Haunted Tank" created by writer Robert Kanigher and artist Russ Heath in the classic "G.I. Combat" comic book series #87 (May 1961.) This feature centers on the ghost of the 19th-century Confederate Stuart, who is sent as a guardian over his two namesakes, US Army Lieutenant Jeb Stuart and the M3 Stuart he commands. The comic came back in 2009 with an African-American Jeb Stuart now with a M1A1 Abrams in Iraq.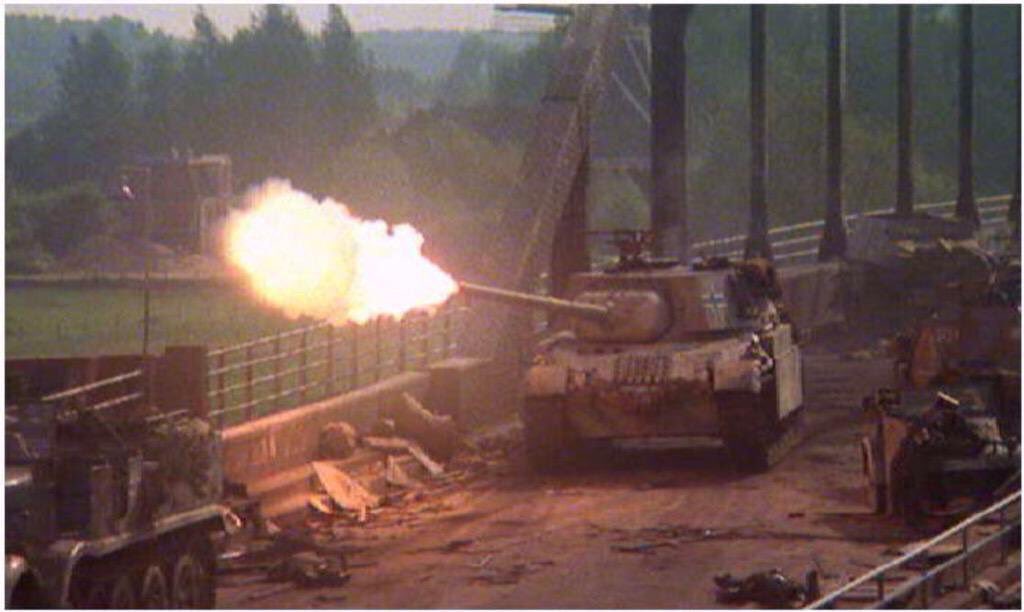 9) "A Bridge Too Far" (1977) United Artists - The film has a true All-Star cast with the Allies having Michael Caine, Gene Hackman, James Caan, Anthony Hopkins, Laurence Olivier, Robert Redford, Sean Connery, Edward Fox, Dirk Bogarde, Ryan O'Neal and Elliott Gould directed by Richard Attenborough, based on the bestselling book by Cornelius Ryan. The Germans have both Maximilian Schell and Harvey Kruger resplendent and pulsating evil in his SS uniform.
The film recounts the story of the failed 1944 Operation Market Garden; the Allies hoped to end the war quickly by dropping 35,000 paratroopers behind German lines in the Netherlands to secure bridges for an immense armor column sprint over the Rhine into the Ruhr. The Panther tanks used by Germany's 9th SS and 10th SS Panzer divisions in the film were actually disguised postwar West German Leopard I tanks that didn't enter service until 1965. Only four actual Sherman tanks appear in the film. The rest were plastic molds set on top of VW Beetle chassis.
10) "The Bridge at Remagen" (1969) United Artists - The film is a highly fictionalized version of actual events as the 9th Armored Division (AD) fought thru Remagen to capture the intact Ludendorff Railroad Bridge. The film focuses on the heroism and human cost in gaining a bridgehead across the Rhine with the Allies represented by George Segal as 1stLt Hartman, his right hand, Ben Gazzara as Sgt Angelo with E. G. Marshall as the 9th AD CG and the Germans with Robert Vaughn as Major Kreuger, Hans Christian Blech as Hauptmann Schmidt and Peter van Eyck as the Generaloberst who tasks Vaughn to destroy the bridge.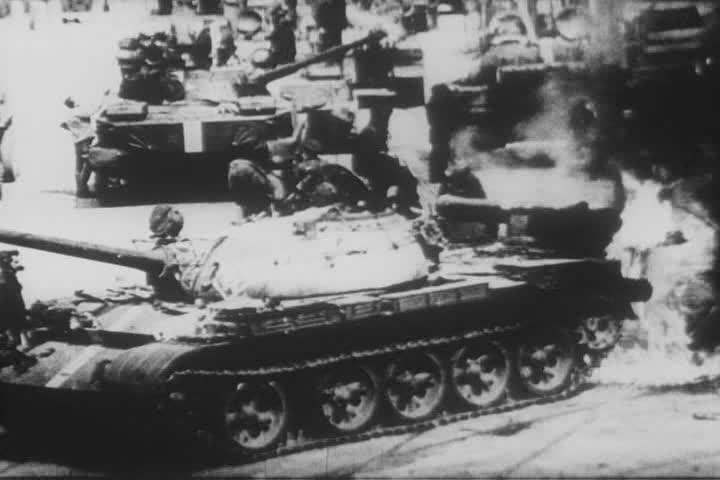 The crew was filming in Czechoslovakia when the Soviet Army invaded with real T-54/55s & T-62s on 20 August 1968 to reinstall a hardline Communist government. Filming had to halt and the bulk of the cast and crew were stuck in the International Hotel in Prague until two car convoys spirited them out of the country before the borders were closed.
Worst Tank Movies!
"Battle of the Bulge" (1965) Warner Brothers - A fantastical tale using this title. Too many historical inaccuracies to list as they wasted Henry Fonda, Robert Shaw, Robert Ryan and Telly Savalas in the film badly directed by Ken Annakin. Filmed in Spain with flat, bare and arid scenes nothing like December in the Ardennes Forrest. The most damming review was that Ike (General and former President Eisenhower) hated it deeply! The worst result was it blocked a Columbia Pictures project that had DoD cooperation and was to be filmed at Fort Drum, NY with John Wayne as Patton! By the way, the film used M47 Patton, the second tank named after Gen George S. Patton, as the Germans' King Tiger (Tiger II) tanks.
"Stripes" (1981) Columbia Pictures - Funny film (unless you hate having the US Army being the butt of jokes) with Bill Murray & Harold Ramis at the height of their comedic powers directed by Ivan Reitman and supported by great cast of Warren Oates, John Candy, John Larroquette, Judge Reinhold, John Diehl, PJ Soles & Sean Young but it is not a great tank movie. After a riotous first half in recruit training, the second becomes a clumsy action movie where the platoon is in Italy guarding the EM-50 Urban Assault Vehicle, an armored personnel carrier disguised as a recreational vehicle. The platoon inadvertently crosses into Czechoslovakia where the Soviet Army captures them but Murray & Ramis with MP girlfriends Sole & Young use the EM-50 to infiltrate a Soviet base and aided by Oates rescue the entire platoon while defeating a M60A1 with a Soviet Star.
"Tank" (1984) Universal Pictures - This James Garner film isn't really a war movie. It's supposed to be a dramedy. The plot involves SgtMaj Zak Carey, USA (Garner), who is stationed at a Georgia Army base but runs afoul of the corrupt smalltown Sheriff (played over the top by G.D. Spradlin) who runs the town's prostitution ring. When the Sheriff arrests Garner's son (C. Thomas Howell) on trumped-up drug charges Garner takes his M4 Sherman and busts his son out of the county work farm with the help of Sarah (Jenilee Harrison) one of the working girls who was forced into it against her will by the Sheriff.
The titular tank is a 1942 M4, made by Ford Motor Company that had previously made an appearance in "The Blues Brothers."
"Tank Girl" (1995) United Artists - Again, this isn't really a war movie...or a comedy...or a good movie, but it does have a tank and a battle. Lori Petty & Naomi Watts look fabulous in their post-apocalyptic steampunk rock outfits. They steal a tank and use it to battle a giant corporation that controls the world's dwindling water resources. Tank Girl uses a modified M5A1 Stuart purchased from the Peruvian government. Among numerous modifications, the 37mm gun tube was covered with a flag pole to give the appearance of a 105mm gun. A 1969 Cadillac Eldorado was welded onto the tank body. UA recouped only $6 million of the $25 million budget.
Who played it best - Field Marshal Erwin Johannes Rommel: Erich von Stroheim - "Five Graves to Cairo" (1943) or James Mason - The Desert Rats (1953) & The Desert Fox: The Story of Rommel (1951) The Pre-World War II U.S. M2 Light Tanks, which saw battle in the Pacific theater, were used for the German tanks featured in this film.
Future Tank Movies: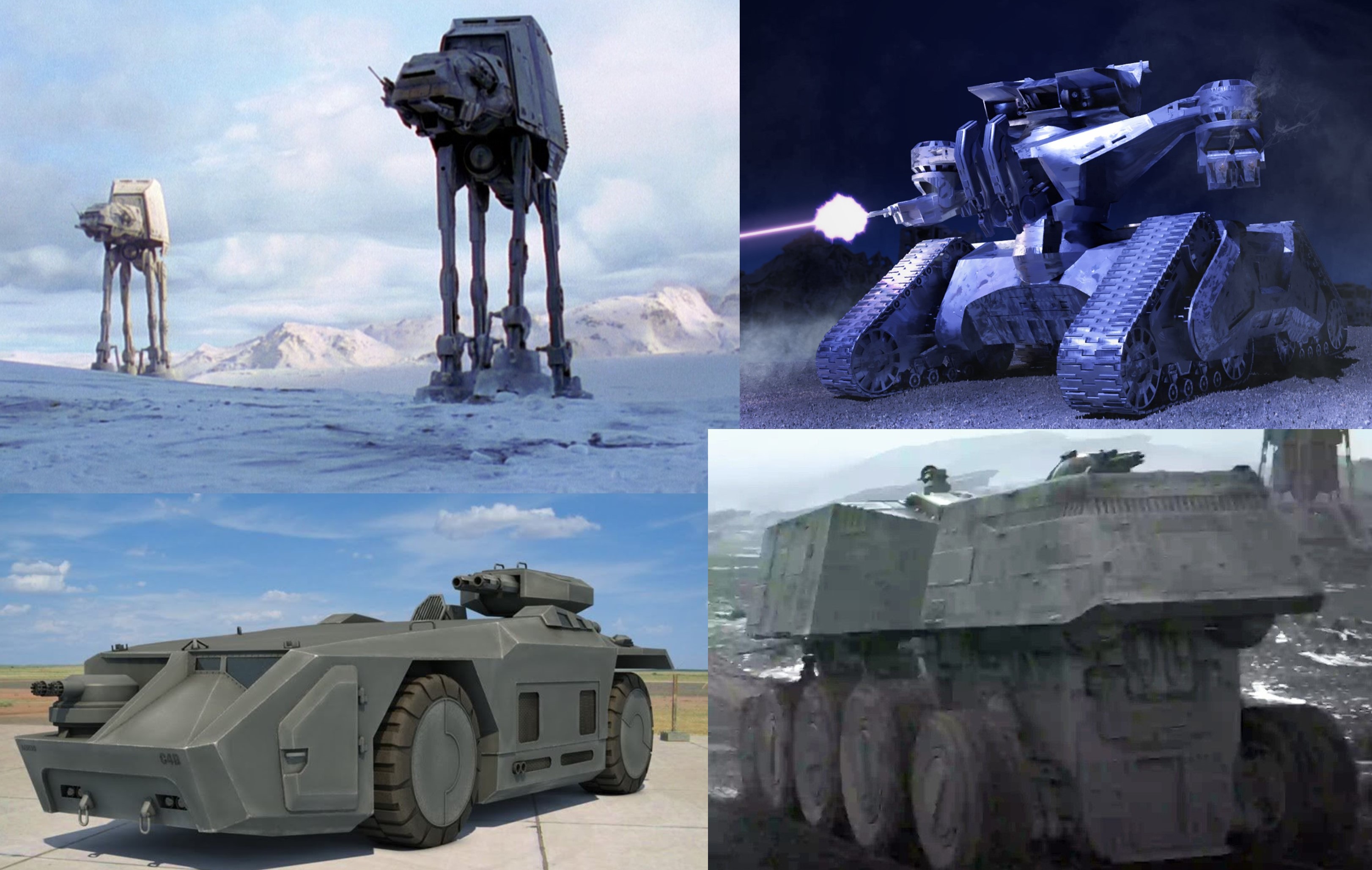 "Terminator 2: Judgement Day" (1991) Tri-Star Pictures - The SkyNet produced Hunter Killer a ground tracked vehicle continues the robot elimination of humans.
"Aliens" 20th Century Fox (1986) - The M577 Armored Personnel Carrier (APC) is a type of light armored tactical response vehicle employed by the United States Colonial Marine Corps. It is a lightweight troop transport designed to operate as a multi-role vehicle and capable of being dropped into combat by dropship
Star Wars Imperial Fighting Vehicles: "The Empire Strikes Back" (1980) Lucasfilm Ltd. - All Terrain-Armored Transport (AT-AT) appears in the Battle of Hoth! "Rogue One: A Star Wars Story" (2016) Lucasfilm Ltd. - The HCVw A9 Turbo Tank.
Honorable Mention: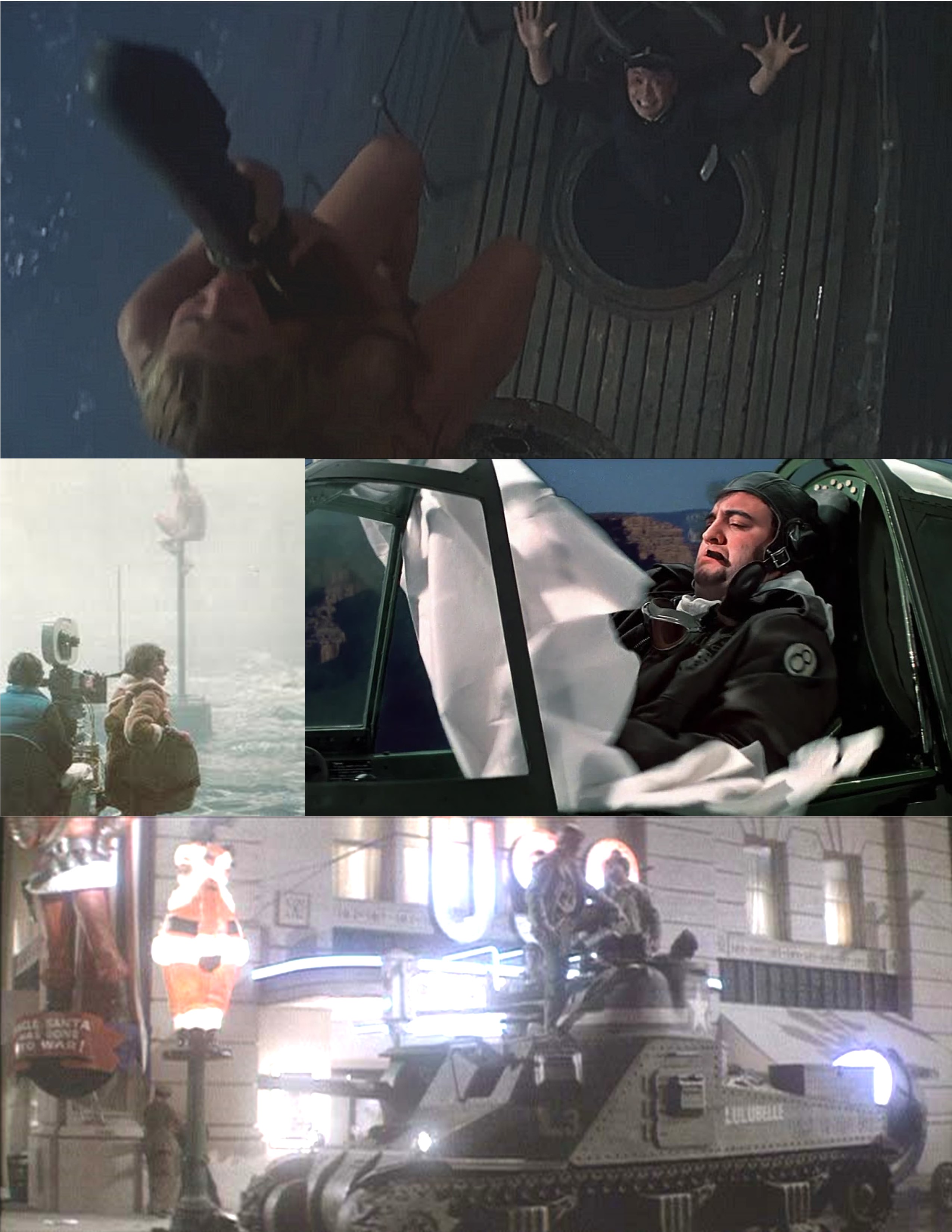 "1941" (1979) Universal Pictures – Although Steven Spielberg lets John Belushi's epic P-40 pilot "Wild Bill" Kelso steal the movie there is a tank in all the chaos as Dan Aykroyd's Sgt Frank Tree is a commander of a M3 Lee. Only Spielberg's fourth theater release, he wisely opens with a call back to "Jaws" with a Japanese Submarine playing the shark's part. The sailor's "Hollywood" is a classic.
"Red Dawn" (1984) United Artists - Winter tank battle between Soviet T-72s & M-1 Abrams with the worst tank gunners in the known world.
"Tank Force" (1958) Columbia Pictures – Centurion's as Afrika Korps Panzers, Cromwell's as the British tanks. One of its producers is Albert Broccoli who would later produce James Bond films & its director is Terence Young who would direct the first two 007 movies: "Dr No" & "From Russia With Love."
"Help" (1965) United Artists - Beatles were filming for their second film at Knighton Down, near the Larkhill Army Base, where they were to be shown recording their latest song. The army 'security' for the film storyline, came via troops from 3 Division, Royal Artillery who were on exercises there at the time. The army even kindly supplied Centurion tanks for the Fab Four to climb over and have driving around while they filmed!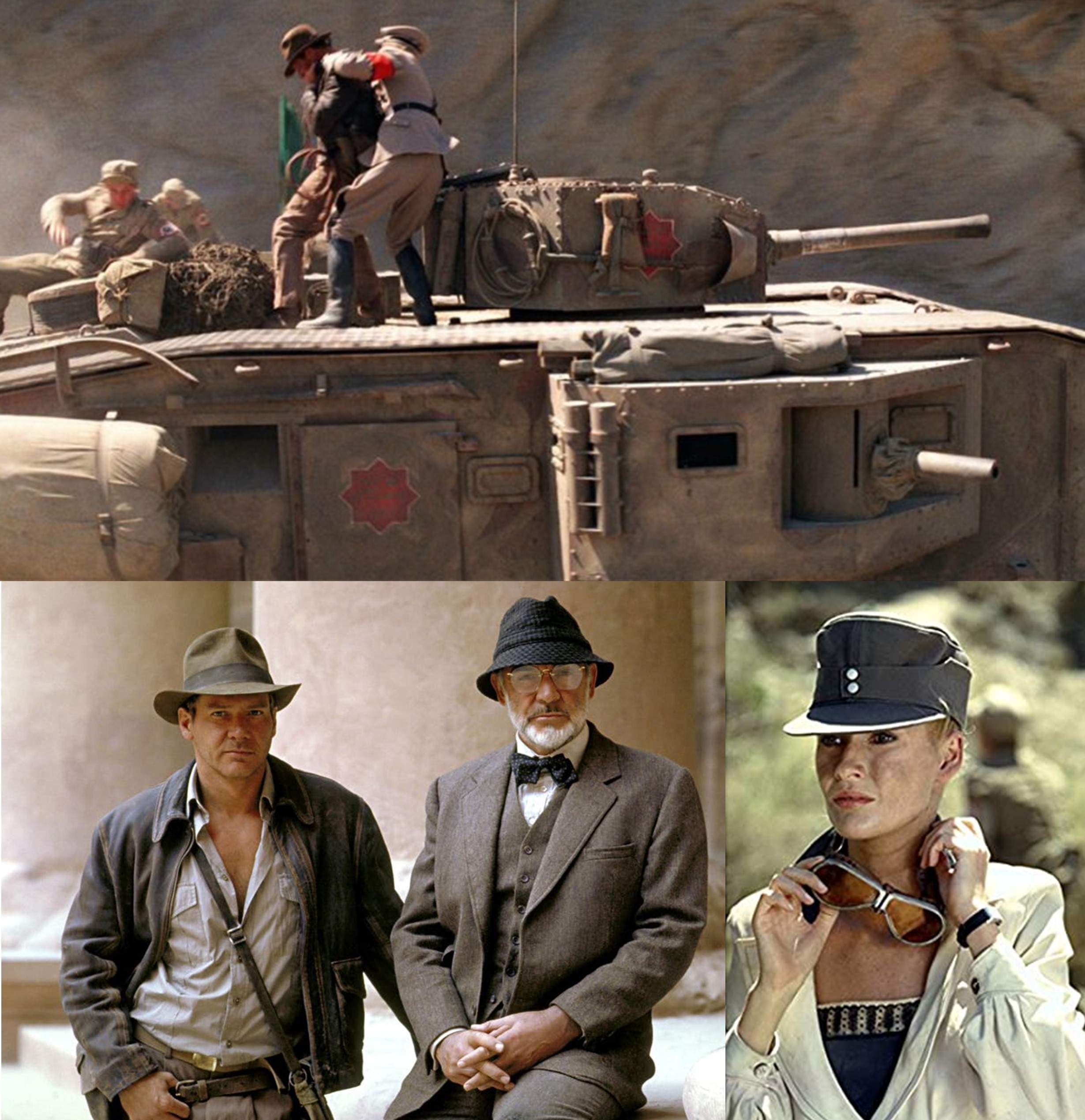 "Indiana Jones & the Last Crusade" (1989) Lucasfilm Ltd. - In the film a WWI Mark VII tank was given by the Sultan of Hatay to the Nazi expedition sent to find the Holy Grail in 1938. Both Professors Henry Jones Jr. (Harrison Ford) & Henry Jones Sr. (Sean Connery) are there to stop the Nazi's and the battle using the tank is a well-staged action set piece.
Russian Produced WWII Movies: like "Tankers" 20th Century Fox - (Set in 1941 with wrong tanks. The movie depicts the Panzer IV type H model, which didn't start production until June 1943. Additionally, the Soviets are shown with the T-34/85, which didn't enter combat until Oct 1943.) and "White Tiger" (2012) Mosfilm - has a supernatural VK 45.01 (P), a prototype Porsche Tiger
Embarrassing to include:
Fast & Furious 6 (Vickers-Armstrong FV 4201 Chieftain 6 destroying Canary Island highway)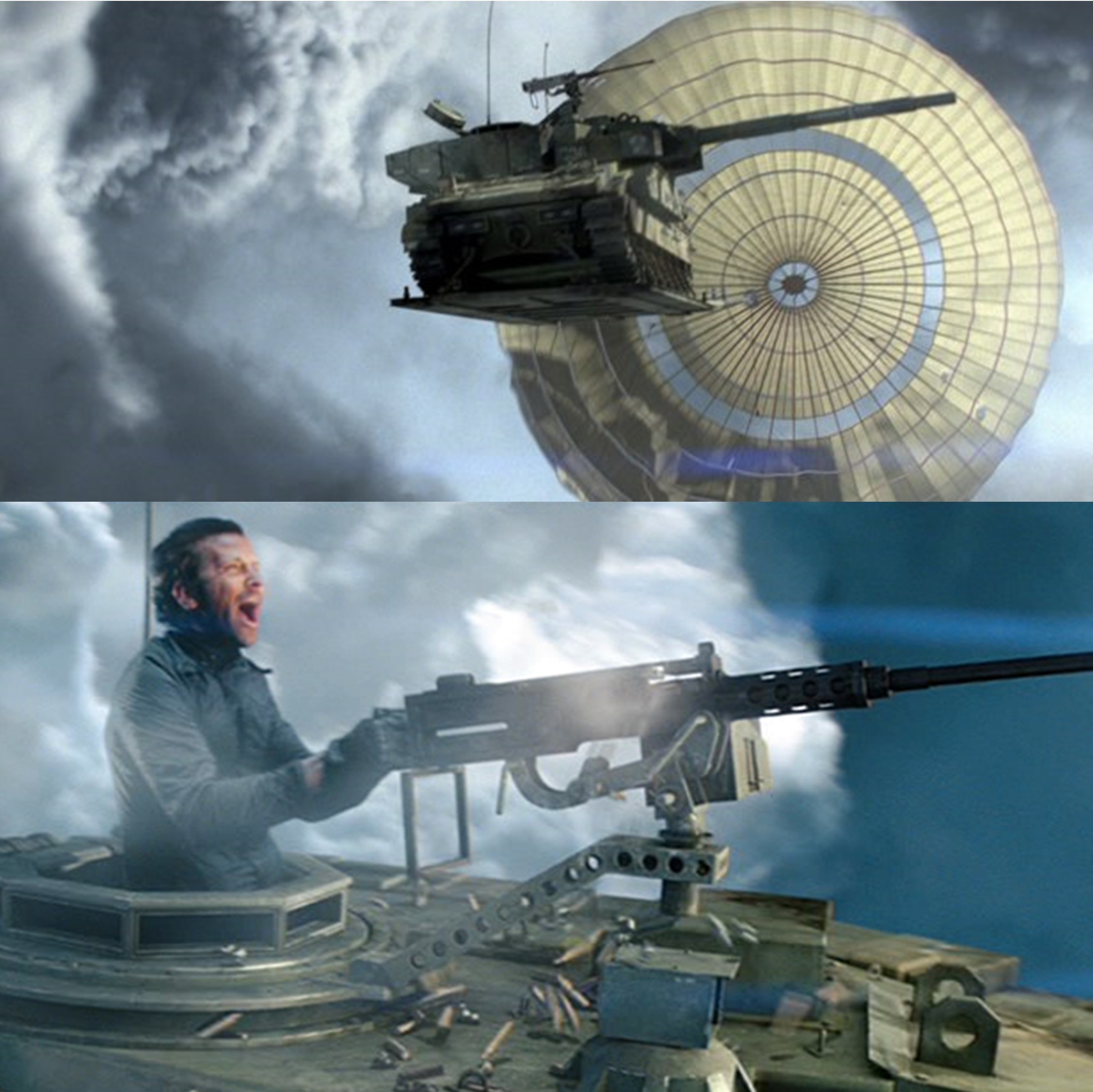 A-Team (M8 Light Tank parachutes out of a C-130) &
GoldenEye (T-55 destroys St Petersburg cars & streets)