Blog 12/04/2021 - MHT Wartime & Military Musicals
MHT's Best Wartime & Military Musicals.
Click Picture Above for the Prehistoric Man Dance Routine from On the Town
1) South Pacific (1958)
Director: Joshua Logan | Stars: Rossano Brazzi, Mitzi Gaynor, John Kerr, Ray Walston
On a South Pacific Island during World War II, love blooms between a young U.S. Navy nurse (Gaynor) and a secretive French planter (Brazzi) who's being courted for a dangerous military mission. A secondary romance, between a U.S. Marine lieutenant and a young Tonkinese woman, explores his fears of the social consequences should he marry his Asian sweetheart. The issue of racial prejudice is candidly explored throughout the musical, most controversially in the lieutenant's song, "You've Got to Be Carefully Taught." The musical composed by Richard Rodgers, with lyrics by Oscar Hammerstein II premiered in 1949 on Broadway and was an immediate hit, running for 1,925 performances. The plot is based on James A. Michener's Pulitzer Prize–winning 1947 book "Tales of the South Pacific" and combines elements of several of those stories. Supporting characters, including a comic Seabee petty officer and Bloody Mary, the Tonkinese girl's mother, help to tie the stories together. Rodgers and Hammerstein believed they could write a musical based on Michener's work that would be financially successful and, at the same time, send a strong progressive message on racism. Especially in the Southern U.S., its racial theme provoked controversy, for which its authors were unapologetic. Several of its songs, including "Bali Ha'i," "I'm Gonna Wash That Man Right Outa My Hair," "Some Enchanted Evening," "There Is Nothing Like a Dame," "Happy Talk," "Younger Than Springtime," and "I'm in Love with a Wonderful Guy" have become timeless standards.
Click Picture for classic "There is Nothing Like a Dame" Video
Character Description
Nellie Forbush A young U.S. Navy nurse
Emile de Becque A middle-aged expatriate French planter
Lt. Joseph Cable, USMC A young Marine officer
Liat A young Tonkinese woman
Bloody Mary Liat's mother; an island wheeler-dealer
Seabee Luther Billis An entrepreneurial sailor
2) The Sound of Music (1965)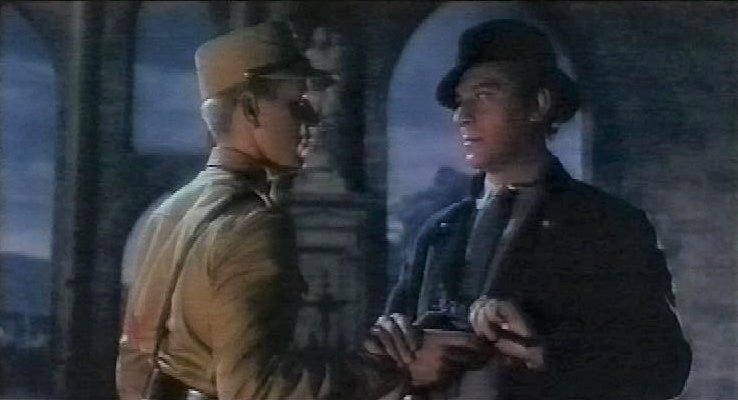 Director: Robert Wise | Stars: Julie Andrews and Christopher Plummer, Richard Haydn, Peggy Wood, Charmian Carr and Eleanor Parker
Arguably one of Rodgers and Hammerstein 's most successful musicals, The Sound of Music centers on Maria, a young woman who looks after the von Trapp children, later marrying their widowed father and fleeing Austria with the family. Even though the musical received its Broadway premiere in 1959, the story earned global acclaim thanks to the five-time Academy Award-winning film adaptation, starring Julie Andrews as Maria.
3) Anchors Away (1945)
Director: George Sidney | Stars: Frank Sinatra, Kathryn Grayson, Gene Kelly & José Iturbi
The movie opens with a rousing rendition of the title song by a Navy Band conducted by Jose Iturbi. A pair of sailors (Joe & Clarence) are awarded Silver Stars & give 4-day passes from San Diego & head to Hollywood with Kelly to meet Lola. However, they meet Aunt Susie & try to help her move from a movie extra to become a singing star. The two best scenes are Kelly dancing with cartoon Jerry the mouse of Tom & Jerry fame plus when the female extras wolf whistle Kelly when he walks by them at the movie studio.
4) On The Town (1949)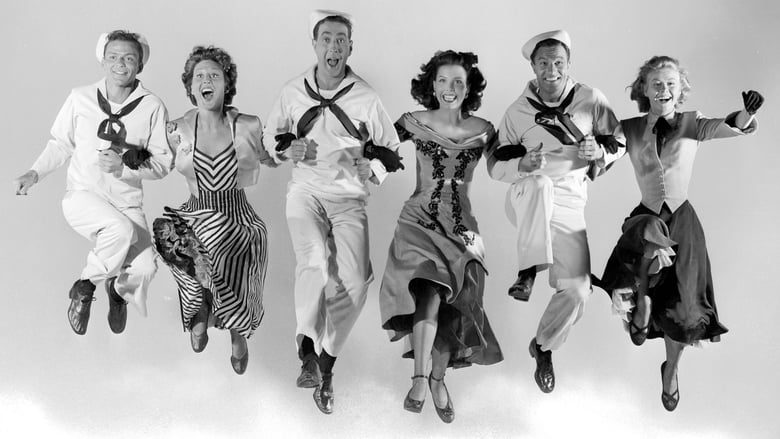 Directors: Stanley Donen & Gene Kelly | Stars: Gene Kelly, Frank Sinatra, Betty Garrett, Ann Miller, Jules Munshin & Vera-Ellen
Three Sailors, Gabey, Chip and Ozzie - let loose on a 24-hour pass in New York and the Big Apple will never be the same! Gabey falls head over heels for "Miss Turnstiles of the Month" (he thinks she's a high society deb when she's really a 'cooch dancer at Coney Island); innocent Chip gets highjacked (literally) by a lady cab driver; and Ozzie becomes the object of interest of a gorgeous anthropologist who thinks he's the perfect example of a "prehistoric man". Wonderful music by Leonard Bernstein and terrific shots of "golden age" New York at its best.
5) Hit the Deck (1955)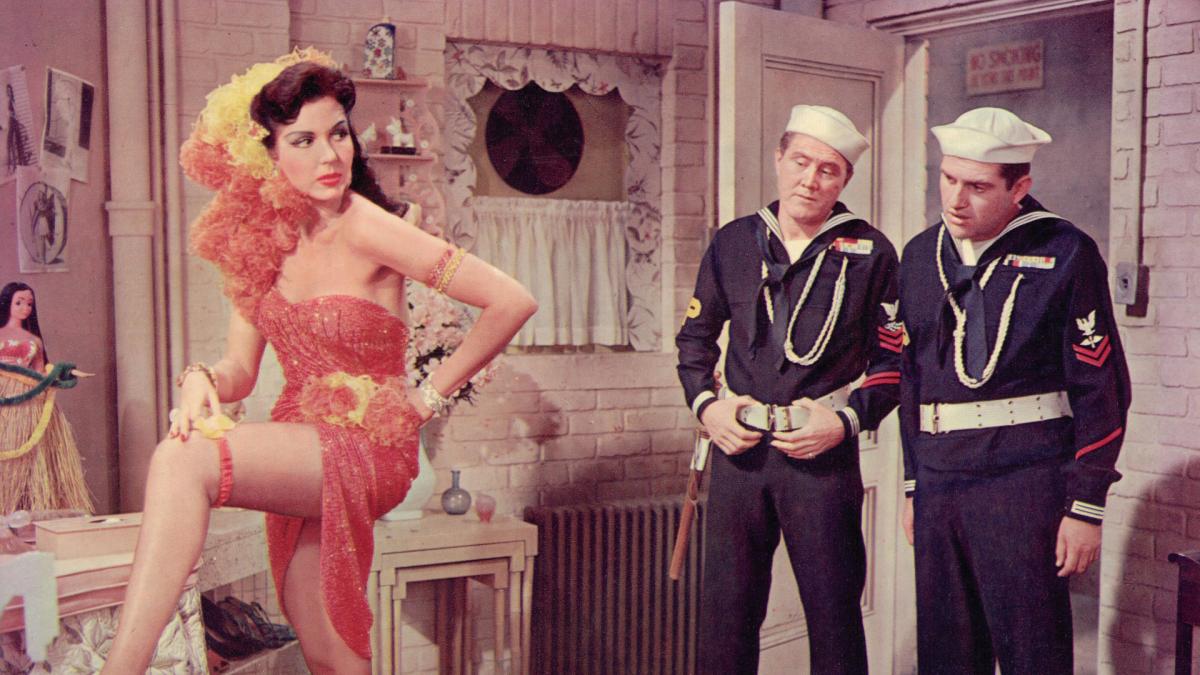 Click Picture for "Hit the Deck" Trailer
Director: Roy Rowland | Stars: Jane Powell, Tony Martin, Debbie Reynolds, Walter Pidgeon, Vic Damone & Ann Miller
Three sailors come ashore and take San Francisco by storm, but can they win the hearts of three women by song and romantic high jinks ensue!
6) Darling Lili (1970)
Director: Blake Edwards | Stars: Julie Andrews, Rock Hudson, Jeremy Kemp, Gloria Paul & Lance Percival
Set during World War I, this movie is a cute spin on the Mata Hari legend with lots of aviation stunts. Music was by Henry Mancini with lyrics by Johnny Mercer producing the Oscar winning "Whistling Away the Dark." When Lili (Andrews) the German Spy goes to see her rival Crepe Suzette (Paul), a girl in a burlesque to weigh up the competition.
Click for Crepe Suzette's Dance
She decides to introduce striptease into her own usually strait-laced show like Mata Hari. It did horribly at the box office but Edward's "Directors Cut" shaved 29 minutes from the bloated studio release & did much better.
7) Follow The Fleet (1936)
Click Picture for Fred & Ginger Dance Sequence
Director: Mark Sandrich | Stars: Fred Astaire, Ginger Rogers & Randolph Scott
A Navy sailor Bake with buddy Bilge tries to rekindle a romance with the woman he loves and was his former dance partner while on liberty in San Francisco. Music by Irving Berlin with the centerpiece the magnificent continuous take of Fred in tails and Ginger Rogers in her swirling translucent gown in "Let's Face the Music and Dance."
8) At War with the Army (1950)
Director: Hal Walker | Stars: Dean Martin, Jerry Lewis, Polly Bergen & Jimmie Dundee
The film is set at a U.S. Army base in Kentucky at the end of 1944, during WWII. The protagonists are First Sergeant Vic Puccinelli (Martin) and Private First-Class Alvin Korwin (Lewis,) who were partners in a nightclub song-and-dance act before joining the Army. Puccinelli wants to be transferred from his dull job to active duty overseas and Corwin is low man on the army totem pole, and goes from one mishap to another.
9 & 10) Buck Privates (1941)/In the Navy (1941)
Both Films: Director: Arthur Lubin | Stars: Bud Abbott, Lou Costello, Lee Bowman & Shemp Howard Songs by the Andrew Sisters.
The two films star the popular comedy team of Abbott and Costello. In the first two sidewalk salesman enlist in the U.S. Army in order to avoid jail, only to find that their drill instructor is the police officer who tried having them imprisoned. in the worthy naval follow-up to their initial successful army film its opening credits starts off with a tease as Bud and Lou in sailor suits are seen hoisting the flag on top of the pole reading "Bud Abbott and Lou Costello in Buck Privates."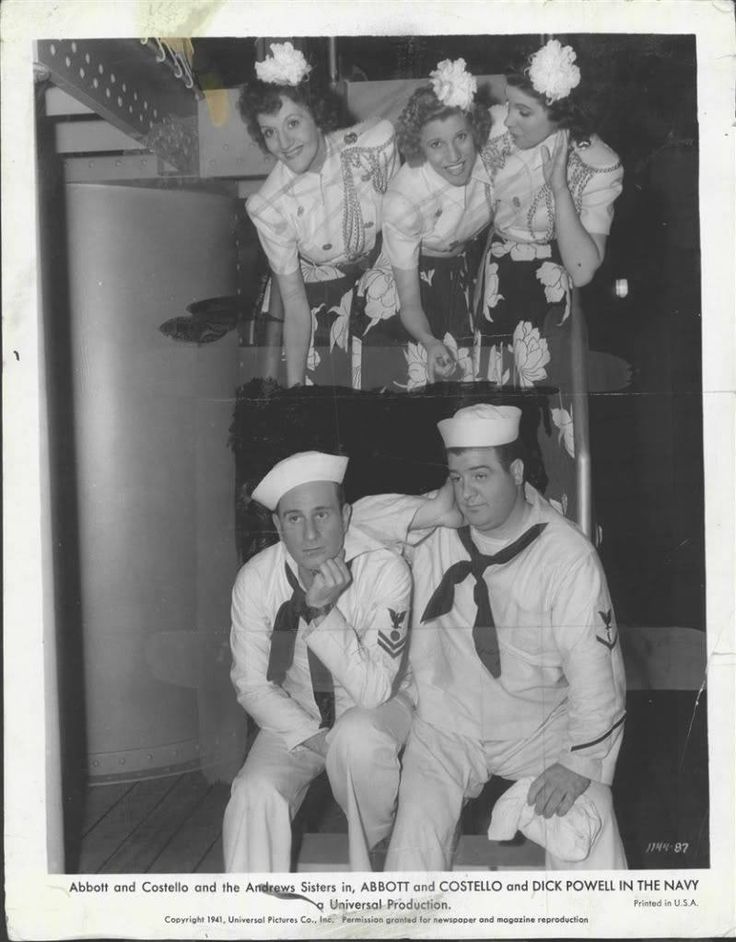 As the flag waves through the air, Bud looks up and slaps his little partner across the face. Realizing this error, they rope down the flag and replace it with, "Bud Abbott and Lou Costello and Dick Powell In the Navy." An amusing start to Bud and Lou's second peacetime military farce. It brings back the Andrews Sisters and Shemp Howard who made such an impact with them in the first film. This time, the Andrews Sisters participate in the story instead of just appearing as singing specialties.
11) The Sky's the Limit (1943)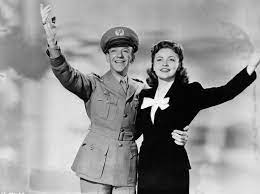 Director: Edward Griffith | Stars: Fred Astaire, Joan Leslie, Robert Benchley & Robert Ryan
During World War II, Flying Tiger triple ace Lieutenant Fred Atwell (Astaire) and his almost-as-successful comrades, Reginald Fenton (Ryan) and Richard Merlin (Benchley,) are brought back to the U.S. for a ticker tape parade and a ten-day "leave" that is in reality a nationwide morale-boosting tour. Fred sneaks off the train to seek some fun and eventually ends up in New York City. He spots a beautiful woman, Joan Manion (Leslie,) and if filmed today would be accused of stalking her. Eavesdropping, he learns that she is a newspaper photographer fed up with taking pictures of celebrities. Her pleas for an assignment in a war zone fall on deaf ears. Her boss, newspaper publisher Phil Harriman, likes her just where she is, nearby so he can try to wear her down and persuade her to marry him. Romance & dancing ensue.
12) White Christmas (1954)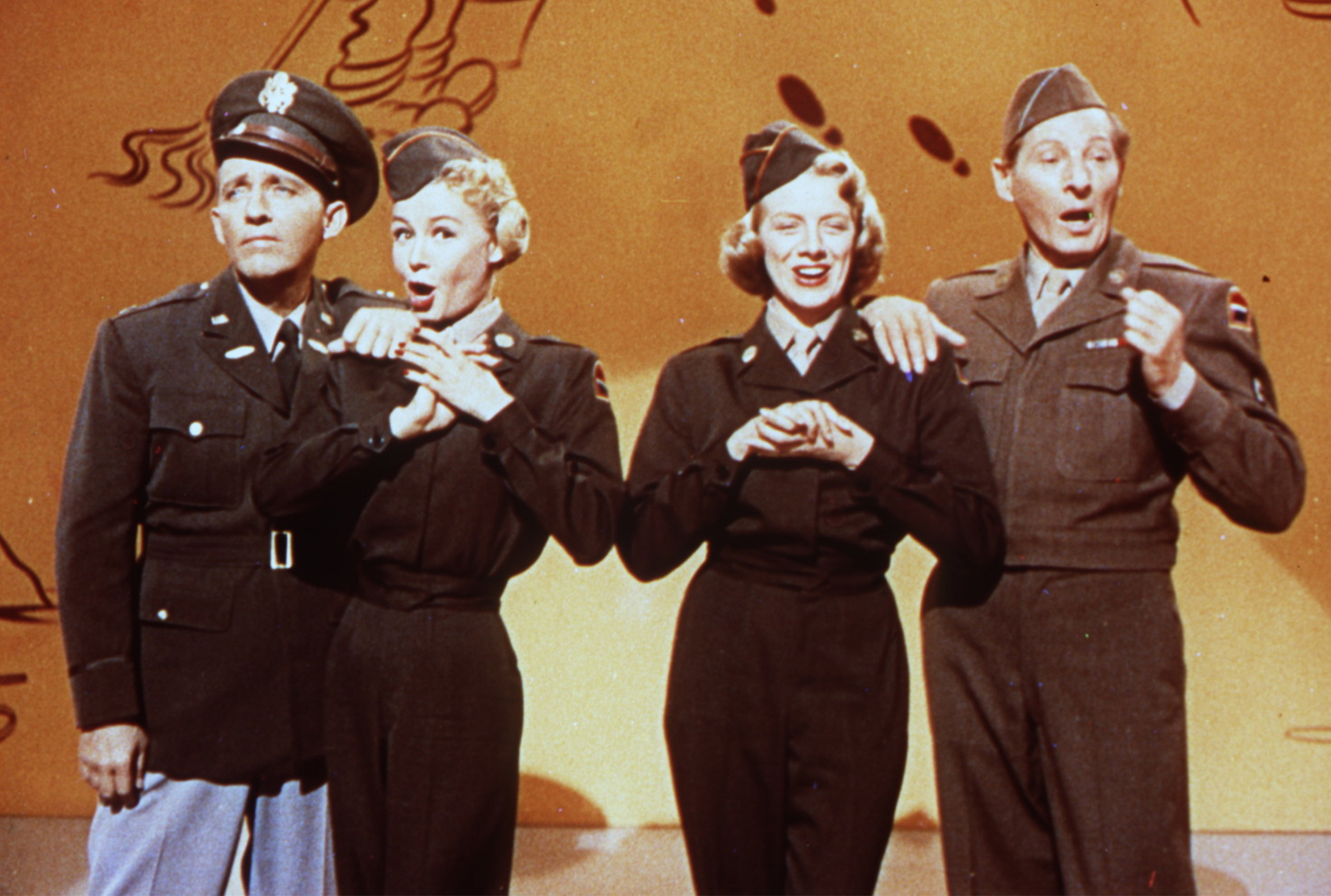 Director: Michael Curtiz | Stars: Bing Crosby, Danny Kaye, Rosemary Clooney, Vera-Ellen & Dean Jagger
This film is a festive, feel-good musical, the Bing Crosby version of the White Christmas is one of the best-selling singles of all time. The musical follows ex-army pals Bob Wallace (Crosby) and Phil Davis (Kaye,) helped by sisters Judy (Vera-Ellen) and Betty (Clooney) Haynes as they put on a show to save their former General's (Jagger) ski lodge.
13) Cabaret (1972)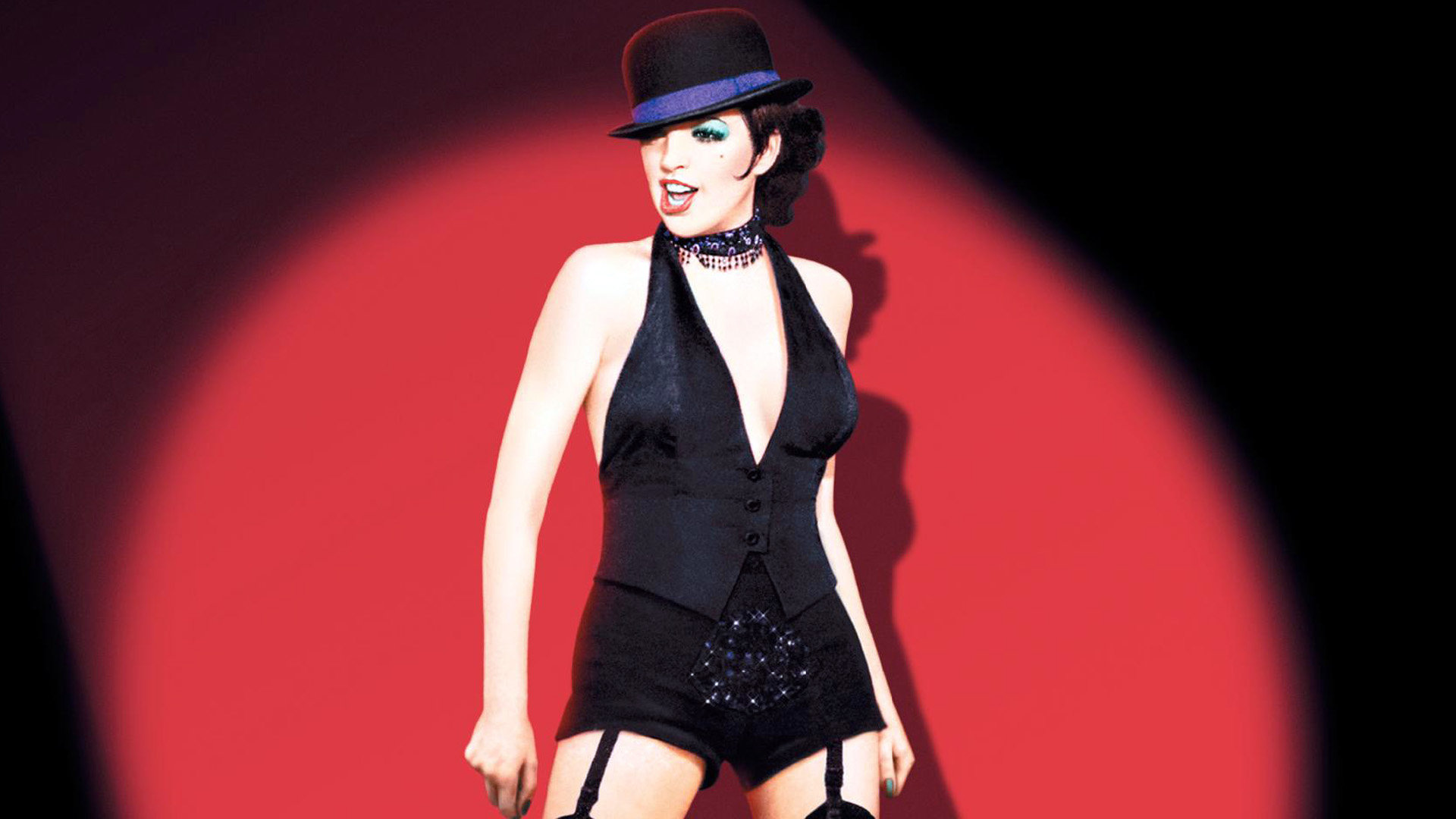 Director: Bob Fosse | Stars: Liza Minnelli, Michael York, Joel Grey & Marisa Berenson
Cabaret is an American musical drama film set in Berlin during the Weimar Republic in 1931, under the presence of the growing Nazi Party. The film is loosely based on the 1966 Broadway musical by Kander and Ebb. Multiple numbers from the stage score were used for the film, which also featured three other songs by Kander and Ebb, including two written for the adaptation. The film also brought Minnelli, daughter of Judy Garland and Vincente Minnelli, as Sally Bowles an English woman who regularly impresses the crowd. It was her first chance to sing on screen, and she won the Academy Award for Best Actress. At the start of the show, an eccentric Master of Ceremonies (Grey) greets audience members to the Kit Kat Klub Cabaret Bar.
14)Here Comes the Waves (1944)
Director: Mark Sandrich | Stars: Bing Crosby and Betty Hutton
The film opens with naval scenes and a chorus of WAVES singing 'The Navy Song' on stage, and continues with a sister act, the Allison Twins (both played by Betty Hutton), singing the same song in a night club. Identical twins, except that one is blonde, the other brunette, they are temperamentally very different. Susie, the blonde, is brash and scatter-brained, while Rosemary is serious and reliable. They leave their night club job to join the WAVES although Susie is infatuated with popular singer Johnny Cabot (Crosby in a parody of Sinatra.) The songs were all composed by Harold Arlen & Johnny Mercer including the classic "Ac-Cent-Tchu-Ate the Positive." It takes a modern PC hit as it is Bing's 6th and final use of blackface in film. This was nominated for the Academy Award for Best Original Song in 1945, but lost to Rodgers and Hammerstein's "It Might As Well Be Spring" from the movie State Fair.
15) Miss Saigon (2016)
Director: Brett Sullivan | Stars: Jon Jon Briones, Eva Noblezada, Alistair Brammer & Kwang-Ho Hong
The musical by Claude-Michel Schönberg and Alain Boublil centers on the love story between Chris, an American and Kim, a Vietnamese. A filmed production of the musical for its 25th anniversary, was performed at the Prince Edward Theatre, in London's West End. The play is based on Giacomo Puccini's 1904 opera Madame Butterfly, and similarly tells the tragic tale of a doomed romance involving an Asian woman abandoned by her American lover. The setting of the plot is relocated to 1970s Saigon during the Vietnam War, and Madame Butterfly's story of marriage between an American lieutenant and a geisha is replaced by a romance between a United States Marine and a 17-year-old South Vietnamese bargirl.