Blog 07/05/2022 - MHT's French Adventure 2nd Post Dijon
Shayne Jarosz and Karen Freck are both Retired Teachers with Fairfax County Public Schools. Karen a Special Education Teacher retired last October, specializing in Science & Shayne Jarosz a retired History teacher who retired five years ago. Shayne has worked for Military Historical Tours (MHT) for 15 years or so and has done many trips with MHT traveling extensively through Europe and Asia to explore and teach about the battles that Americans have fought in since WWI.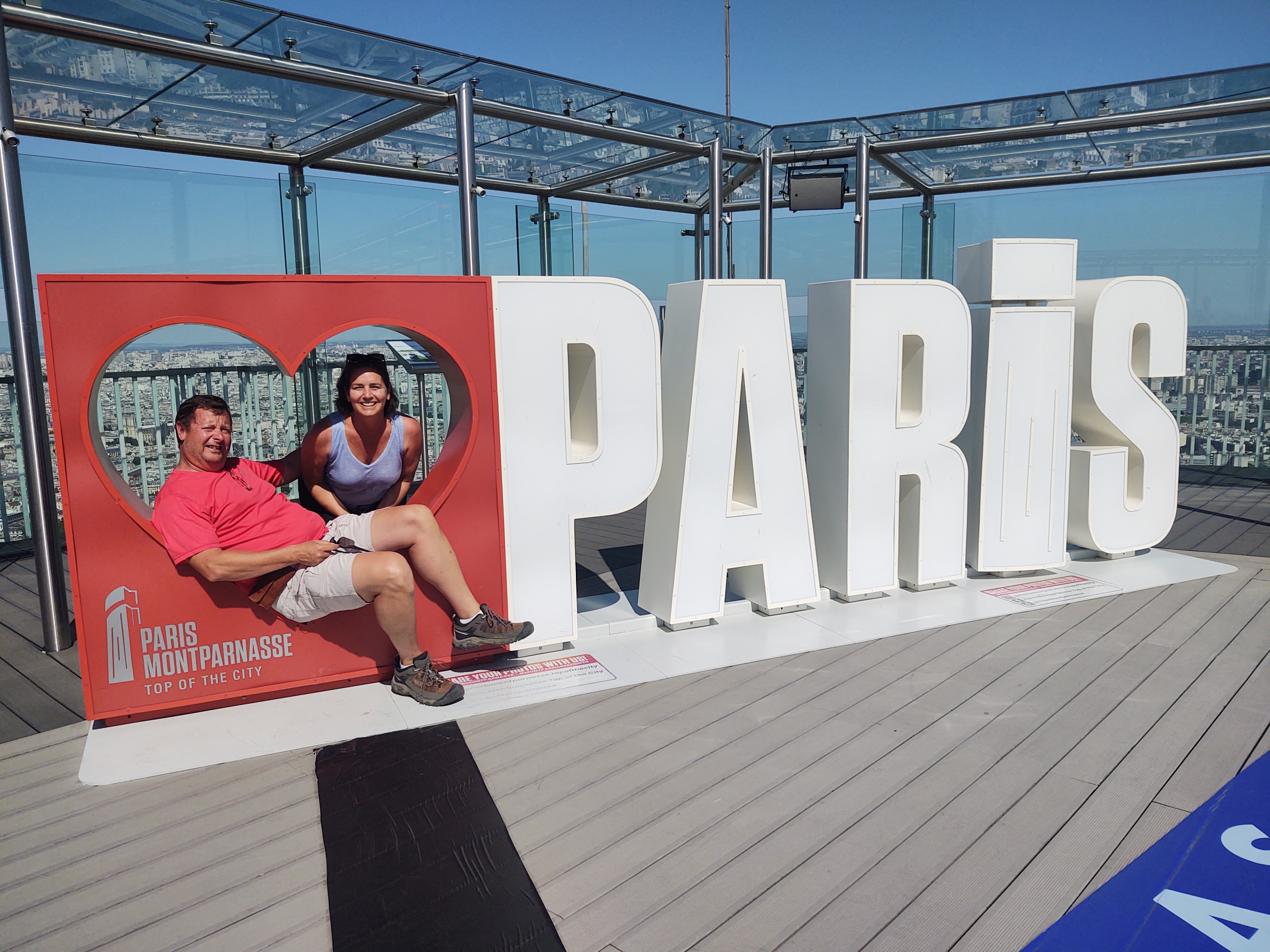 Shayne was the Tour Leader of the D-Day & Battle of the Bulge Tour that traveled the battlefields from Bastogne to Normandy & ending in Paris. After spending roughly three weeks traveling with the group of 15, it was now time for Karen & Shayne to explore & document France so MHT 's future tours can take on additional site recommendations & uncover new interesting spots for our customers to visit. Karen & Shayne are traveling through France on a six-week adventure!
Karen and Shayne departed from Paris on their two-month adventure traveling through France. Their first destination is Dijon. Arriving in Dijon by train is really exciting. You get off the train and look around a small village and wonder where in the world is our hotel? After a little googling, Karen and I headed off toward the city center. We have discovered that Google maps works better on her iPhone than on my Android. I'm not sure why but I keep getting us lost using my phone! We walked through downtown city center pulling our luggage and our plan is to stay close enough to the city center so we can walk to the train, bus and metro stations. Our goal is to only rent a car when in Normandy.
We arrived at our hotel about a mile away from the train station and then we checked our luggage in (they stored it for us so we could explore) and we set off. Dijon which is known as the mustard capital of the world, when Jean Naigeon originated Dijon mustard in 1856, by substituted verjuice, the acidic "green" juice of not-quite-ripe grapes, for vinegar in the traditional mustard recipe. Dijon today is as charming a place as you will find. Buildings dating from the early 1700's line the narrow cobblestone streets and here and there are sidewalk cafes that offer coffee or wine!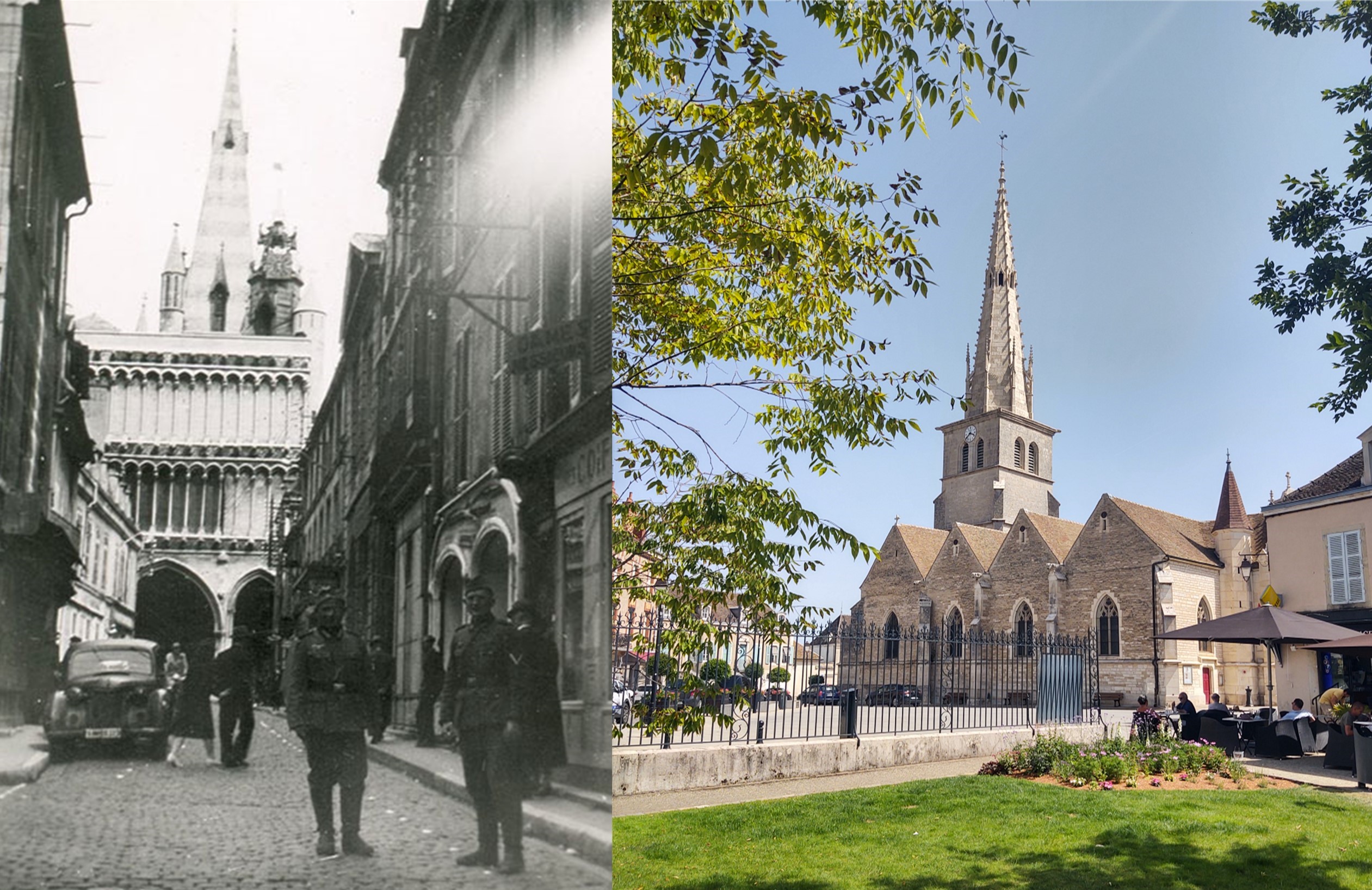 We explored the cathedrals. One of them was very badly damaged by what we thought was acid rain. The statues on the front were almost all disintegrated, we saw this happening in Paris and in Normandy as well. I think they have the problem under control now but its sad to see this kind of history lost.
We walked by the Duke's Palace and a city square that was elegant half circled by restaurants and a fountain in the middle where the children were playing and splashing in the water. Karen and I thought that this was a perfect time to enjoy our first wine of the Burgundy region so we found a nice little café on an old street and had a wonderful glass of Red Burgundy.
So far, all the people that we are meeting are very nice, helpful and even if they don't speak English are more then willing to watch you pantomime, and explain in horrible French and then finally once they get what you are asking smile and help you with your request. One thing we are learning is that in France, don't be in a hurry to drink, eat, bring you the check or have you pay your bill. The French have their ways of going about business and socializing so if you want your check, flag down a waitress or waiter and grab it while you can.
We finished our wine and walked the short distance back to the hotel, checked in and then headed out to explore a little more and find a spot for dinner. In France they don't eat until around 7:00 pm so forget about early dinners.
We found a very charming square and had a bottle of wine at the Blue Dog. The waitress spoke perfect English and we enjoyed finding out some of the highlights that we must see when we returned on the way back from Beaune.
The next morning Karen and I drug our bags back to the train station for our departure for Beaune. Having never negotiated the rail systems in Europe Karen and I are nervous about making our connections and getting stranded. We had a quick 45-minute train ride to Beaune and then the "Sea Bag Drag" started again. It was a mile and a half to get to our hotel, we walked in the lobby and the receptionist asked where we came from, I said the train station "Gare de Beaune" she looked at us in disbelief as she eyed our luggage, and proclaimed, "You two must be very fit to accomplish that!"
Beaune is even more charming than Dijon. The wine caves and tasting sites in the city are amazing! Karen and I went into one wine cellar Marché aux Vins and we went down into the caves and basically, we sipped and talked and sipped and talked, then we went to the next wine and did the same.
One of the wine experts came over and explained the science of wine making in the Burgundy Region. He explained the different soils that were on the mountainside of the Burgundy wine. The higher you go on the mountain the more acidic the wine is because of the closer you get to the limestone. The burgundy region does not irrigate so they depend exclusively on mother nature to care for the grapes.
We tasted eight different wines and then met a mother and daughter who were visiting from Houston, Texas. We tasted for just about two hours bought a couple of bottles of wine and then stumbled into a bar close to our hotel. While having another glass of wine an old Marine who served back in the 1960's walked in! He had a perfectly starched cover on top of his head and when I walked up to him and told him Semper Fi! He broke out in a huge smile and we started talking Marine Corps!
He and his wife were from Kentucky, He was a blacksmith and they had purchased a house in the Burgundy region 20 plus years ago and they would spend three months at a time in Burgundy before returning to their Old Kentucky Home for a stretch until the charm of Burgundy calls them back. We talked about 30 minutes and as we were getting ready to leave, two more glasses of burgundy appeared.
We went to their table toasted them and then continued talking. I gave him my Challenge Coin and he gave me a pocket knife that he had made and we promised that once Karen and I returned from our France sojourn that we would be in touch with this Kentucky Marine couple.
Burgundy has a very strong history; Les Hospices de Beaune was incredible it was basically a health facility for those who could not afford health care. I'm pretty sure it wasn't as rosy as they describe but the Hospices is really an amazing stop. The French Resistance was very active in this area as were the Nazi Gestapo Secret Police. One of the Vineyards owners was very active in the resistance and was hidden in the Hospices after the Gestapo found out he was in the French Underground.
Karen signed us up for a bike tour! The advertisement explained that the tour was around 21 miles but "Mostly Down Hill" that proved Wrong!!!! We did five tasting as we rode along so it was the "Drinking Tour de France." The tour company dropped us and our bikes at the top of the mountain range that makes up the Bourgogne Valley and then we started really learning about wine.
We pedaled our way UP and down through the valley and we stopped occasionally so he could explain the finer points of wine production. Our guide was no Johnny-come-lately novice, this guy knew absolutely everything about the wine that was produced in this valley because his family had owned a vineyard here and unfortunately his family sold it because of squabbling between heirs once his grandparents had passed.
We rode by his family's old estate and he pointed out where his mother now lives and the chateau where he grew up learning about wine from his grandfather. The tour started at 9:00 AM in the morning and we finished up at around 5:00 PM. I'm not sure what I was expecting in Beaune as I have never been here but I must tell you that I was blown away by this region.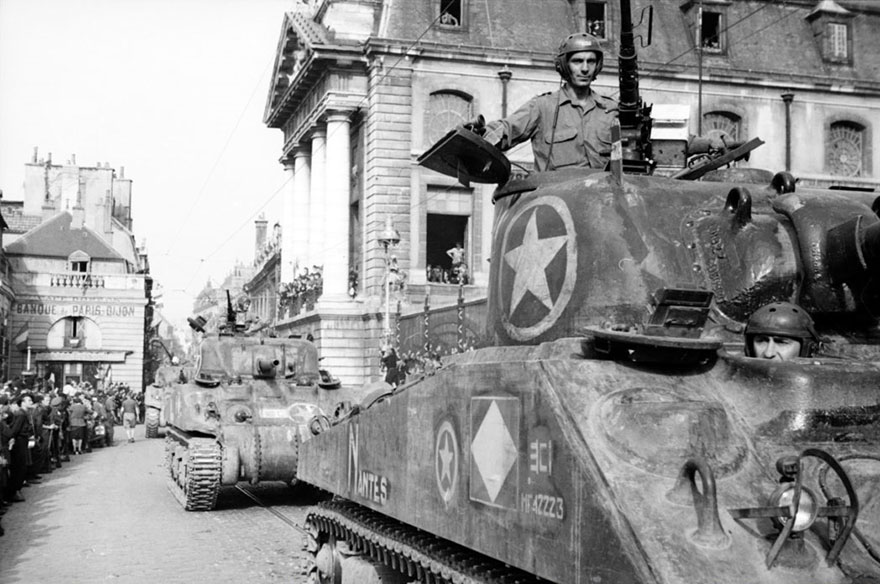 I'm making a recommendation to the Boss that we actually add on a post tour to this region as its so rich in history and wine that it shouldn't be missed. The city was occupied in WWII by the German Wehrmacht in June 1940 and not liberated until 11 September 1944 when the Free French 1st Armored Division entered Dijon. Before that Operations Houndsworth, Wallace and Hardy I were three British Special Air Service (SAS) operations around Dijon during WWII that took place from June to September 1944. The SAS was a unit of the British Army, formed in July 1941 by David Stirling and originally called "L" Detachment, Special Air Service Brigade—"L" being an attempt at deception implying the existence of numerous such units.
In 1944, the SAS Brigade was formed & consisted of the British 1st and 2nd SAS, the French 3rd and 4th SAS and the Belgian 5th SAS. They used specially converted American made Jeeps armed with a number of Vickers K Machineguns. In May 1944, the Supreme Headquarters Allied Expeditionary Force had issued an order for the SAS Brigade to carry out operations in France. They were to undertake parachute operations behind German lines in France. Wallace and Hardy I were initially two operations by 2nd Special Air Service, they were eventually amalgamated into one. Along with the 1st SAS troops from Houndsworth, their objective was to disrupt German lines of communication, coordinate the activities of the French Resistance and prevent German reinforcements moving to the Normandy beachheads. The SAS also hoped to be assisted by the French resistance and reinforcements and supplies would arrive by air which included the specially equipped Jeeps. The Burgundy region was the hotbed for SAS activity partly because it was the center point at which retreating Germans Army Groups would funnel their way out of France into Germany. Operation Houndsworth set up a patrol base in the mountainous wooded countryside southwest of Dijon in the Monts du Morvan. Operation Hardy I/Wallace would do the same northwest of Dijon.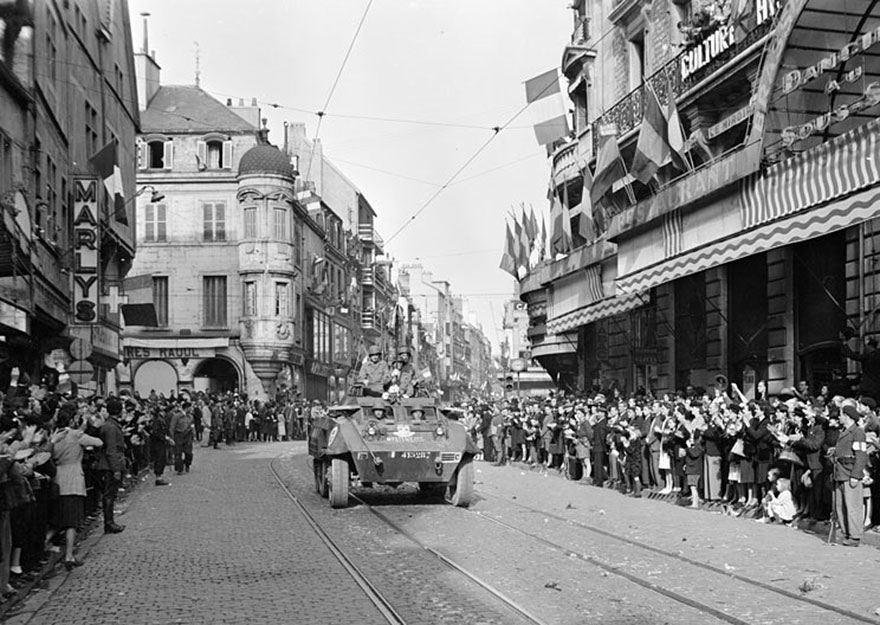 The operations turned out to be the most successful of all the post D-Day SAS operations.The SAS men caused more than 500 German casualties along with 23 staff cars destroyed, six motor-cycles and 36 miscellaneous vehicles including trucks, half-tracks and troop carriers. In addition, five gas tankers were destroyed and a train ambushed and disabled. 17 SAS troopers had been lost including one in a parachuting accident, two had been captured but both escaped. Jeep losses were the heaviest, 16 were lost in all, some down to mechanical failure or fatal damage by parachute drops.
Total we spent five days in Beaune before heading back to Dijon. Once again, we drug our luggage a mile and a half to the train station to catch our train. Somewhere in that hump the wheel on my roller duffel flattened and died. I was very concerned that I would be soon carrying my 60-pound duffle once the wheel gave completely out. One of the problems with traveling for two months is deciding what to pack.
We were going from the English Channel, to the Alps to the Atlantic Ocean back to the English Channel. We would experience Warm, Hot and Cold weather so we packed what we thought was needed. We eventually made it back to our hotel in Dijon where I found a suitcase to help haul my belongings.
Karen and I are learning that we could have skipped returning to Dijon and just transferred straight to Geneva. The initial fear of traveling by rail is subsiding so we are feeling more comfortable with all of our transferals.
Next stop Geneva Switzerland and Chamonix France!!
Au Revoir!
Shayne Pierre!