Blog 08/07/2022 - MH's French Adventure 5th Post Le Mans
MHT's French Adventure – 5th Post Le Mans
By Shayne Jarosz
Shayne Jarosz & Karen Freck are both Retired Teachers with Fairfax County Public Schools. Karen a Special Education Teacher retired last October, specializing in Science & Shayne Jarosz a retired History teacher who retired five years ago. Shayne has worked for Military Historical Tours (MHT) for 15 years or so and has done many trips with MHT traveling extensively through Europe and Asia to explore & teach about the battles that Americans have fought in since WWI.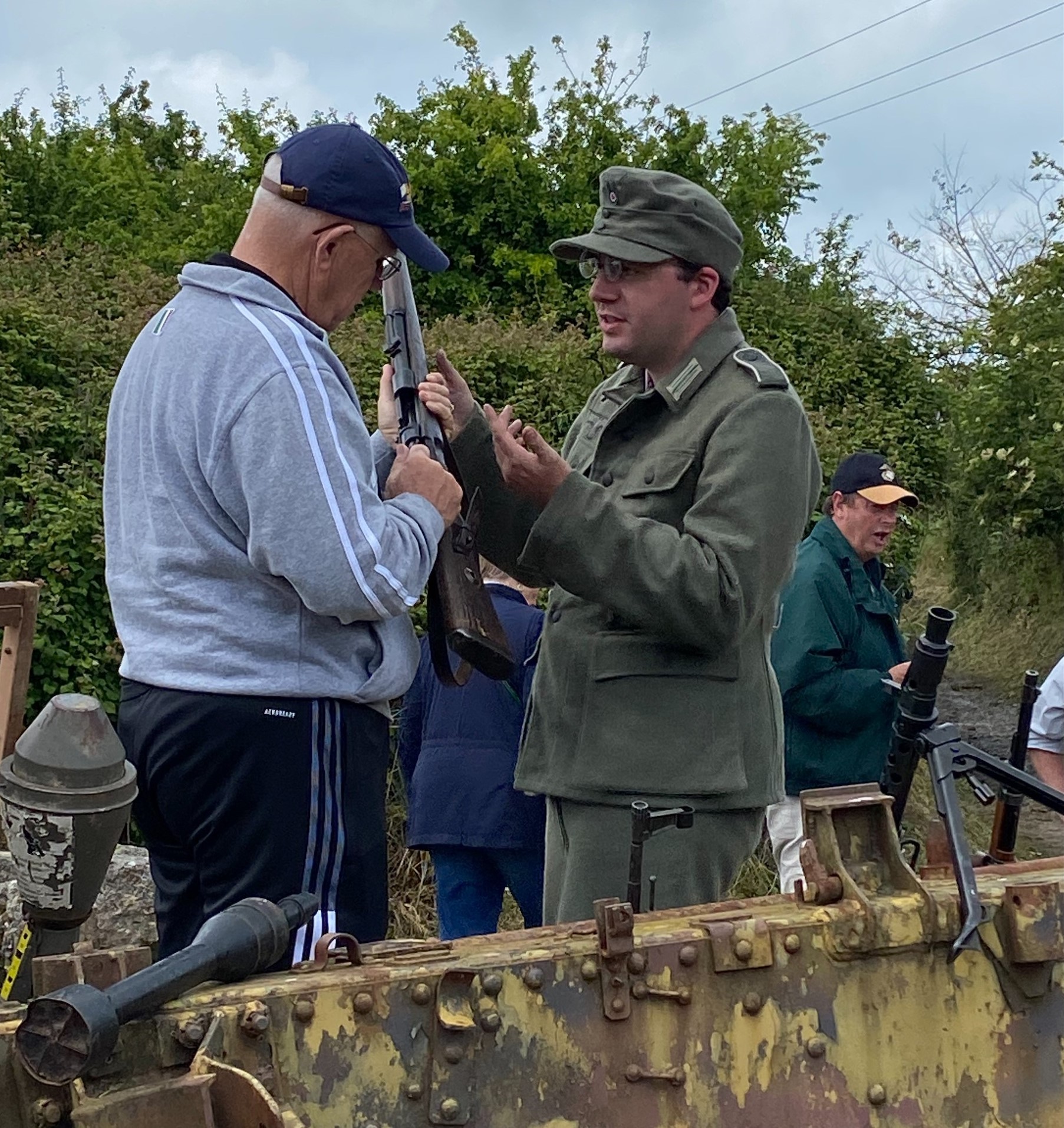 Shayne was the Tour Leader of the D-Day & Battle of the Bulge Tour that traveled the battlefields from Bastogne to Normandy & ending in Paris. After spending roughly three weeks traveling with the group of 15, it was now time for Karen & Shayne to explore & document France so MHT 's future tours can take on additional site recommendations & uncover new interesting spots for our customers to visit. Karen & Shayne are traveling through France on a six-week adventure!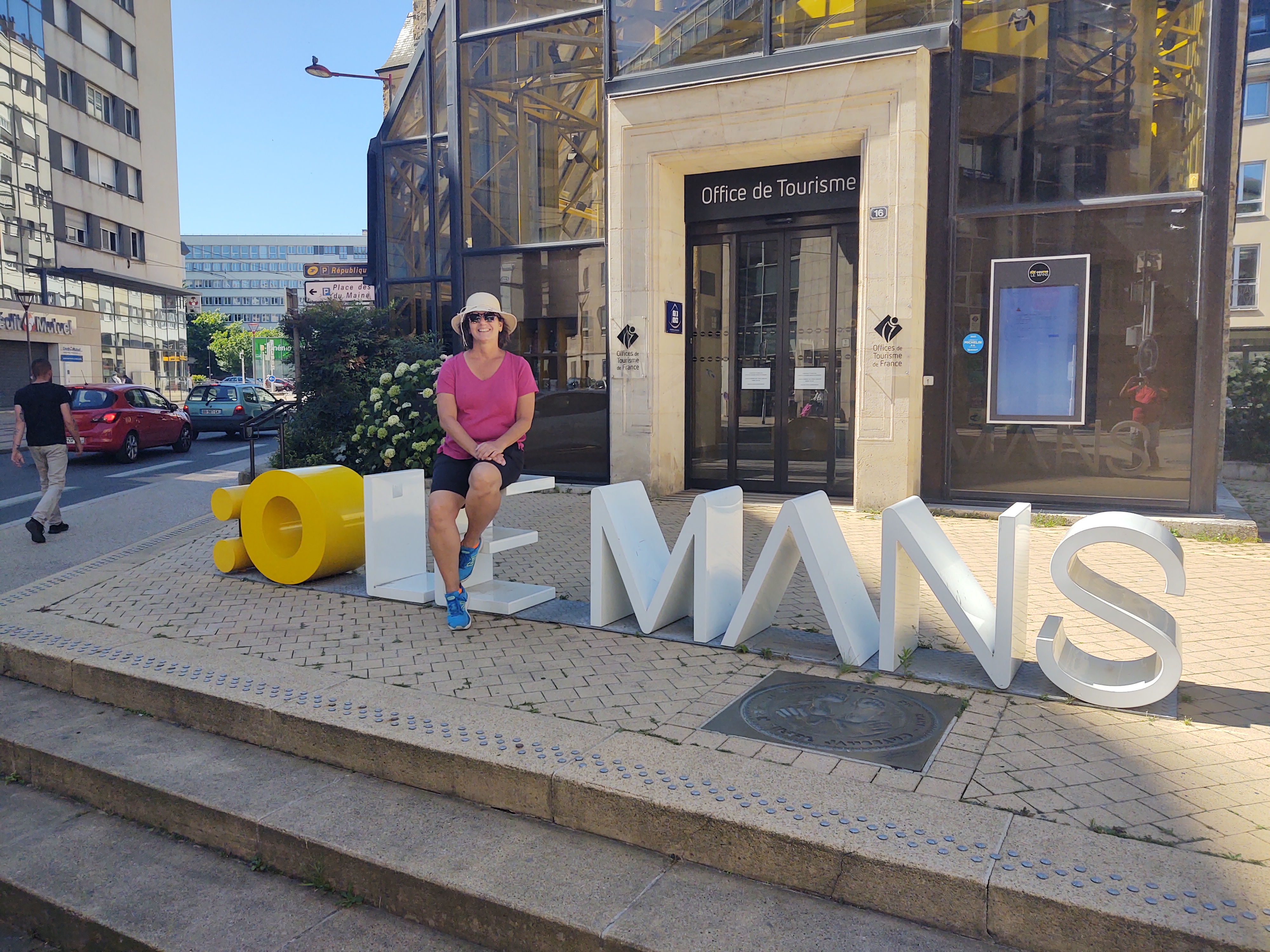 The next part of our trip was to the world-famous racing city of Le Mans! Karen and I pulled in for a five-day pit stop with our engines running perfectly and we were raring to go! At this point of our trip, we are a well-oiled machine that can travel from one city to the other with blinding speed! We are hitting on all cylinders; we can take the many curves that the track that is France has thrown at us and we can see the checkered flag in our not-too-distant future!
Karen and I pulled into the train station and it was a very quick walk to our hotel, where we dropped our bags so we were able to explore the city of Le Mans. Our first stop was the visitor center where we got a map of the city and asked for a list of the most important things we should see. After receiving a quick rundown on the famed Le Mans course, we started off toward the City Center which provided a 45-minute mini-train tour of the Le Mans area.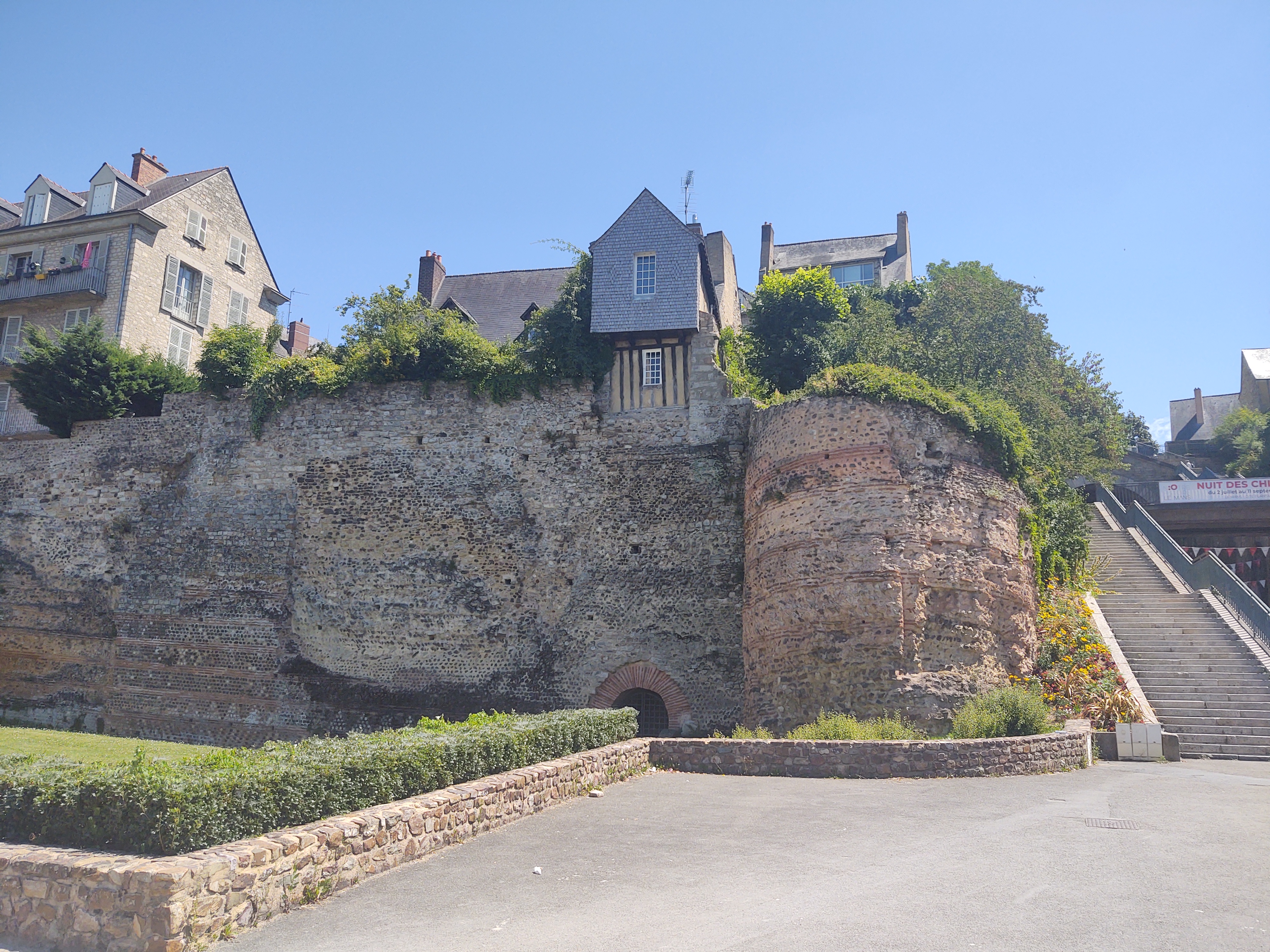 The sightseeing train wound through the ancient Roman city with its narrow streets and charming cafes that bordered the crowded streets and parks. After our tour was done, we found a restaurant/bar were able to order some sparkling water and a cold beer. In most parts of France lunch is served from 12-2:00 and dinner from 7:00 – 9:00 pm. Because we arrived after 2:00 we weren't sure if we would be allowed to order but we were pleasantly surprised! We ordered 2 burgers and "French fries" and they were great!
After our late lunch we started exploring the things we could easily access before we checked into our hotel. We walked up toward the ancient Roman walls and climbed an old staircase that circled a fountain and walked to the Cathedral of Saint Julian which is one of the largest Catholic Cathedrals in all of France.
It is beautiful. We were very disappointed that we weren't able to climb the towers but we have been spoiled in other cities with the tower tours and sometimes even the fascinating crypts were even open.
In this case we had a chance to walk through the crypt of Saint Bertrand & Tomb of Charles IV of Anjou, Count of Maine, who died in 1472. The Cathedral is beautiful with its flying buttresses and large stain glassed windows that survived WWII.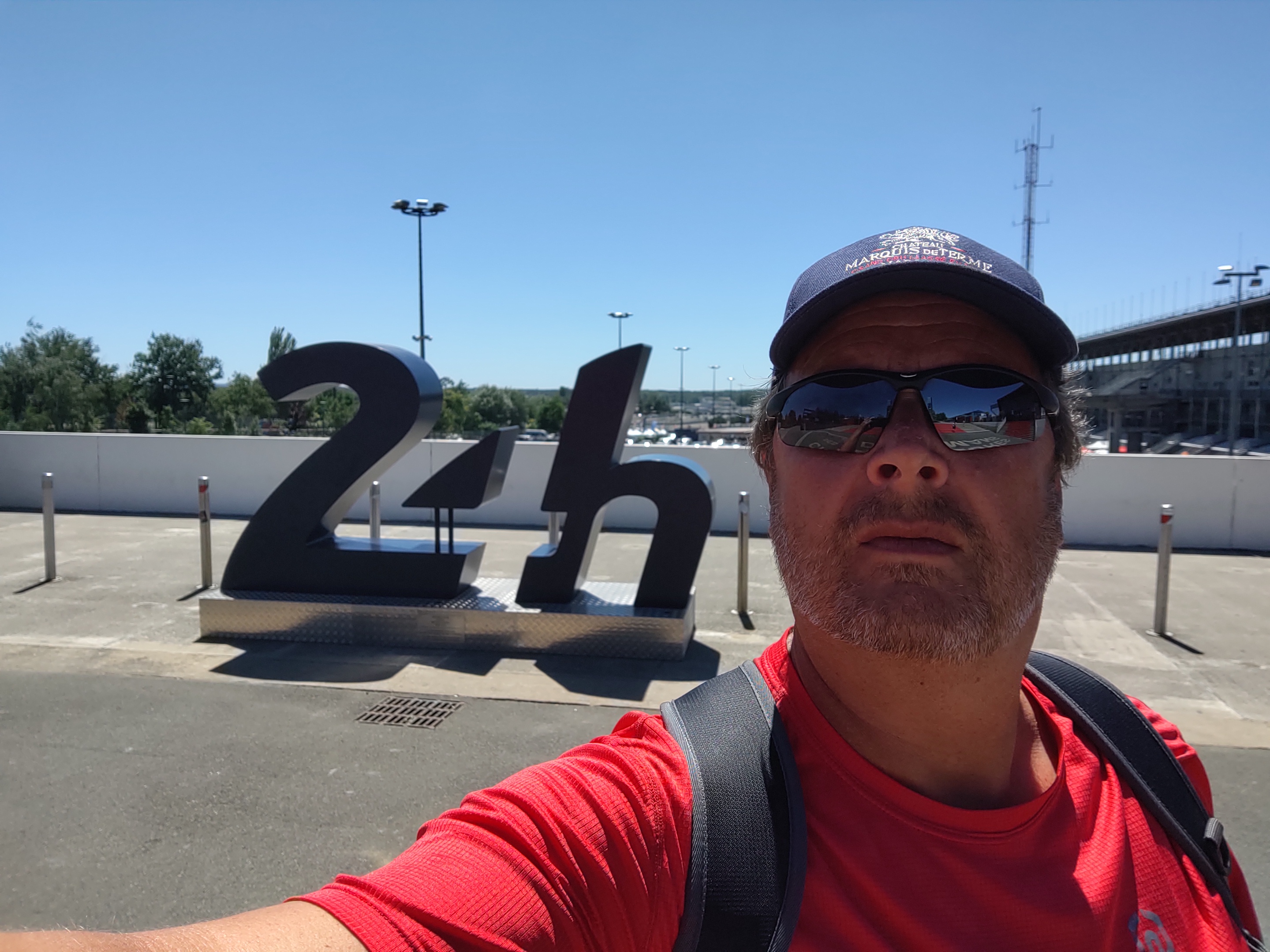 After we explored a little, we headed back to the hotel so we could get checked in and make our plan for exploring Le Mans. The next morning, we woke around 0730 and headed for breakfast excited for our day's exploration. We decided we would start at the famous Le Mans race track that has been used since 1921 and Museum. Comprising private, race-specific sections of track in addition to public roads which remain accessible most of the year, the track's present configuration is 8.467 miles long, making it one of the longest circuits in the world. We took the very convenient tram to the end of the line and then walked an additional 2 miles to the Museum.
The Museum of the 24 Hours of Le Mans is another one of those places that really surprised Karen and I. Walking through the Museum while learning about the race and its history was incredible. The Museum has hundreds of beautiful cars and motorcycles all ranging from the early 1900's to present day. We wound our way through the museum and posed and took pictures in front of cars that we thought her father would enjoy seeing. We then went through the motorcycle exhibit and were amazed at the collection. Later we stopped at the gift shop and bought a couple of stickers and other memorabilia that we thought we could get home. They had some incredible stuff but space is beginning to be an issue in our luggage.
After we toured the museum, we walked out onto the circuit where the cars race. It was incredible! I can remember as a child watching the famed Scotsman Jackie Stewart live from Le Mans on the Wide World of Sports. I cannot believe that I am actually exploring the racetrack that I watched on T.V. when I was a kid…
The 24 Hours used to start with a unique opening where the drivers ran across the road and jumping into their cars which was very dangerous. It can be seen in the great Le Mans racing movies, the mediocre self-titled Steve McQueen film using the powerful Porsche 917s and the tremendous "Ford v Ferrari" film that featured the even more dominate Ford GT 40 Mk IIs & improved Mk IVs and the beautiful Ferrari P-4s in the greatest racing feud between American Muscle versus Italian Craftmanship.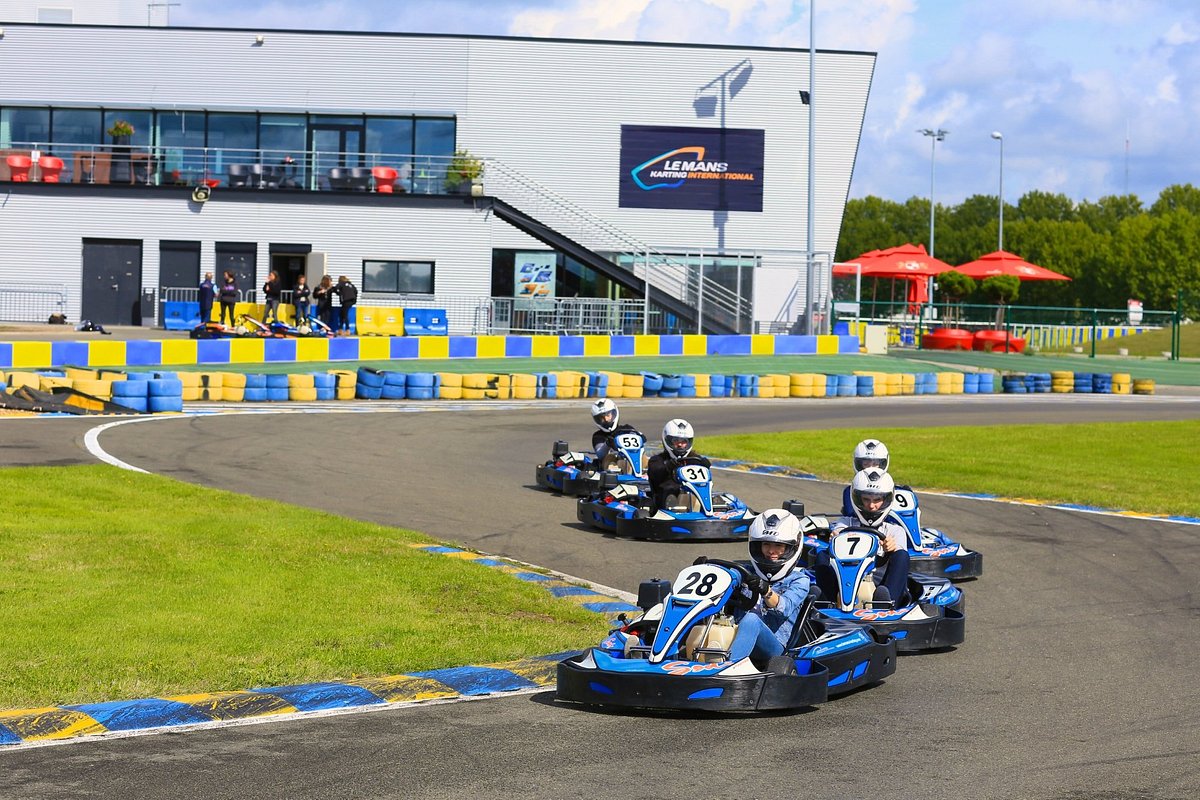 Karen and I had planned to find the mini–Formula Race karts so we could race but after walking another two miles we realized we would probably need to rent a car to find the race track. Defeated we walked back to the tram and headed back to the city center to try and find a late lunch.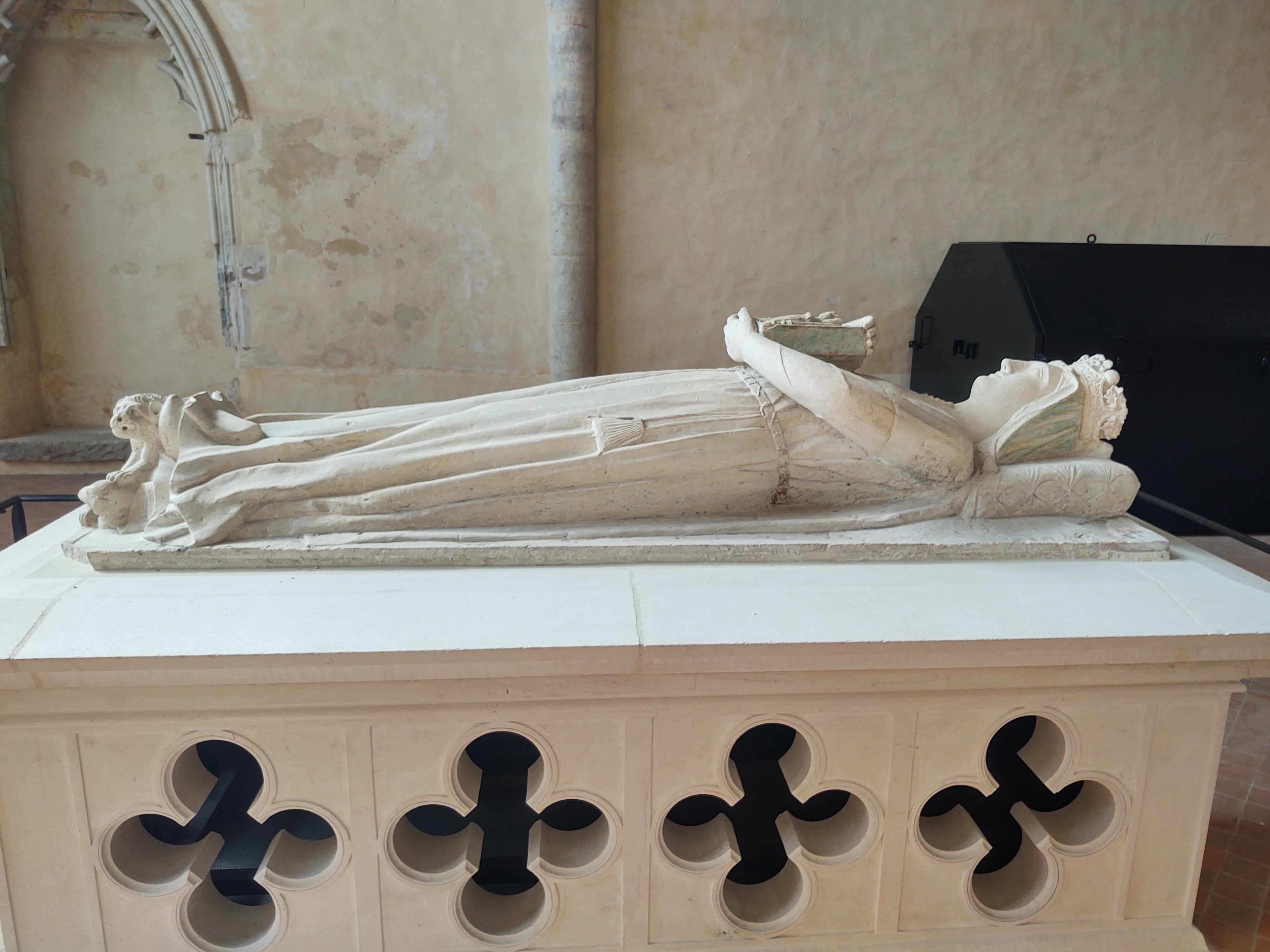 Karen and I have really met a bunch of really nice people all over France. Here in Le Mans while eating lunch we met a lovely couple from England. They were here for a couple nights and it didn't take long before we were talking about politics and making fun of each other's Presidents and Prime Ministers. It was all in good fun and before we parted ways, I did thank them both for the July 4th Holidays and all the time off through the years.
The next couple days Karen and I explored the L'Épau Abbey where Berengaria of Navarre, who was Queen of England as the wife of Richard I (the Lion Heart) lived after his death, A huge park that had a primitive water wheel that was used to grind grain for bread. The park had animals all over it and appeared to be a working farm with pigs, cows, goats and horses. Karen and I explored all that we could and averaged 8 miles a day. Le Mans is a must do and we found plenty to do for five days. We could have probably gotten away with four days there but on day three we slowed down a bit and actually started enjoying the wine and food in Le Mans. We explored every part of Le Mans that we could possibly explore.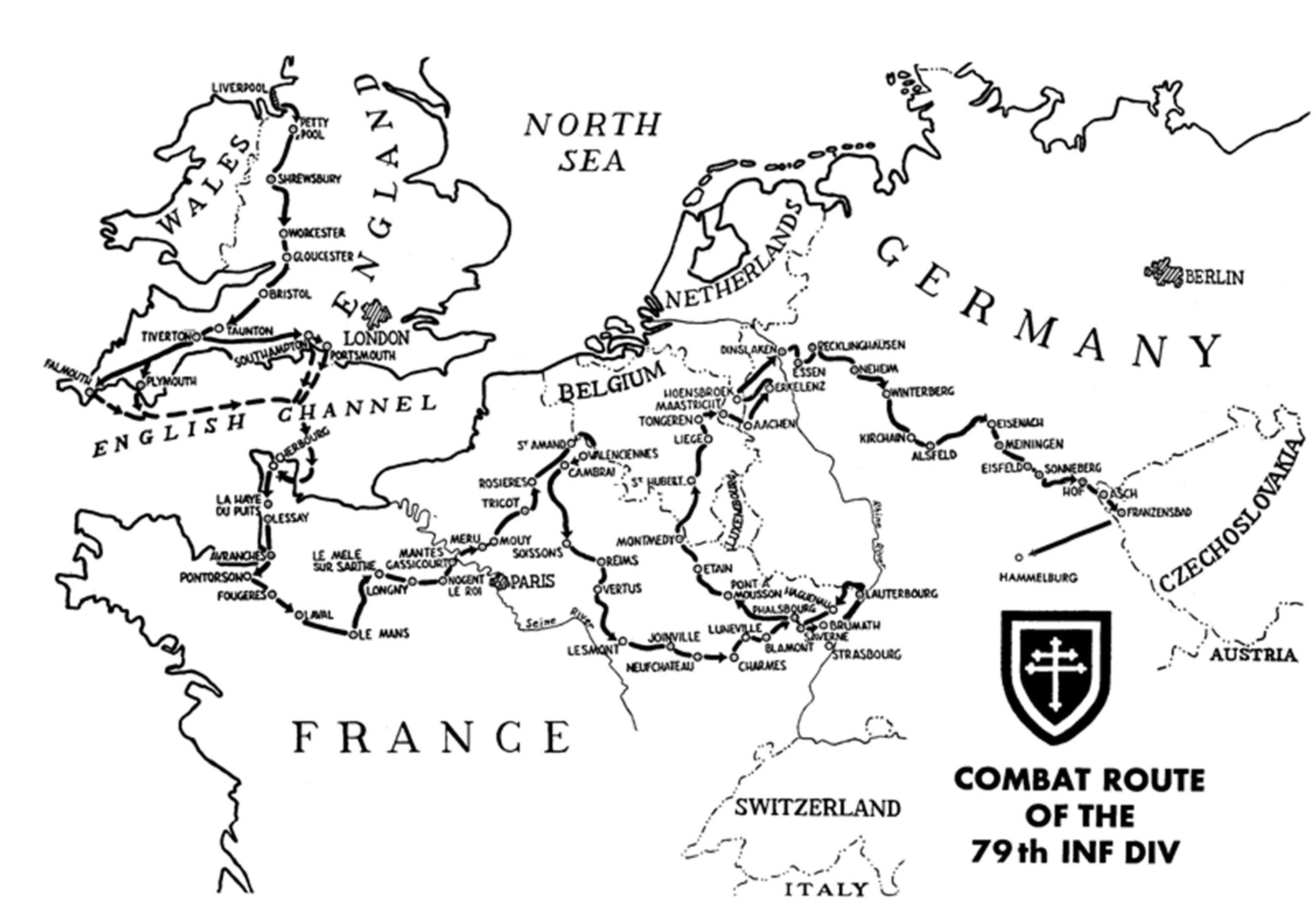 The important industrial city of Le Mans was liberated by LtGen George S. Patton's U.S. 3rd Army's U.S. 79th and 90th Infantry Divisions (IDs) on 8 August 1944. The 79th Division landed on Utah Beach in mid-June, entering combat by the 19th south of Cherbourg. By July the 79th ID had taken Lessay, crossed the Sarthe River entering Le Mans. Some elements of the 90th ID saw action on 6 June 1944, D-Day, at Utah Beach. The rest of the Division entered combat 10 June. The Division was immediately thrust into the fighting, cutting across the Merderet and took Pont l'Abbe. In July, they cleared Foret de Mont-Castre (Hill 122) and on the 27th taking Periers. In August, the 90th ID crossed the Sarthe supported the 79th ID in taking Le Mans before moving to help the Poles 1st Armored Division close the Falaise Gap.
French food is good but I do find that the food after a while is kind of bland. The Wine is excellent! The steaks are something to be desired. I'm from Texas so I'm always comparing steaks from around the world to Texas. One night while in Le Mans Karen and I decided to try a local Indian restaurant. It was excellent!!!! The spices were wonderful and although the online reviews gave the food above average reviews it gave the Manager below average reviews we were actually treated very well and with a bunch of patience.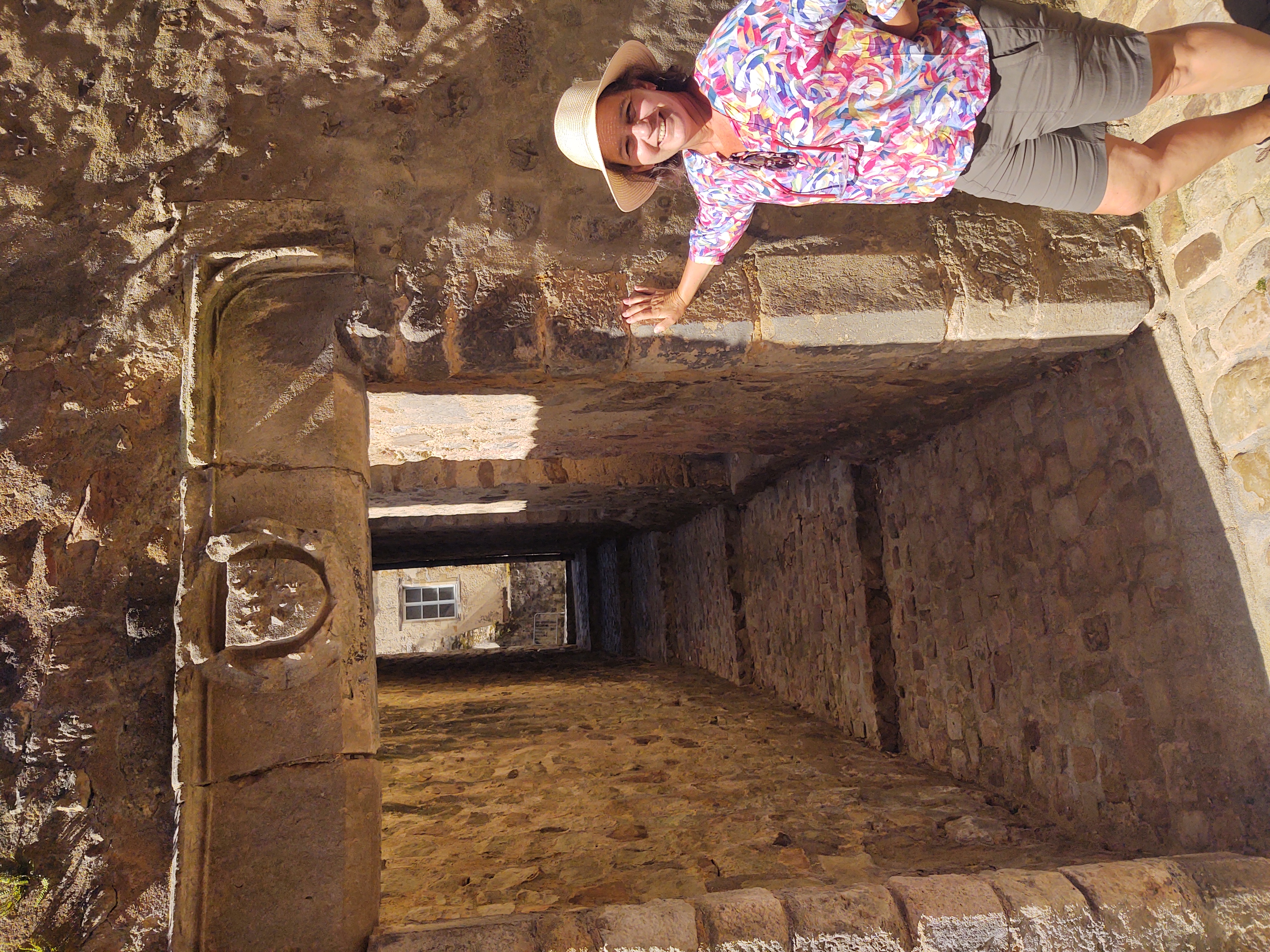 One day Karen and I went into the City Center of the ancient city and explored for a couple hours and decided we would have lunch and just relax. We found a wonderful restaurant ordered a bottle of wine and some wonderful food and got lost in just spending time with each other and not worrying about anything other than just having fun… On the break neck travel pace that we have been on I think we both realized that we not only need to see the sights but also need to enjoy this wonderful opportunity that we have…
Overall, we had a wonderful time in Le Mans and we are excited about the next part of our trip which is going back to explore some more of Normandy! We have a long bus ride to Caen but we are so excited to get back to our friends at the Best Western Le Moderne!
Au Revoir!
Shayne Pierre!