Blog 09/20/2022 - Truth vs the Fantasy of a Playmate in VN 1966!
World War II was the rise of the pin-up girls most notably Betty Grable, Rita Hayworth, Lana Turner, Jane Russell, Carole Landis & Veronika Lake while their look-alikes were splayed across the noses of big bombers and fighter planes alike. The Korean war saw new additions Marilyn Monroe, Bettie Page, Mamie Van Dorn, Mitzi Gaynor, Diana Dors and Betty Brosner.
However, 70 years ago, when the first U.S. military advisors arrived in South Vietnam, another iconic image would soon be plastered on planes and vehicles, helmets and flak jackets (body armor): the Playboy Bunny. A NY Times article describes Playboy Magazine of the 1960's as "a coveted and useful morale booster, at times rivaling even the longed-for letter from home. The military defines morale very specifically … and they talk about unit cohesion, a belief in the cause of the war." Many Marines, soldiers, sailors & airmen wrote to the magazine about how the images helped them remember what it was they were fighting for.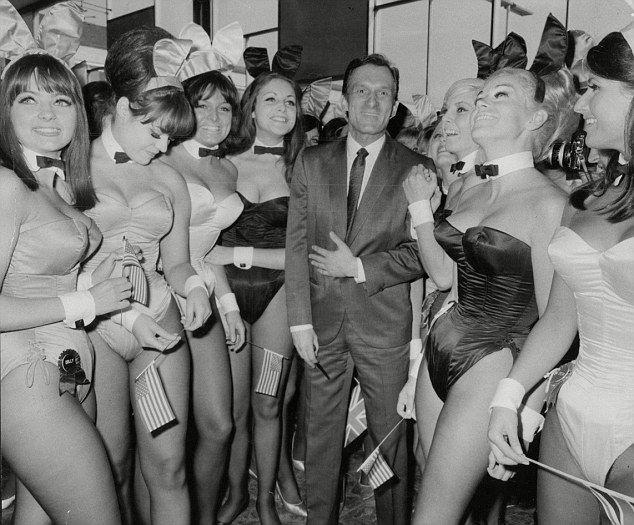 Most military strategists agree that, aside from actual firepower, nothing means more to an army than the morale of its men. From the days of the Army Doughboys & Marine Devil Dogs of WWI to the G.I. Joes & Semper Fi Macs of WWII, the American fighting man has seldom appeared on the frontiers of freedom without an abundant supply of that most time-honored of spirit-lifting staples: the pinup. From the exotic ladies of Paris in the trenches to the All-American dolls of Yank Magazine pages in Europe & the beaches of the Pacific, the pinup queen has remained a constant companion to our men at arms. However, the black & white postcards of WWI became the long-legged likenesses of such WWII lovelies as Grable and Hayworth gave way in the jungles of Vietnam to a whole new breed of photogenic females better known as the Playboy Playmates. The Playmates would lift the centerfold to a whole new level and it was lifted to legend when in November 1965 Second Lieutenant John "Jack" Price, a young Army airborne officer on duty in Vietnam, sent Playboy Editor-Publisher Hugh M. Hefner the following letter:
"Dear Sir:
This letter is written from the depths of the hearts of 180 officers and men of Company B, 2nd Bn, 503d Inf, 173d Airborne Brigade (Separate) stationed at Bien Hoa, Republic of Vietnam. We were the first American troop unit committed in action here in Vietnam and we have gone many miles, some in sorrow and some in joy, but mostly in hard, bone-weary inches. You may have seen pictures of us in 'Life' 22 October 1965 and read of our victories and our setbacks in the neat black and white newsprint at your breakfast table, while we were picking off the leaches and loading ammo into empty magazines. We are proud to be here and have found the answer to the question, 'Ask what you can do for your country' and yet we cannot stand alone – and now I come to the reason for sending you this request.
Loneliness in a man's heart is a terrible thing – and Christmas and New Years (sic) Day are just around the corner. The beauty of Vietnamese women is unquestionable and yet, we would appreciate so very much a real, living, breathing American girl. Now we must consider who we would like to see.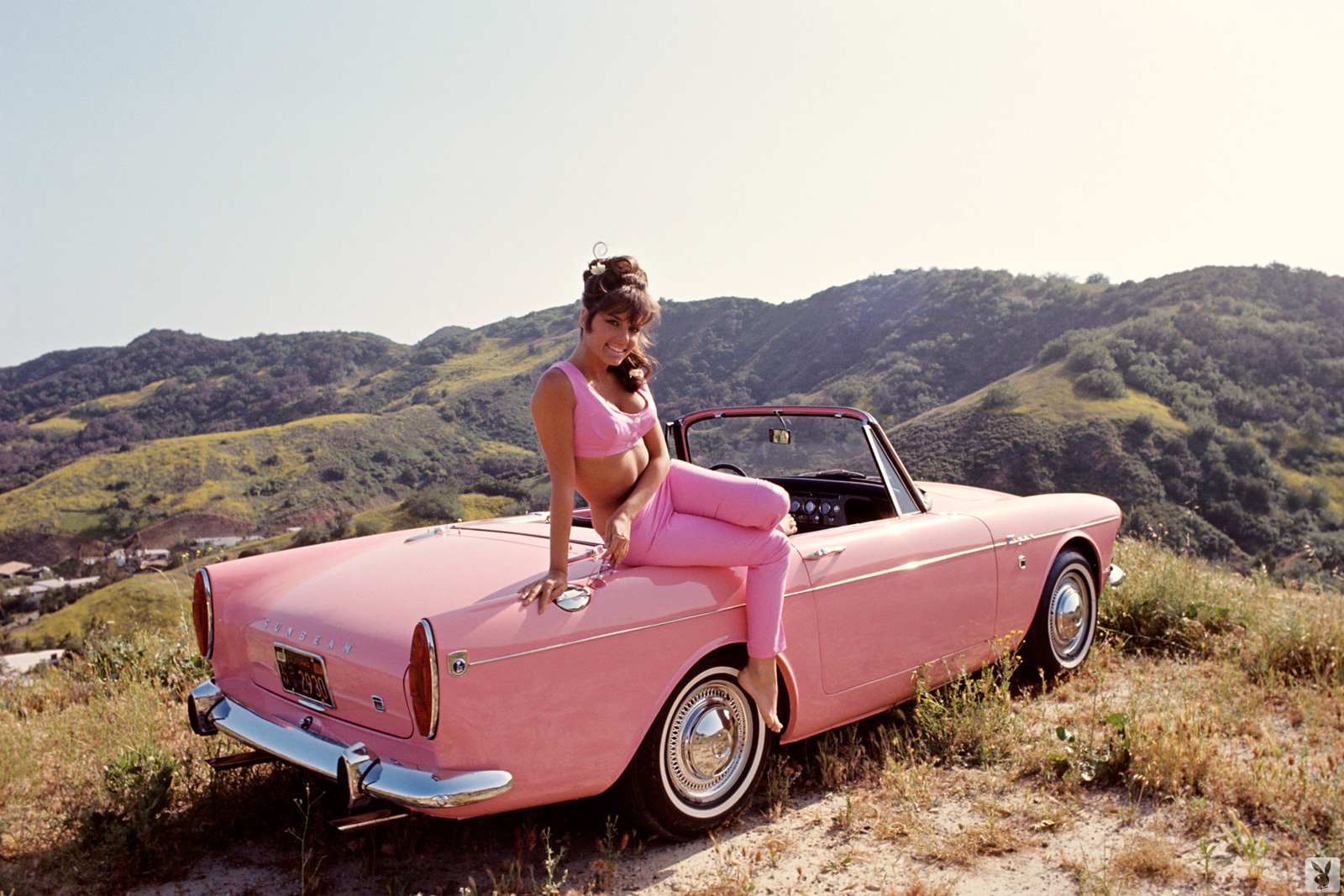 We have unanimousley (sic) decided that she is the Playmate of the Year for 1965. We further understand that, with a lifetime membership purchase, a bunny delivers the initial copy. It is our fervent hope that she will be allowed to deliver this copy. Should she not be able to, any of the 1965 Playmates of the Month would be received with open arms.
If we are not important enough, alone, to send a playmate for, we could attempt to have some other units do as we have. If further, we could share our Christmas or New Years (sic) Day with her, it would be a privilege beyond compare. When she arrives in Saigon, we would assume responsibility for getting her to the unit and back.
I do hope that you understand the deep sincerity of our request and the hopes and dreams we have placed in it. We are anxiously awaiting your reply. Enclosed is a money order for $150.00 for a lifetime subscription for Company B, 2nd Bn, 503d Inf, 173d Airborne Brigade (Separate). Should a personal delivery not be possible, please just forget about us, return our money order and we will fade back into the jungle."
The letter was signed by 2nd Lt. John S. Price. Below his name was typed the title "Bunny project officer."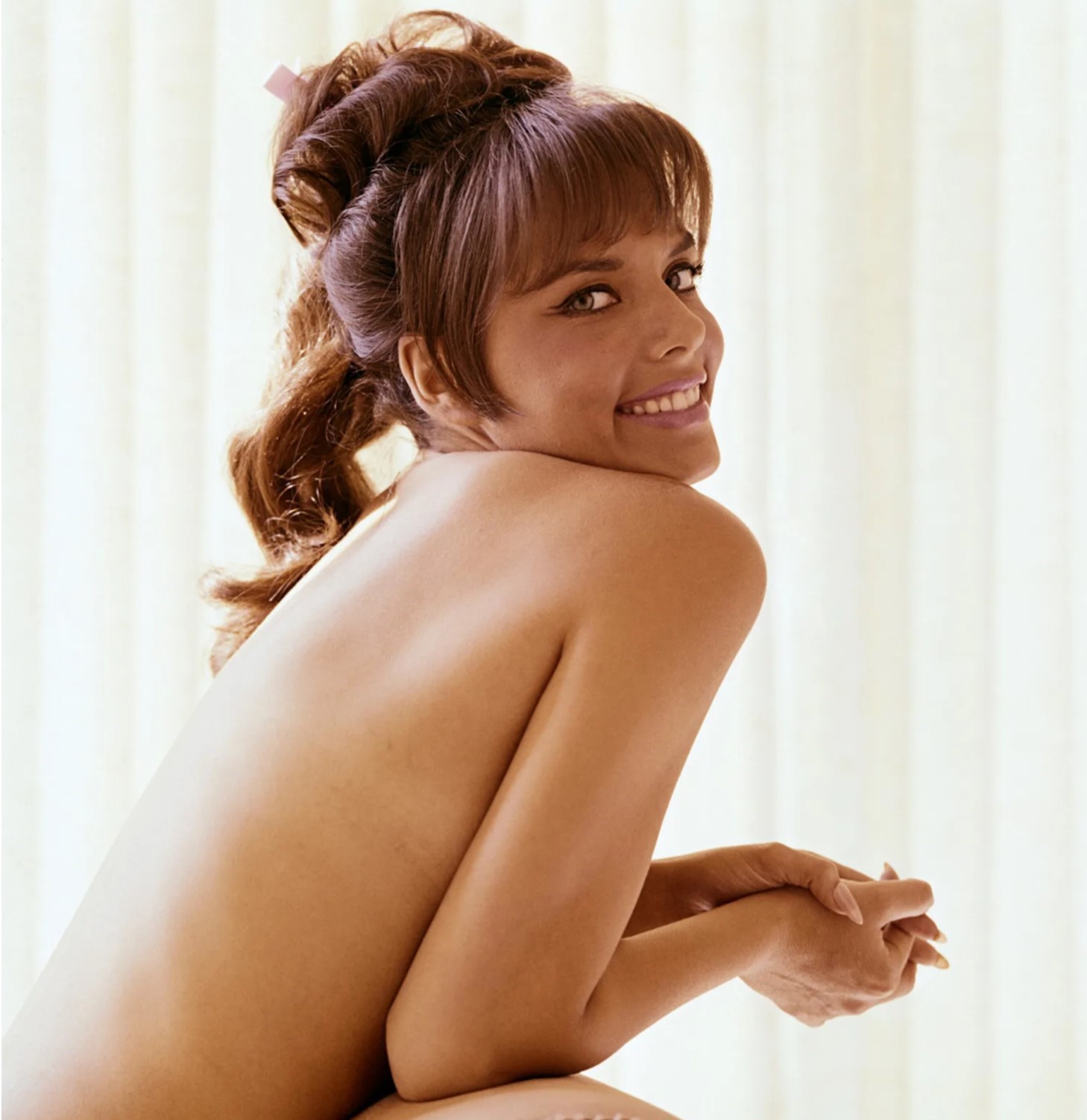 Deciding that only old soldiers should fade away, and seeing a good public relations story Nelson Futch, Director of Playboy Promotions who read the letter decided a letter of regret wasn't in order for the sheer bravado of this request. He briefed Hugh Hefner, founder and editor-in-chief of Playboy Magazine and immediately began drawing up plans for "Project Playmate." "When we first received the request," Hefner recalls, "we weren't at all sure how the Defense Department (DoD) would feel about Playboy sending a beautiful American girl into Vietnam at a time like this, but 2LT Price's letter was too moving to just put aside and forget. The lieutenant had obviously been a Playboy reader for quite a while, since he remembered a special Christmas gift offer the magazine published several years ago, which stated that a lifetime subscriber from any city with a Playboy Club would have his first issue delivered in person by a Playboy Bunny. Of course, we don't have a Playboy Club in Vietnam at the moment, but we figured we could overlook that little technicality under the circumstances."
In the weeks after company clerk Spc.4 Larry Paladino had typed up and sent Price's letter to Playboy, the combat-hardened men of Bravo buzzed about the prospects of meeting Jo Collins, whose centerfold photo hung on one of the thin wooden walls of the makeshift PX. The star of the December 1964 issue of Playboy, she was an All-American goddess with 36-24-36 curves. Her soft green eyes were often overlooked. Her appearance in Playboy had caused a sensation with the magazine's readership. An aspiring actress who had already appeared in a few scenes in beach movies, she was sugar and spice, but mostly spice in her December 1964 photo shoot and her August 1965 Playmate of the Year issue.
Her centerfold was the one that Bravo really loved. In it, she stood beside a pool, wearing nothing but strappy high-heels and what looked like a men's white dress shirt, which was predictably wet from the pool setting. Beads of water glistened on her long, tan legs, which tapered perfectly to her white toenail polish. The centerfold pinup was a refreshing sight for Bravo when they returned from their treks through rice paddies, elephant grass & triple canopy jungle dirty, thirsty and tired. Jo's & the other centerfolds hung on the makeshift PX (Post Exchange) wall were one of the few good things left to the sky soldiers, a little piece of America to savor.
PHOTO: Jo signs her centerfold at the Bravo Bulls PX.
On 3 January 1966, 2LT Price was leading an assault on a VC position across a rice paddy when he was hit by an enemy round in the left arm whose impact sent him flailing into the mud. The bone had been shattered cartwheeling through the mud. Staff Sergeant Willie Boyd rushed to Price's side in a heartbeat and half dragged him more than 100 yards to the protection of a dike under heavy enemy fire. Price kept one of the popular Vietnam-era Randall fighting knifes (probably a Model 14 or 18) bound to his leg with leather thongs and those thongs became the tourniquet that saved his life. As he lay in the mud against the dike, he wondered how long it would be before a dust-off medivac chopper could take him and his wounded men out. Price realized if he lived through the day there would be no Playmate for him if Bravo's request was even being considered.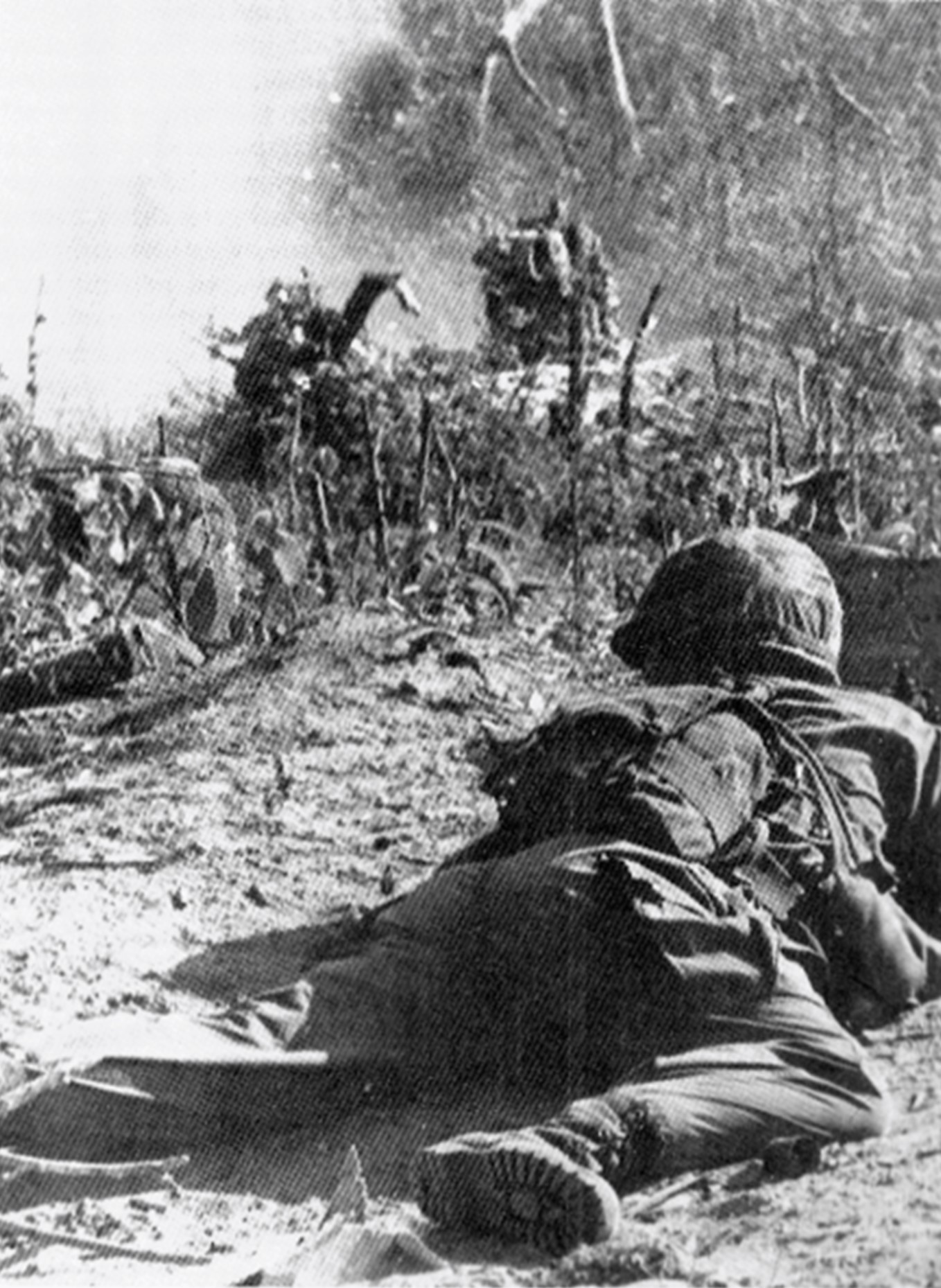 Playboy's Nelson Futch was facing a public relations nightmare. His nice story of Price and Bravo's request had turned into a nightmare. Newspapers that had picked up on the "fluff-piece" were now reporting that Price lay badly wounded at the Army's 3rd Surgical Hospital (Mobile) at Bien Hoa, Vietnam. The papers were also bashing Playboy for refusing to honor the request and send a Playmate.
Playboy was taking a beating for typical Department of Defense (DOD) red-tape as Futch's call to the Pentagon Public Affairs Officer (PAO) had been a bust. Vietnam is a combat zone. We wish you luck, but the DOD can't be officially involved in sending a Playmate to a combat zone. Too risky. We can't help you, the PAO told Futch before hanging up.
Futch was desperate to stop the bad publicity so he feverishly worked all his contacts in Washington, DC but everywhere the answer came back the same: No can do. The State Department might approve a trip in late February if Playboy could overcome the DOD restrictions and wade through their mountain of paperwork, but anything earlier than that would be unfeasible. A lukewarm promise of a late-February visit did Playboy no good, since the doctors planned to ship Price back to the United States on 13 January and more bad press coming in the next few weeks.
Futch seemed to be facing the classic military saying of being "SOL." He had the perfect Playmate, Jo Collins (real name Janet Canoy.) Just 20 and one year out of high school in Oregon when she posed as Miss December 1964. She had the promotion man's dream nickname "GI Jo" to play on the original WWII G.I. (Government Issue) Joe nickname for the American soldier and a media boost from 1964's Hasbro Toy Company "G.I. Joe" original action figures. Futch could work with Collins as an adult "action figure" if he could just find a way. Collins was no finicky fashion model and had an adventurous spirit that he knew would accept the challenge even if she only had a faint idea of Vietnam's location.
With time running out, several executives were in Futch's office brainstorming when one finally in frustration blurted out, why don't we just put her on a Pan American Airlines flight to Saigon? They still fly out of San Francisco. Why bother with government permission? They can't stop us, can they? It was an idea but they still didn't have a way to get her around Vietnam without getting her killed. It was impossible without the military's transporting and protecting their vivacious Playmate.
Another colleague opinioned he had a sister who had worked for the United Service Organizations (USO) and knew the guy who organized their troop entertainment trips in Vietnam like the legendary Bob Hope trips. Futch had the work-around and immediately told his secretary to get three plane tickets. If she could catch a plane the USO coordinator would handle the details, Jo Collins was going to Vietnam! Hugh Hefner published Playboy for guys like the soldiers of Bravo and the magazine would come through for them.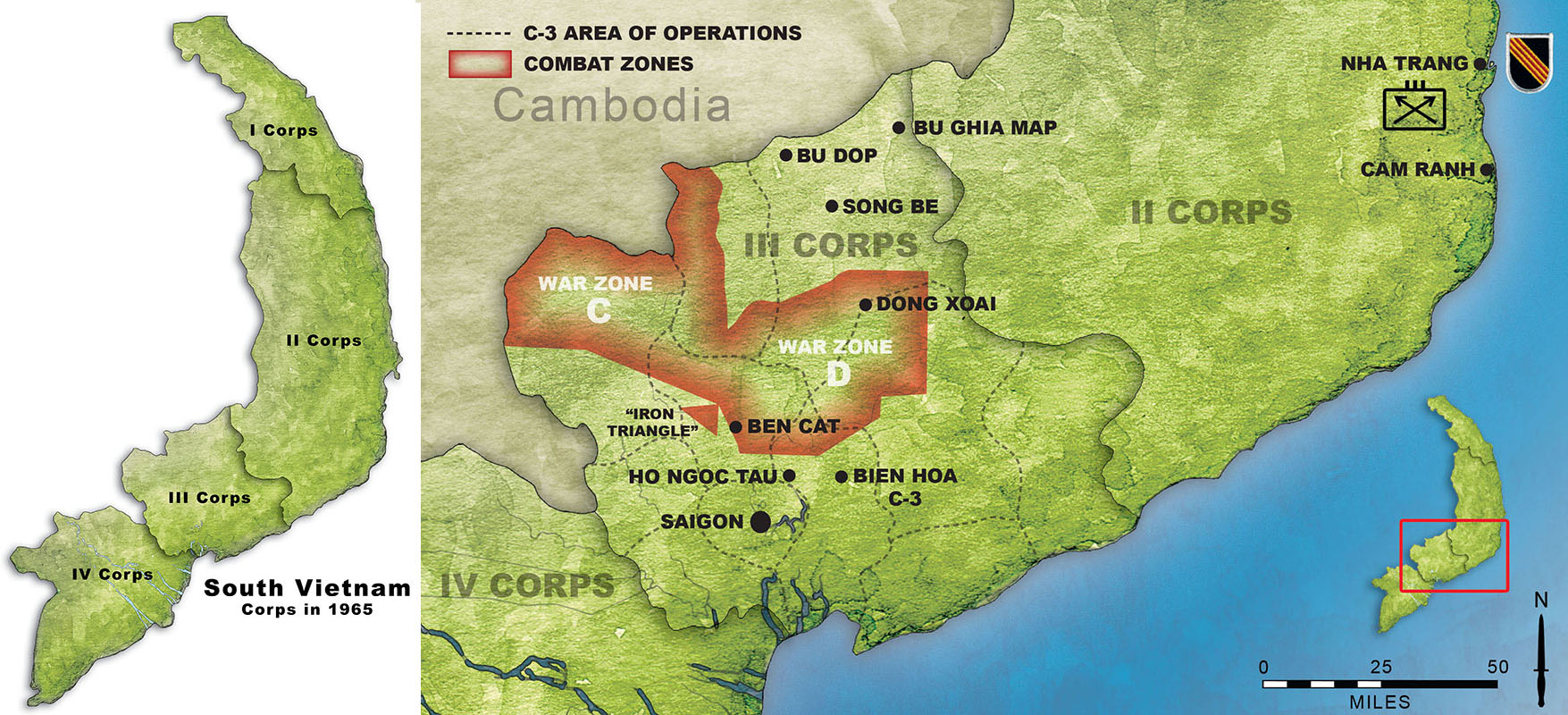 Jo departed on 9 January. Dubbed PFC (Playmate First Class) Collins she flew Pan Am with her two-person team of Playboy's Playmate and Bunny Promotion Coordinator Joyce Chalecki and staff photographer Larry Gordon—from San Francisco. Collins went above the call of duty as with two movie credits the early departure caused her to miss an important audition for a principal part on TV's Peyton Place.
PHOTO: Jo makes a few last-minute logistic touch-ups changes of her own prior to deplaning on the runway in Saigon. "Any girl would reach for a mirror," she said, "with 400 men outside her plane's door."
After an 18-hour flight, Jo and her staff landed at Saigon's Tan Son Nhat Air Base, where 400 American servicemen and a battalion of newsmen and photographers had turned out to greet them. Jo was introduced to Lieutenant Clancey Johnson and a real PFC (Private First Class) Marvin Hudson, two Bravo Company Bulls who had been ever-so-willingly volunteers to serve as a stand-in reception committee for 2LT Price. They brought roses and the Companies Bull Skull that Native American tribes believe is a symbol of life-long protection from all natural elements. Bravo was proud users of the attributes of the bull, courage, toughness, strength and agility.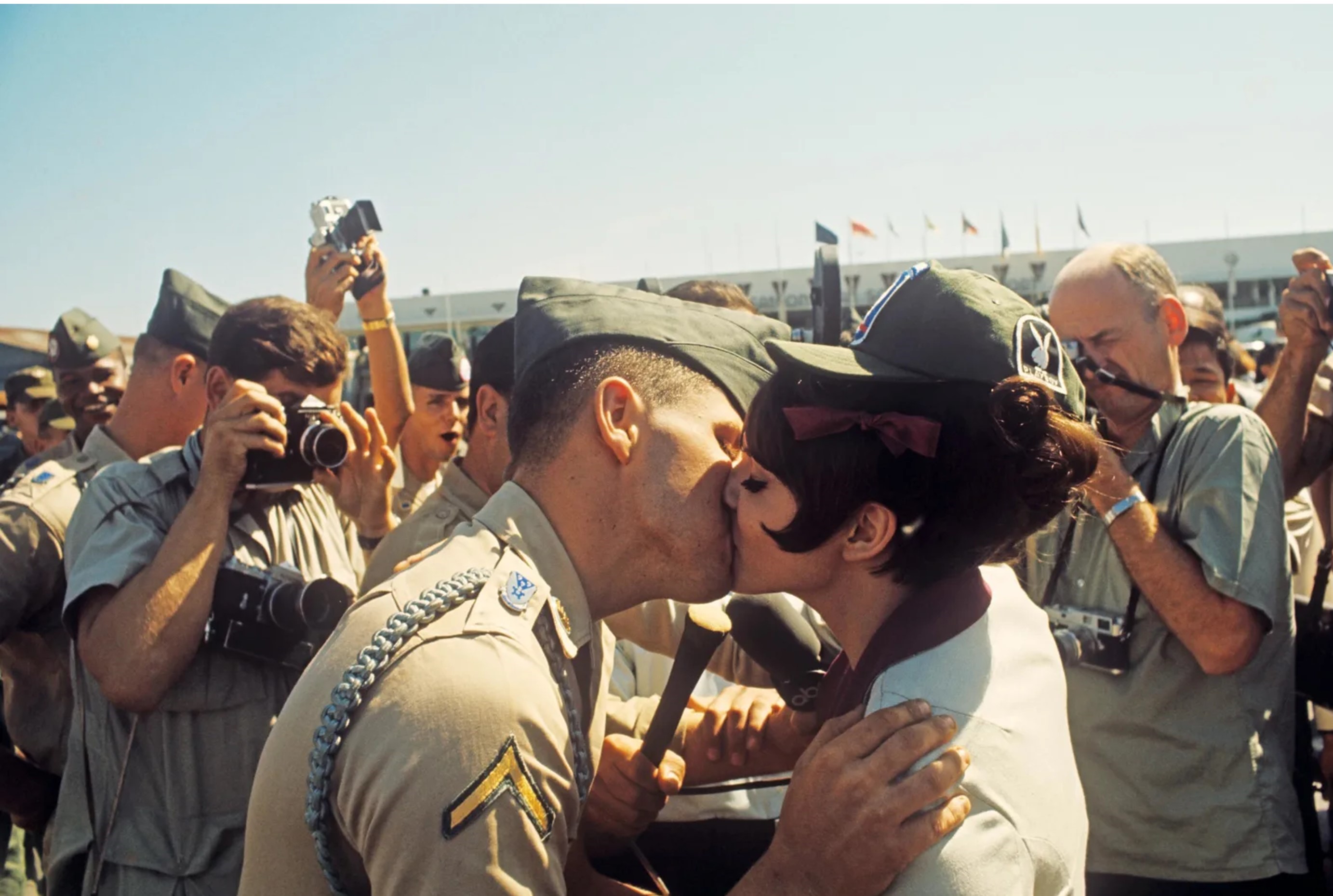 PHOTO: Playboy Playmate Jo Collins is greeted with a kiss by PFC (Private First Class) Marvin Hudson.
After the arrival ceremonies the three Playboy recruits were taken to a nearby "chopper" pad to board the "Playboy Special" a UH-1 Huey helicopter especially named in honor of their visit. "That first chopper ride really started things off with excitement," reported GI Jo. "It seemed as though we'd hardly even arrived, and there we were over hostile country being given our first taste of what they call 'contour flying.' That's where you skim the treetops to prevent possible enemy snipers from getting a clear shot at you and then, suddenly, shoot straight up at about 100 miles per hour to 3,500 feet so you can check the area for Viet Cong (VC) troop movements from outside their firing range. After our stomachs got used to it, we figured we were ready for just about anything."
PHOTO: The "Playboy Special" a "Slick" was escorted by Huey Gunships where ever it went.
Back on terra firma, the Playboy team set up their base of operation at the Embassy Hotel in Saigon after the original reservations at the Caravelle Hotel fell through. (Editor's note: MHT's reservations don't fall through – see group at the rooftop bar.) Press conferences were kept to a minimum so more time could be spent with the men at the front. The following day began the three-day tour of III Corps, the combat zone around Saigon. Jo and her colleagues got a chance to test their nerves, dressed in combat fatigues, they were issued flak jackets before boarding her "Playboy Special" Helo with their MP escorts for an initial front-line foray. "I realize it was a question of safety before beauty," said Jo, "but I couldn't help feeling a little insecure. After seeing some of Saigon's Vietnamese beauties 2LT Price referred to in his letter and catching a glimpse of myself in combat gear, I was afraid the guys wouldn't be nearly as homesick for an American girl once they had a basis for comparison." Flying low over VC-infiltrated territory with three fully manned gunships flying escort, the "Playboy Special" made its first stop at the 173rd Airborne Brigade Headquarters at Bien Hoa Air Base. In February 1953 the French Air Force established the facility at Bien Hoa. In December 1961, after the U.S. Military Assistance Advisory Group (MAAG) Vietnam requested it be jet capable, the U.S. Navy, oversaw the building of a new concrete runway.
PHOTO: 173rd Arrives at Bien Hoa
From 3 to 6 May 1965 USAF transport aircraft deployed the 173rd from Okinawa to Bien Hoa to secure the airbase and surrounding areas and the port of Vũng Tàu.
PHOTO:All of her fears the gorgeous Playmate might have harbored about her lack of sex appeal dissipated when she saw a mass of smiling paratroopers waiting on the airstrip to greet her.
Most of Bravo Company's soldiers were out running combat patrols on the Plane of Reeds during Jo's first visit to Bien Hoa, but the one man most responsible for her being in Vietnam, 2LT John Price was present and accounted for at his unit's surgical ward. In spite of a severely wounded arm that will require several additional operations before it is restored to full use, Price managed to muster up enough energy to give his favorite Playmate a healthy hug or two when she showed up to deliver his company's lifetime subscription certificate and the latest issue of Playboy. The lieutenant's initial reaction to seeing the Bravo Company sweetheart standing there in the flesh was "Gosh, you're even prettier than your pictures." Flattered, Jo sealed her delivery with a well-timed kiss. The doctors noted his improved condition waived hospital regulations for the day to allow Price to accompany Jo to lunch at Camp Zenn—the Company B base camp. Earlier in July 1965, 1LT Ronald Zinn and his platoon were patrolling through the steaming jungle in War Zone D when a firefight broke out when they stumbled on a VC camp. Zinn a 1962 United States Military Academy graduate a was KIA denying Bravo a respected leader plus a race walker who represented the USA at two Summer Olympics in 1960 & 1964 (his best finish was sixth place in the men's 20 km walk at the 1964 Summer Olympics in Tokyo, Japan.) It was a dark day for the Bravo losing one of the company's most beloved officers. After his death, they named their camp in his honor. Colts Neck NJ has not forgotten this West Point hero as the 59th Annual Captain Zinn Memorial 5K Races is Sunday 2 April 2023.
PHOTO: Playboy's Vietnam Volunteer visits Lieutenant Price's wardmates at the Evacuation Hospital. "Most of them had been badly hurt," said Jo, "but no one ever complained."Counter-clockwise: Jo in the wards. Signing an autograph for a sky soldier. Jo and Lieutenant Price. They reunite and strike a pose. "When the 173rd Airborne Brigade was invited to the White House in 1985, they collectively decided I should be invited as well. It was such an honor," Collins says. "I had kept in touch with Lieutenant Price throughout the years, so it was great to meet with him in person."
PHOTO: Bien Hoa in III Corps, home of the 173rd.
After lunch, Jo put her best bedside manner to use as she paid a brief call on each of the men in 2LT Price's ward. "A few of the fellows asked me to help them finish a letter home, others wanted a light for their cigarette; but most of them just wanted to talk awhile with a girl from their own native land. A couple of times I was sure I would break down and bawl like a baby, but I managed to control myself until they brought in a badly wounded sky soldier who asked if he could see me before going into surgery. When I got to his side, he was bleeding heavily from both legs and I didn't know what to do or say to comfort him. Then he looked up at me with his best tough-guy grin and simply said, 'Hi, gorgeous.' After that, I lost all control and the old tears really flowed."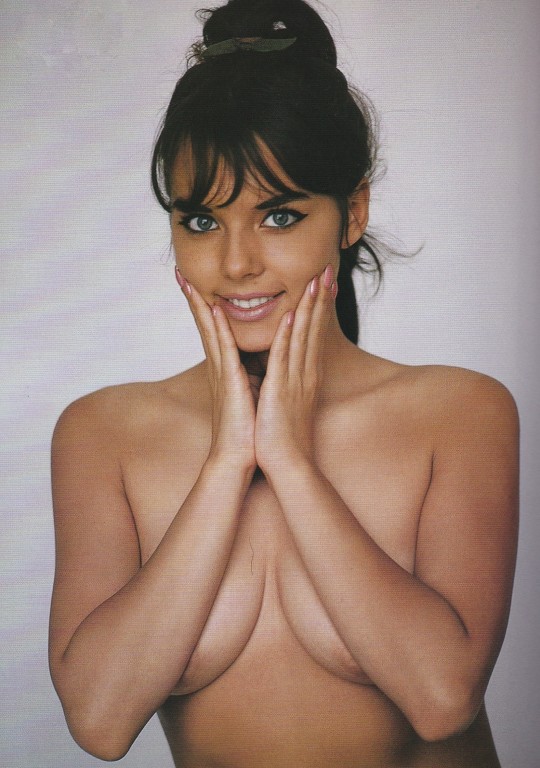 PHOTO: Jo said "I kept thinking how great it would have been if all those boys had been back home watching a Fourth of July celebration instead of out there in the jungle fighting for their very lives."
Before leaving Bien Hoa, Jo made additional bedside visits at the 93rd Medical Evacuation Hospital (Semi-Mobile) and the rest of the 3rd Surgical Hospital wards. "We were all ready to go and standing outside the Brigade Officers' Club when I first heard the sound of shots coming from fairly close by," explained Jo. "Then a few mortar shells went off, but it still didn't sink in how near the action we really were. I guess we'd all been too busy meeting wounded soldiers and talking to the men on the base to notice anything before. Then, right before our chopper lifted off, a series of flares went off and lit up everything for miles. I kept thinking how great it would have been if all those boys had been back home watching a Fourth of July celebration instead of out there in the jungle fighting for their very lives."
PHOTOS: Jo takes a ride to Black Virgin Mountain on the "Playboy Special", you can take the cable car up now!
The next day began with a flight, the group headed out toward some of the more crucial combat zones in the Saigon military theater. First on the day's itinerary was a stopover at Nui Ba Den, a mountain top held by the U.S. Army Special Forces 3rd MIKE (Mobile Strike Force Command) Force along with a strategic communications outpost.
PHOTO: MHT Group with Black Virgin Mountain in the background.
The Special Forces (SF) troops who had renamed their precarious hilltop position "Black Virgin Mountain." Rising some 3,200 feet above the surrounding countryside and under continuous assault from Viet Cong guerrillas operating in the densely wooded areas & mountain's caves below, Black Virgin Mountain is defended by a small detachment of SFs personnel and the South Vietnamese Army regulars placed in their charge. Despite their precarious position, the wearers of the famed Green Berets greeted the Playboy group with a typical show of SFs readiness: crowning Jo upon arrival with her own green beret, escorting her to various firing positions around the installation and serving as interpreters when Vietnamese soldiers asked to meet her.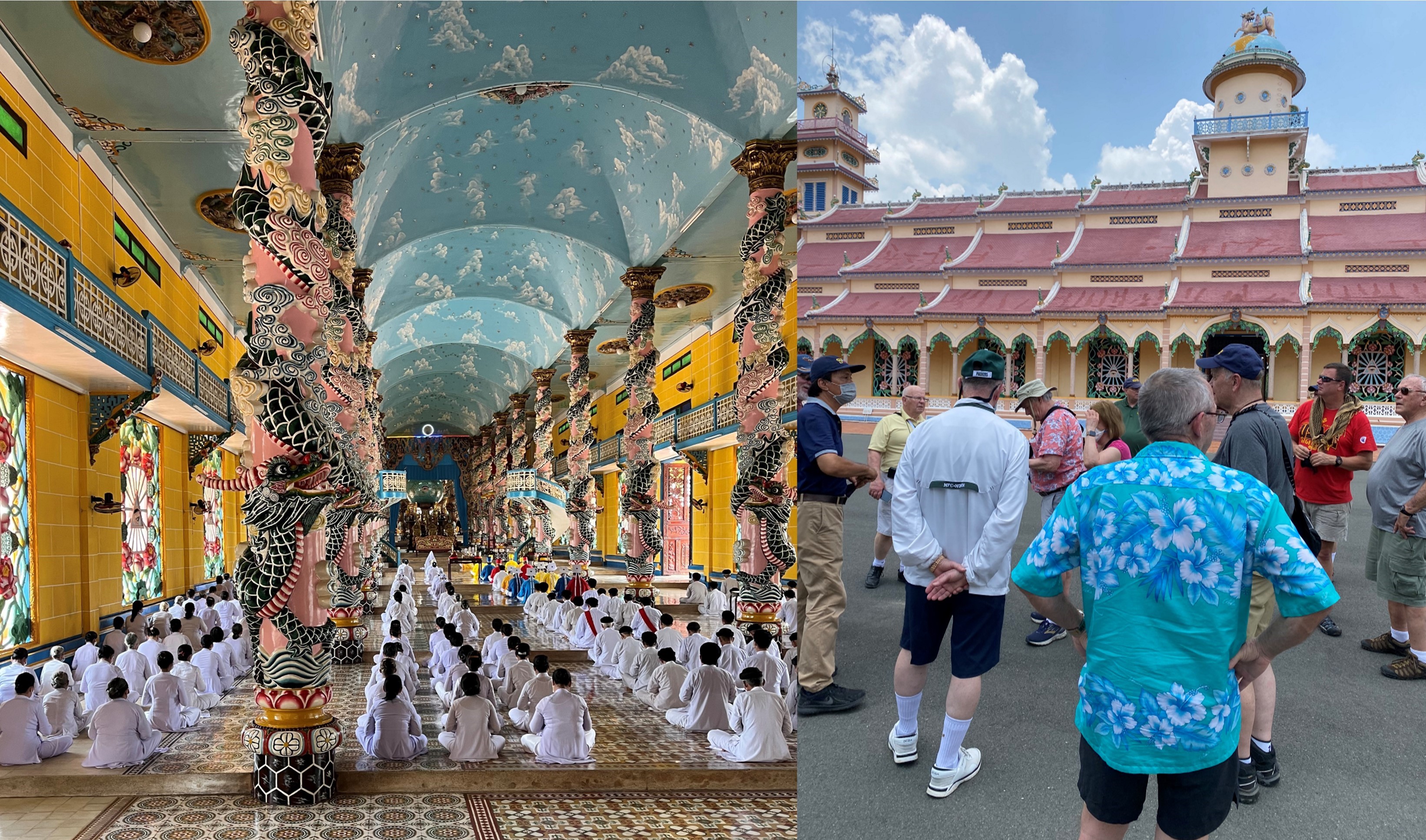 PHOTO: Cao Dai Religious Temple
From Black Virgin Mountain the "Playboy Special" flew onto the Special Forces (SF) encampment at Tay Ninh, whose boundaries encompass the majestic Cao Dai Temple, the seat of the new Cao Dai religion, which combined the teachings of Buddhism, Christianity and Confucianism in 1926. "The temple itself was right out of a fairy tale," remembers Jo. "But its presence right in the middle of a combat theater made everything about it that much more strikingly unusual. We entered barefooted and were met by a different world, full of ornate columns, uncaged white birds and young head-shaven priests, while just outside men in uniform walked about with their guns always ready at their sides."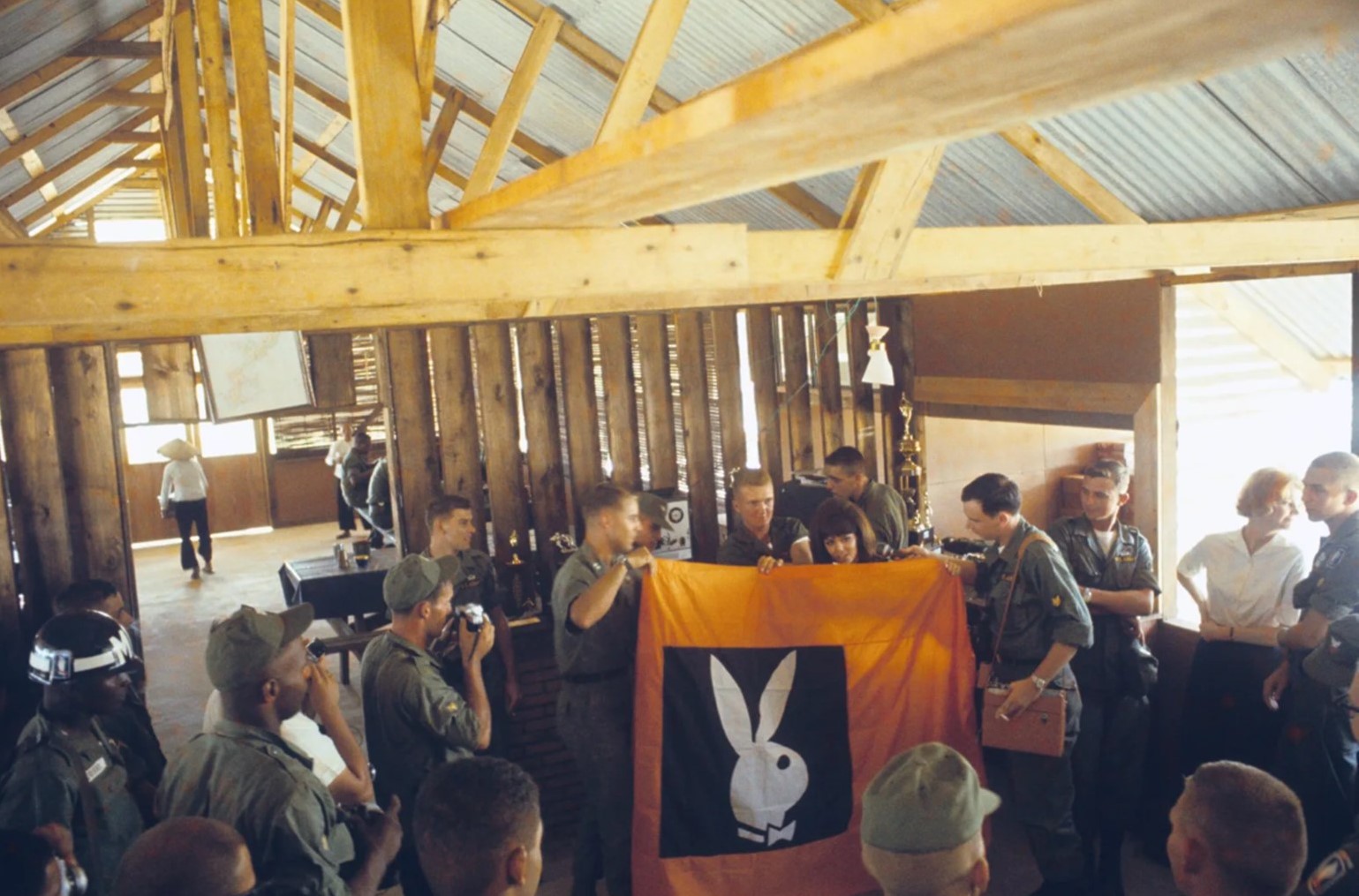 PHOTO: Jo helps hoist a Bunny flag.
Another 85 miles west over enemy lines brought the passengers of the "Playboy Special" to the Bu Dop District located on the Cambodian border. Here was one of the most strategically critical military outposts (A-341) in the entire III Corps war zone and protected by 5th Special Forces Group advisors & Civilian Irregular Defense Group (CIDG.) Only six months earlier, during the night of 19 July, two Viet Cong (VC) battalions attacked Bu Dop with two SF advisors and twenty CIDG strikers KIA. Arriving at Bu Dop in the afternoon of 20 July, SF CPT Stringham positioned his MIKE Force personnel on the south side of the camp perimeter and relocating the CIDG defenders onto the north side. The VC did attack the camp again that night but could not penetrate the defenses. "The Green Berets at Bu Dop went out of their way to try and maintain a relaxed air around us," Jo said, "but you could still cut the tension with a knife. We were introduced to just about everyone there was to meet, from the group commander to most of his Green Berets and South Vietnamese CIDGs, but it seemed as though none of them ever left his field position or took his eyes off the surrounding jungle. Some of the edge was taken off our nerves when the village chief and his two wives came by to welcome us, since they all projected the feeling of complete calm by nonchalantly walking about the community with nothing on from the waist up."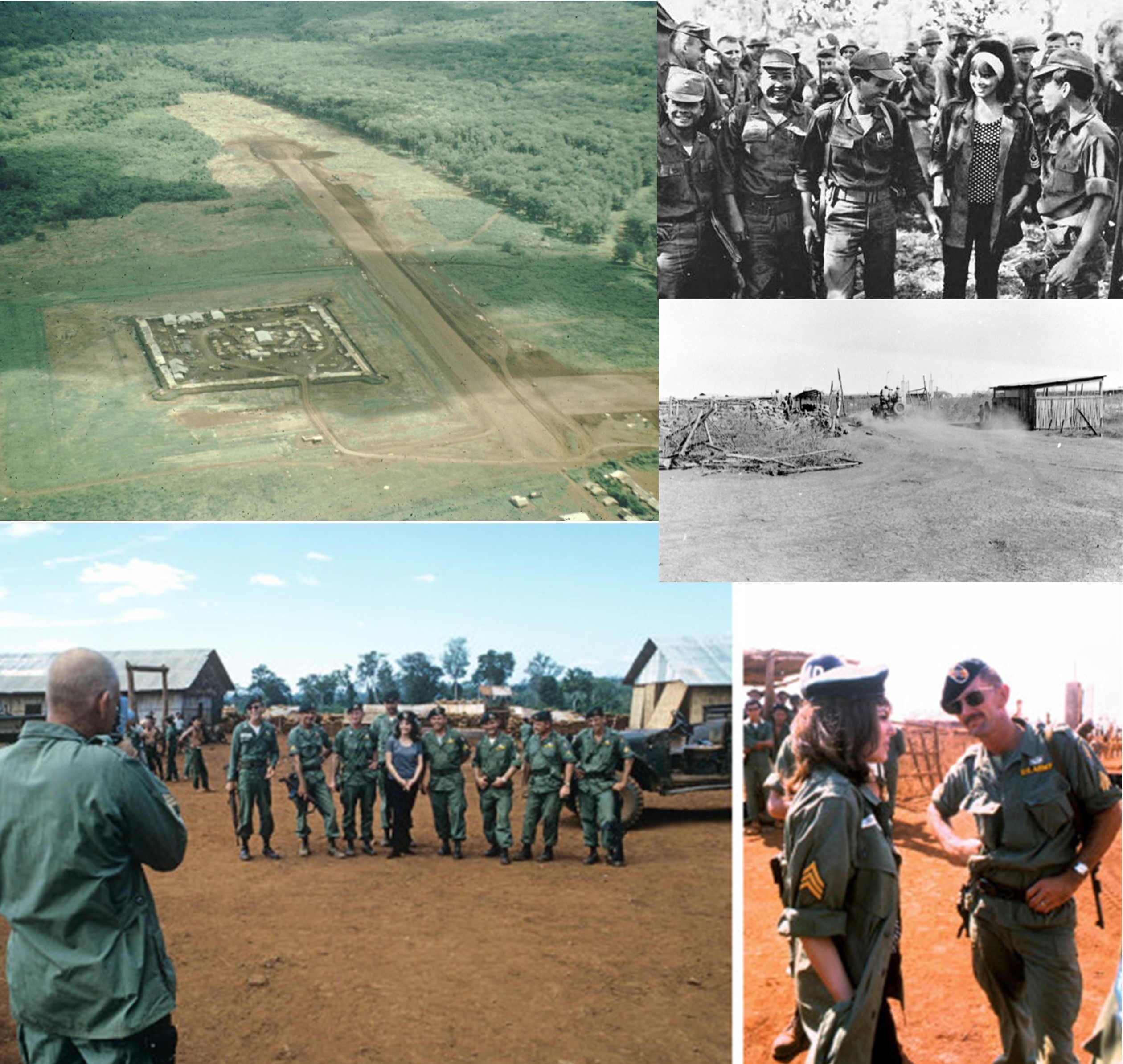 PHOTO: With the Green Berets at Bu Dop
Whatever tranquilizing effect the sight of a Vietnamese village chieftain and his two topless ladies might have had on the travelers was short-lived however, as the itinerary took them outside barbed-wire gates of Bu Dop and down the same jungle trail they had just been told was often swarming with Viet Cong. "Like most red-blooded female cowards," joked the 20-year-old Playmate of the Year, "Joyce and I hit the panic button the minute we caught sight of all the bullet holes in the side of our truck. And we both swear we saw Larry's shutter finger shake through an entire roll of film, but he refuses to admit it." As it turned out, the purpose of this overland junket into the unknown was to let some of Jo's fighting South Vietnamese CIDG fans, stationed 15 minutes away in a small Montagnard (native inhabitants of the Central Highlands) hamlet, to get a glimpse of the audacious green-bereted glamor girl before she left.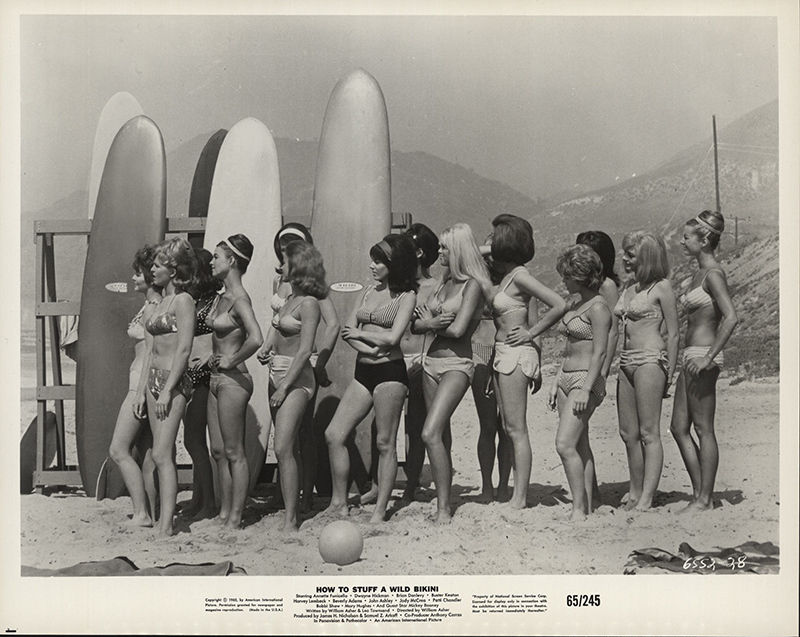 PHOTO: Jo (Center) knew about beaches having been in some beach films like "How to Stuff a Wild Bikini."
The final item on Wednesday's agenda was a flight to Vũng Tàu, a scenic coastal village on the Mekong Peninsula where American and South Vietnamese troops can enjoy a few days of much-needed R&R (rest and recreation) before returning to duty in the interior. "At first," says Jo, "I was afraid to ask any of the fellows how they felt about going back into combat after having a chance to get away from it all.
PHOTO: The top photo of loading a surfboard at Vũng Tàu may have inspired "Apocalypse Now" writer John Milius (credits: "Dirty Harry", "Magnum Force", "Jeremiah Johnson", "The Wind and the Lion", "Conan the Barbarian", "Clear & Present Danger" & "Red Dawn") to mix his love of surfing, machismo and warfare, like putting the Beach Boys "Surfing USA", Led Zeppelin's "Dazed & Confused" & Black Sabbath's "War Pigs" in a blender and out popped LTC Bill Kilgore's "Charlie Don't Surf" epic film attack to Richard Wagner's "Ride of the Valkyries!"
PHOTO: Jo had modeled a Jantzen Suit (Top Left) in 1965 & the beach below.
I figured they'd all like to forget about war and just lie on the beach there until everything got settled. It didn't take me long to find out otherwise. Many of our boys in Vietnam may only be 17- and 18-year-olds who don't know much about world politics, but I came away from places like Vũng Tàu convinced that they know why they're there. Nobody's going to make them throw in the towel."
PHOTO: Bravo Bulls Return for Jo.
Jo's last day in Vietnam wound up being the busiest of all. With a gallant assist from Brigadier General Ellis W. Williamson, USA who led the 173rd Airborne Brigade in its deployment to South Vietnam, becoming the first major US Army ground combat unit to deploy to Vietnam, she got a second chance to complete her mission as planned when the patrols and outposts from Company B were called back to Bien Hoa for a 24-hour lifetime subscribers' leave and a long-awaited look at the Playmate of their choice. One by one, the combat-weary paratroopers filed off their choppers and hurried over for a hard-earned hello from Jo. A few even produced crumpled copies of her December 1964 Playmate Centerfold they'd been carrying in their helmet liners in hope of someday having them autographed. "When I saw all those happy faces running toward me from every direction, I knew we'd finally gotten our job done," she said.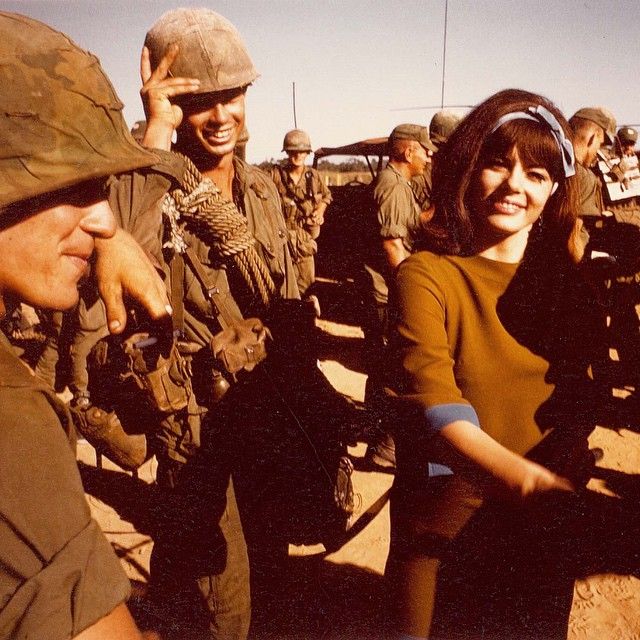 Reporters and photographers suddenly crowded Bravo Company. We want a big kiss from the company commander, they said, so we can get a picture. CPT Les Brownlee immediately knew he wanted no part of that as a married man. He turned to two of the company's radiomen, Spc.4 Paladino and PFC John Cotanch and said "Listen, you guys do all my talking for me anyway, so take care of this." Brownlee studied both of them. Paladino, who had typed Price's letter to Playboy, was a smooth talker when it came to contacting headquarters. Maybe he should greet Collins, Brownlee thought. Cotanch was a smooth talker, too, however Cotanch had no front teeth. The Captain nudged Paladino forward.
PHOTO: Playboy Playmate Jo Collins and Spec.4 Larry Paladino share a kiss at Bien Hoa Airbase, Vietnam, 1966. (COURTESY OF LARRY PALADINO)
Paladino didn't need any further encouragement. He stepped forward, taking Collins in his arms, tilted her back and laid a world-class kiss on her. The men of Bravo roared. They couldn't believe Paladino's nerve. He was filthy from 10 days in the bush, and here he was all over this beautiful young woman. They slapped each other on the back as Paladino kept Collins locked in the kiss. GI Jo didn't flinch, throwing her arms around Paladino and kissed him as passionately as he kissed her. She had flown in a Huey over the heads of the Viet Cong to get here, and there would be no disappointing the sky soldiers. Seconds ticked by, the men hooted and whistled, and still the kiss continued. The stress of combat melted from the crowd of laughing men. Bravo laughed to see the grimy Paladino and the beautiful pinup locked in their embrace. They all shared it as one, the pinup that looks like an angel. The most beautiful thing they had seen in a long time.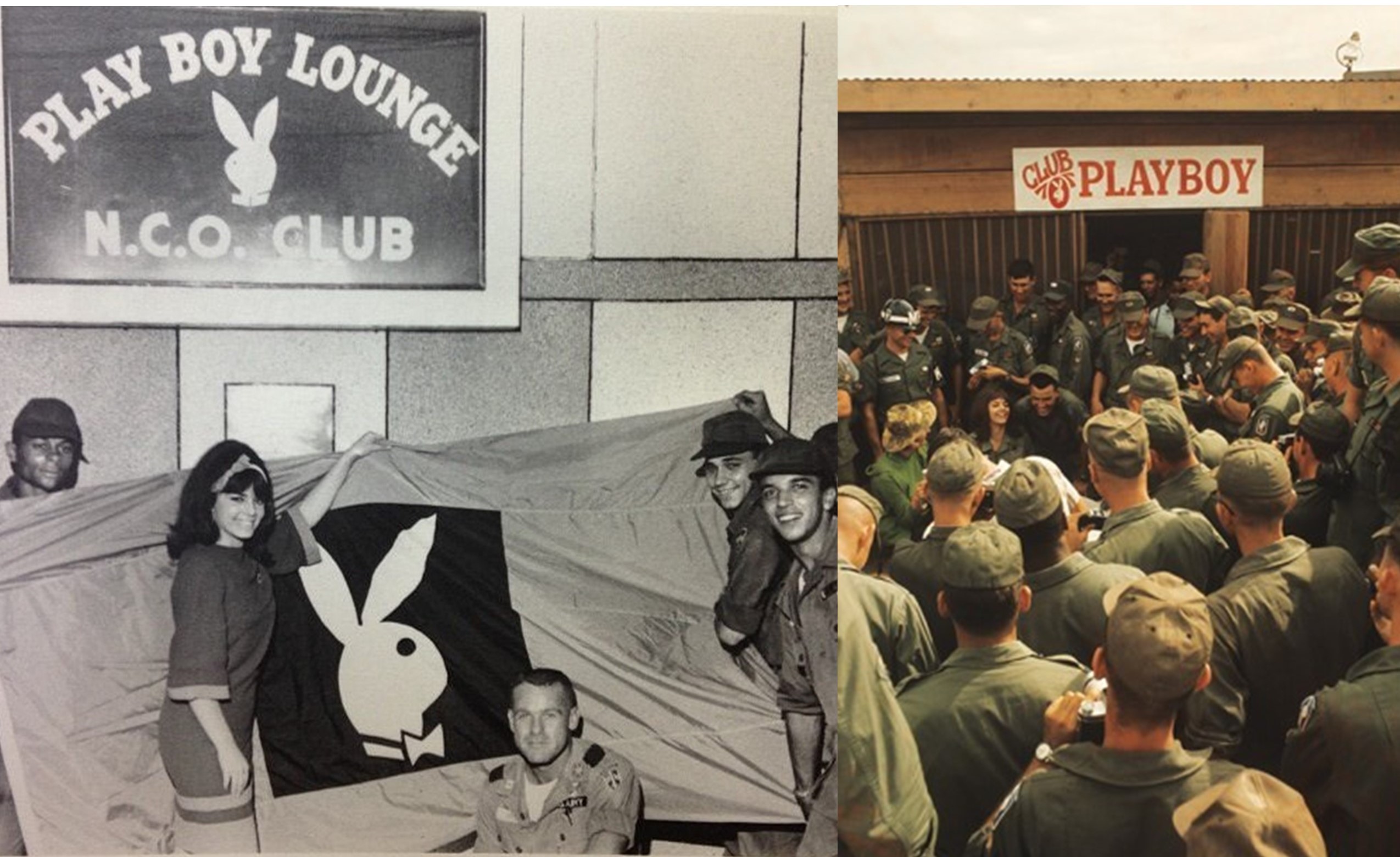 PHOTOS: Hefner was wrong on the assumption that there were no Playboy Clubs in Vietnam as before leaving Bien Hoa, Jo makes a tour of other companies' "Playboy Clubs" (She seemed to run across these 'clubs' at every GI base.)
One more trip into "Indian Country" was on the agenda before Jo headed back to Saigon and a Hawaii-bound jet. Landing in War Zone D, where just two months earlier the Sky Soldiers of the 173rd had conducted Operation Hump, a search and destroy operation in an area about 17.5 miles north of Bien Hoa. The U.S. 1st Battalion, 503rd Infantry Regiment, 173rd Airborne Brigade conducted a helicopter assault and on 8 November had a major engagement when a VC Regiment attempted to encircle and overrun the 1/503rd resulting in 49 U.S. killed and between 400-700 VC killed. Jo was escorted to the War Zone D Brigade Headquarters, where a grateful BG Williamson was waiting to hand her a farewell memento of her short but eventful stay in Vietnam.

PHOTO: The General & the plaque, on temporary Marston Matting LZ and with a four-duece, 4.2" mortar.
He presented a plaque upon which had been inscribed the words: "Know ye all men that, in recognition of the fact that Playmate Jo Collins traveled to the Republic of Vietnam to deliver a Lifetime Subscription to PLAYBOY magazine to sky soldiers of the 173rd Airborne Brigade and demonstrated exceptional courage by volunteering to travel into hostile areas to visit its men and in doing so exhibited the all-the-way spirit typical of true airborne troopers…I, Brigadier General Ellis W. Williamson, do appoint her an honorary Sky Soldier, done this 13th day of January, 1966."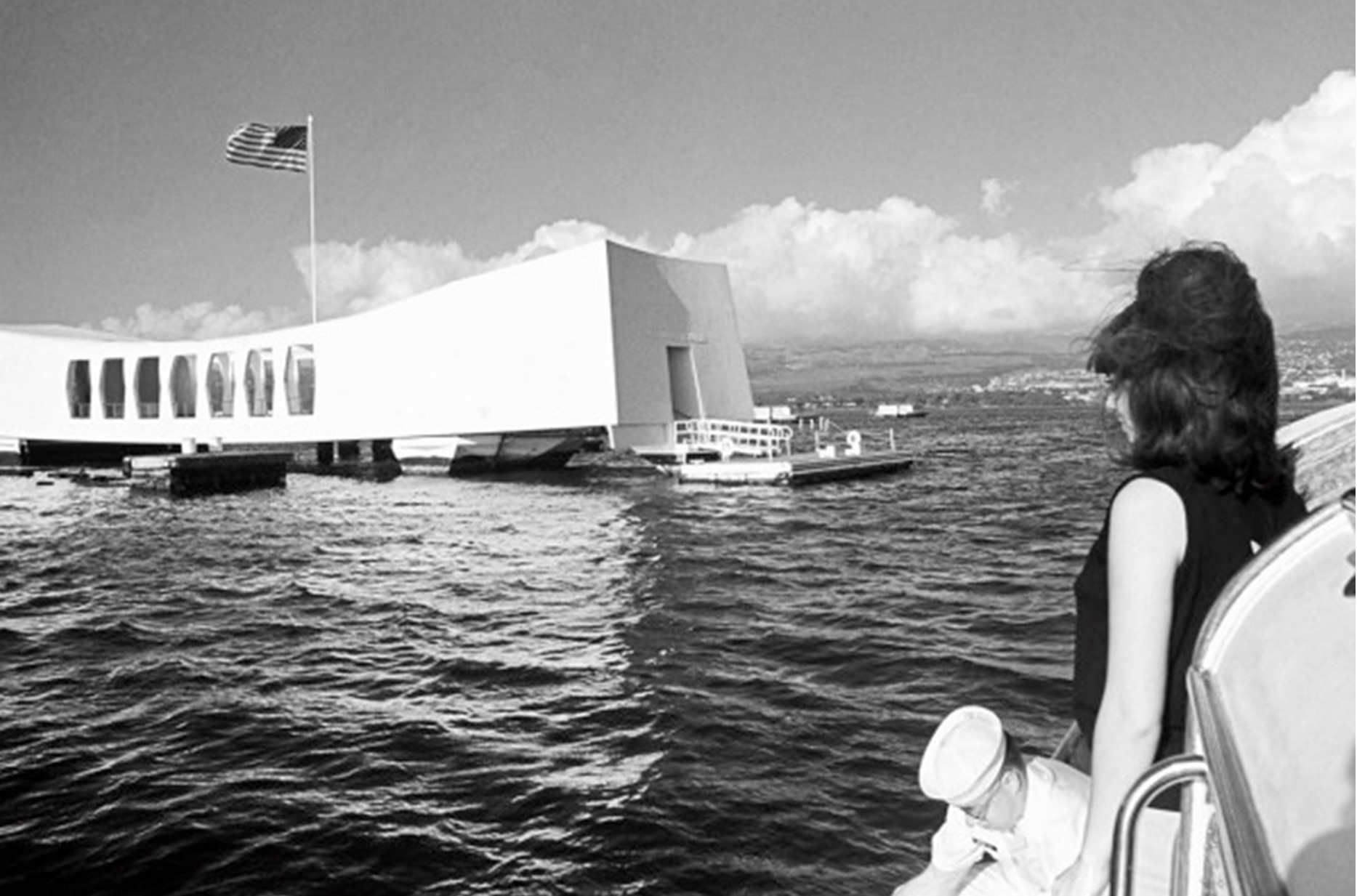 PHOTO: Mission accomplished, our home-bound trooper visits Pearl Harbor's Arizona Monument to pay respects to heroes of another decade.
The day after her Saigon departure, Jo received further praise from high places for the job she had done. Between visits in Honolulu to Tripler Army Hospital and Pearl Harbor, she was called on the phone by U.S. Ambassador at Large Averill Harriman, who wished to express his and Secretary of State Dean Rusk's congratulations on all the good reports they'd heard concerning her morale-lifting mission. Needless to say, Jo was highly honored by the tributes of so dignified a brace of statesmen, but, as she put it, "The finest compliments I could ever receive have already been sent in the letters of over 200 fellows I was lucky enough to meet somewhere near Saigon."
It remained for the men of Company B to pay their Playmate postmistress the highest honor, however, by renaming their outfit "Playboy Company" and thus assuring Jo that her presence south of the 17th Parallel would not be soon forgotten. When asked how she felt about becoming the official mascot for this troop of front-line sky soldiers, a jubilant Jo replied, "I've never been prouder." As the company's new namesake, Playboy seconded that statement.
GI Jo's unselfish visit has been said to be the genesis for the "Apocalypse Now" Fantasy Playmate Helo scene (well really isn't the entire film a fantasy of Coppola on the Vietnam War based on an 1899 novella about a Belgium ivory trading company in the Congo Free State!?!? We have already discussed LTC Bill Kilgore's obsession with surfing but I watched with a Vietnam Veteran who laughed out loud at the 1st Squadron, 9th Cavalry Regiment's helicopter-borne air assault playing "Ride of the Valkyries" on loudspeakers giving the VC a warning they were inbound. Coppola got everything wrong except the cavalryman taping his magazine on his helmet as they flew in.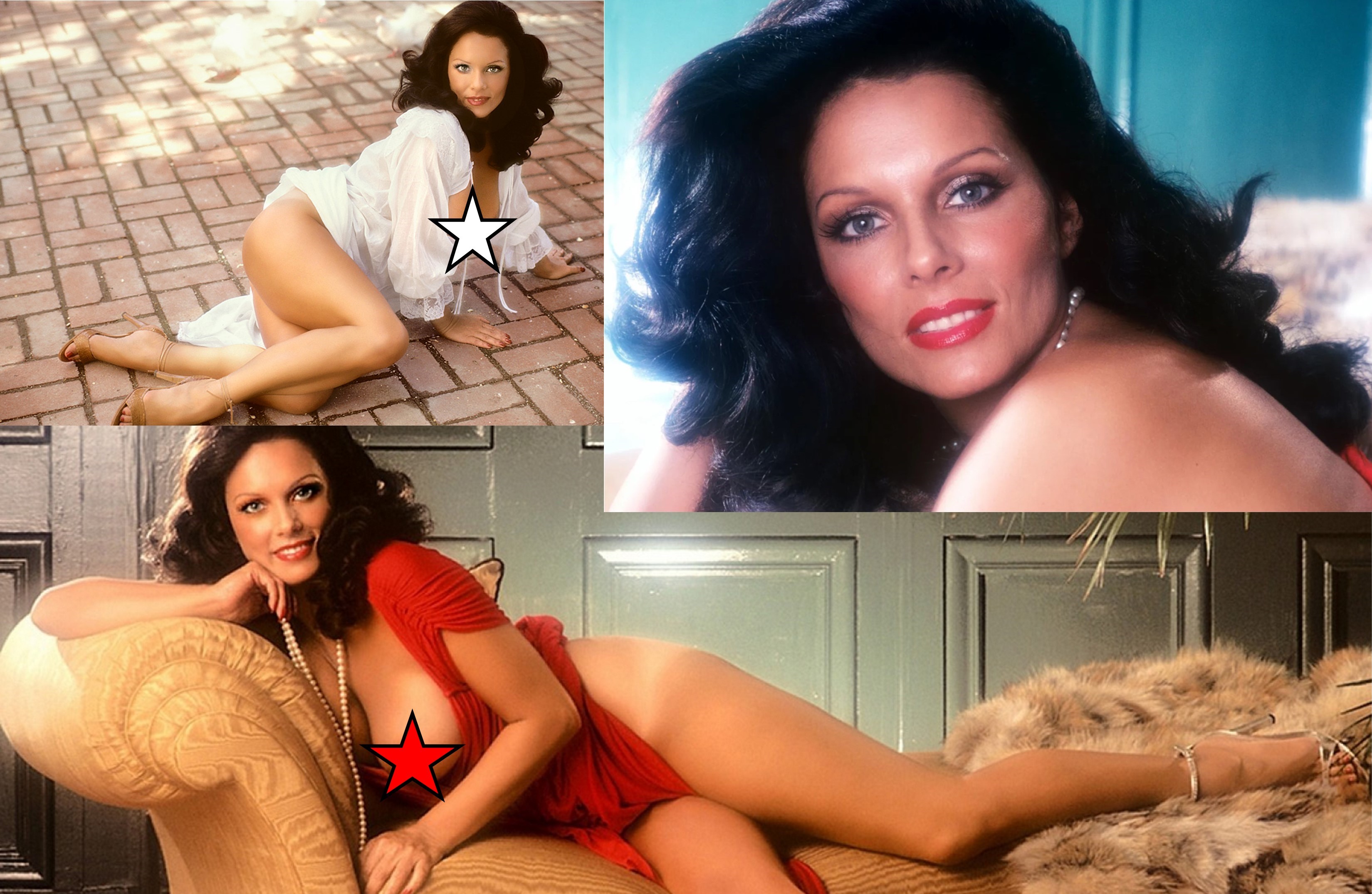 PHOTO: Outtakes from Jo's December 1979 pictorial Playmates Forever.
She became a Bunny Mother at the Chicago Playboy Club in 1972, "I can't tell you how many times people have asked me to write a book," she said "Everybody has a story, so I just never felt like it was worth writing about mine."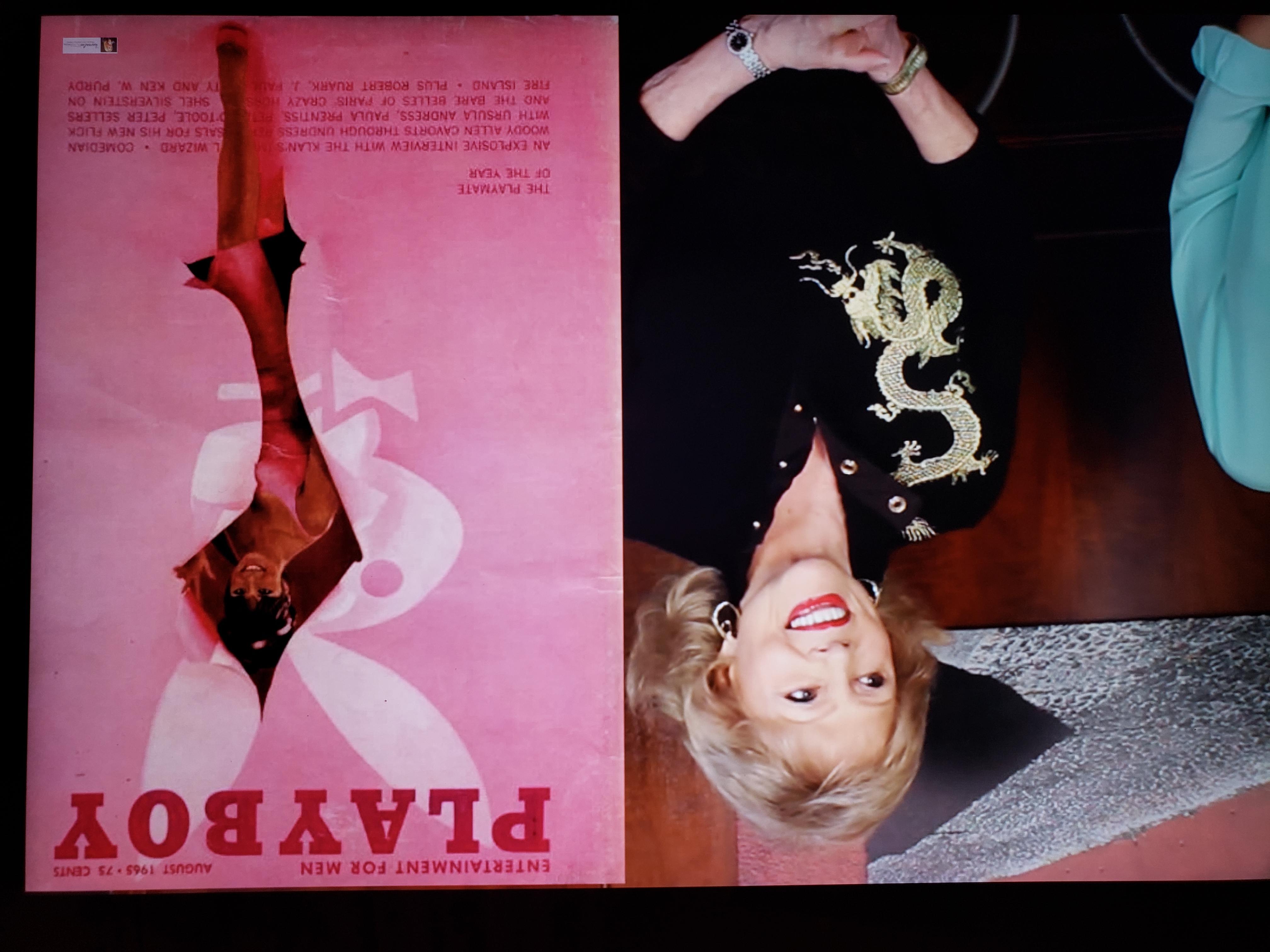 PHOTO: Jo today still looks the part being interviewed in 2020 with her Playmate of the Year issue cover, now as a grandmother.
Go back to Vietnam with MHT: https://miltours.com/index.php?route=product/category&path=62