Blog 02/16/2023 - Top 20 D-Day Movies
Top 20 D-Day Movies
Operation Overlord was certainly one of WWIIs most pivotal moments and had it failed, the world might have looked very different today. The heroism of the D-Day Veterans who stormed the beaches on that day would live on in the hearts and minds of generations, and that meant Hollywood immortalizing it on film. Some of the best D-Day movies are fictional adventure films, while others try to stay as close to authentic as possible using actual combat footage. WWII buffs will find a lot to love about the top 19 films and something to ridicule in our #20, but in total it will render a clear perspective of D-Day and the magnitude of this imperative undertaking. Walk the beaches with MHT: D-Day 79th Anniversary of "The Longest Day - PLUS!" Normandy - Battle of the Bulge - Paris (31 May - 13 Jun 2023) (miltours.com)
20) D-Day Movies to be avoided:
A) The Filthy Thirteen D-Day Assassins (2019) - This is a poor man's "Dirty Dozen" really poor… almost homeless! 4 Digital Media out of England are churning out some utter putrid celluloid. A squad of rebellious Allied soldiers known as "The Filthy Thirteen" are the first to parachute into Normandy with the goal to move through enemy territory on foot and destroy Nazi supply lines wearing face-paint last seen during The Who's performance at Woodstock. It makes you almost root for the German sniper hunting them. Thankfully only 77 minutes it makes the 1960s Hammer Films look like Oscar winners!
B) D-Day: Battle of Omaha Beach (2019) - Another awful film, this is the old UFC fighter's version of the Pointe du Hoc attack on D-Day with Chuck Liddell and Randy Couture involved. This makes the Rangers attack during "The Longest Day" look amazing as this is utter garbage. The Asylum Films business model is to produce a very low-budget straight-to-video counterparts to well-known blockbusters the studio's most successful movies have been the notorious "Sharknado" movies. There is a great film to be made about this heroic event in WWII history, sadly, this isn't it.
C) Iron Cross: The Road to Normandy (2022) – Tino Struckmann a military Historian, Actor, Director & Producer is the prime mover of this picture. It follows a German Wehrmacht Hauptmann (Captain) wounded on the Eastern Front before moving to France for D-Day. It was shot in Denmark and also NC for a large-scale reenactment where a lot of effort was definitely put in by the re-enactors with lots of actual WWII vehicles and equipment on display. Unfortunately, this is supposed to be a film and none of it really 'feels' real. The soldiers often move sort of clumsily, uniforms are pristine clean, and the editing often makes things something of a mishmashes mess. Still a leap forward from A & B.
D) Overlord (2018) – A big studio movie (Paramount Pictures) about a small group of American paratroopers going behind the lines and discover a castle somewhere in Normandy. Here evil Nazi scientists are reanimating dead German soldiers for the zombie Reich in what looks like Dr. Frankenstein meets Dr. Mengele's horror movie laboratory. Imagine what Hammer Studios could have done with a huge budget making "Band of Brothers" meets "Resident Evil" and an opening of "Saving Private Ryan" Omaha Beach landing craft meets a C-47 SkyTrain over Normandy. Suspend all belief as historically it is wildly inaccurate as soldiers of African-American heritage were not integrated into the 101st Airborne during WWII. This did not happen until July 26, 1948 when President Harry S. Truman signed Executive Order 9981, ending segregation in the armed forces, and not fully enforced until 15 years later. The only African-American airborne outfit was the 555th Parachute Infantry Battalion (Triple Nickels) that was almost used in the Battle of the Bulge but that crisis passed and the unit never saw combat
19) Some of Best D-Day Documentaries:
A) D-Day: The Price of Freedom (2006) – Director Tim Gray has a trio of documentaries on D-Day: His first Five D-Day Veterans return to Normandy and re-visit the locations they landed on June 6, 1944, sharing their own very personal stories of war. With Peter Kessler as the narrator.
B) Dick Winters: Hang Tough (2012) – Gray's second has Captain Richard D. Winters of the famed "E" Easy Company, 506th Regiment, 101st Airborne Division a soldier who always led from the front with the well-being of his paratroopers as his top priority. This film, narrated by actor Damian Lewis (who plays Winters in the epic TV mini-series Band of Brothers), honors one of World War II's finest and most respected combat leaders.
C) Omaha Beach, Honor and Sacrifice (2014) – Gray's third is much like his first where he shows the very personal stories of several veterans as they return to Omaha Beach and documents the celebration in Normandy that continues to this day as a result of their acts of courage and determination on June 6, 1944. Famous baseball player & announcer Tim McCarver is the narrator.
D) D-Day 6.6.44 (2004) – BBC's 60th Anniversary docudrama by Richard Dale is a gripping recounting of the allied invasion of Normandy. Billed as being, "The dramatic story of ordinary people in extraordinary times," Dale's impressively detailed film, narrated by Ian Holm, combines actual combat footage and dramatized sequences. It recounts famed war photographer Robert Capa's involvement on D-Day among many other individual stories. Perhaps the most compelling aspect of the docudrama is the talking head interviews from D-Day veterans, as they afford the viewer the opportunity to hear the differing memories of those who experienced the invasion first hand. Alongside the testimony of various allied veterans and a French Resistance fighter, a number of former German military personnel also share their personal, painful recollections to give a well-rounded account of the invasion as experienced by all sides.
E) The Battle of Normandy: 85 Days in Hell (2019) – This documentary directed by Guilain Depardieu for the Smithsonian Channel, shows rarely seen images and captures an intimate account of the battle that freed Europe from Nazi rule. Throughout the documentary, French archivist Dominique Forget identifies each frame within the timeline of the larger battle and converted it from the original 16mm film to high-definition footage.
18) D-Day The Sixth Of June (1956)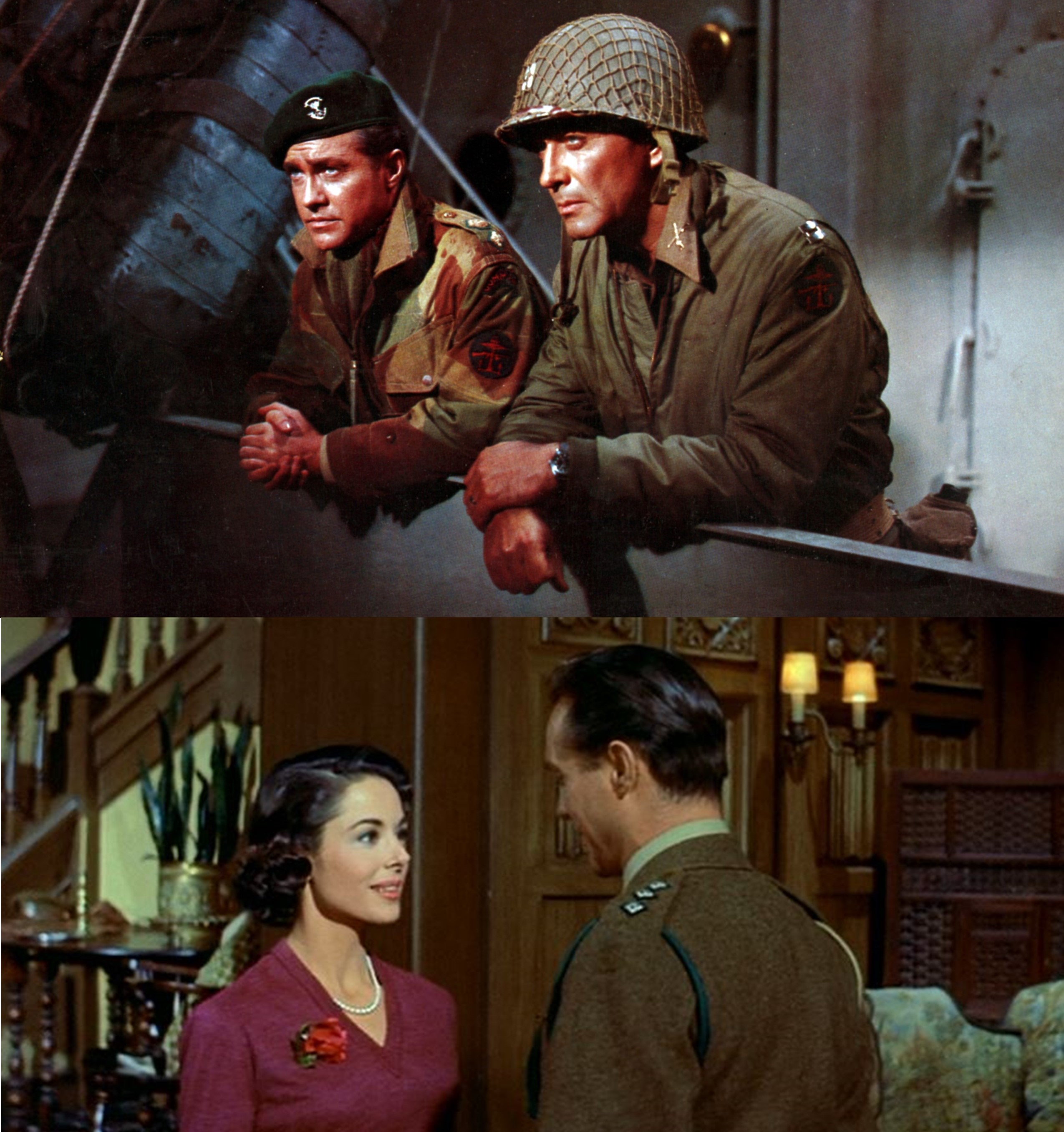 Romantic dramas taking place during wartime got their start with movies like this one. The movie centers aboard an amphibious landing ship carrying a commando unit that will land first on D-Day to knock out some costal guns that can target the Normandy beaches. While on deck, an American Army Captain (Robert Taylor) and British Lieutenant Colonel (Richard Todd) each share memories of their romance with a lovely British woman (Dana Wynter) unbeknownst that it is the same women.
There isn't a battle scene for 80 minutes as this movie is a love triangle between a beautiful English rose whose British boyfriend goes to serve in Africa and her new American lover is posted to London. The title is awfully deceptive with all the romance flashbacks but it seems at times to lack the passion that a far better WWII love triangle of Leslie-Anne Down-Christopher Plummer-Harrison Ford showed in "Hanover Street" 23 years later.
Special Force Six is a small commando unit so the director could get away filming with just two landing crafts and 80 soldiers for its 6th June pre-invasion. Todd is an inspiring casting choice who was an actual D-Day Vet; a member of the 7th Battalion of the Parachute Regiment who famously made contact with British hero Major John Howard to deny Pegasus Bridge to German reinforcements. Todd went on to actually play Major Howard in "The Longest Day" six years later.
This is 1956 after all and despite many English women juggling men during the war, Taylor is married and all adultery is dealt with harshly provoking a tragic conclusion that leaves the love triangle forever unresolved.
17) Breakthrough (1950)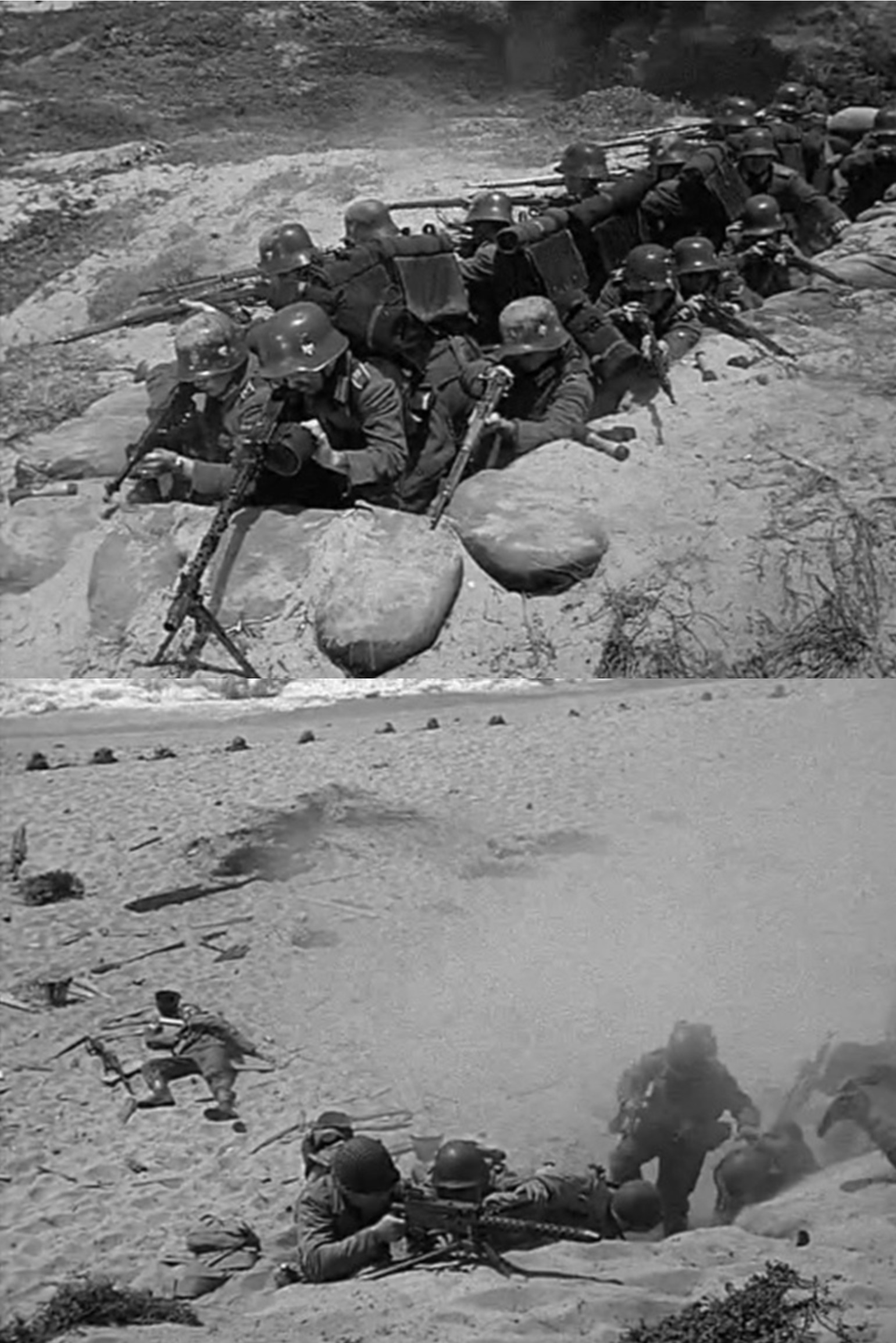 WWII movies of the '50s have a particular feel and aesthetic, considering many of them were written, directed, and performed by people who actually lived it. However, sometimes these movies get details terribly wrong like this film. This one has some very bad German uniform errors the most egregious is the old WWI helmets still with the eagles (gone in 1943.) The other oddity were the Germans fighting from their fixed positions while wearing full packs as if they had just arrived or were planning on leaving in a hurry! No military adviser was listed in the credits and one should have been available from the filming site at Fort Ord, CA.
Breakthrough is the story of a WWII platoon that trains for D-Day, then gets dropped in the middle of the action before fighting its way all the way into Germany. The production utilizes video footage taken from U.S., British and German forces to weave a narrative around the actual footage. It was also a surprising box office success.
16) Fighter Squadron (1948)
At an American fighter base in England, innovative ace fighter pilot Major Ed Hardin (Edmond O'Brien) wants to institute changes to improve aircraft survivability against a general's wishes. When Ed is promoted to commander of 3rd Fighter Group, he must fight his former anti-authority stance as well as the enemy fighters; tension grows as D-Day approaches. There are some lighthearted moments between some air combat footage, much of it genuine. Harden's maverick streak was developed in China as he flew with the AVG Flying Tigers evident from the China Burma India Theater Blood Chit on the back of his flight jacket. The humor is delivered by Master Sergeant Dolan (a prototype for the 1950's Phil Silver's Sergeant Bilko TV Show) who runs a scam with black cats that gets him off-base and eventually afoul of a large number of the local English women. There are plenty of Republic P-47 Thunderbolts for filming but North American P-51 Mustangs are substituted for the Luftwaffe's ME-109s. Promoted to Lieutenant Colonel, Hardin gets his "Fly Low, Strike Hard" tactics approved in time for D-Day but he is hit by flak and although we don't see his plane hit the ground it is a heroic ending.
15) Storming Juno (2010)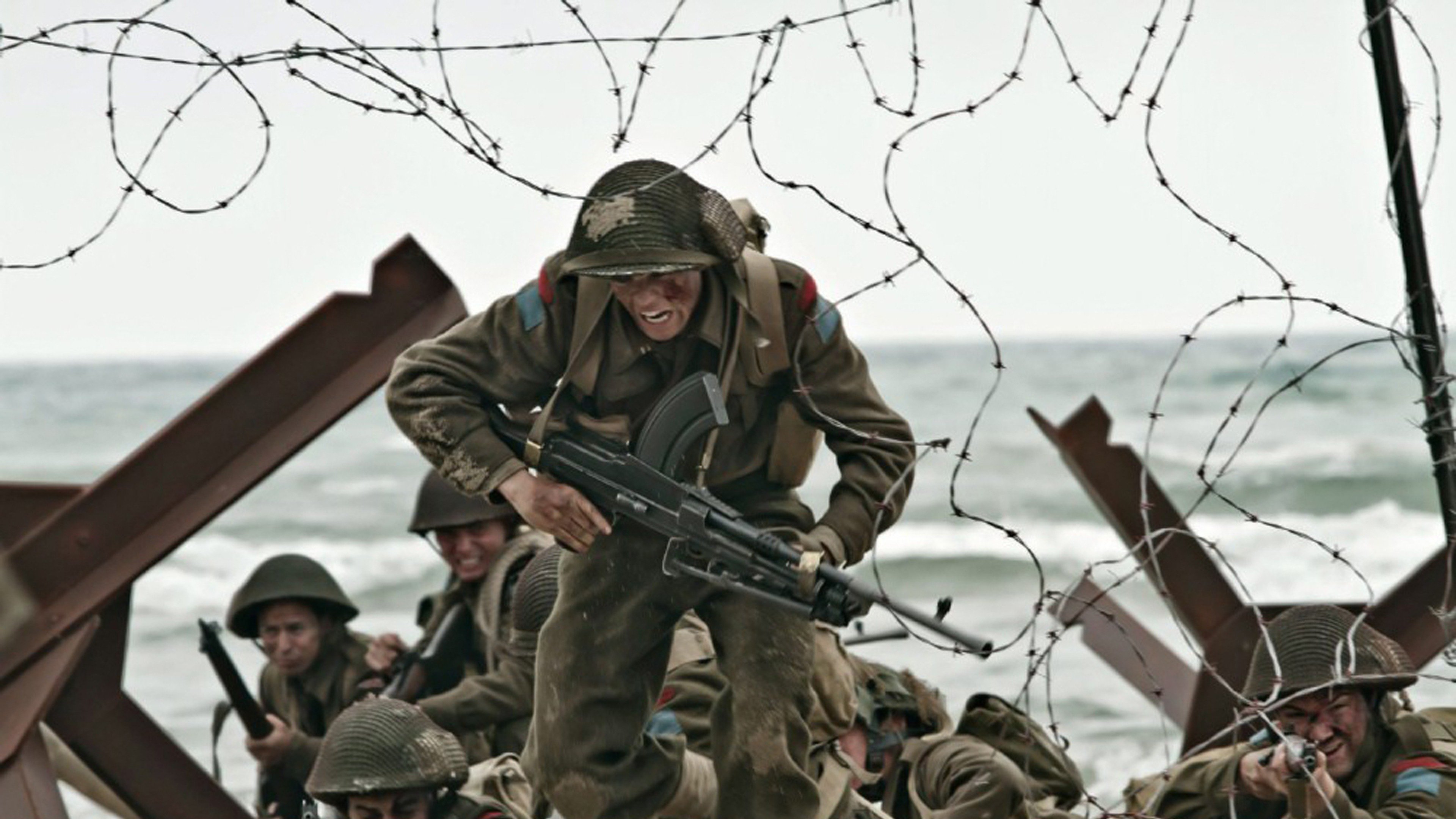 Most D-Day movies and content focus largely on the conflict that took place on Omaha Beach, but military buffs know the event was a multi-pronged five landing beach amphibious assault. The second-most famous beach was Juno, which this Canadian Docudrama TV Movie attempts to showcase, with solid results. The film switches focus from American forces to the Canadian soldiers who stormed Juno. It tells the story from the perspective of several soldiers involved in the paratroop brigade, a tank crew, and front-line infantry, offering different glimpses into what unfolded on that fateful day. Due to the limited budget, there appears to be no other men and vehicles on the landing beach other than a single Sherman tank and a platoon of infantry.
14) A Matter of Resistance (Original title: La Vie de Château) (1966)
All Marie's suitors at dinner, Deneuve in a hammock and the 101st Airborne arrives in Normandy.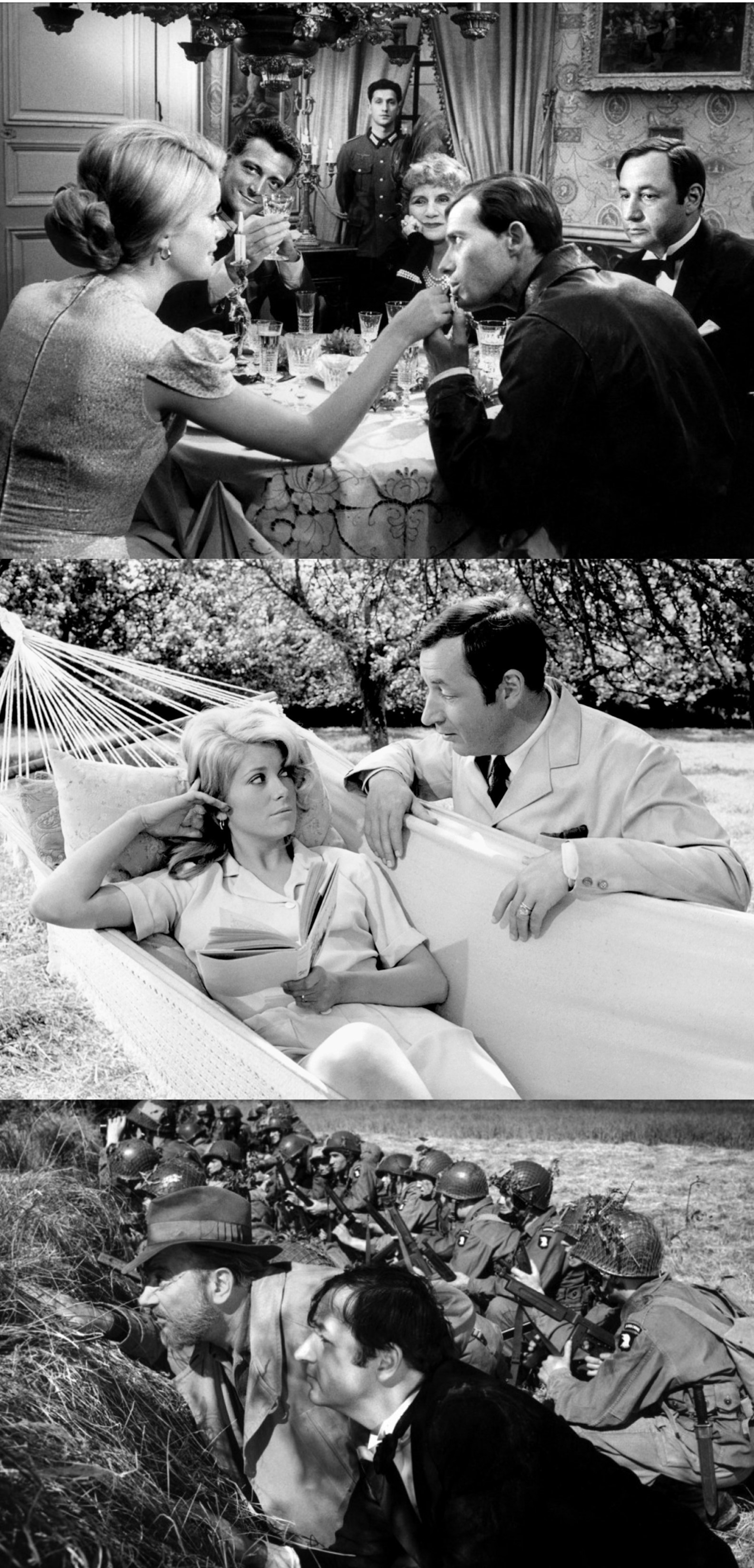 Here is a change of pace, a French D-Day romantic comedy set in 1944. In the countryside near Normandy's beaches lives Marie, a ravishingly young Catherine Deneuve. She's unhappily married to Jérôme, an older milquetoast farmer, diffident to the war around him and unwilling to move his much younger wife to Paris, where she longs to shop and party. A German unit bivouacs at Jérôme and Marie's crumbling château and its dashing commanding officer immediate begins his pursuit of Marie. She also entices the romantic attention of a French resistance fighter who is trying to collecting intelligence on the Germans (posing as Marie's brother) to help prepare for the Allied invasion. She distracts both men from their missions, and over the course of this bedroom farce, all the men make fools of themselves trying to win her affections. The films main draws are plenty of slapstick humor, risqué tête-à-têtes and three-way romantic tension, with D-Day providing a looming backdrop. Marie must make a choice of the three men as it is 1966 and even in French Cinema there was no ménage à quatre!
13) The Desert Fox: The Story of Rommel (1951)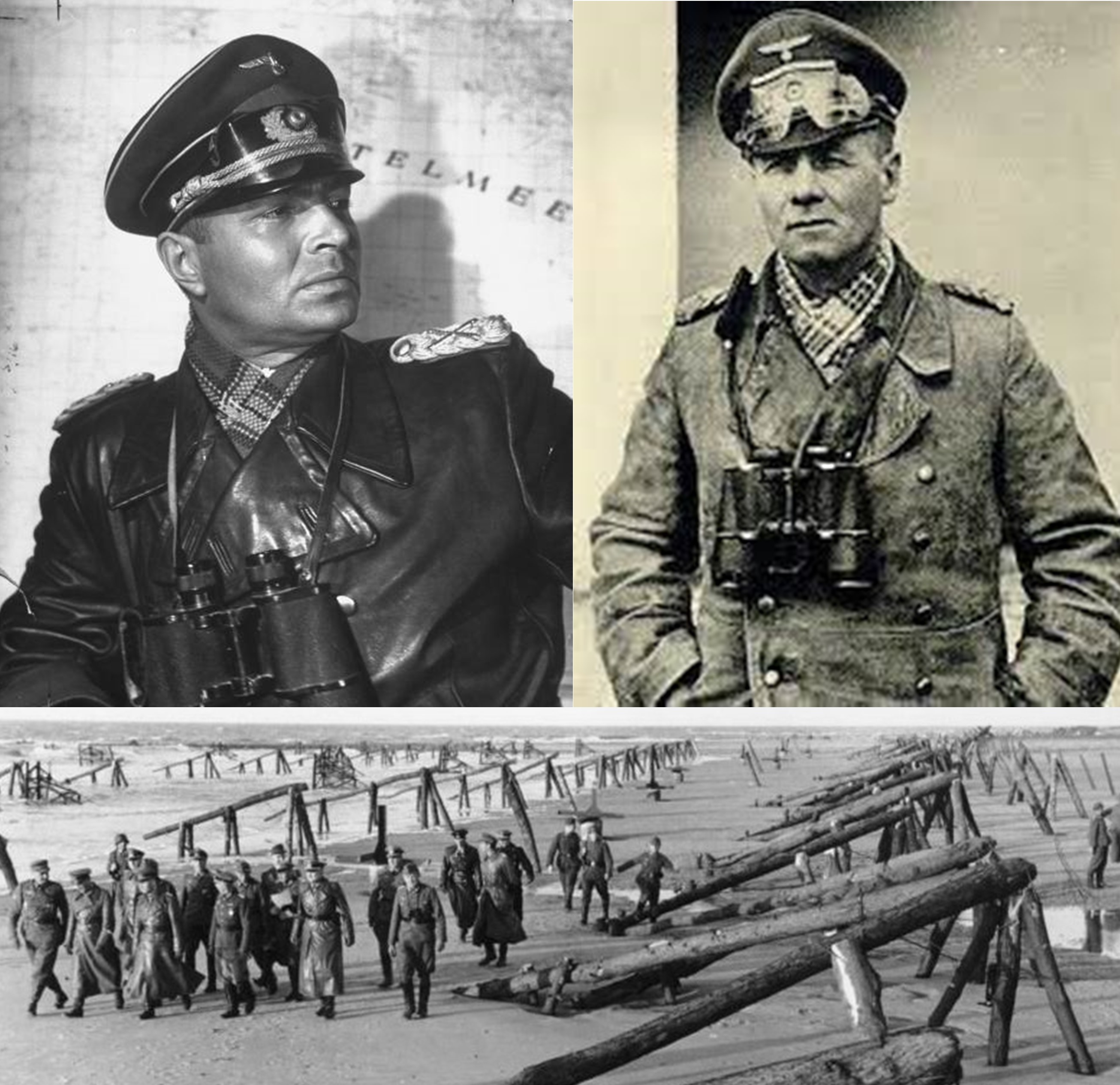 James Mason as the definitive Rommel (left), the real Desert Fox (right). If this was a fashion blog, we would have to have who wore the long black leather trench coat best! Below: Generalfeldmarschall (Field marshal) Rommel inspects the Atlantic Wall defenses.
Erwin Rommel has long held a position of respect among the Allies for his astute Panzer strikes in French and to an even greater extent with his Afrika Korps. Rommel has had great public relations earning him the reputation as a classic German general rather than a Nazi political general, and this movie did a lot to cement the perception of Rommel in the United States. James Mason portrays Rommel as a complex and conflicted character, much like George C. Scott did for General Patton.
D-Day plays a small, yet crucial role in the movie. When Hitler prevents Rommel from preparing for the Normandy invasion, he decides to join a plot to assassinate the Fuhrer. When his role is discovered, he is given the chance to commit suicide in order to save face and save his family. It's a rare and effective take on the other side, which allows this film to distinguish itself from its peers.
12) Ike: Countdown to D-Day (2004)
Tom Selleck does a more than credible job of portraying General Dwight D. Eisenhower
Magnum P.I. and Blue Bloods TV superstar Tom Selleck shaved off more than just his mustache for his portrayal of General Eisenhower, one of the most brilliant strategists ever to have graced the United States Army. The film starts out 90 days prior to Operation Overlord and builds up to the inevitable crucial conflict.
Selleck masterfully plays Ike as a man trying to conduct the single-most-important invasion in history, while having to overcome Allied Generals egos, media focus on the politics of his peers like General Patton and the massive logistic problems of cracking Hitler's Atlantic Wall. The movie effectively shows how, through a mixture of superb diplomacy and strategy, he manages to accomplish the impossible.
11) Overlord (1975)
Soldiers on the beach & in formation during Overlord
Many of the best D-Day movies appeared in the immediate post-WWII era and reflected the attitudes of the Greatest Generation towards the war developed during that conflict. However, Overlord is a post-Vietnam movie so instead of focusing on the heroism of the Normandy invasion, it looks at the grim reality of war as an instrument of fate that unsympathetically churns through the masses of young British soldiers drawn inexorably toward an inglorious end. The film follows a 20-year-old everyman from his call up into the East Yorkshire Regiment to his seemingly inexorable fate on Sword Beach.
It's also an engaging film impeccably shot by cinematographer John Alcott (who was Director Stanley Kubrick right hand in four of his best films) who seamlessly blends new and archival combat footage. The result is a visceral WWII film that fits in well with the anti-war sentiment of the 1970s.
10) Eye of the Needle (1981)
Great suspense film is based on Ken Follett's novel "Storm Island," centers on a calculating WWII German spy in England known as "Das Nadel (The Needle) perfectly played by Donald Sutherland. He discovers the Allied counter-intelligence "Operation Fortitude" to convince the German high command that the planned main D-Day landings were to occur at Pas-de-Calais and Normandy would be a faint to lure the German reserves away. As a part of Fortitude "Operation Quicksilver" created the fictitious First United States Army Group (FUSAG.) FUSAG used fake tanks, aircraft, landing craft, buildings and most importantly increasing radio traffic to create an illusion of an army being formed to target Calais. General George S. Patton was given command of this 'phantom army' which also influenced the German military who feared his tactical acumen as the US Army's best commander.
Sutherland is "The Needle," because he uses a stiletto knife OTF (blade comes Out-The-Front rather than the more familiar side opening switchblade), hidden up his sleeve when cornered. This stiletto was produced by the Italian firm Due Boui and used by WWII agents of Italian and German intelligence services. Chased by MI5 across England, he leaves a string of bodies as he attempts to escape Britain and link up with a U-Boat. A tempest shipwrecks him onto Storm Island off Scotland where he meets a paralyzed Royal Air Force pilot and his wife played by Kate Nelligan, young son and an alcoholic shepherd/lighthouse keeper. Sutherland and Nelligan give memorably pitch-perfect performances of two people with an instant sexual attraction. Two side by side shotguns and the RAF pilots service .455 Webley Mk VI pistol will all play a part in the decisive action.
9) Screaming Eagles (1956)
This movie tells the story of a 101st Airborne Division unit that parachutes into France on D-Day. The 1st Platoon, D Company, 502nd Parachute Infantry Regiment misses their targeted landing zone and must fight their way back to join the rest of D Company to hold a bridge over the Ouve River to keep German reinforcements from reaching the beachhead. The movie was shot in black-and-white and features a mostly unknown young cast that includes future TV stars Paul Burke ("Naked City" & 12 O'clock High), Martin Milner ("Adam 12") and Robert Blake ("Baretta.") The platoon's link-up is hindered when their Lieutenant is blinded by enemy fire. The platoon attacks a German-occupied farmhouse and find the Germans were holding a French English-speaking young woman. She is played by French actress Jacqueline Beer, who was Miss France in the 1954 Miss Universe Pageant, and she volunteers to aid the Lieutenant as his eyes and ears as she speaks German also so can obtain information on the 300 German soldiers between them and the Ouve. This movie is a rarity, not available to stream or on DVD, so look for it on Turner Classic Movies to see the WWII romantic "Meet Cute" between the Platoon Commander and the French woman.
8) The Big Red One (1980)
Lee Marvin on Omaha Beach & one of Mark Hamill's best dramatic roles outside of his "Star Wars" roles.
In the early morning of D-Day, the division's motto of "No mission too difficult. No sacrifice too great. Duty first!" was really put to the test. GEN Eisenhower, Supreme Commander of the Allied Expeditionary Force in Europe, tasked the Big Red One soldiers with capturing a 5-mile stretch of the coast of Normandy, code-named Omaha Beach.
Director Sam Fuller's film is almost like an updated and expanded version of "Breakthrough," as it traces five soldiers from the deserts of Africa to the battlefields of northern and central Europe. With an action-packed narrative that follows Lee Marvin's unnamed sergeant and his squad of soldiers in the 1st Infantry Division (the titular Big Red One) "The real glory of war is surviving," said Fuller and after watching his death-defying D-Day scenes (second only to "Saving Private Ryan") you'd be hard pressed to disagree.
The film takes a deeper dive than many war movies into the emotional complexity of new soldiers struggling with the requirement to kill enemy soldiers, to the difficulty of comprehending the nightmare of the concentration camps at war's end. Fuller blends his dramatic combat action with some hard-hitting philosophical questions. The 1980 113-minute studio release is not as engrossing as the 2004 Blu-ray 162-minute reconstituted Director's Cut.
7) 36 Hours (1964)
James Garner and the Invasion Plan and in the German's sham mental hospital.
WWII Intelligence Services are infamous for some of the elaborate schemes devised by both sides to deceive the other. In this movie, the Abwehr, the German intelligence agency, tries to get the Allies D-Day plans through an elaborate ruse, where they kidnap an American Major and try to convince him that WWII is over, so that they can get details about the Allied invasion of Europe out of him.
The movie stars James Garner as an American Major with knowledge of Overlord and Rod Taylor as a German Psychologist with Eva Marie Saint as his assistant nurse with an elaborate plan to coax out the landing plan. It is famous for all the subtle deceptions deployed by the Germans that can make it easy to let details slip, the sense of tension on whether or not the Germans discover that the invasion is planned for Normandy is palatable.
Breaking Point is a 1989 TV Movie and a remake of 36 Hours with Corbin Bernsen (LA Law & Major League) in the Garner role as the U.S. Major with the plan, Joanna Pacula (Tombstone & Gorky Park) as the nurse and John Glover as the German Major played by excellent character actor John Glover (Scrooged & Smallville.)
6) The Americanization of Emily (1964)
James Garner with a car full of rationed goods with Julie Andrews as his driver; His staff officer buddy James Coburn on the beach June 6th; The two stars in the rain, it's a surprise that these two huge Hollywood stars named this movie as the favorite of their respective careers!
James Garner plays Charlie, a U.S. Navy Lieutenant Commander adjutant (dog-robber/batman) for a Rear Admiral (Upper Half) in this 1964 WWII film. His main job is to make sure the admiral and his staff officers have all the luxuries (on short supply due to war rationing) they could want, including "companionship." He is assigned a new girl from the motor pool, Emily (Julie Andrews) who is a widow who has already lost her husband to the war and looks down her nose at Charlie's dog-robber roguish wheeler-dealer ways. A cynical cultural clash love story as the priggish Englishwomen is soon attracted to the brash American and falls in love with Charlie.
His Admiral has a mental breakdown starting the black comedy where in his desire to out flank the U.S. Army getting all the D-Day publicity he decides to send Charlie in to the beach with the Navy Underwater Demolition Team frogman and film crew to document him being the first sailor on the invasion beach. It is far better representation of war's absurdity than the overhyped Catch-22 plus you get a little romance sprinkled in between huge stars to give the movie its timeless charm. It is the breakout film for James Coburn who as Charlie's buddy Bus also a LCDR epitomizes the "Over-paid, Over-sexed & Over-here" ethos with his "Three nameless Broads." See our James Garner Blog Post for more: Blog 01/20/2021 - MHT Movie Review - Garner D-Day Doubleheader (miltours.com)
5) Where Eagles Dare (1968)
British Major Smith (Richard Burton) and American First Lieutenant Schaffer (Clint Eastwood) disguised as German officers of the Wehrmacht's 1st Mountain Division in "Where Eagles Dare" with Allied undercover agents Mary Ure & Ingrid Pitts.
Long before Eastwood became one of Hollywood's best directors, he played 1stLt Schaffer, an American Ranger thrown into a British covert operation to rescue a US Army General from a Bavarian mountaintop castle, before he divulges the Overlord plans and threatens the success of D-Day. Eastwood's "Man With No Name" & "Dirty Harry Callahan" characters had impressive body counts but his highest body count belongs to Schaffer! Interesting fact Ingrid Pitt, who would be Hammer Studio's best-looking Vampire, as a child escaped from Stuthoff Concentration Camp with her mother. She admitted having trouble with this role because of all the men in Nazi uniforms.
However, throughout this long 155-minute film not everything is at it seems. It soon becomes obvious that there's another objective separate from the rescue mission. The film scored well with both the critics and audiences thanks to solid performances by Eastwood and Pitt, as well as Burton and Ure who had worked together in Italy. The movie's biggest strength is its plot twists, which is surprisingly effective and too good to spoil here. In a recent survey of the top one hundred war movies, Steven Spielberg who we will see knows war movies voted this as his favorite. It has the famous call signs used by Burton to contact London, "Broadsword calling Danny Boy!" See more at: Blog 12/06/2020 - MHT Movies - Men-on-a-Mission (miltours.com)
4) "Band of Brothers" (2001)
OK, so this isn't a movie about D-Day, but it is a mini-series about a group of men that fought during WWII, and one of their most famous engagements takes place when they parachute behind the lines on D-Day. Steven Spielberg teamed up with Tom Hanks to tell the story of "E" (Easy) Company. These men were part of the 506th Parachute Infantry Regiment of the 101st Airborne Division, that jumped out of planes and into battle. The episode in which the Easy Company fights during D-Day is one of the best episodes of the series and really shows just how frightening it was to jump out of a plane while being shot at by enemy anti-aircraft flak. The mini-series debuted two days before 9/11, so it will always be remembered as a shining example of the heroism our military members have when fighting for our freedoms. This is the story of a company of Screaming Eagles from their initial basic training starting in 1942 to the end of WWII. They parachuted behind enemy lines in the early hours of D-Day in support of the landings at Utah beach, participated in the liberation of Carentan and again parachuted into action during Operation Market Garden before holding on in the Battle of the Bulge. They also liberated a concentration camp and were the first to enter Hitler's mountain retreat in Berchtesgaden. A fascinating tale of comradeship that is, in the end, a tale of ordinary men who did extraordinary things.
3) Patton (1970)
George C. Scott's Oscar winning portrayal goes throughout the European Theater starting in Africa and onto Sicily. Normandy holds a key place in the film as the German Abwehr (military intelligence) believes the Allie's best combat General will lead the invasion at Pas de Calais as the commander of the fictitious First United States Army Group. As this film is towards the end of the Vietnam War it takes a run at the power of the Press to hinder the possible success of the whole Overlord campaign by sidelining Patton in reporting his intolerance of battle fatigue that he equates with cowardice. The Germans do not react to Normandy as quickly as they should have due to Patton still being in England and they could not come to grips that the Allies would allow a press report to jeopardize a chance to invade Hitler's Fortress Europe.
Of course, the movie focuses more on the results of the Normandy invasion as Patton's 3rd Army races across Europe to the Rhine. The magnitude of his drive and his study of past battles to prepare him to be the right warrior in the right time to forge the victory. In many ways, this movie does the best job of tying together the entire European campaign, particularly because of the focus on General George S. Patton. Actor George C. Scott plays the iconic figure with such endearing earnestness that it's hard not to sympathize with his actions.
D-Day occupies a position of honor in this film, but like other battles, the emphasis is not so much on the fighting, as it is on the meaning. Why does Patton fight, and how does he examine the cost of every single action he makes? Those are the tough questions the film tries to answer.
2) The Longest Day (1962)
John Wayne & Director Darryl Zanuck filming The Longest Day
This is one film that focuses exclusively on D-Day as its central theme. With a runtime of almost 3 hours, it's no slouch in story telling from multiple perspectives, including numerous vignettes of Allied and German soldiers, sailors and aviators.
The cast is huge and full of the biggest movie stars of the time, including John Wayne, Sean Connery, George Segal, Robert Mitchum, Robert Ryan, Red Buttons, Stuart Whitman, Eddie Albert, Rod Steiger, Robert Wagner, Jeffrey Hunter, Richard Todd (who plays the commander of the unit he served with on D-Day) Peter Lawford, Henry Fonda and Richard Burton. Even if the human drama sometimes gets lost in the sheer scale of the movie, it still encapsulates the events of D-Day in superb fashion.
Zanuck couldn't find two German fighters for the movie but found two Spanish Air Force Nord 1002 Pingouins. The Nord Pingouin was a French-built, re-engineered Messerschmitt Bf 108 Taifun.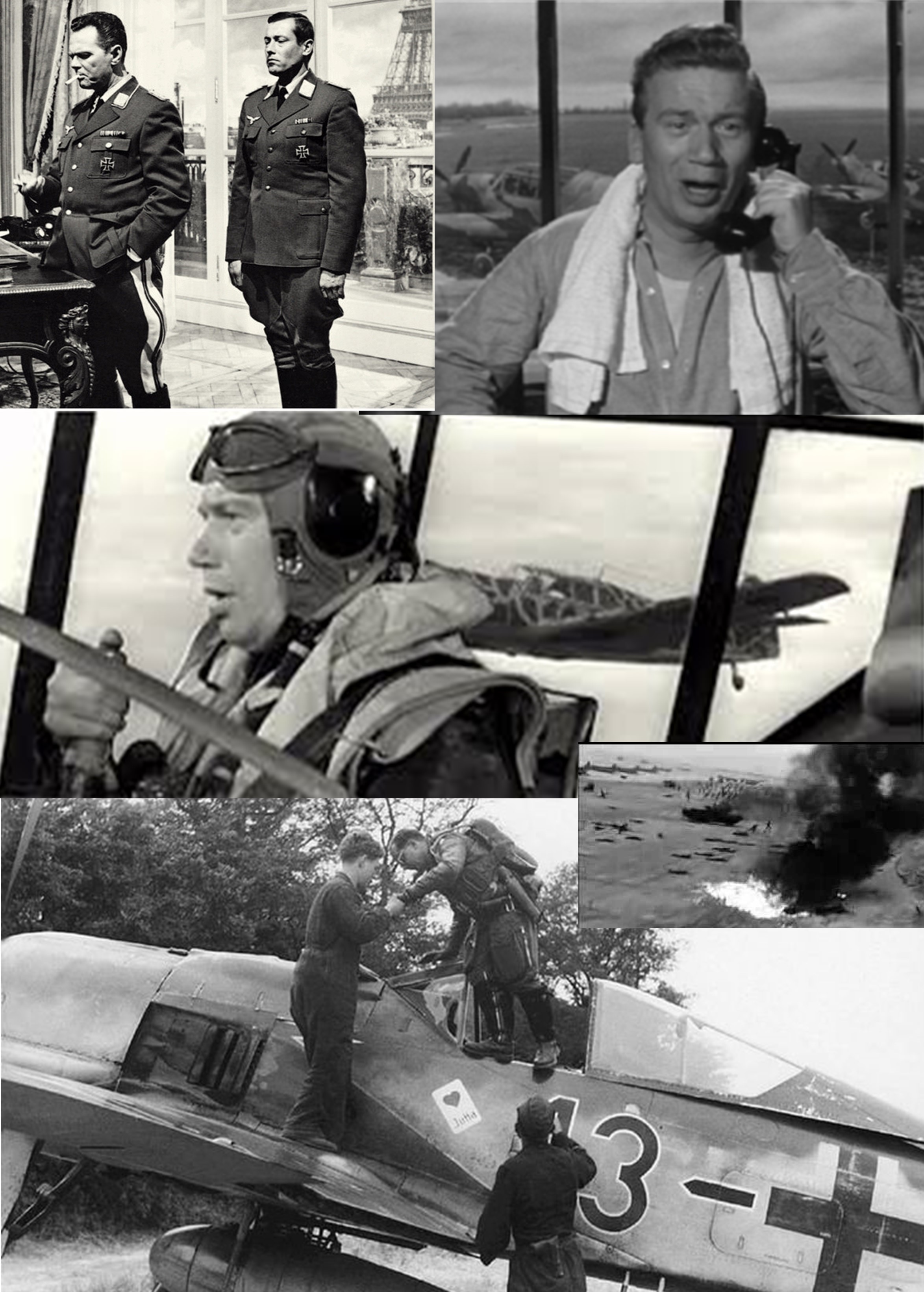 Just to name one, General Wolfgang Hager, HQ Luftwaffen Kommando West in Paris calls and orders Oberstleutnant (Lieutenant Colonel) Josef "Pips" Priller (memorably played by Heinz Reincke), Wing Commander of Jagdgeschwader (JG - Fighter Wing) "26 Schlageter" forces to attack the beachhead on 6 June. Pips is a Luftwaffe Ace who will down 68 Supermarine Spitfires in his total of 101 downed Allied aircraft flying Messerschmitt Bf 109s and later Focke-Wulf Fw 190s. Pips complains that he only has two of his JG-26 Focke-Wulf Fw 190A-8s at the aerodrome but he lifts off accompanied by his wingman. Together they make a single strafing pass attack on Sword Beach. This act was first brought to the world's attention by the Cornelius Ryan book, then the film, but was not really the only Luftwaffe sortie on D-Day. Priller has one of the movie's great lines after the strafing run as he chuckles: "Head for Home! The Luftwaffe has had its great moment!"
1) Saving Private Ryan (1998)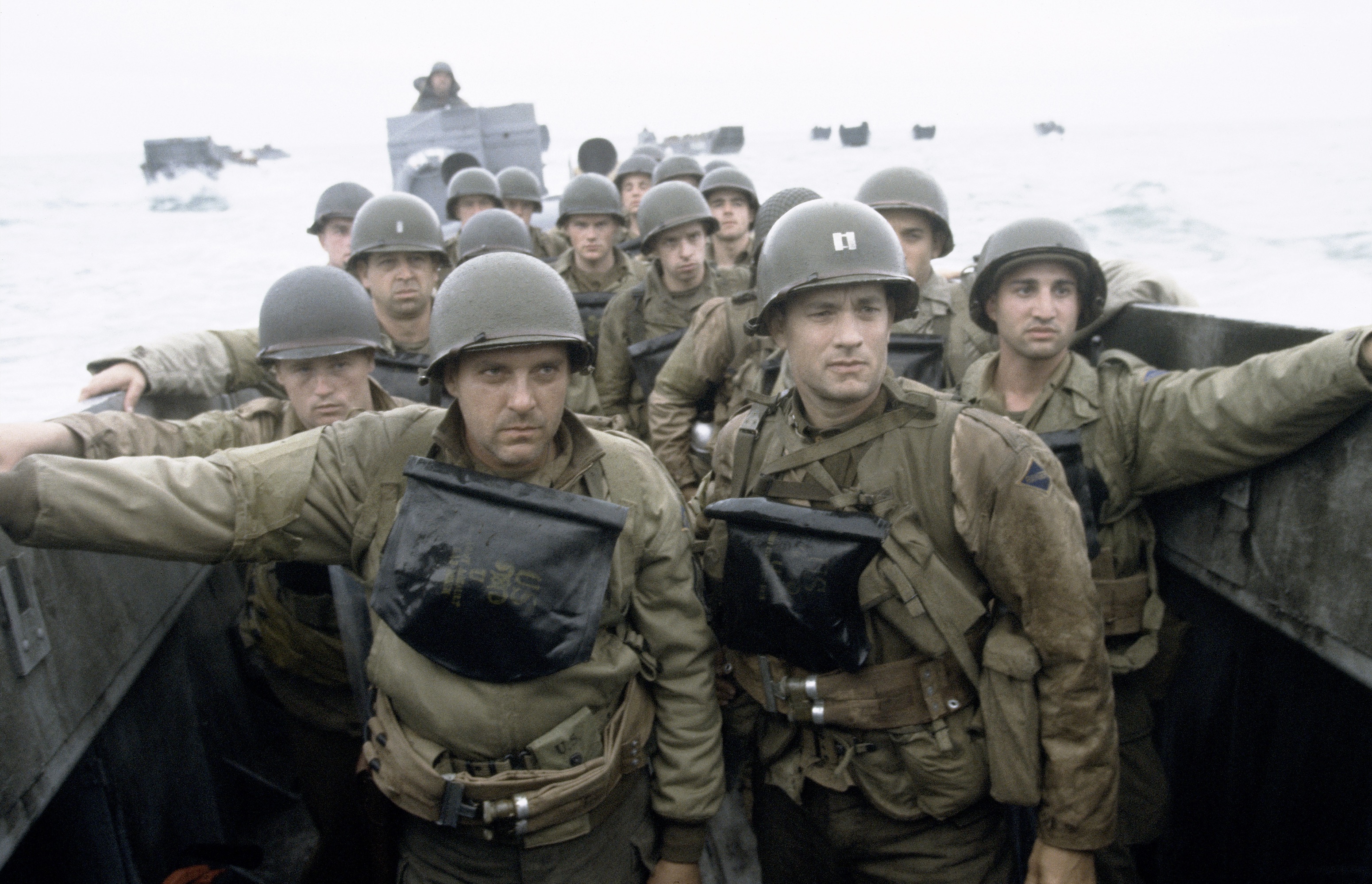 Captain Miller (Tom Hanks) & 1stSgt Horvath (Tom Sizemore) in the landing craft on the way to Omaha Beach!
There is no way to ever forget Ranger Captain Miller and his 1st Sergeant Horvath at the front of the landing craft as it hits Omaha beach in the opening epic landing scene. The sheer brutality of the ensuing D-Day landing sequence is a powerful and harrowing experience, but one that has been praised as a truthful representation of war's horrors.
Saving Private Ryan boasts the most realistic and authentic depiction of D-Day ever committed to film, as opposed to Hollywood's typical bloodless glamorization of war. Using the full arsenal of his experience with battlefield special effects and action sequences, Steven Spielberg and his master military advisor Dale Dye gave audiences a point of view perspective of the D-Day landings, before using it as a jumping-off point for the main rescue mission plot. It remains the best cinematic representation of one of the biggest and most intense WWII battles in movie history. Deserving of the Academy Award for Best Film except for the craven voters kowtowing to Hollywood's ultimate sexual criminal Producer Harvey Weinstein.
Walk the D-Day ground: D-Day 79th Anniversary of "The Longest Day" Normandy - Paris (31 May - 8/9 Jun 2023) (miltours.com)