Blog 03/24/2023 - The MHT Movie Awards
Since we just had the Oscars and they ignored the movie that brought people back to theaters, "Top Gun: Maverick" and "Devotion" a movie of racial bonding during the Korean War that unfortunately didn't fit Hollywood's racist narrative. We launch the "Gunnies" in honor of MHT's favorite actor, Gunny R. Lee Ermey who we miss, RIP.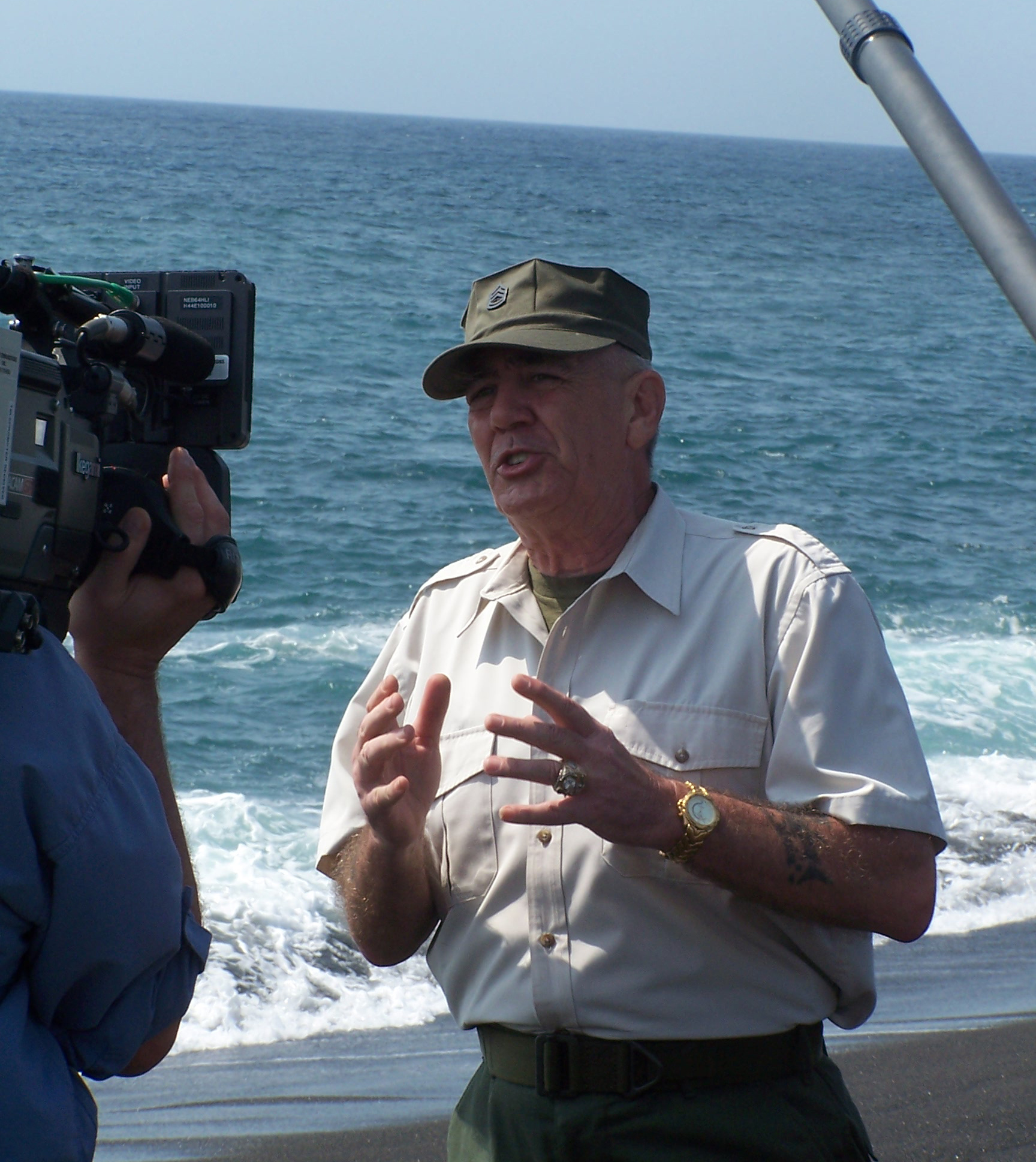 Hollywood doesn't care that Top Gun: Maverick made $1,476,730,000 more at the box office than this year's winner that no one saw but I think might have been named "Everything Nonsense When Will it End?"
The envelopes please…
1. Top Gun: Maverick (2022)
The film is a sequel to the 1986 film Top Gun. Cruise reprises his starring role as the Naval Aviator Pete "Maverick" Mitchell. In the film, Maverick confronts his past as Commanding Officer of Top Gun and training a group of younger Top Gun graduates, including the son of his deceased best friend "Goose", for a dangerous mission.
Director: Joseph Kosinski | Stars: Tom Cruise, Miles Teller, Jennifer Connelly, Jon Hamm, Glen Powell, Ed Harris, Val Kilmer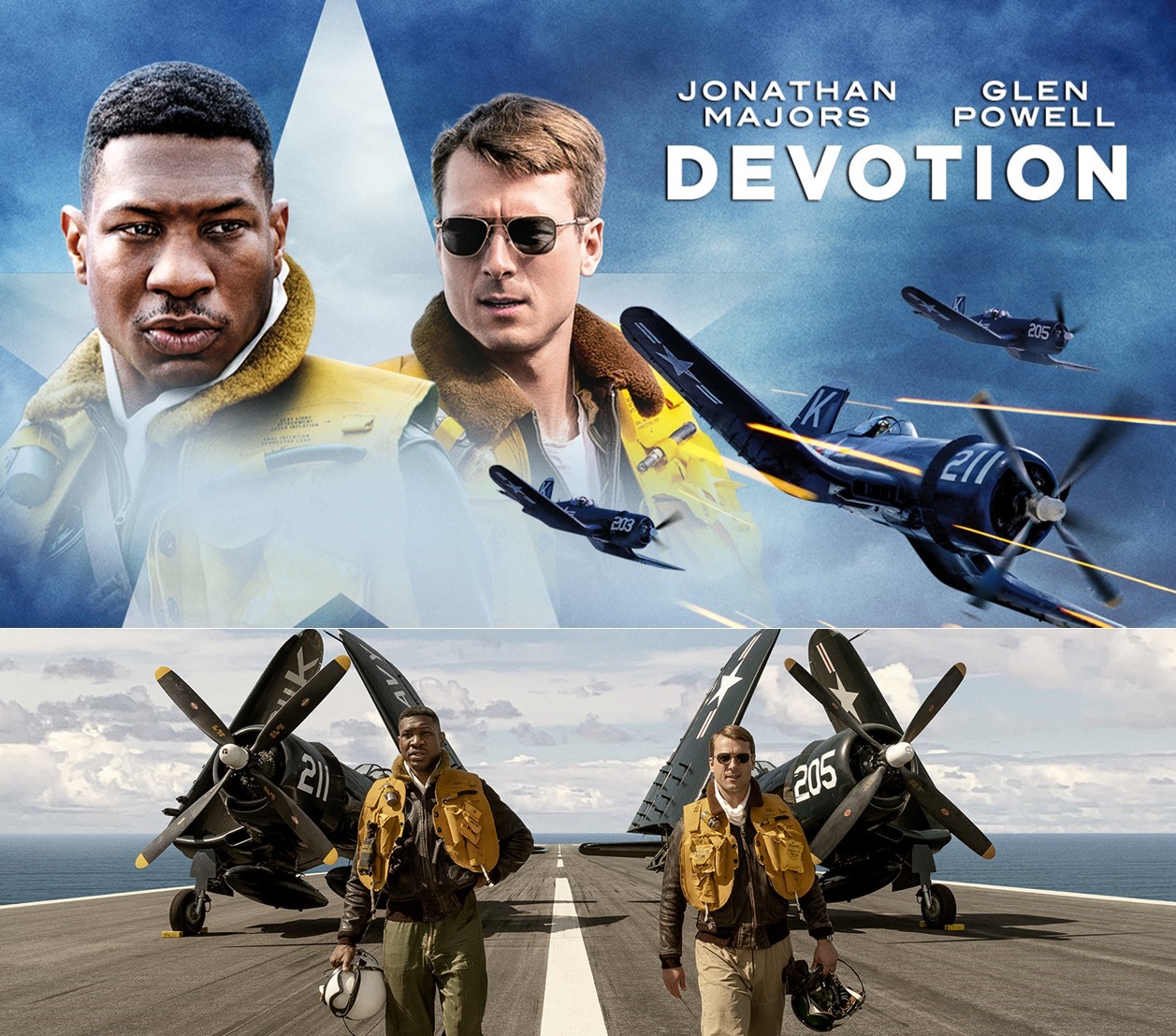 2. Devotion (2022)
The inspirational true story of Jesse Brown, the first Black aviator in U.S. Navy history, and his enduring friendship with fellow fighter pilot Tom Hudner. Flying to help the US Marines, Navy Corpsman and remnants of US Army soldiers survive being wiped out by a massive Chinese Communists at the Chosen Reservoir in the Korean War, their heroic sacrifices ultimately make them the Navy's most celebrated wingmen.
Director: J. D. Dillard | Stars: Jonathan Majors, Glen Powell, Christina Jackson, Thomas Sadoski, Joe Jonas
Here are the other movies that have earned a "Gunny" since Hollywood's Favorite Producer Harvey Weinstein (pictured with a huge fan) stole the Best Picture Oscar from Saving Private Ryan in 1999:
WWII Winners
Dunkirk (2017)
This movie follows Winston Churchill, the UK's new Prime Minister in May 1940, ordering Operation Dynamo a seaborne evacuate to rescue the British Expeditionary Force and the French 1st Army. They were squeezed into a Dunkirk beachhead between two massive German armies of General von Bock's Army Group B and General von Rundstedt's Army Group A whose Panzer Blitzkrieg had rolled past the French defenses.
Director: Christopher Nolan | Stars: Fionn Whitehead, Barry Keoghan, Mark Rylance, Tom Hardy
Fall European Tour Waterloo/WWI/WWII Belgium & France (20—27 October 2023) (miltours.com)
Hacksaw Ridge (2016)
This is the story of WWII US Army Medic Desmond T. Doss, who served during the Battle of Okinawa against the Imperial Japanese Army and Navy. It follows his religious stance to not kill people but his bravery makes him the first US servicemen to be awarded the Medal of Honor without firing a shot.
Director: Mel Gibson | Stars: Andrew Garfield, Sam Worthington, Luke Bracey, Teresa Palmer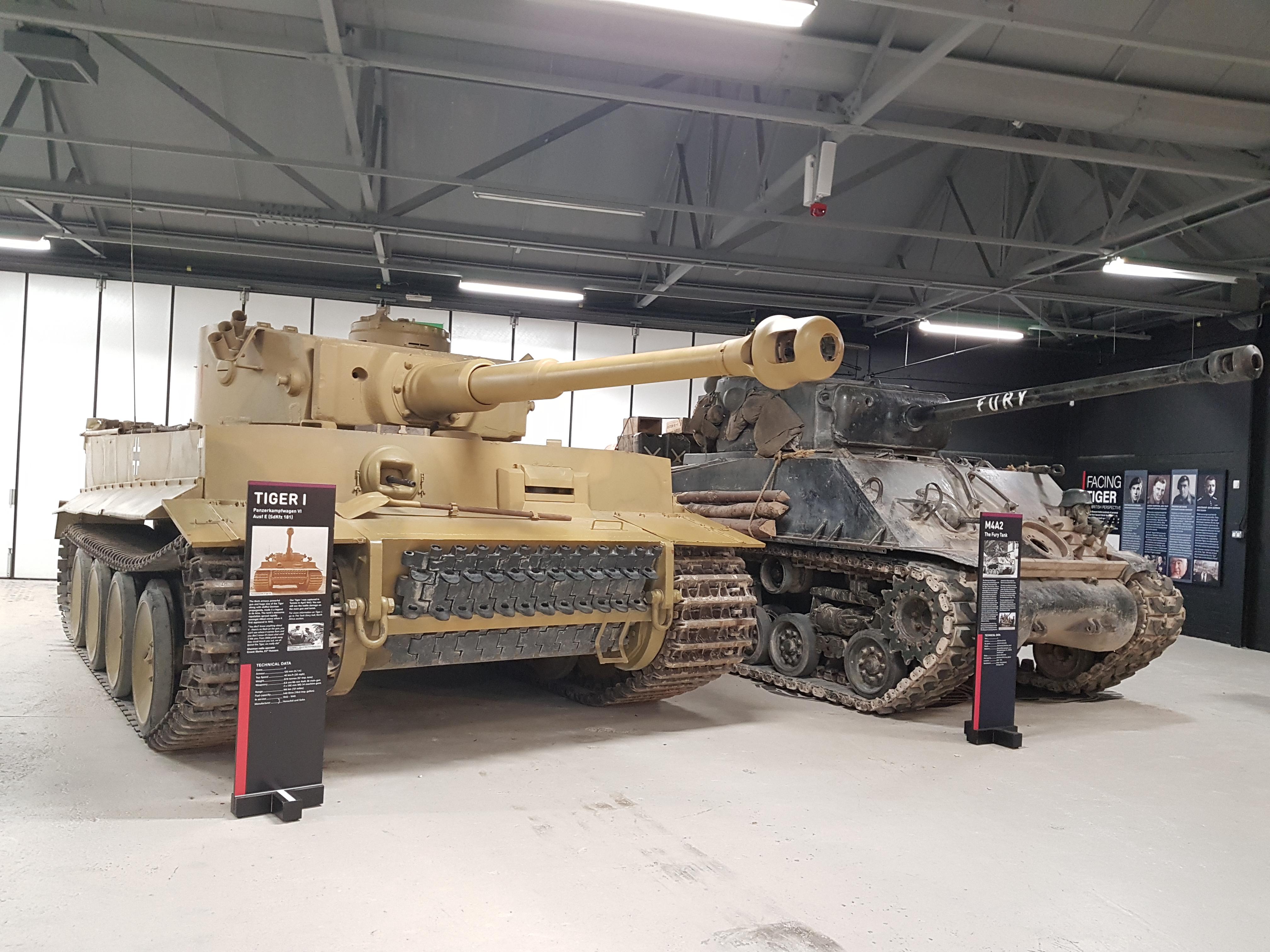 Fury (2014)
A M4 Sherman tank commander and his 4-man crew fight their way across Germany in April, 1945. The film features "Tiger 131", the last surviving operational Tiger I, loaned by The Tank Museum at Bovington, England. It is the first time since 1950 that a real Tiger tank is used on film plus 10 working M4 Sherman tanks were used. The Sherman tank "Fury" in the film is an M4A2E8 HVSS Sherman tank named "RON/HARRY" (T224875), also lent by The Tank Museum.
Director: David Ayer | Stars: Brad Pitt, Shia LaBeouf, Logan Lerman, Michael Peña
Valkyrie (2008)
Tom Cruise is excellent in a dramatization of the 20 July 1944 assassination plot and political coup by Wehrmacht officers against Adolf Hitler during World War II.
Director: Bryan Singer | Stars: Tom Cruise, Bill Nighy, Carice van Houten, Kenneth Branagh
The Rise and Fall of the Third Reich (11 - 25 Aug 2023) (miltours.com)
Inglourious Basterds (2009)
In a historical rewrite much like his "Once Upon a Time in Hollywood", but this time in Nazi-occupied France during WWII, a group of Jewish US Army soldiers are an Assassination squad killing and terrorizing Germans which coincides with a theatre owner's vengeful plans to assassinate Nazi leaders.
Director: Quentin Tarantino | Stars: Brad Pitt, Diane Kruger, Eli Roth, Mélanie Laurent, Christoph Waltz
Director Bigelow's Duo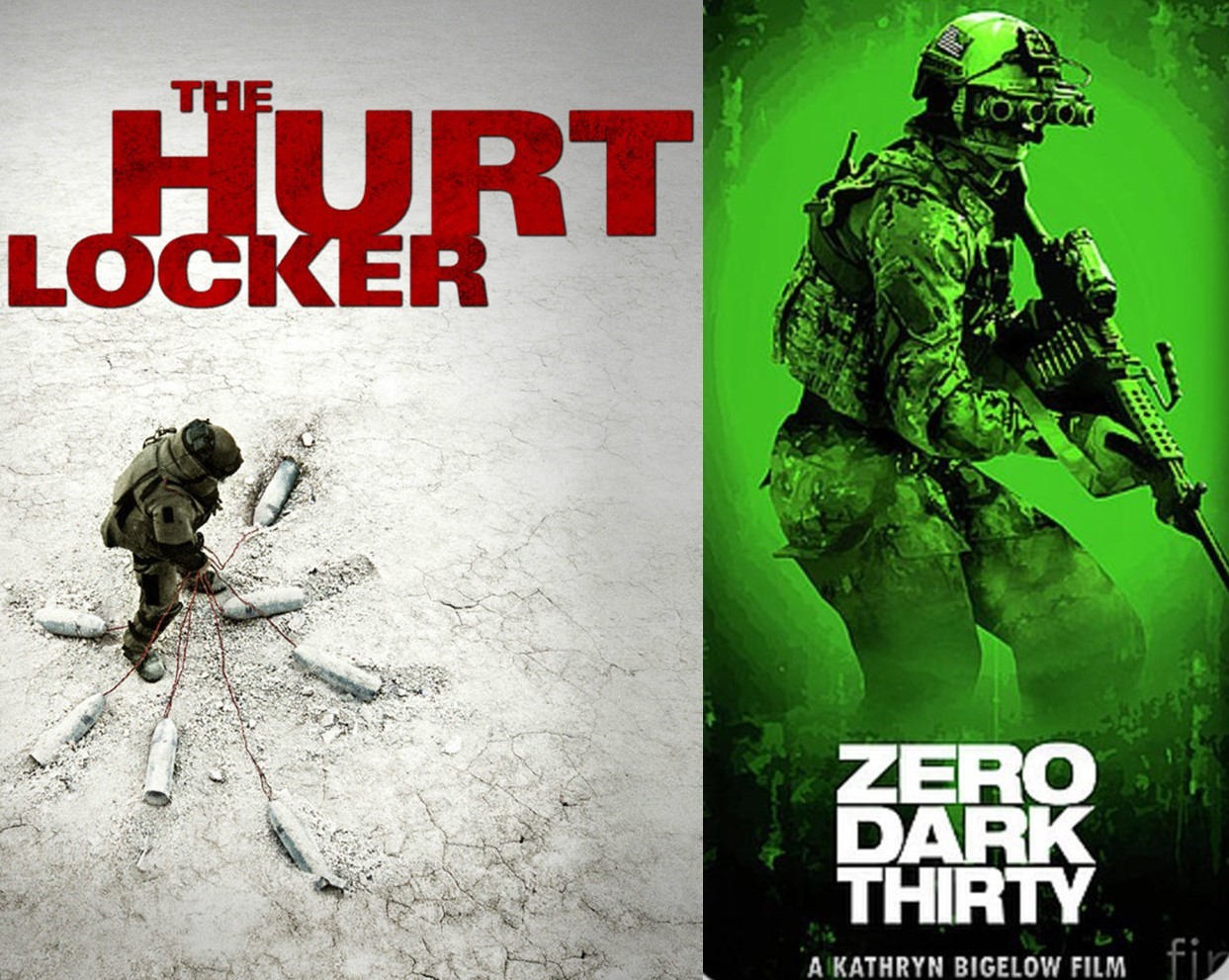 Zero Dark Thirty (2012)
Following the attacks on the World Trade Center on September 11, 2001, Islamic terrorist Osama bin Laden becomes the most-wanted man on the planet. The worldwide manhunt creates the Global War on Terror. Ultimately, the intelligence community sends in Special Operators from SEAL Team Six who kill the terrorist to revenge the Americans murdered by his al-Qaeda stooges.
Director: Kathryn Bigelow | Stars: Jessica Chastain, Jason Clarke, Joel Edgerton, Mark Strong, Kyle Chandler
The Hurt Locker (2008)
During the Iraq War, an Explosive Ordnance Disposal Sergeant is often at odds with his squad mates and family due to his maverick way of handling and dedication to this dangerous work.
Director: Kathryn Bigelow | Stars: Jeremy Renner, Anthony Mackie, Brian Geraghty, Guy Pearce
Clint Eastwood's Iwo Jima Masterpieces
Flags of Our Fathers (2006)
The life stories of the six men who raised the flag on Mount Suribachi during the brutal Battle of Iwo Jima. The photo is iconic and most famous picture of WWII if not ever taken. Eastwood does an excellent job with a great cast worth seeing despite the book the movie is based on misidentifies two of the flag-raisers.
Director: Clint Eastwood | Stars: Ryan Phillippe, Barry Pepper, Joseph Cross, Jesse Bradford
Letters from Iwo Jima (2006)
Eastwood's companion film to Flags of Our Fathers as told from the perspective of the Imperial Japanese Army who fought the US Marines who were above ground on Iwo Jima while the IJA were underground in their fortified caves.
Director: Clint Eastwood | Stars: Ken Watanabe, Kazunari Ninomiya, Tsuyoshi Ihara, Ryô Kase
78th Anniversary Iwo Jima Reunion of Honor (Mar 2023) (miltours.com)
The Sniper Films
American Sniper (2014)
Navy SEAL sniper Chris Kyle's pinpoint accuracy saves countless lives during his four tours in Iraq and turns him into a legend. "American Sniper" had the largest opening ever on MLK weekend, or any weekend in January. It has played especially well in Middle America, with its top-grossing theaters. This is profoundly disquieting to the Hollywood leftist, who hate and distrust the idea of the war heroes, believing it smacks of patriotism. Hollywood churned out such anti-war box office flops as "Green Zone," "Stop-Loss" and "In the Valley of Elah." Its reaction to Eastwood's "American Sniper" has been to belittle the movie and smear Chris Kyle.
Director: Clint Eastwood | Stars: Bradley Cooper, Sienna Miller, Kyle Gallner, Cole Konis
Enemy at the Gates (2001)
A Russian and a German sniper play a deadly game of cat-and-mouse during the Battle of Stalingrad.
Director: Jean-Jacques Annaud | Stars: Jude Law, Ed Harris, Joseph Fiennes, Rachel Weisz
Ridley Scott Threesome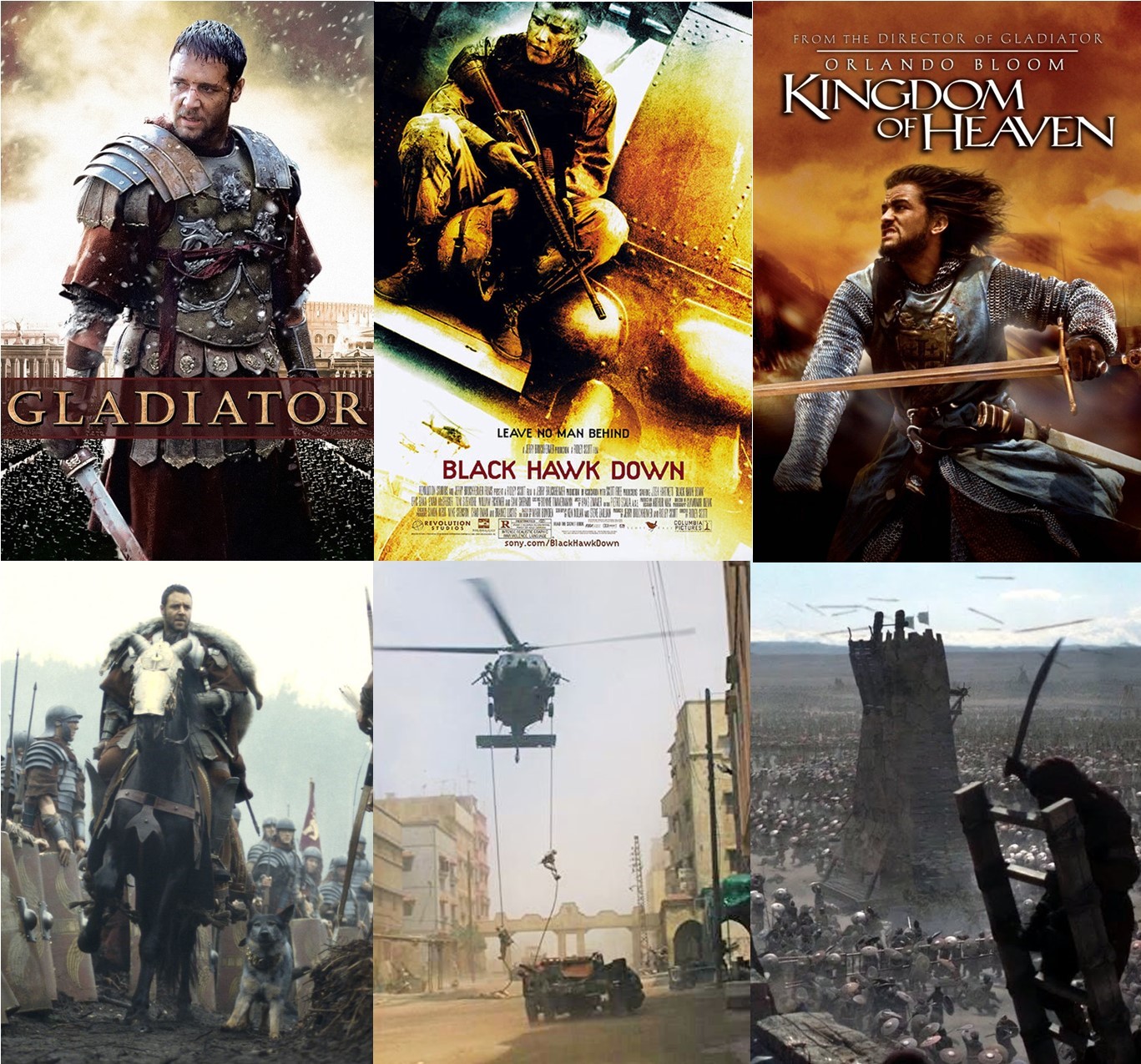 Gladiator (2000)
The initial battle scene is worth the price of admission. Crowe portrays Roman Empire General Maximus Decimus Meridius, who is ordered killed by Commodus, the ambitious son of Emperor Marcus Aurelius, who has murdered the emperor to seizes the throne. Reduced to slavery, Maximus becomes a gladiator and rises through the ranks of the arenas to avenge the murders of his family and his emperor.
Director: Ridley Scott | Stars: Russell Crowe, Joaquin Phoenix, Connie Nielsen, Ralf Möller, Oliver Reed (in his final role) Derek Jacobi, Richard Harris
Black Hawk Down (2001)
The story of Task Force Ranger that President Clinton sent to Mogadishu to capture a Somali Warlord, who has proclaimed himself president and is stealing Red Cross food shipments. US Army Rangers of the 3rd Battalion/75th Ranger Regiment, a detachment of Fort Bragg's Delta Force operators, and Black Hawk Helicopters from the 160th Special Operations Aviation Regiment enter Mogadishu in October 1993 to capture two of the warlords' top lieutenants but find themselves in a desperate battle with a large force of heavily armed Somalis.
Director: Ridley Scott | Stars: Josh Hartnett, Ewan McGregor, Tom Sizemore, Eric Bana
Kingdom of Heaven (2005)
This is a stylized epic movie about Balian of Ibelin a Knight of the Third Crusade and noble of the Kingdom of Jerusalem in the 12th century. He leads the defense of Jerusalem's people during the siege in 1187 before surrendering the city to the Sultan Saladin on 2 October 1187.
Director: Ridley Scott | Stars: Orlando Bloom, Eva Green, Liam Neeson, Martin Hancock
The WWI Trilogy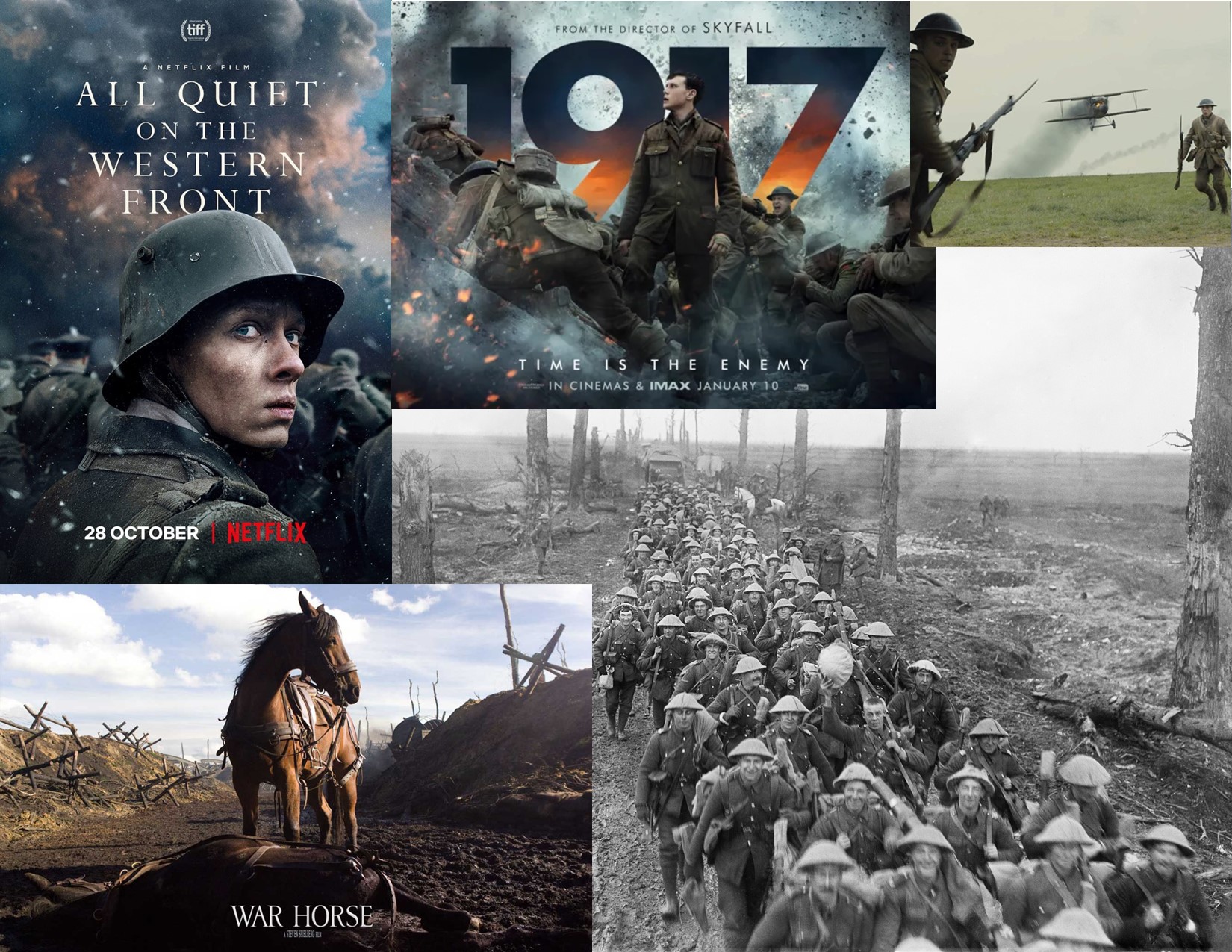 All Quiet on the Western Front (2022)
War breaks out in Germany in 1914. Paul Bäumer and his high school classmates quickly enlist in the army to serve their fatherland. No sooner are they drafted than the first images from the battlefield show them the reality of war.
Director: Edward Berger
1917 (2019)
During WWI, two British Tommies (soldiers) receive seemingly impossible orders. In a race against time, they must cross through no man's land to deliver a message that will save 1,600 of their fellow comrades from being slaughtered including one's own brother.
Director: Sam Mendes | Stars: George MacKay, Dean-Charles Chapman, Mark Strong, Colin Firth, Benedict Cumberbatch
War Horse (2011)
Albert enlists to serve in WWI after his beloved bay Irish Hunter Joey is sold to the British Royal Cavalry. The horse has adventures throughout the war and to both sides of the front line until Albert's unit reaches the battleground.
Director: Steven Spielberg | Stars: Jeremy Irvine, Emily Watson, David Thewlis, Benedict Cumberbatch
103rd Anniversary of WWI-1918 (20 - 29 May 2023) (miltours.com)
African Battle Trifecta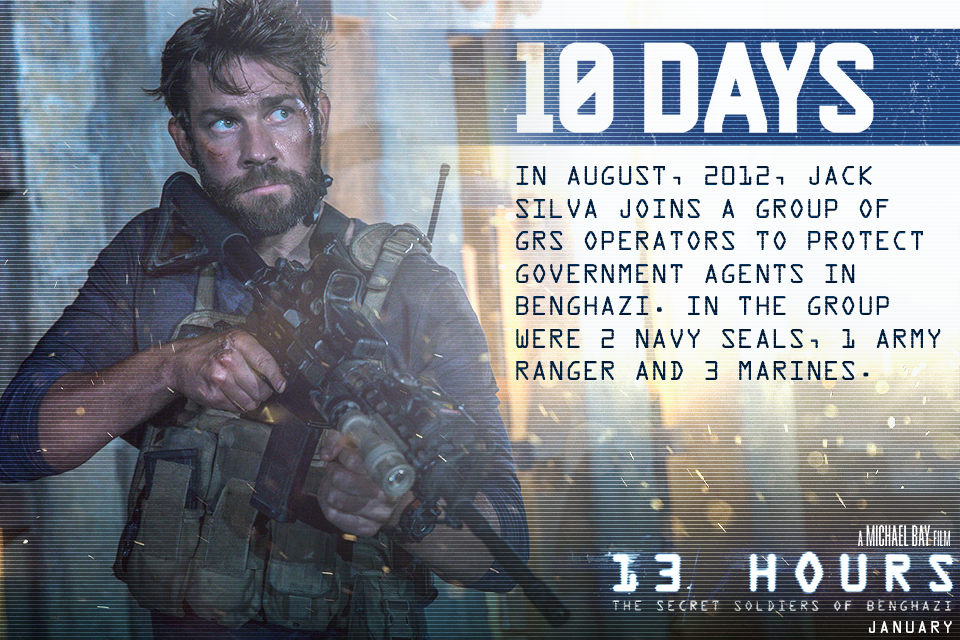 13 Hours: The Secret Soldiers of Benghazi (2016)
On September 11, 2012, Islamic militants attack the US Consulate in Benghazi, Libya, killing Ambassador J. Christopher Stevens and Sean Smith, a protection officer for the Foreign Service. Stationed less than one mile away are members of the Global Response Staff make up the Annex Security Team of former special forces operators (SEALs, USMC Reconnaissance and Scout Sniper, US Army Ranger) assigned to protect CIA Station operatives and diplomats in the city. As the assault rages on, the seven operators engage the combatants in a fierce firefight to save the lives of the remaining Americans as the Secretary of State does nothing to help.
Director: Michael Bay | Stars: James Badge Dale, John Krasinski, Max Martini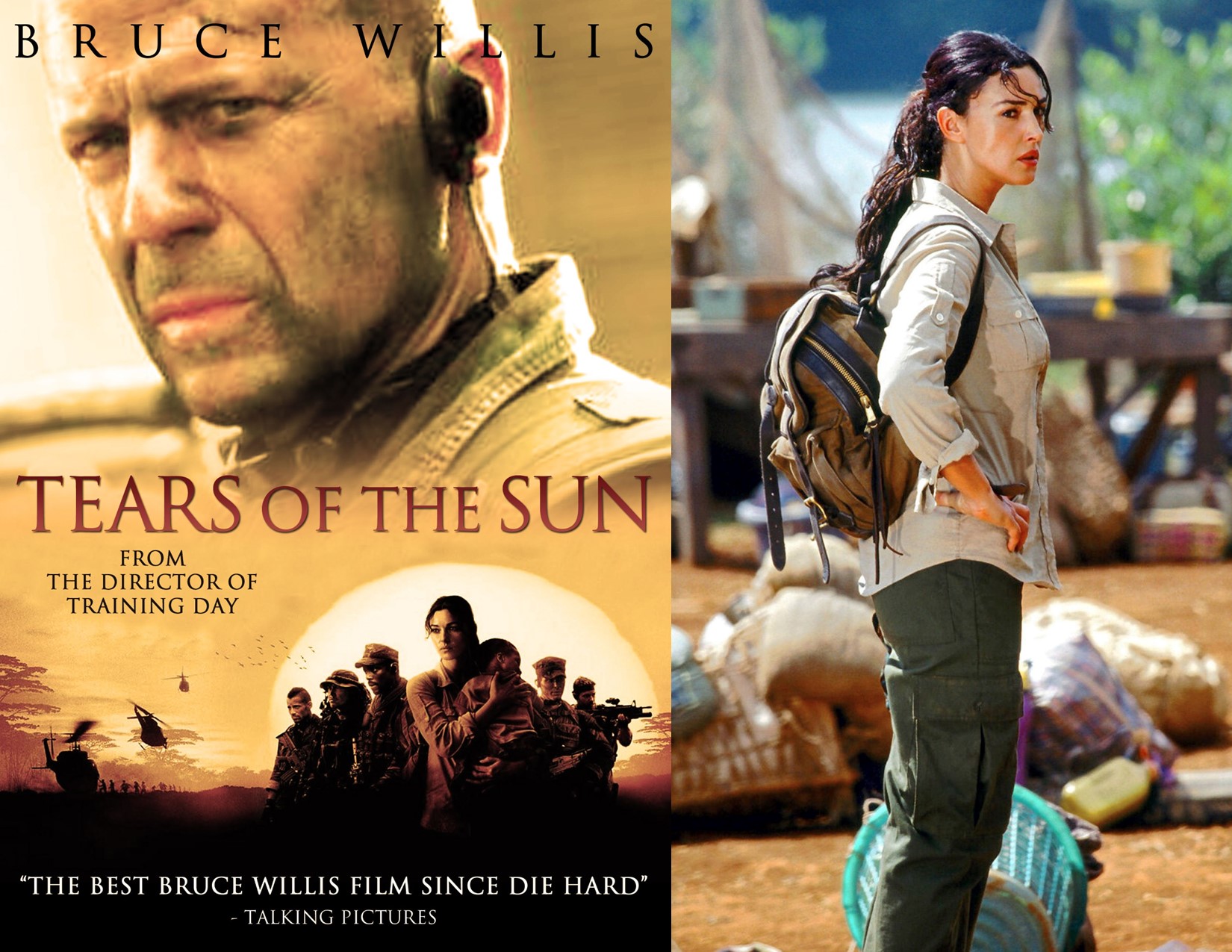 Tears of the Sun (2003)
A Special-Ops SEAL Team, led by a too-old-to-be-a-US-Navy-Lieutenant Willis, drops into the Nigerian jungle in order to rescue a female doctor who will only join them if they agree to save 70 of her patients too. Probably couldn't be made today as the Nigerian Rebels are so loathsome you will for them to die horribly!
Director: Antoine Fuqua | Stars: Bruce Willis, Monica Bellucci, Eamonn Walker, Cole Hauser
Rules of Engagement (2000)
A US Marine Corps JAG attorney defends a fellow Colonel on trial for ordering his troops to fire on civilians as they evacuate a US embassy in a Middle Eastern country. Like a future Secretary of State and President the villain, the National Security Advisor would let the military men die for their political missteps.
Director: William Friedkin | Stars: Tommy Lee Jones, Samuel L. Jackson, Guy Pearce, Ben Kingsley
WWII in the Pacific Pairing
Midway (2019)
On December 7th, 1941, the Imperial Japanese Navy (IJN) launched a devastating attack on US military forces in Oahu and Pearl Harbor, Hawaii. Six months later, on 4 June 1942, the IJN returned to deliver a fatal blow to US naval power in the Pacific off Midway. For the next three days, the U.S. Navy and some Marine & Navy squadrons of brave pilots engage the Japanese in one of WWII's most important and decisive battles.
Director: Roland Emmerich | Stars: Ed Skrein, Mandy Moore, Nick Jonas, Woody Harrelson
Pearl Harbor (2001)
A tale of war and romance mixed in with some history. The story follows two lifelong friends and a beautiful nurse who are caught up in the horror of an infamous Sunday morning in 1941.
Director: Michael Bay | Stars: Ben Affleck, Kate Beckinsale, Josh Hartnett, William Lee Scott
82nd Anniversary of Pearl Harbor (4 - 11 Dec 2023) (miltours.com)
An Afghanistan Pair
12 STRONG (2018)
In the wake of the September 11 attacks, Captain Mitch Nelson leads a US Army Special Forces team into Afghanistan for an extremely dangerous mission. Once there, the soldiers develop an uneasy partnership with a leader of the Northern Alliance to take down the Taliban and its al-Qaida allies. Outgunned and outnumbered, Nelson and his men face overwhelming odds in a fight against a ruthless enemy that takes no prisoners.
Director: Nicolai Fuglsig | Stars Chris Hemsworth, Michael Shannon, Michael Peña, Rob Riggle
Lone Survivor (2013) In 2005 Afghanistan, US Navy SEAL Marcus Luttrell as part of a four-SEAL reconnaissance and surveillance team during Operation Red Wings deploy on a mission to take out Taliban leader. Though spotted by goatherds, Luttrell's team leader decides not to kill them. They alert a group of Taliban fighters and a bloody battle ensues, in which the SEALs find themselves hopelessly outnumbered and outgunned.
Release date: December 25, 2013 (USA)
Director: Peter Berg | Stars Mark Wahlberg, Taylor Kitsch, Emile Hirsch, Ben Foster
POW Camp Movies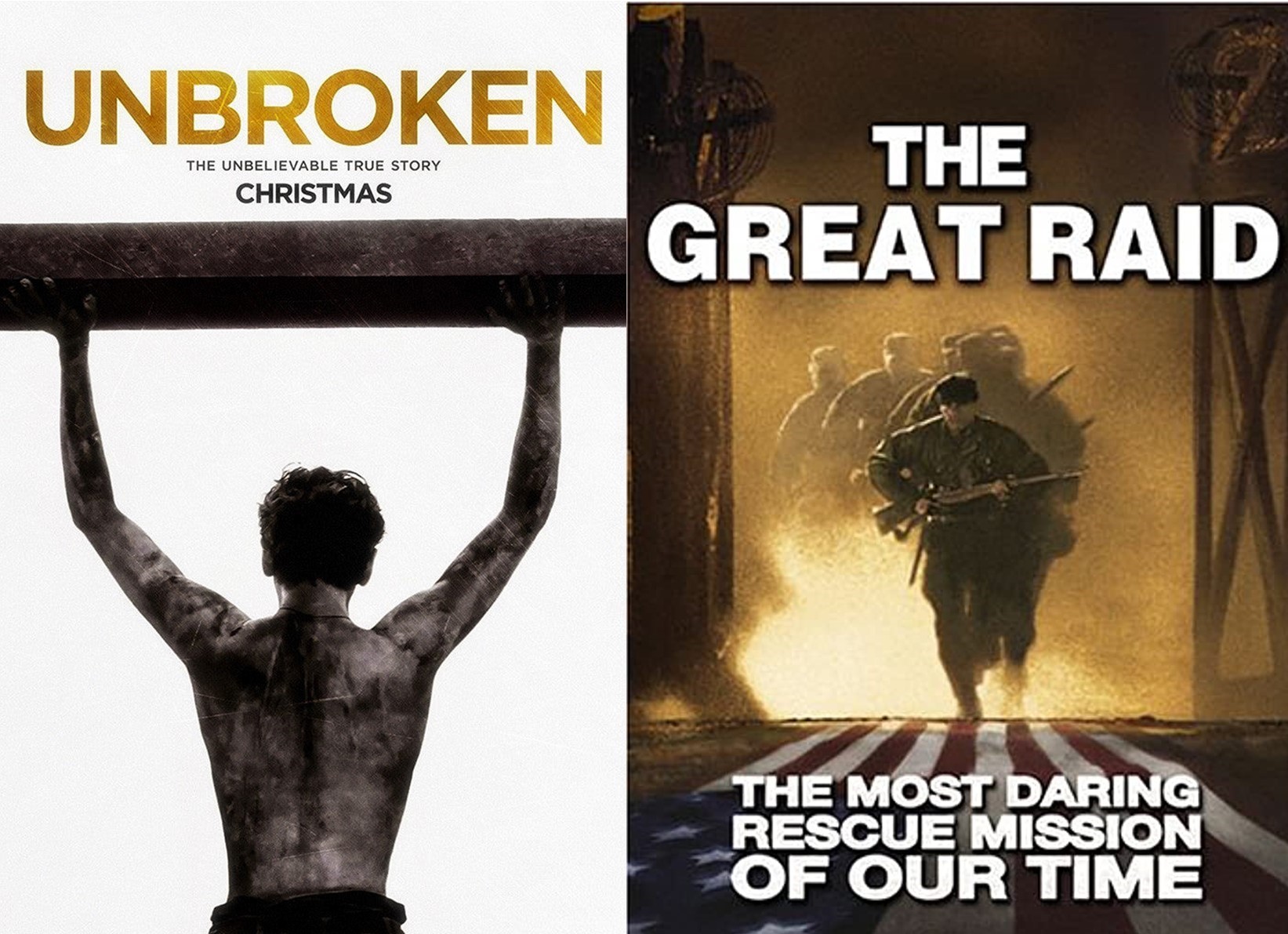 Unbroken (2014)
After his bomber crashes into the Pacific during WWII, 1936 Olympian Louis Zamperini spends a harrowing 47 days in a raft with two fellow crewmen before he's captured by an Imperial Japanese Navy ship and sent to a POW camp where he is tortured by a sadistic Japanese guard.
Director: Angelina Jolie | Stars: Jack O'Connell, Miyavi, Domhnall Gleeson, Garrett Hedlund
The Great Raid (2005)
Taking place towards the end of WWII in the Philippines, 500 American US Army Soldiers who survived the Bataan Death March have been held for three years in an Imperial Japanese Army POW Camp. Beginning to give up hope they will ever be rescued, a group of US Army Rangers the mission to try and rescue them.
Director: John Dahl | Stars: Benjamin Bratt, Joseph Fiennes, James Franco, Robert Mammone
Philippines - World War II in the PI (11 - 21 April 2023) (miltours.com)
Battle of the North Atlantic Films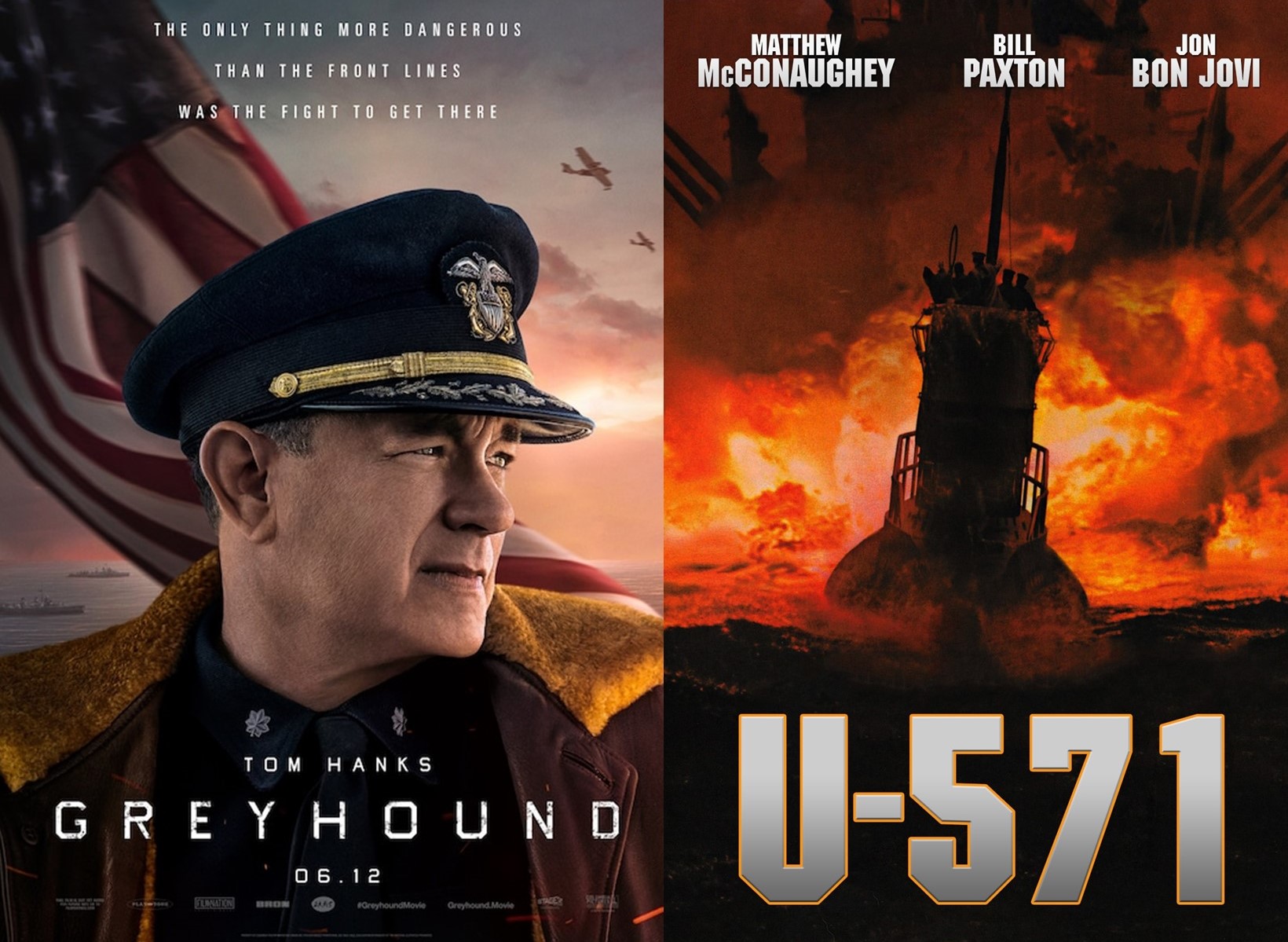 U-571 (2000)
A German U-Boat is boarded by disguised US Navy submariners trying to capture the Enigma cipher machine aboard the sub before it can be scuttled.
Director: Jonathan Mostow | Stars: Matthew McConaughey, Bill Paxton, Harvey Keitel, Jon Bon Jovi
Greyhound (2020)
US Navy Commander Ernest Krause (Hanks) is assigned to lead an Allied convoy across the Atlantic during WWII. His convoy, however, is pursued by a Wolfpack of German U-boats. Although this is Krause's first wartime mission, he finds himself embroiled in what would come to be known as the longest, largest and most complex naval battle in history: The Battle of the Atlantic.
Initial release: July 10, 2020
Director: Aaron Schneider | Stars: Tom Hanks, Stephen Graham, Rob Morgan, Elisabeth Shue
MHT's Special Ireland Tour & USNA-UND Football (18- 28 Aug 2023) (miltours.com)
B.C. Blockbusters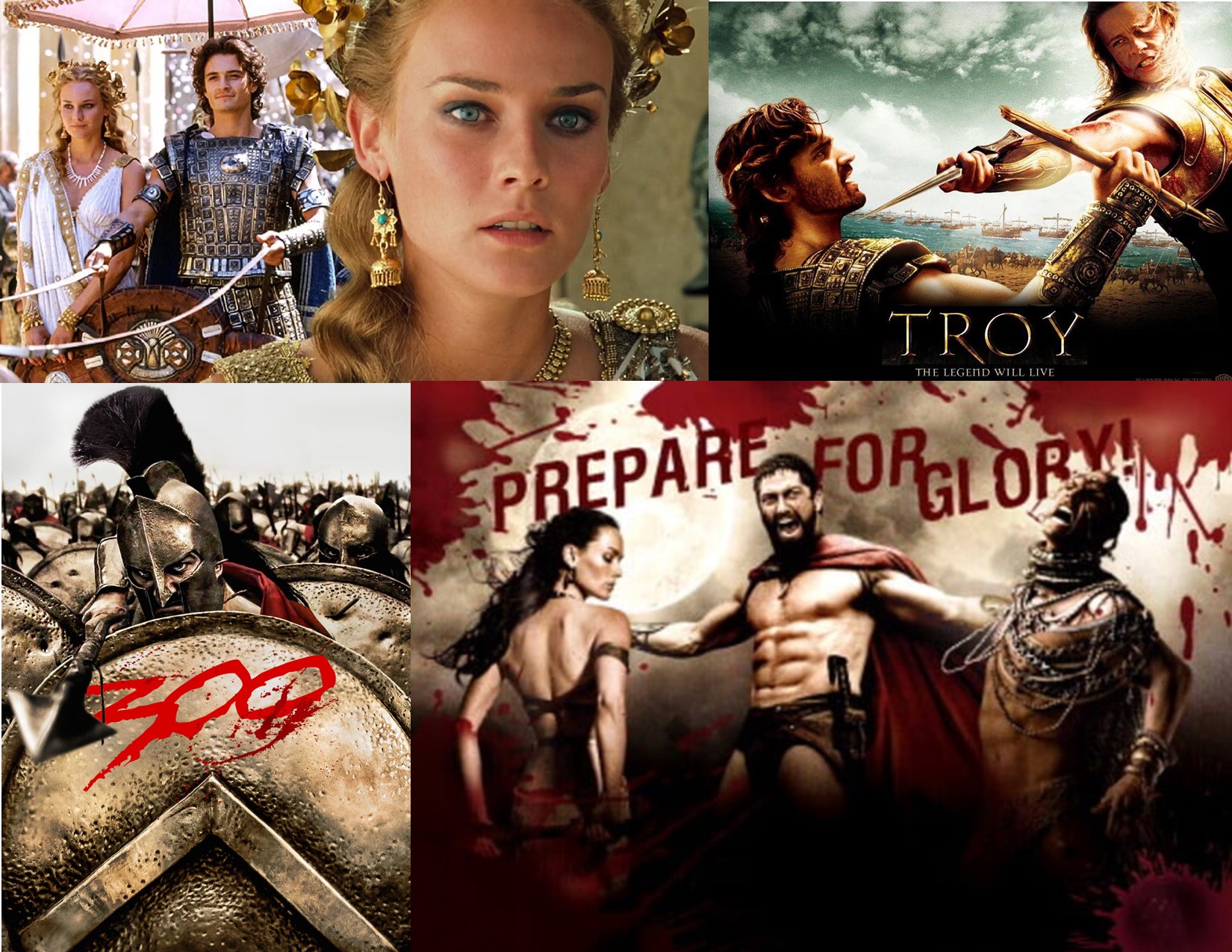 Troy (2004)
This is old-fashioned CGI grand scale moviemaking, but the movie Troy lives for its sprawling spectacle and charisma of its all-star cast, and it's got a thousand ships' worth of both. Pitt is at his hunkiest as Achilles, but Bana steals the movie as the Trojan Prince Hector. Kruger is a perfect Helen but you wonder if Bloom didn't overplay Paris as such a despicable coward.
Director: Wolfgang Petersen | Stars: Brad Pitt, Eric Bana, Orlando Bloom, Diane Kruger, Sean Bean, Brendan Gleeson, Peter O'Toole, Rose Byrne
Turkey WWI Gallipoli Campaign (20 - 29 Sept 2023) (miltours.com)
300 (2007)
This is a seismic jump in CGI usage as King Leonidas of Sparta and his small force of 300 fight the massive Persian invading army at Thermopylae in 480 B.C. For many this is likely a movie where the memory of Gerard Butler's and his Spartans chiseled abs and video game hordes of soon to perish Persians is tops. Yet after 120 minutes of Snyder's ramping between slow-motion and speeding up the film and Butler screaming ferociously as he impales another inferior Persian you start to wonder was 300 the film's run time.
Director: Zack Snyder | Stars: Gerard Butler, Lena Headey, Dominic West, David Wenham
Vietnam & Historical Cinema
We Were Soldiers (2002)
The realistic story of the first major battle of the US phase of the Vietnam War, and the US Army air cavalry troopers who fought the North Vietnamese & Viet Cong. Meanwhile, their wives wait nervously and anxiously at home for the good or the bad news as the US Army has to discontinue their antiquated casualty information system.
Director: Randall Wallace | Stars: Mel Gibson, Madeleine Stowe, Greg Kinnear, Sam Elliott
U.S. Military Operations in Vietnam "Delta to the DMZ" (5 - 18 Aug 2023) (miltours.com)
Tropic Thunder (2008)
A riotous black-comedy of the problems in making a Vietnam War film. The director driven by a ruthless studio executive attempt to liven up the proceedings by dropping the principal actors into the middle of a real jungle, claiming he is going to capture their performance with hidden cameras. The hapless group of actors face real life dangers in a comic masterpiece.
Director: Ben Stiller | Stars: Ben Stiller, Jack Black, Robert Downey Jr., Steve Coogan, Jay Baruchel, Danny McBride, Bill Hader, Nick Nolte
Master and Commander: The Far Side of the World (2003)
During the Napoleonic Wars, the Royal Navy's Captain "Lucky Jack" Aubrey, pushes the crew of the HMS Surprise to their limits in pursuit of a formidable French heavy frigate around South America's Cape Horn to continue their duel into the Pacific.
Director: Peter Weir | Stars: Russell Crowe, Paul Bettany, Billy Boyd, James D'Arcy
Gods and Generals (2003)
This prequel to "Gettysburg" follows the rise and fall of Confederate General Thomas "Stonewall" Jackson, as he meets with huge military successes against the Union from 1861 to 1863, until he is accidentally killed by his own soldiers as he seals his greatest victory.
Director: Ron Maxwell | Stars: Stephen Lang, Robert Duvall, Jeff Daniels, Donzaleigh Abernathy
Civil War Gettysburg 1023.pdf (miltours.com)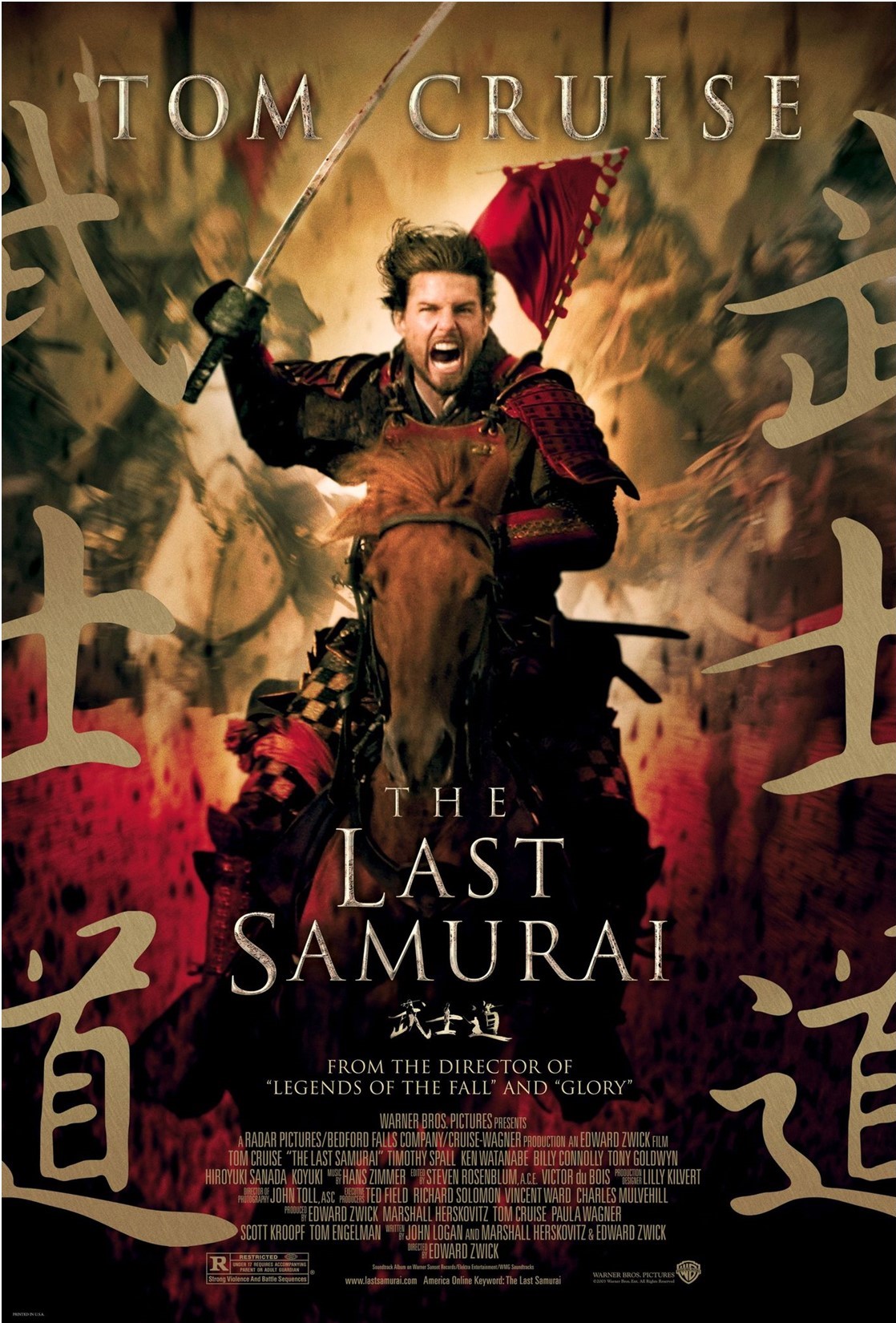 The Last Samurai (2003)
Tom Cruise's blockbuster is a satisfying and thrilling adventure picture that uses Kurosawa influences. Playing the Samurai Katsumoto, Watanabe steals the movie and deserved the Oscar nomination. He is the lone warrior who rejects the rapid westernization of feudal Japan, much to the displeasure of his Emperor and his American and European patrons. US Cavalry Officer Nathan Algren (Cruise) opposes Katsumoto until he embraces the ways of the Samurai.
Director: Edward Zwick | Stars: Tom Cruise, Ken Watanabe, Billy Connolly, Tony Goldwyn, Hiroyuki Sanada, Koyuki
MHT was hard on the Academy but they were probably right not giving the biggest money making actor in Hollywood the award this year!
MHT didn't review "The Whale" but if we had to guess the plot, it is Fraser's follow-up to his acting tour de force "Furry Vengeance" where the whales attack the windmill developers off the New Jersey coast.