Blog 05/12/2023 - The White Rajahs of Sarawak
Lieutenant Colonel Sinjin Brooke-Johnson & the White Rajahs of Sarawak
With "God Save the King" in the air due to the Coronation of Their Majesties King Charles III and Queen Consort Camilla last Saturday, 6 May 2023 we talk about another English royal family. Today when you hear the words "The White Rajahs of Sarawak" it would probably instigate an immediate uninformed woke reaction of outrage and charges of British Colonialism and the evils of the "White Man's Burden."
Below a men's magazine fictional interpretation of James Brooke arriving in Borneo aboard his ship, the Royalist.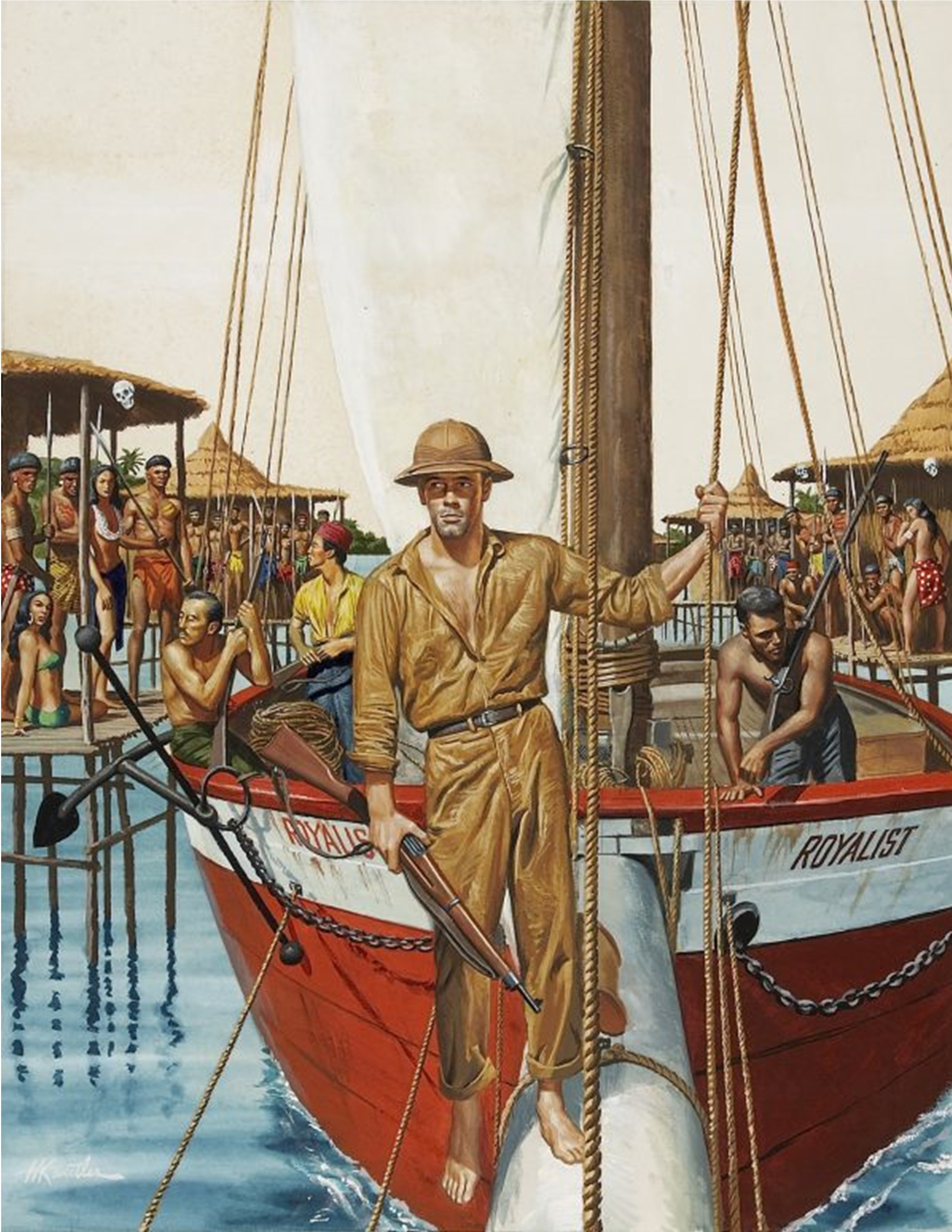 At the height of the British Empire, just after WWI, an island nation smaller than Oregon controlled roughly a quarter of the world's population and landmass. Today's woke history cancel culture would demand the architects of this colossus, the largest empire in history, melt down the Queen Victoria Memorial, topple Lord Admiral Nelson Column in Trafalgar Square, pull down the Winston Churchill Statue, bulldoze the Naval Memorial in Plymouth and demolish the Cenotaph, the de facto national war memorial on Remembrance Day.
Where once the British empire was a source of unquestioning pride in Britain, public opinion driven by woke social media has eroded that pride by questioning the British Empire. They highlight the dark past of colonialism as all bad and something to be ashamed of today. Woke liberal's penchant to divide people and diminish history condemns Britannia for everything they spread when they ruled the waves:
1) The decision to abolish the international slave trade in 1807 and outlaw it throughout its overseas territories in 1833 was one of most important acts ever undertaken by the British Empire or any country for that matter (still some countries backslide regularly, see the recent World Cup Stadium construction gulags, and where slave trade still exists in the Middle East, Africa and China and even Biden has opened our own border to a thriving sex and child slave trade.) The massive superiority of the Royal Navy allowed the Empire to enforce its ban with action. For those who would have preferred the trade to carry on, the empire used its vast navy to make life for slavers virtually impossible. Thanks to the Empire's diplomacy and strong-arm tactics of the Royal Army and Navy by 1888, the slave trade was all but wiped out when Brazil outlawed it that year. The trade practice was declared illegal throughout the world in 1948. The Islamic nation of Mauritania (colonial French West Africa) in Northwestern Africa becoming the last nation to declare slavery illegal in 1981 although it had returned after the French departure in 1960 and enslavement remains today.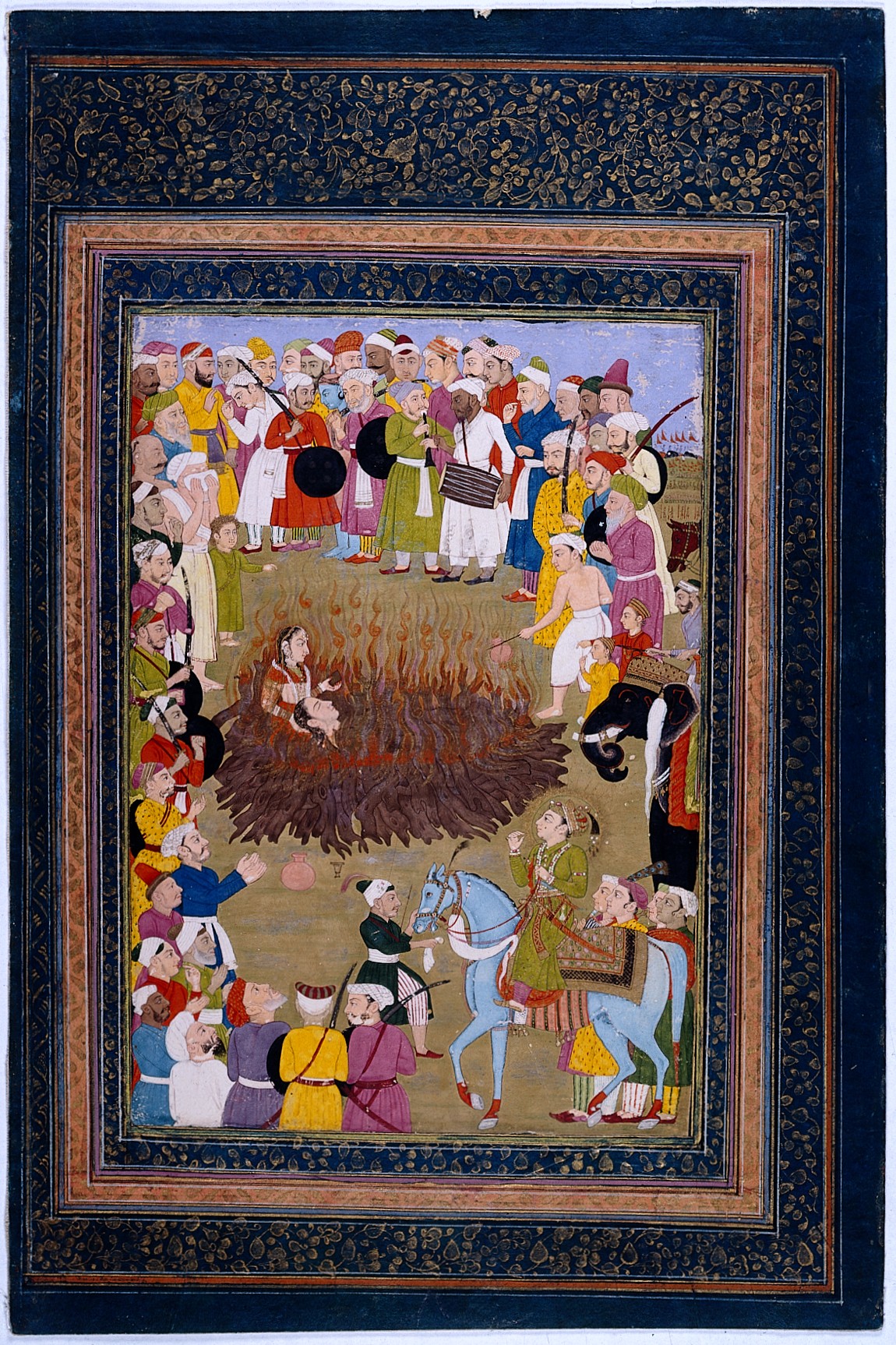 2) Imperial tutelage was often imparted through the barrel of a Lee–Enfield, a bolt-action, magazine-fed repeating rifle that served as the main firearm of the British Empire and Commonwealth military forces during the first half of the 20th century, and was the British Army's standard rifle from its official adoption in 1895 until 1957. British rule in India stretched from the early 17th Century to just after WWII, and the debate over whether the empire's rule was a good or a bad thing overall will undoubtedly go on far longer. One undeniably good thing that came out of British rule was the banning of suttee. Suttee was the Indian practice whereby Hindu widows (with hands and feet secured to prevent fleeing) were burned alive atop the funeral pyres of their deceased husbands or buried alive in their graves. At first, the Empire's East India Company tolerated this barbaric practice, but Christian missionaries and Hindu reformers changed the authorities' minds and by 1829 the practice was officially banned. The law was further strengthened by legislation and the practice was all but wiped out by the 1870s.
3) The spread of the English language was a huge positive byproduct of an empire that spanned the globe. Today, English is the world's largest language by terms of speakers. This has made global communication much easier as even those without a good command of English can get by in it remarkably well in a way they cannot in French or Mandarin. It is either the leading language or one of the most commonly used languages in fields such as science, law, navigation, literature and diplomacy, as well as being the principal language used on the Internet. Unfortunately, the world is laughing at our spineless leadership that allows wokesters to tarnish the language by no longer being capable of defining what a man or woman is.
4) Like all colonizers, Britain gave birth to many nations around the world. A number of British colonies that evolved into some of the wealthiest and most successful countries on the planet. The United States of America, Canada, Australia and New Zealand were forged in the fire of empire and they are today some of the country's strongest allies and friends. Not all of them were successful, Britain's wish to drop India, its former Jewel in the Crown quickly after WWII led to partition along religious lines and the bloodbath that followed but is now the world's fifth-largest economy and is developing rapidly into one of the 21st Century's economic powerhouses.
5) After the defeat of Napoleon's Empire, there was a near hundred-year period of relative peace and stability in Europe known as the "Pax Britannica." This stability afforded the empire the chance to expand its reach, grow new markets and stabilize trade routes throughout the world, stamp out the slave trade, clamp down on piracy around the most important trade routes and spread the fruits of the Industrial Revolution throughout the empire and beyond. Fall European Tour Waterloo/WWI/WWII Belgium & France (20—27 October 2023) (miltours.com)
6) Invention after invention burst forth into the world not just from Britain, but from other rapidly industrializing nations to the extent that within a hundred years, Western Europe, in particular, was unrecognizable. However, this rapid advancement would eventually lead to a form of warfare the world had never witnessed before.
The outbreak of WWI saw abrupt and bloody end of "Pax Britannica." The rapid industrialization of the world led to a new form of mechanized war with slaughter from machineguns and the massive advance in artillery driven by the German's Krupp Industries that was on an unprecedented scale touched every village, town and city in Britain and beyond. By war's end in 1918, the British Empire was battered but still standing, whereas the Ottoman, Russian, German and Austro-Hungarian Empires had all collapsed.
The British Empire fought the entirety of WWII, from the last country standing against Hitler and Nazi tyranny in 1940 to the nuclear death of Imperial Japan in 1945, the empire was a vital cog in the Allied war machine. Troops from Britain and its empire fought in both the European, African, North Atlantic and Pacific theatres in all branches of the armed forces. Thanks to the United States, the Soviet Union and the British Empire, the evil Axis of Nazi Germany, Italy and Imperial Japan would see their plans for world domination spectacularly thwarted. The war crippled Britain financially leading to the end of the British Empire itself.
In 1967, my father was assigned to Naval Striking and Support Forces Southern Europe (STRIKFORSOUTH), a Principle Subordinate Command under Commander-in-Chief, Allied Forces Southern Europe (CINCSOUTH) collocated with Allied Forces Southern Europe (AFSOUTH) in Naples, Italy. STRIKFORSOUTH staff comprised of U.S. military personnel (10,000 Americans when dependent families were included) as well as other allied personnel from France, Greece, Italy, Turkey, and the United Kingdom to establish a close relationship with Mediterranean NATO Commanders in planning and conducting exercises and training. The STRIKFORSOUTH area of responsibility encompassed the entire Mediterranean Theater, from the Straits of Gibraltar to the Easter Mediterranean.
Our apartment overlooking the Bay of Naples on Via Catullo was on the third floor, below us lived Lieutenant-Colonel St. John Carslake Brooke-Johnson, O.B.E., M.B.E. and his family. He went by Sinjin, a phonetic spelling of the English pronunciation of Saint John. He was British Army through and through and his war stories were of advancing Queen and Empire.
After enlisting from Trinity College, Oxford, he was an Officer Cadet of the Honorable Artillery Company at Bulford Camp on the Salisbury Plain, from which he was commissioned into the 11th Battalion, Worcestershire Regiment on 15th March, 1941. Posted to East Africa, Lieutenant Brooke-Johnson arrived in time for the Battle of Amba Alagi in April-May 1941 helping British Commonwealth forces capture 50,000 Italian prisoners and destroying Mussolini's East African Empire (modern day Ethiopia.)
Between 1941 and 1943 he served successively as a Platoon Commander in the 1st Battalion, The Duke of Cornwall's Light Infantry in North Africa and as an Intelligence Officer to 1st Battalion, The King Own Royal Regiment.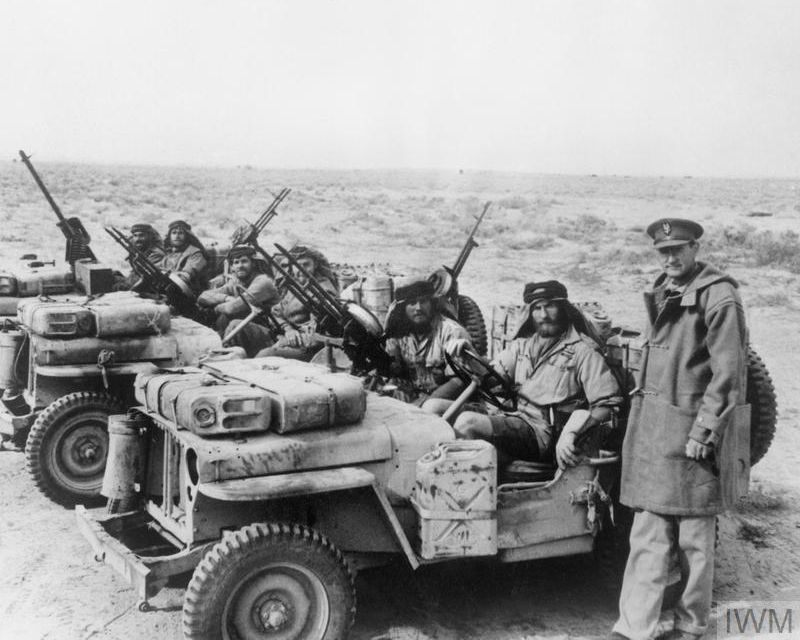 He became part of Major David Stirling's jeep-borne Special Air Service (SAS) Squadron that attacked Axis airfields in commando/special operations raids.
Maj. Stirling was dubbed "The Phantom Major" by Afrika Korps Commander, Field Marshal Erwin Rommel due to his effective long range hit-and-run operations. Stirling was captured by the Germans but made five escape attempts, before he was sent to Colditz Castle, the German Military's WWII Supermax where he remained as a Prisoner of War (POW) for the rest of the war. In the 15 months before then Lieut.-Colonel Stirling's capture, the SAS had destroyed over 250 aircraft on the ground, dozens of supply dumps, wrecked railways, disrupted telecommunications, and put numerous Axis vehicles out of action.
Lieut. Brooke-Johnson's service with the 1st SAS Regiment in North Africa involved numerous special operations and sabotage operations behind enemy lines until February 1943, when he was captured by the German 90th Light Division in Southern Tunisia. Sent to an Italian POW camp, he escaped and joined the North Italy partisans, until being re-captured by the German 1st SS Regiment near Trento. He was sent to a German POW camps known as either Stalags (enlisted) or Oflags (short for the German Offizier Lager.)
He was involved in 12 POW escape attempts, of which nine were frustrated before he could get outside the wire. The most successful of his three break-outs was in September 1944 when he walked out of the Rotenburg Camp in Germany in a party of seven, all of whom were disguised as members of a working party, complete with handcart and picks. Once free they split up, and his party made for the Dutch border and Allied front line. They evaded capture for 12 days before being arrested in an area he was later to get to know well as the Sennelager Training Area after WWII. He escaped again in September 1944, but was apprehended again due to his escape route taking him into the middle of the Battle of Arnhem in the Market Garden "Bridge Too Far" Operation!
During the final days of WWII, the 900 Allied officers held by the Germans in Oflag IX A/H and Oflag IX A/Z, including Brooke-Johnson, felt freedom was still a world away. Marched east in March and April 1945 by their captors, away from the liberating American forces, was a time of great hardship. The Rise & Fall of the Third Reich: https://miltours.com/index.php?route=product/product&path=17&product_id=139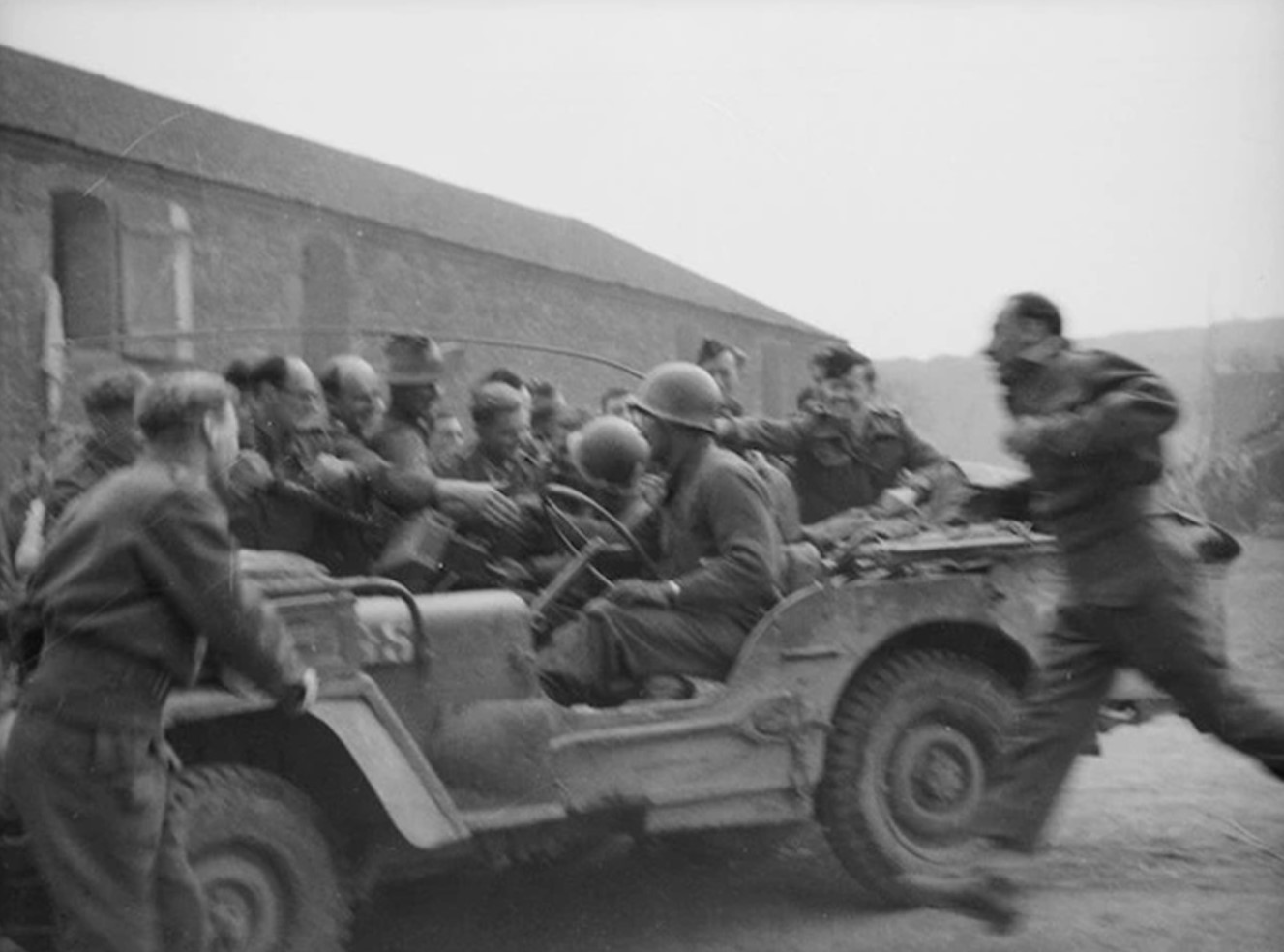 They were at the mercy of the vengeful Nazis guards and under the threat of Allied air attacks. Amongst their number were many men whose names would become well known - Desmond Llewellyn, 'Q' in the Bond films, Frederick Corfield, a cabinet minister under Margaret Thatcher and Major Bruce Shand, father of Camilla Parker Bowles who is Britain's new Queen Consort alongside King Charles III.
After being liberated, he served in the 9th Battalion Worcestershire Regiment at Ashford, Kent in July 1945. In November, he joined the 1st Battalion Worcestershire Regiment at Goslar, Germany and shortly afterwards became Brigade Intelligence Officer in the 13 Infantry Brigade, British Army of the Rhine (B.A.O.R.) His Order of the British Empire (MBE) (silver medal) which was gazetted (posted) in 1947 being awarded for his skillful and daring WWII escape activities.
He was posted in Italy at Trieste and Pola (before it was transferred to Yugoslavia and is now part of Croatia) before returning to 1st Battalion, The Worcestershire Regiment B.A.O.R. in Berlin.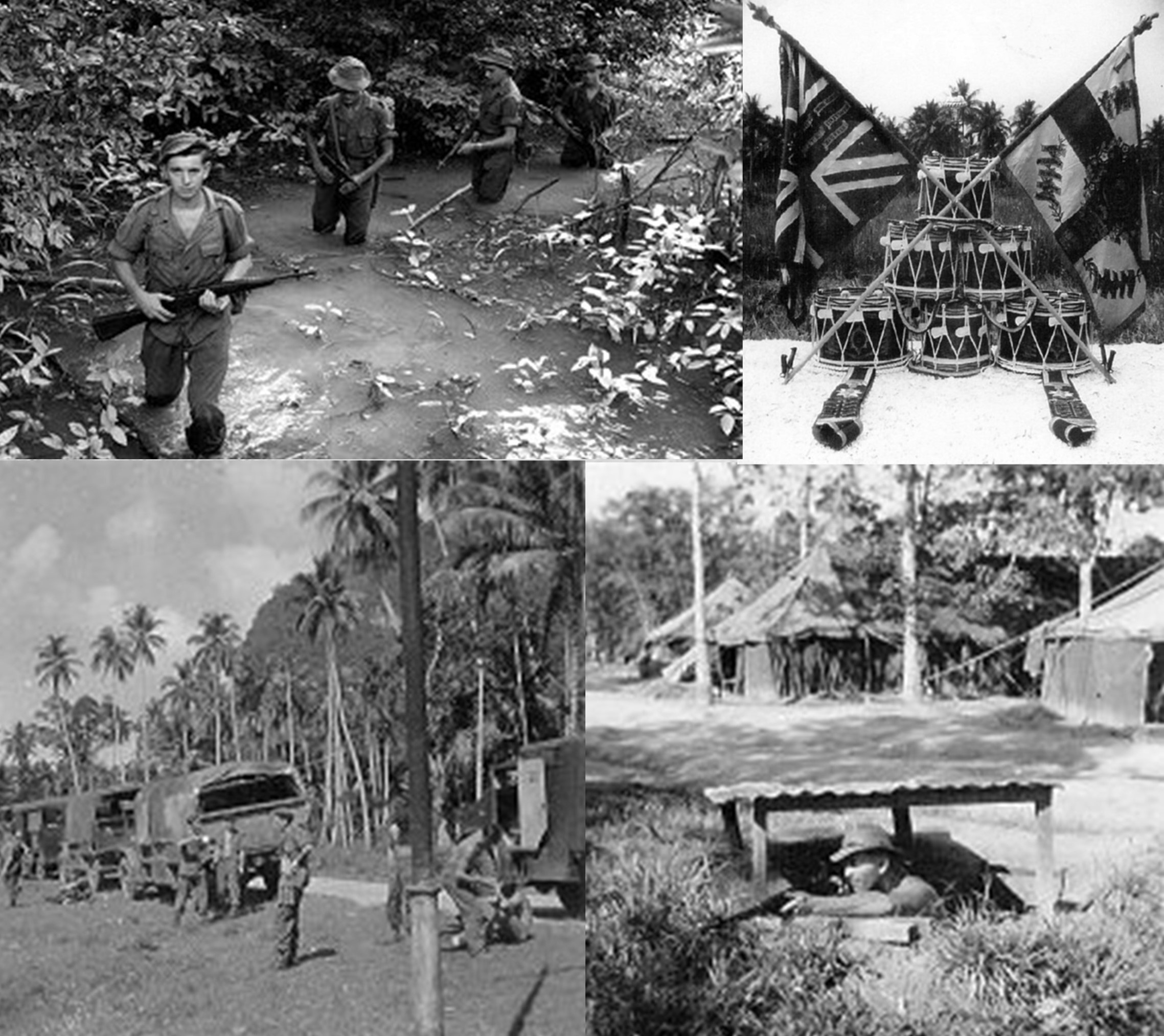 Capt. Brooke-Johnson departed Europe in December 1948 for service in the Malayan Emergency (1948–1960) a guerrilla war fought in British Malaya between the communist Malayan National Liberation Army (MNLA) guerrillas and the military forces of the Federation of Malaya, British Empire and Commonwealth. He served as 1st Battalion Adjutant to December 1950 becoming Intelligence Officer to 18 Infantry Brigade at Selangor, Malaya.
Capt. Brooke-Johnson's Company, he is seated in front row, 8th from right!
After 6 months he returned as Commanding Officer 'B' Company 1st Battalion The Worcestershire Regiment at Kuala Selangor and Penang. In October 1952, he was mentioned in dispatches for his unit's combat prowess against the communist insurgents (Servicemen of the British Empire or the Commonwealth who are mentioned in dispatches (MiD) are not awarded a medal for their actions, but receive a certificate and wear an oak leaf device on the ribbon of the appropriate campaign medal.) During the Malayan Emergency, the British Army employed Iban tribesmen from Sarawak in Borneo against the MNLA. Typically, two would be attached to each infantry patrol as trackers and scouts, acting as the patrol leader's eyes and ears in this deeply alien environment.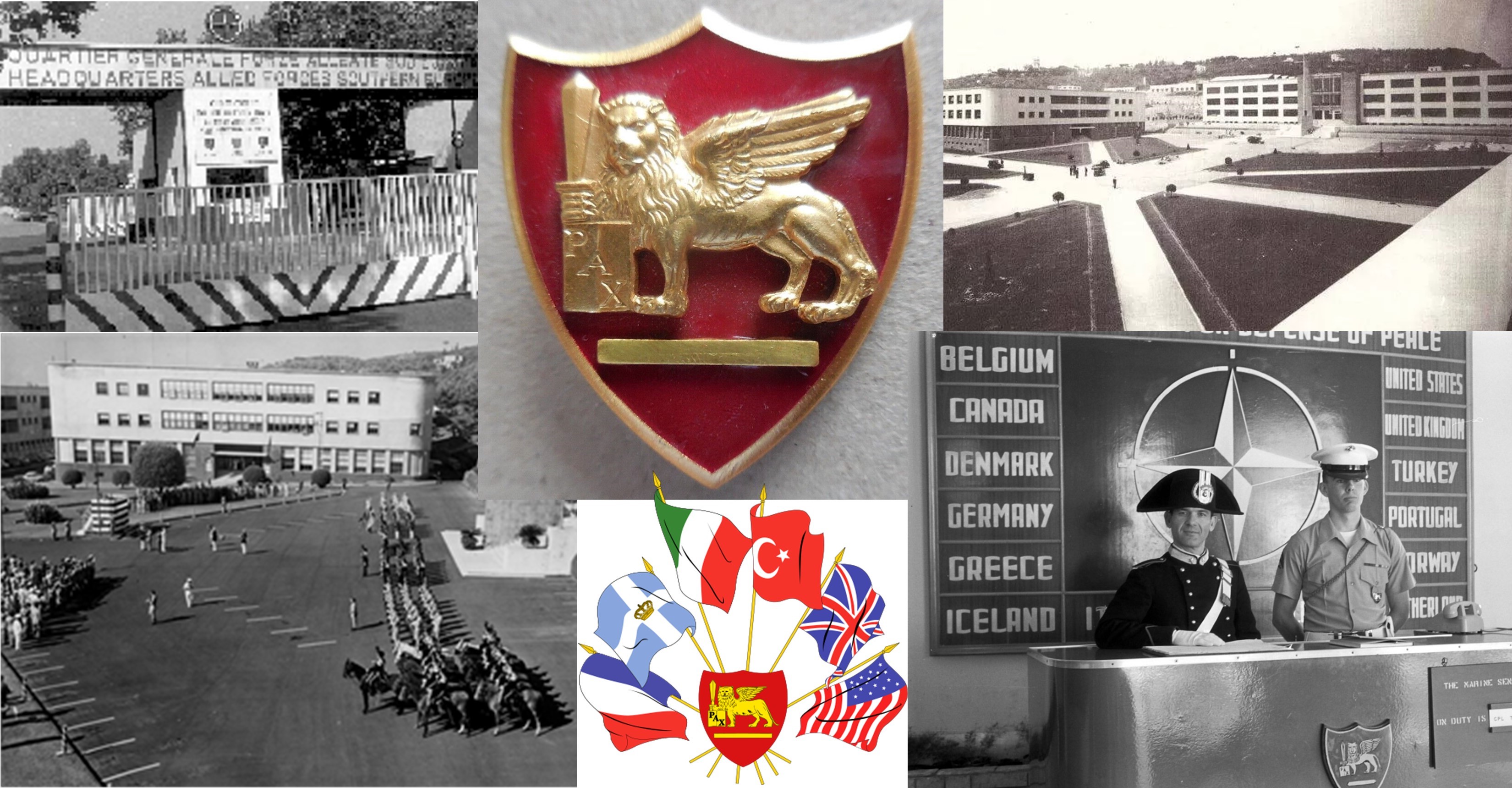 Above: STRIKFORSOUTH, Naples, Italy was in Building "D" lower left
Upon returning to the U.K. in 1952, he was successively Training Officer at Officer Cadet School and Commander of a Training Company at Norton Barracks. He attended courses at the Staff College, Camberley and the Royal Military College of Science, Shrivenham. From June 1956, to June 1958, he was promoted to Major as a General Staff Operations Officer at Headquarters Land Forces, Hong Kong. He again returned to the 1st Battalion where he was Company Commander of 'B' Company in British Honduras, West Indies. After two years at the War Office, London he was appointed Second in Command of 1st Battalion The Worcestershire Regiment at Norton Barracks and when deployed to the B.A.O.R. In April 1964, he was promoted to Lt.-Colonel and appointed Commanding Officer of Mercian Brigade Depot, Lichfield, which he commanded most successfully for the next two years before his assignment at STRIKFORSOUTH. Lieut.-Colonel Brooke-Johnson, retired from the Regiment and the Army after just on 30 years total service on 22nd April 1970 and went to work for the Lord Mayor of London for 17 years as the Swordbearer, City of London. For this work, he was appointed The Order of the British Empire (O.B.E.) on 13 June 1987 and was subsequently heavily involved in charitable work until his death.
He told us of Borneo, probably most famous for its legacy of headhunting that gave it the nickname "Barbaric Borneo" due to the indigenous tribe's practices. Some tribes collected an enemy warrior's head as a trophy or as proof of their victory. The more feared had to murder and bring the skull back to the village as a passage to manhood or for permission to marry. The practice of headhunting in Borneo has both intrigued and instilled fear in outsiders for generations. Visitors can enter the former longhouses and see skulls still dangling from the roof beams.
In 1838, James Brooke, a British adventurer, captained his own 142-ton sailing ship, the Royalist, from Singapore to Borneo to find the Sultan of Brunei in a desperate attempt to suppress a rebellion against his rule by a rag-tag group of Malays. Led by Brooke's sailors and local tribesmen aided the Sultan in putting down the rebellion. For this he was made Governor of 3,000 square miles of the area known as Sarawak in 1841. In 1842, after more military backing of The Sultan against the Dutch earned Brooke the title "Rajah of Sarawak." So, he took it upon himself to rule this remote region as his private empire. The White Rajah, as he became known, had the power of life and death over his subjects, not to mention his own constabulary, flag and postage stamps.
He promoted trade with staunch anti-piracy campaigns that built the economy while bringing in Western values. Approximately 30% of Sarawak's population were Iban tribesmen. Many adopted Christianity, but their culture of headhunting during defense and expansion of the Sarawak territory was widespread. Taking an enemy's head and bringing it back to the village was a sign of masculinity and a highly sought-after attribute when it came to marital proposals and stature in the tribe. The Iban believed cutting off the head gave them possession of the victim's spirit making the collector more powerful. Sir James Brooke banned the practice but allowed "ngayau" headhunting practices by the Rajah's native troops during military expeditions against rebellious tribes throughout the state, thereby never really extinguishing the spirit of headhunting especially among the Iban natives. This ancient tradition was revived during the WWII Japanese occupation and a failed 1960s Indonesian invasion of Sarawak. Even today, a small number of elderly Iban men have squiggly lines on the back of their hands denoting they have killed someone to sever a head.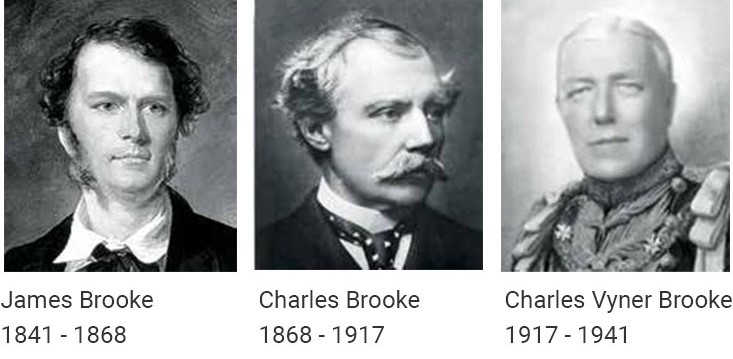 The Brooke's reign was humane enough to impress one British reformer to write that the Rajah "was a great, a wise, and a good ruler with highest talents for government," particularly his careful diplomacy with clashing tribal chiefs. As a young man in the Bengal Army in 1825, waging war to expand the Empire against Burma, his dreams of military glory ended abruptly when he was shot in the most intimate part of the male anatomy that discouraged Brooke from marrying. Shortly before he died, he designated his nephew Charles Johnson as the Second White Rajah of Sarawak. Charles honored his uncle by taking his last name (beginning the Brooke Johnson family tree) and ruling benevolently from 1868 through 1917. A classic British colonialist, Charles expanded the size of his empire, banned slavery, established a parliament, and developed a railroad, roads, and waterways. He encouraged his British officers to take native women as lovers in the hope that they would become "sleeping dictionaries" who could teach them the local language.
His son Vyner would be the third and last Rajah taking over in 1917. It was during the final reign that Sarawak devolved into a comic opera and butt of British jokes. One visitor at this time noted that Sarawak was, "very different from what I had anticipated, far safer, far more advanced, far happier, far more civilized... a very happy country, guided by European brains but untouched by European vulgarity."
That was soon to change. In 1911, Vyner had married Sylvia Brett & her daughters who would become to Sarawak what the Kardashians were to reality television. Sylvia's title was the Ranee of Sarawak and with her flamboyant nature she would embrace the crude title one London wag would give her: "The Queen of the Head Hunters." A natural promoter like Kris Jenner, she loved exaggerating in her 11 books and splashed across countless newspaper headlines, the exotic anomaly of a British family running a jungle kingdom, while downplaying the progress the Rajahs and the country had made. She loved flaunting her exotic royal status bestowing her sexual favors upon anyone she happened to find attractive. She was no worse than Vyner, who made no effort to conceal his liaisons with various Sarawakian mistresses. Perhaps Sylvia's wantonness ran in her genes, because her three daughters were as equally promiscuous and she encouraged their amorous dalliances with young Government officers in Sarawak. The princesses Lenora, Elizabeth and Nancy (nicknamed "Gold, Pearl and Baba" by society reporters) dressed like "tarts," derogatory British slang for prostitutes or by extension any women with loose sexual morals. Like Kim, Courtney & Khloe they had flamboyant escapades with numerous men, and married eight times between them to include a Lord, a bandleader and a boxer.
Charles' second son Bertram had married Gladys Palmer, an heiress to the Huntley & Palmers biscuit fortune, and she'd had a boy called Anthony who would serve as an heir if Sylvia failed to produce a son of her own. In jubilation, the Rajah ordered the firing of the 21-gun salute, which so alarmed the Iban tribesmen of the capital. Sylvia would spend the rest of her life between battling to ensure that her daughters succeeded to the throne instead of Anthony and her love affairs. As he grew older, Vyner appeared to lose interest in the day-to-day business of government and considered abdicating. Since his brother Bertram had suffered a nervous breakdown and was incapable of rule, his natural successor was his nephew, Anthony. In 1939, during one of Vyner's annual pilgrimages to England for the horse racing season, the 23-year-old heir apparent was left in charge of the country for six months. He made a good impression on the British Colonial Office, despite Ranee Sylvia working against his governing efforts.
The Second World War brought an end to the Rajahs when Imperial Japanese Army (IJA) forces occupied Borneo and like all of their conquered areas treated the indigenous peoples poorly with massacres not uncommon. A thousand Malay and Iban tribesmen from the Kapit Division were trained by 11 U.S. Army Air Corps aviators and a few dozen Australian Special Operatives in guerrilla warfare. This army of tribesmen killed or captured over 1,500 IJA soldiers and provided the Allies with vital intelligence about Japanese troop concentrations particularly at the enemy-held oil fields.
In October 1945, the Third Rajah Vyner Brooke bowed to British government pressure and ceded his rights over Sarawak to the British Crown in return for a substantial financial settlement for him and his family. This became Britain's last colonial acquisition. The country became a British protectorate ending the Rajahs rule in 1946.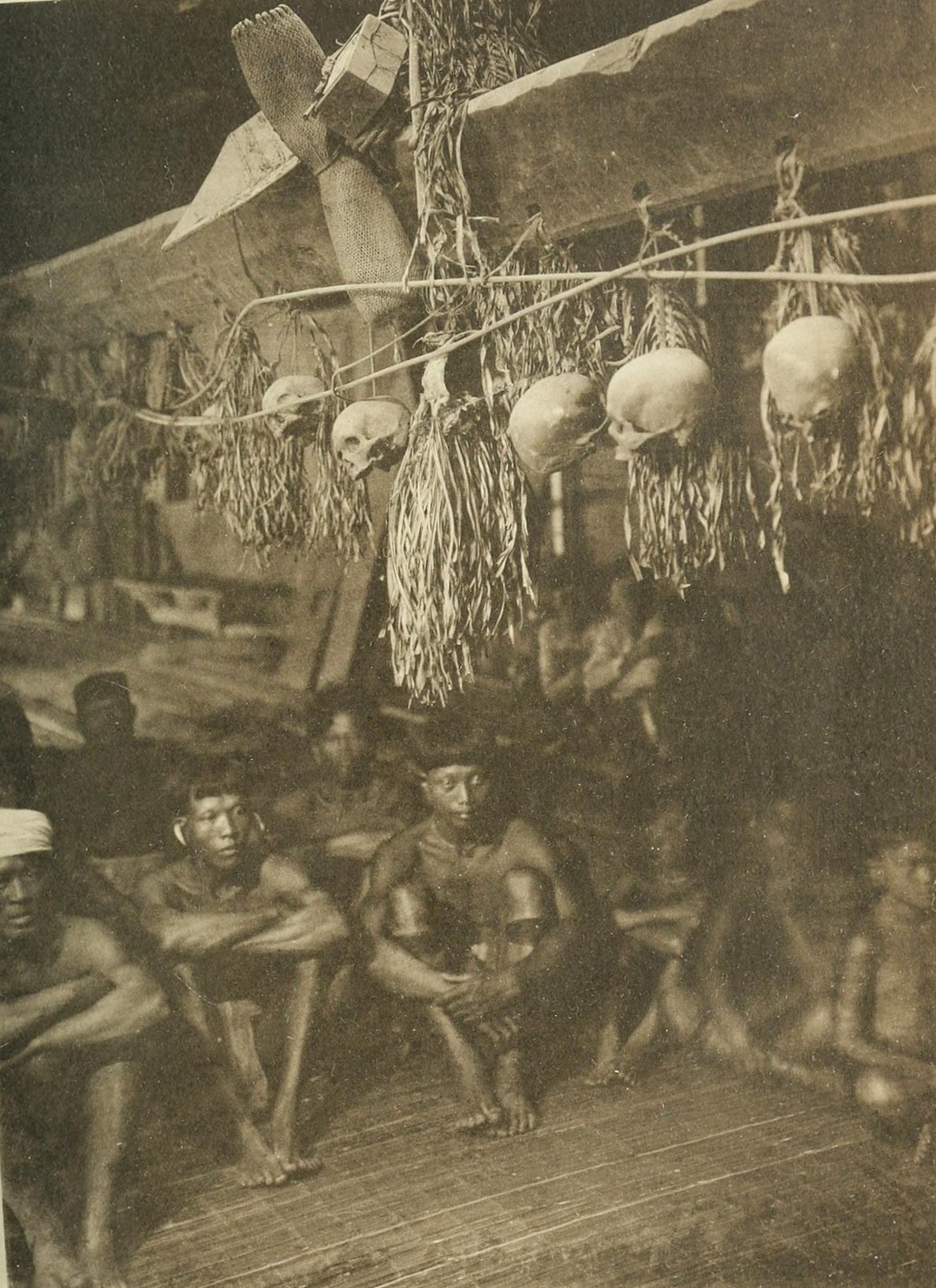 On their final night in Sarawak, Vyner & Sylvia slept in a traditional longhouse, and the next morning inspected a collection of IJA soldiers heads, which had been smoked and hung in a special corner of the longhouse. When asked how the soldiers had been dispatched, the Iban tribesmen explained that they had sent their prettiest daughters down to bathe in a jungle pool. The bathing beauties were eye catching bait and when the Japanese troops crept up get a closer look at them "they had simply lopped off their heads as they went by."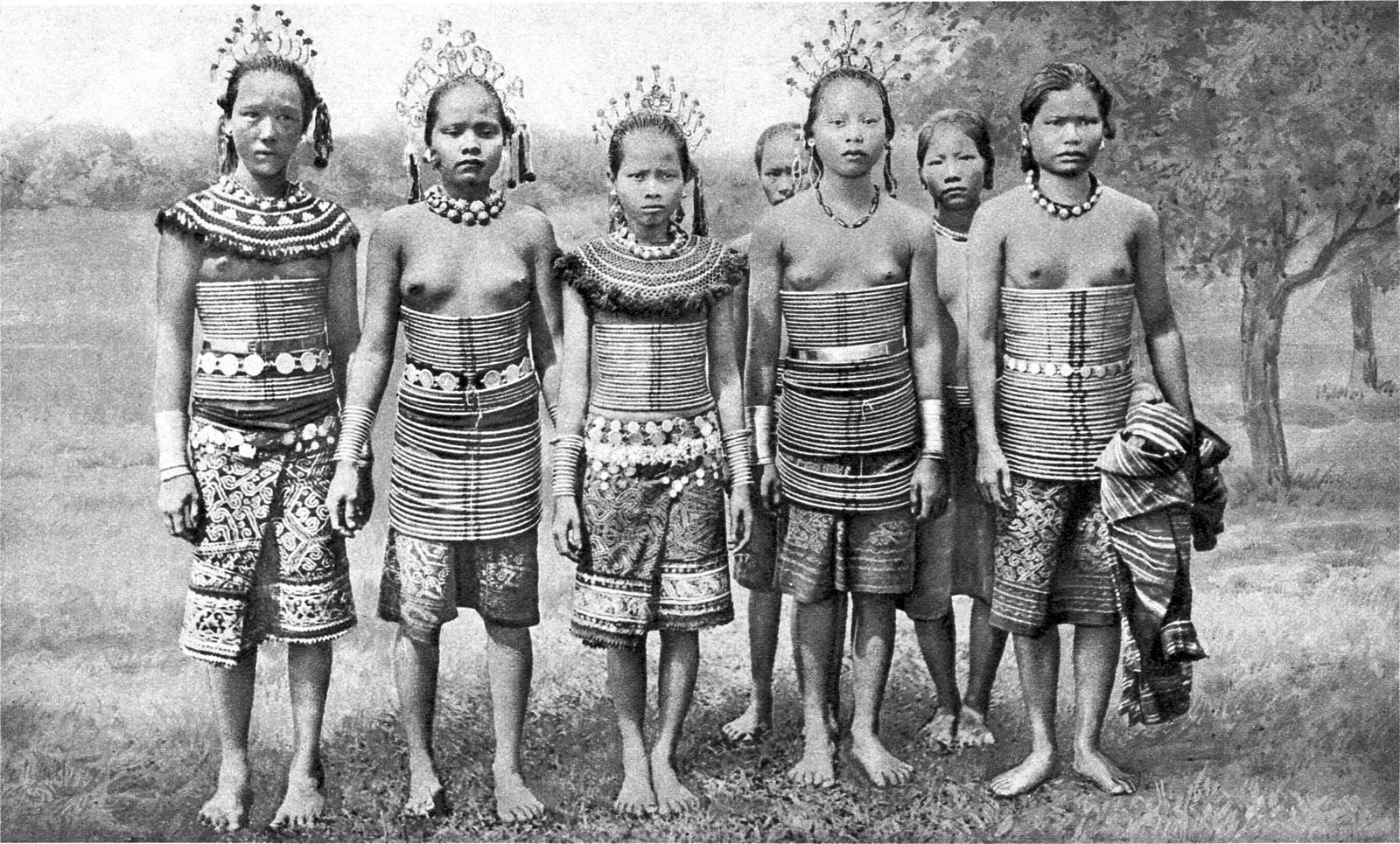 Iban women from a long-house in Rejang, Sarawak, immensely proud of their rattan corsets gleaming with brass rings and filigree adornments. The family adds to the corset dress as the girl ages and based on her family's wealth.
On 8 August 1948, six weeks after the Malayan Emergency began on 16 June, the first group of 49 Iban Trackers was sent to Malaya to assist the Commonwealth forces in fighting and tracking down the Communist insurgents in the thick jungles of Malaya. Initially, their term of service was 3 months only. Some chose to stay longer. Eight weeks after the Malayan Emergency was declared on 16 June 1948, the first group of 49 Iban Trackers were sent to Malaya at the behest of the Malayan government. The Commonwealth forces need the scouting skills of the Ibans to chase down the communist terrorists in the thick jungle of Malaya. Acting as scouts they were invaluable to every Malayan Home Guard, British Army, Royal Marine Commando, Australian Infantry, Fijian Troops, Rhodesian and New Zealand SAS and Gurkha Brigade combat patrol as the scouts for the patrol leaders.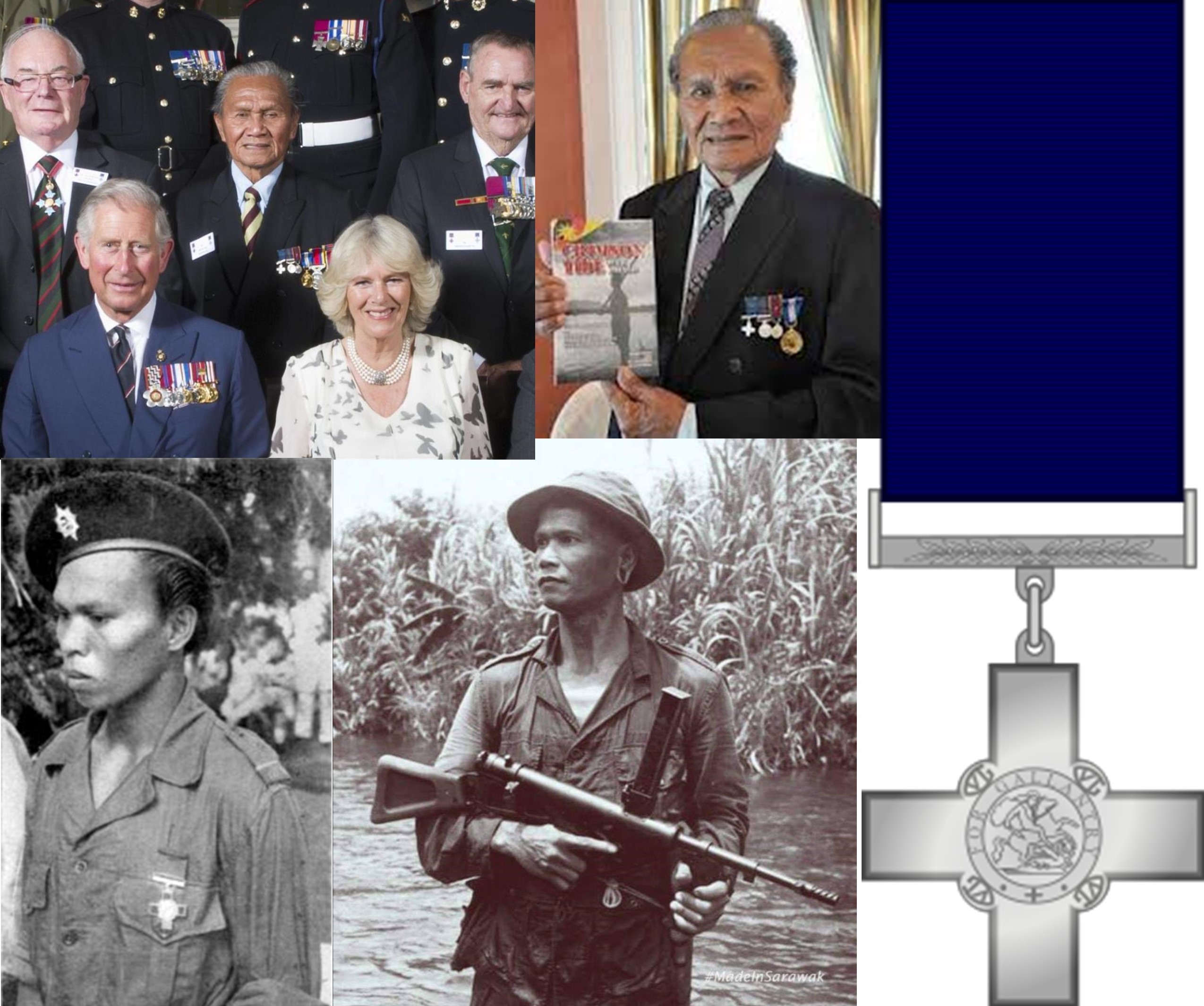 When Capt. St. J. C. Brooke-Johnson fought versus the MNLF he met the Iban Trackers from the Kingdom of Sarawak who supported his company's efforts against the communist insurgents. In one engagement Tracker Sergeant Awang anak Rawang of Skrang was awarded a George Cross, the civilian equivalent of Britain's highest military award, the Victoria Cross (Medal of Honor equivalent.) The award recognized Awang's exemplary courage and devotion to duty by saving the life of Private Hughes, a member of No. 10 Platoon, D Company, 1st Battalion The Worcestershire Regiment, after the platoon was ambushed by a large group of communist guerillas on 27 May 1951. The citation noted, "the coolness, fortitude and offensive spirit displayed by Awang anak Rawang were of the highest order. Despite being twice severely wounded he showed the utmost courage and resolution to continue the fight and protect the injured soldier." This award was the first in history to be awarded within the Malayan Archipelago and the only one awarded during the Malayan Emergency. Capt. St. J. C. Brooke-Johnson while fighting in Malaya, took leave and visited Sarawak, his family's former empire in Borneo. During this trip he visited Sgt. Awang Anak Rawang, G.C., in his longhouse. He toured the capital Kuching and found that the White Rajahs were still popular and many hoped Anthony would become the 4th Rajah of the dynasty.
An Iban headhunter in Malaya prepares a human scalp above a container of human body parts. The British allowed Iban headhunters to keep the scalps of pro-independence fighters as a way of encouraging them to fight. News of this was went public on 7 May 1952 when a British communist newspaper named "The Daily Worker" published multiple photographs of Ibans and British soldiers posing with the severed heads of suspected MNLA members. Initially, the British government denied allowing Iban troops to practice headhunting against the MNLA, until the Colonial Secretary Oliver confirmed to Parliament that the Ibans were indeed granted permission. The Iban Trackers returned to Borneo and became the core of the Sarawak Rangers.
The first picture of this blog is from Male Magazine that wrote of James Brooke's establishment of his kingdom. Many have suggested James was a prime inspiration for the Rudyard Kipling story "The Man Who Would Be King" and Joseph Conrad's famous novel "Lord Jim."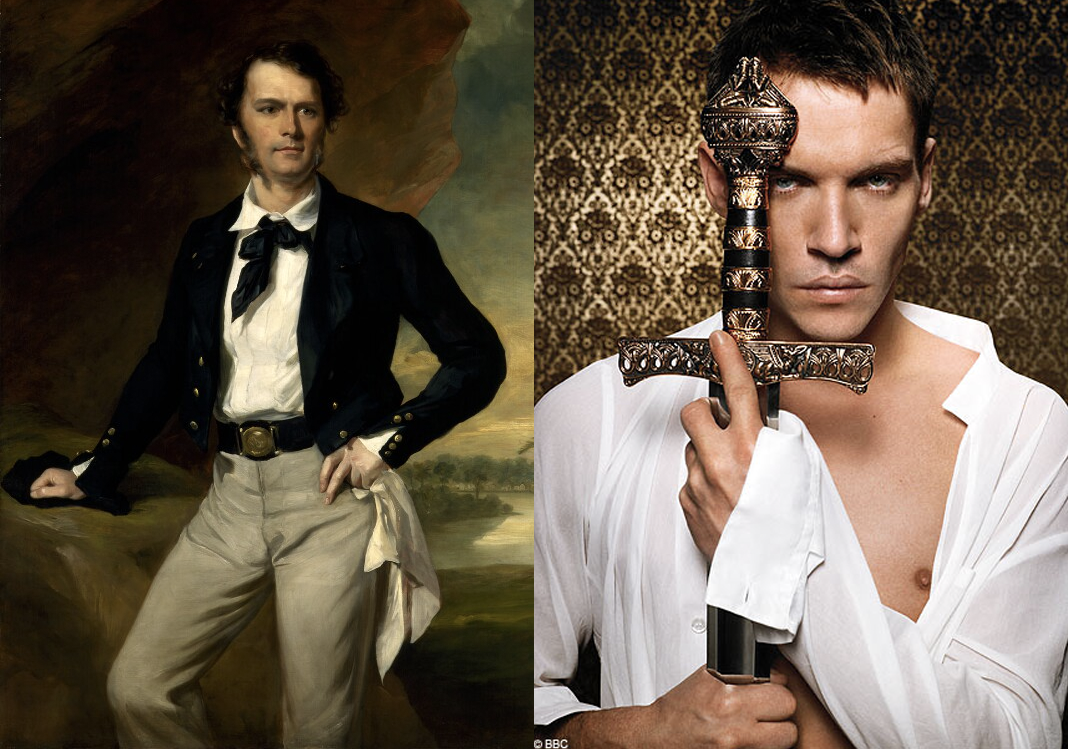 His swashbuckling adventures eventually reached Hollywood where Errol Flynn proposed to play him in a film about his life. Finally in 2021 the story was made into a movie "Edge of the World" staring Jonathan Rhys Meyers who has starred in "Bend It Like Beckham" (2002), "Match Point" (2005), "Mission: Impossible III" (2006), "From Paris with Love" (2010) and television's biographical miniseries "Elvis" (2005), as King Henry VIII in the historical drama "The Tudors" (2007–10), and as Bishop Heahmund in the series "Vikings" (2017-19.)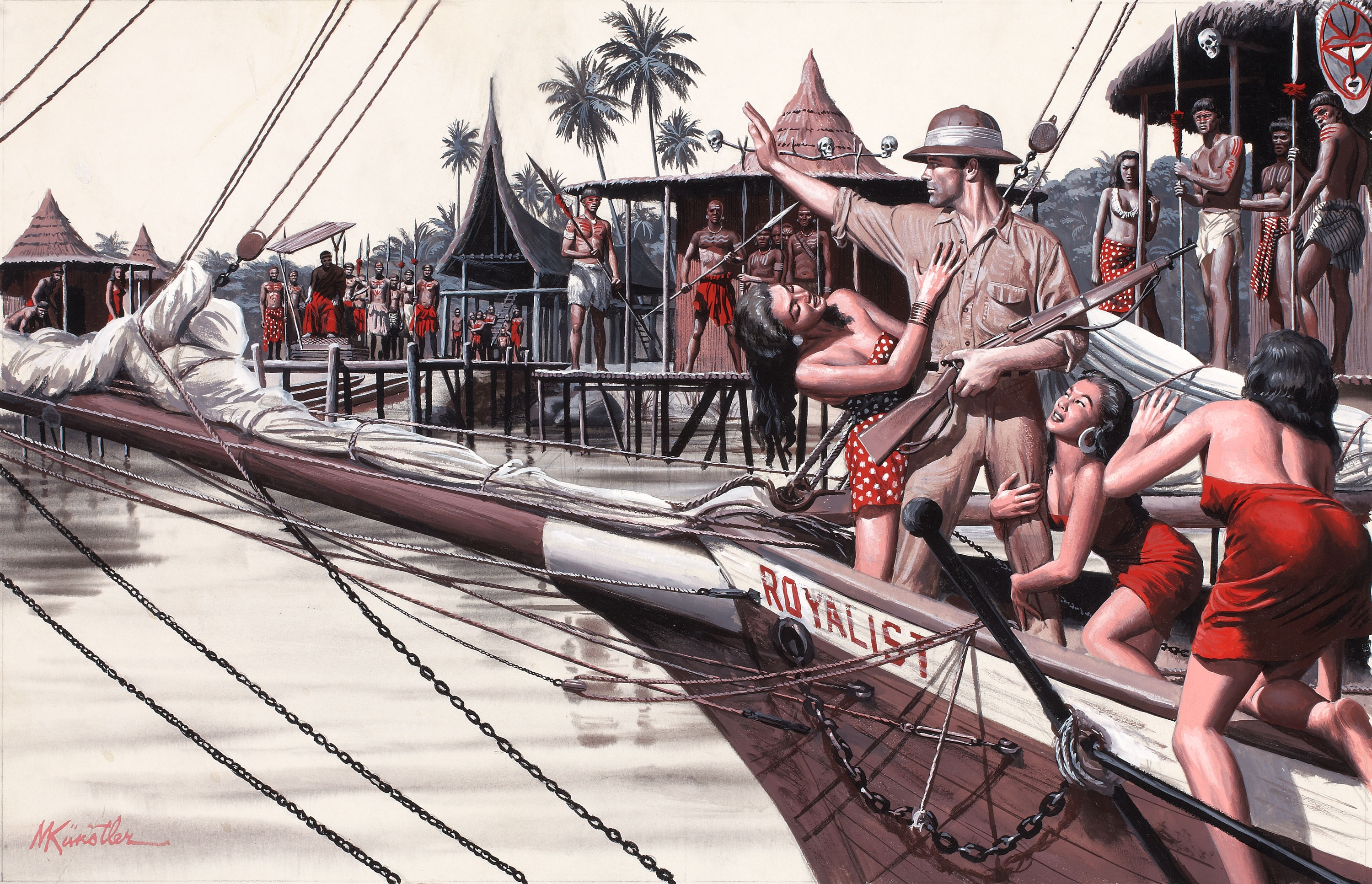 Again, James Brooke is pictured in another 1960 men's magazine interpretation of him in Sarawak by artist Mort Kuntsler. Ten years after last seeing Lieut.-Col. Brooke-Johnson as a U.S. Marine 1st Lieutenant I tried to reconnect with him. During exercise "Teamwork-80" some Marine officers & I drove up from Portsmouth where our ship docked to London and I tried to call him but as it was a weekend and all I had was an office number. Lieut.- Colonel St J. C. Brooke Johnson died at Richmond, Surrey, on 18th September 1996, aged 75. I will always hold him as the spark in my interest in world history and the perfect example of the British military tradition. When he talked to you, you could feel that he too could have been one of the White Rajahs of Sarawak.