Blog 08/25/2023 - Women in the Vietnam War
Women Who Served During the War in Vietnam
Vietnam Women's Memorial Foundation estimates that approximately 9,000 – 11,000 women were stationed in Vietnam during the conflict. Nearly all of them were volunteers, & 90 percent served as military nurses, though women also worked as physicians, air traffic controllers, intelligence officers, clerks and other positions in the U.S. Women's Army Corps (WAC), Navy WAVES, Women in the Air Force (WAF) and women Marines & the Army Medical Specialist Corps. In addition to women in the armed forces, an unknown number of civilian women served in Vietnam on behalf of the Red Cross, United Service Organizations (USO), Catholic Relief Services and other humanitarian organizations, or as foreign correspondents for various news organizations.
U.S. ARMY NURSES
The U.S. Army Nurse Corps had approximately 5,000 would serve in the conflict many were just barely out of nursing school when they were sent overseas. From March 1962 to March 1973, when the last Army nurses left Vietnam. The first U.S. Army nurses arrived in Vietnam during 1956 well before U.S. combat units with their primary job to improve the skills of South Vietnamese nurses. Five female U.S. Army nurses died over the course of the war, including 52-year-old Lieutenant Colonel Annie Ruth Graham, who had been a nurse in both World War II & the Korean War before Vietnam & suffered a fatal stroke in August 1968. Most passed in aircraft accidents but First Lieutenant (1LT) Sharon Ann Lane died from shrapnel wounds suffered in an attack on her hospital where she was serving in June 1969.
It's been almost 60 years since the U.S. involvement in the Vietnam War ended, but for those combat nurses who served there, the details remain as sharp in their minds as the scissors, needles & scalpels they used to save patients.
All the nurses remember the relentless, oppressive heat, the potential of incoming enemy rockets & mortar rounds, the bugs & vermin & the long hours when a mass casualty event flooded the Evacuation (Evac) & Surgical Hospitals.
The military women, even without the short haircuts that gave away their male counterparts, but still their uniforms targeted them with the moronic insults of "baby-killer!" like the combat soldiers endured upon returning. They found that Democrat Johnson's aimless buildup & the media's blaming the military had poisoned America against the veterans who had served honorably. It became a hidden part of their histories as their friends & families didn't want to hear about their war experiences. "You would get to a point where you could almost see a screen go down, like they really don't want to hear about it. And so, you just quit talking about it," said 1LT Grace Moore, an Iowa native who arrived in May of 1968 at the 12th Evacuation Hospital at Cu Chi in III Corps. "I didn't tell anyone I was a veteran, let alone a Vietnam veteran. I just packed all that up, stuffed it in a box and put it virtually away."
"I became a charge nurse of a 70-bed unit within four weeks" of arriving in Cu Chi, said Moore, who was just 22 at the time. "There wasn't a lot of choice as far as how quickly you had to learn. In 1969, nurses (in civilian hospitals) still weren't allowed to do a lot of the things they do now like start IVs, put down stomach tubes, do wound care, stuff like that," Moore said. "You just weren't allowed to do it in civilian nursing. For me, that was like being hobbled, because I had the skills. I had done it before. And yet I wasn't allowed. It was like vacation, we worked eight-hour days, five days a week, that's all," marveled Moore, who went on to nursing jobs in PA.
Time helped change perspectives both of the Americans who blamed those warriors serving their country & those that fought the war. For some veterans, catharsis came with sharing their stories & the medical community recognizing Post-Traumatic Stress Disorder (PTSD) & how their war experience shaped who they had become. Now once they start talking about the war, it's hard to stop maybe because, for years, they were silent. Those who served in Vietnam came home to bitter hostility from hundreds of thousands of Americans protesting one of the nation's most unpopular wars.
1LT Lynda Van Devander served in II Corps in the Central Highlands at Pleiku with the 71st Evacuation Hospital. She was the first American military nurse to publish a widely read Vietnam memoir, titled "Home Before Morning." Her book helped inspire the creation of the award-winning 1988-91 television series "China Beach," about an American evacuation hospital in Da Nang during the Vietnam War. The Vietnam Veterans Association Honored Van Devanter with its Excellence in the Arts award in 1982 & its Commendation Medal in 2002. She suffered from a vascular disease she believed was related to her exposure to Agent Orange in the Central Highlands. She died at just 55 on 15 Nov 2002.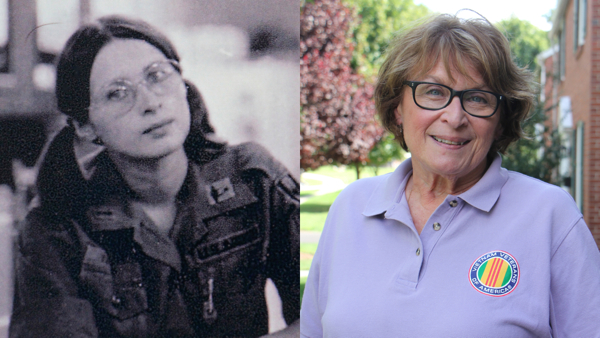 "I came straight from nurses' training to the military," 1LT Marsha Four, an Ohio native, recalled when she arrived in July 1969 at the 18th Surgical Hospital at Camp Evans north of Hue City. "I had no experience in emergency room nursing, no trauma nursing, very limited/almost nonexistent intensive care training. I was a totally, totally green nurse. To say 'challenging' doesn't come close to the feelings that I had about being incompetent. Their lives were in my hands. I was responsible for them. And I'm not talking about somebody who's got a broken arm." Combat hospitals were often so busy that nurses worked 12 hours a day, six days a week. "As difficult & devastating as it was from time to time, it was the most extraordinary event of my life," Four added. "And at the end of the day, I know I was part of something greater than myself." Four's first post was at a Medical Unit Self-Contained Transportable, which essentially was a mobile shelter with inflatable ward sections.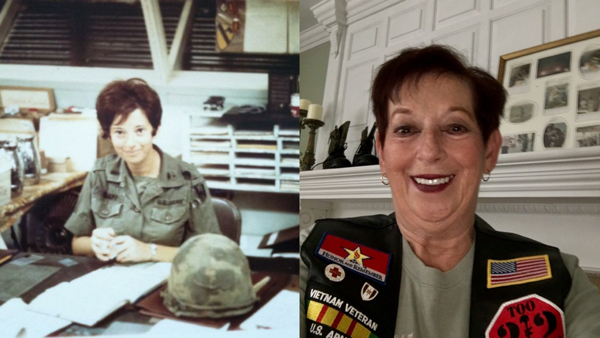 At Cu Chi, Moore and 1LT Joanie Moscatelli (August 1968 to August 1969) were both at the 12th Evacuation Hospital & worked in steel Quonset huts that had screens for windows, no air conditioning and just floor fans to lend the slightest relief from the sweltering, dusty air.
Vietnam was the first major conflict to use helicopters to get injured soldiers off the battlefield quickly & airlift them to military hospitals. Soldiers & Marines could be injured during fighting one hour and in surgery the next. The goal of the first nurses & doctors who saw them was to fix & stabilize them within a few days before sending them to hospital ships or airlifting them to larger hospitals for recovery or clear them to go back into battle.
"The wounds were …," Moore said, struggling to find words. "There's nothing that could prepare you for it. I don't care what you saw in basic training, what you learned in basic training. If you see somebody with their arm or leg blown off, you don't see that, as a rule, in a civilian hospital."
Still, it was their patients' fates that still haunt many nurses. "I remember two patients vividly," Moore said. "One was a farm boy who had lost his arm, and he was afraid that his fiancée wouldn't have him when he went back. The other was a captain who had lost all of his men and his leg. And he just blamed himself, like, 'Why am I left?' I would love to know what happened to those two guys. Were they OK? Did his fiancée take him back? Did the captain recover and go on to a happy, productive life?"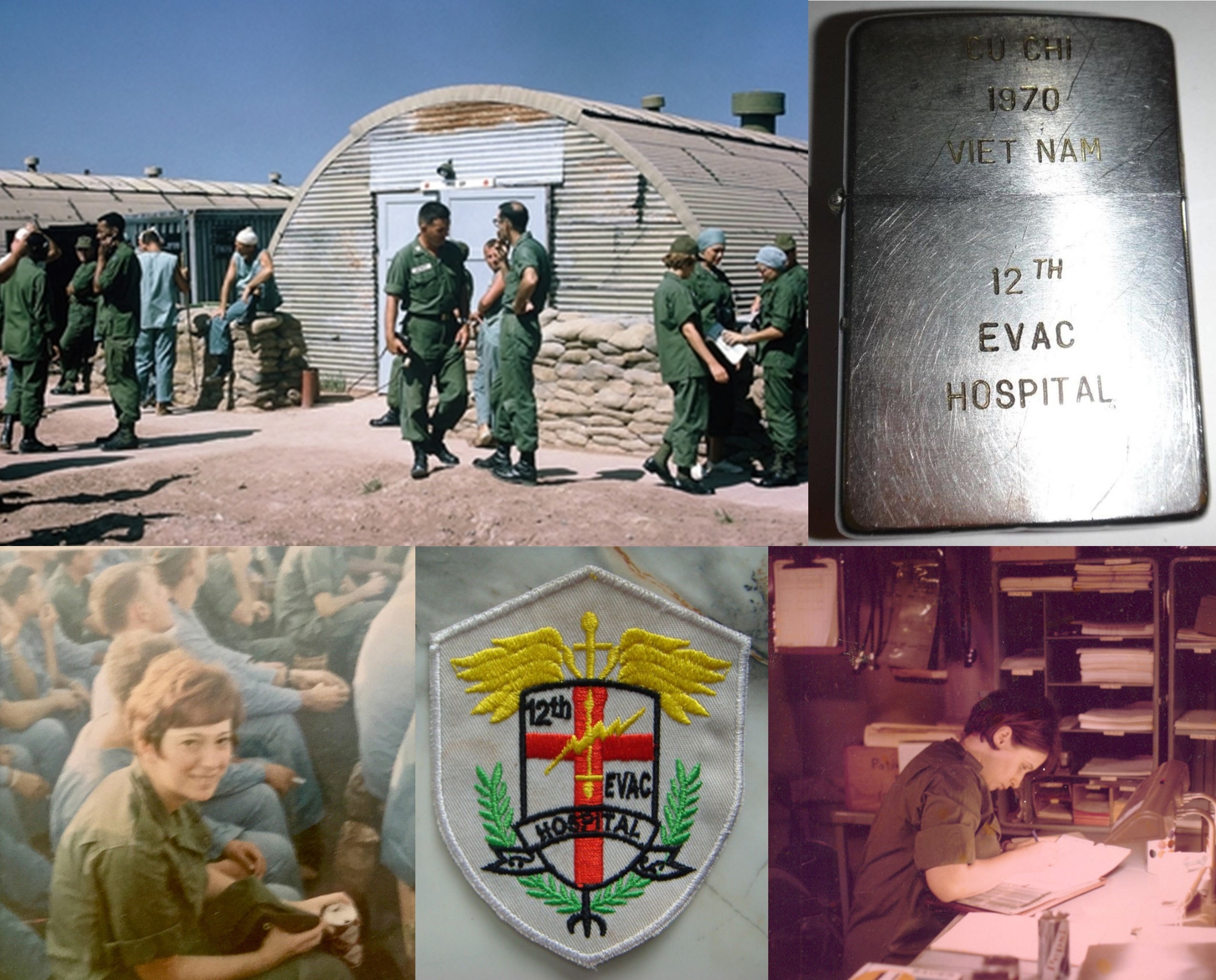 Moscatelli still tears up remembering one patient excited about Miss America's visit. "The nurses, we all wore fatigues, we wore combat boots, dog tags and ball caps. The Miss Americas, though, they had the hair, the makeup, the jewelry. So, the guys were so excited, especially this one poor guy who was severely injured," said Moscatelli. "So, the next morning, I went over to his bed to see how his visit with Miss America went. And there was an autographed picture of Miss America on his pillow. That poor soldier had died that night, I still see that cold white pillowcase, with her picture, autographed, on it. And the bed was empty. And that just is the trauma of war. That will always be in my heart."
It wasn't all drudgery, as they were the only American women on the Cu Chi base camp except for a few American Red Cross Donut Dollies who were housed in another area. Being among thousands of men not only made for great social lives, but also gave them chances to do some cool non-duty experiences. Soldiers let them drive armored personnel carriers, ride along in the Cessna O-1 Bird Dog spotter planes & B-52 bomber air strikes, shoot machine guns & the M107 175mm self-propelled artillery, chase water buffalos in UH-1 Huey & OH-6 Loach helicopters & much more. They noted the fun came to a screeching halt when a nurse from another hospital was killed in a non-duty-related aircraft accident.
For Moore, a stranger's phone call in 1985 changed everything. The caller was a veteran who had been injured & treated at the 12th Evacuation Hospital at Cu Chi. He wanted to thank combat nurses for their service & inform them about a new chapter of Vietnam Veterans of America (VVA) forming in her area. She's been involved in veterans' causes & the VVA ever since. "That's when I was able to say I am really proud of what I did. Really proud of what I did. And I still am," Moore said.
Seemingly innocuous sounds like the sound of a helicopter's blades can hurtle a veteran back in time. "Helicopters remind me of incoming wounded," Moscatelli said. Four plowed her feelings about her combat service into helping troubled veterans. She also was involved in the VVA leadership.
U.S. ARMY WOMEN
In 1964, Gen William Westmoreland asked the Pentagon to provide Women's Army Corps (WAC) members to help the South Vietnamese train their own women's Army corps. In 1970, when WAC deployments were at their peak, there were 20 officers & 130 enlisted women serving in Vietnam.
U.S. AIR FORCE NURSES
The Air Force played a key role in medical evacuating the serious wounded from Vietnam to the U.S.A.F. Hospital Clark, the Philippine Islands (PI) built at a cost of over $4 million, had become the medical center of Southeast Asia. It served U.S. military & civilian personnel throughout Southeast Asia. USAF Helos moved the wounded to meet the medical evacuation planes to remove the wounded from Vietnam for the PI or for destinations in Hawaii or the continental U.S. Air Force personnel moved the stretchers to ambulances to meet the aircraft.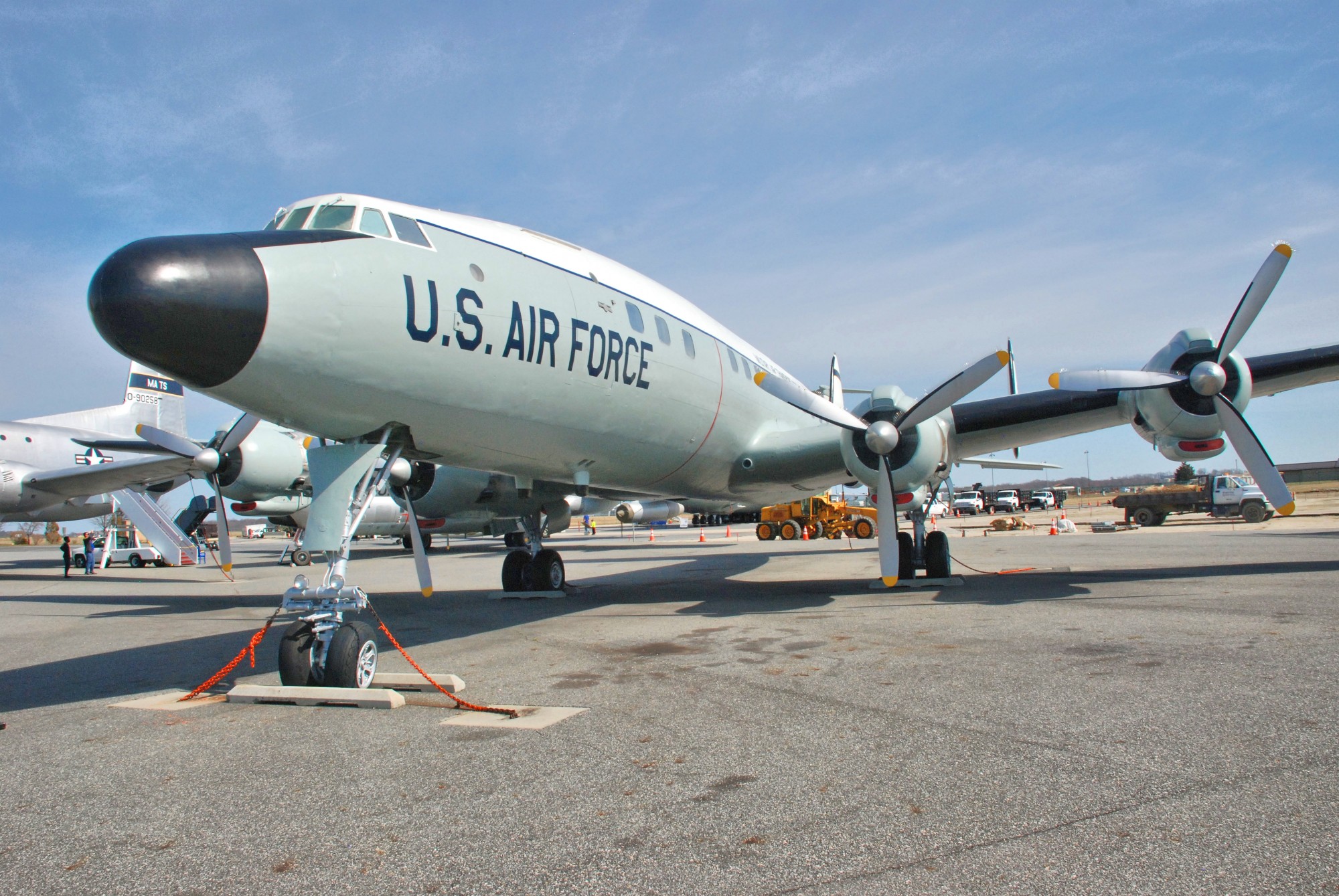 A special C-121 Super Constellation flew from Clark Air Force Base. Four hours after takeoff the plane touched down at Tan Son Nhut AB, Saigon. No sooner had the plane's props stopped turning than a fork lift appeared. Then ambulances drove up & men on stretchers were taken from the vehicles & raised by the fork lift up level with the rear exit. The patients were then carried inside the plane where the stretchers were made secure. Other patients with less serious illnesses & wounds walk from the ambulances to the plane. They boarded & took their seats much in the same manner as passengers on a commercial flight.
Less than an hour after touchdown, the giant flying ambulance was winging its way to Nha Trang, north of Saigon. Nha Trang was a repeat performance of Tan Son Nhut with additional patients loaded with the same gentleness & speed.
The photo shows Air Force medical technicians Staff Sergeants Leroy Gillett & Robert O'Connor arranged stretchers in the rear section of the C-121 Super Constellation. They kept constant watch on the stretcher patients, making sure that each man was lying in the most comfortable position.
One of the 20 patients had received severe burns from a grenade explosion. The grenade, victim received a great amount of attention. He was given injections, to ease his discomfort, fluids were given & both O'Connor & Gillett made certain he suffered no unnecessary discomfort.
"He's doing very well," said flight nurse Captain (CAPT) Johnie Lomax of the 9th Aeromedical Evacuation Squadron, Detachment 4, "we'll get those bandages off as soon as he is admitted to the hospital." The bandages were put over the burns to lessen the danger of infection setting in during the trip to Clark. Not a moment was lost once the plane taxied to a stop. Air Force ambulances were waiting & the patients were soon on their way to the USAF Hospital at Clark.
On 4 April 1975, Air Force Flight Nurse CAPT Mary Therese Klinger died in a C-5A Galaxy crash that was supporting Operation Babylift to transport babies from South Vietnam orphanages to America for asylum & adoption. She was the last nurse to die in Vietnam. The C-5A crashed into a rice patty while trying to make an emergency landing at Tan Son Nhut Air Base, Saigon, following a rear pressure door lock failure in flight. 144 of 313 passengers & crew were killed out of the 313 aboard. Flight Nurse 1LT Regina Aune received the Cheney Award (the first women) for her valor during the disaster.
WOMEN IN THE U.S. AIR FORCE
The photo shows the first five enlisted women in the Air Force (WAF) & the fourth WAF officer to be assigned to Vietnam arriving at Saigon's Tan Son Nhut Air Base.
U.S. NAVY NURSE CORPS (See the Blog Post "Body & Soul" for more)
In 1963, the first U.S. Navy Nurse Corps officers arrived in South Vietnam to help establish the U.S. Naval Station Hospital, Saigon. Within a few years, additional Navy Nurse Corps officers served on board two hospital ships, the USS Repose (AH-16) and USS Sanctuary (AH-17), off the coast of South Vietnam.
Even before the Tonkin Gulf Incident in August 1964, Navy Nurses & Doctors had the Navy hospital in Saigon up & running. Four Navy Nurses (Lieutenant (LT) Barbara Wooster, LT Ruth A. Mason, LTJG D. Reynolds & LT Frances L. Crumpton (awarded in the Philippines) were also the first to be awarded the Purple Heart following a Viet Cong terrorist attack on the facility on Christmas Eve that December. In 1966, These brave nurses refused medical treatment so they could continue to treat others & were the first female members of the U.S. Armed Forces to receive the award during the Vietnam War. Navy Nurse Corps officers helped establish the Navy Support Activity (Naval Station Hospital) in Da Nang. The hospital became one of the busiest combat casualty treatment facilities in the theater.
U.S. NAVY WOMEN
Nine WAVES (Navy women) served in Vietnam apart from the nurses. One of these women was Lieutenant Elizabeth G. Wylie (pictured left), who worked in the Command Information Center of the Commander of Naval Forces in Saigon; & Commander Elizabeth Barrett (pictured right), who in November 1972 became the first female naval line officer to hold command in a combat zone.
U.S.M.C. WOMEN MARINES
From 1967 to 1973, a total of eight officers & 28 enlisted women Marines served in Vietnam at various times.
CIVILIAN WOMEN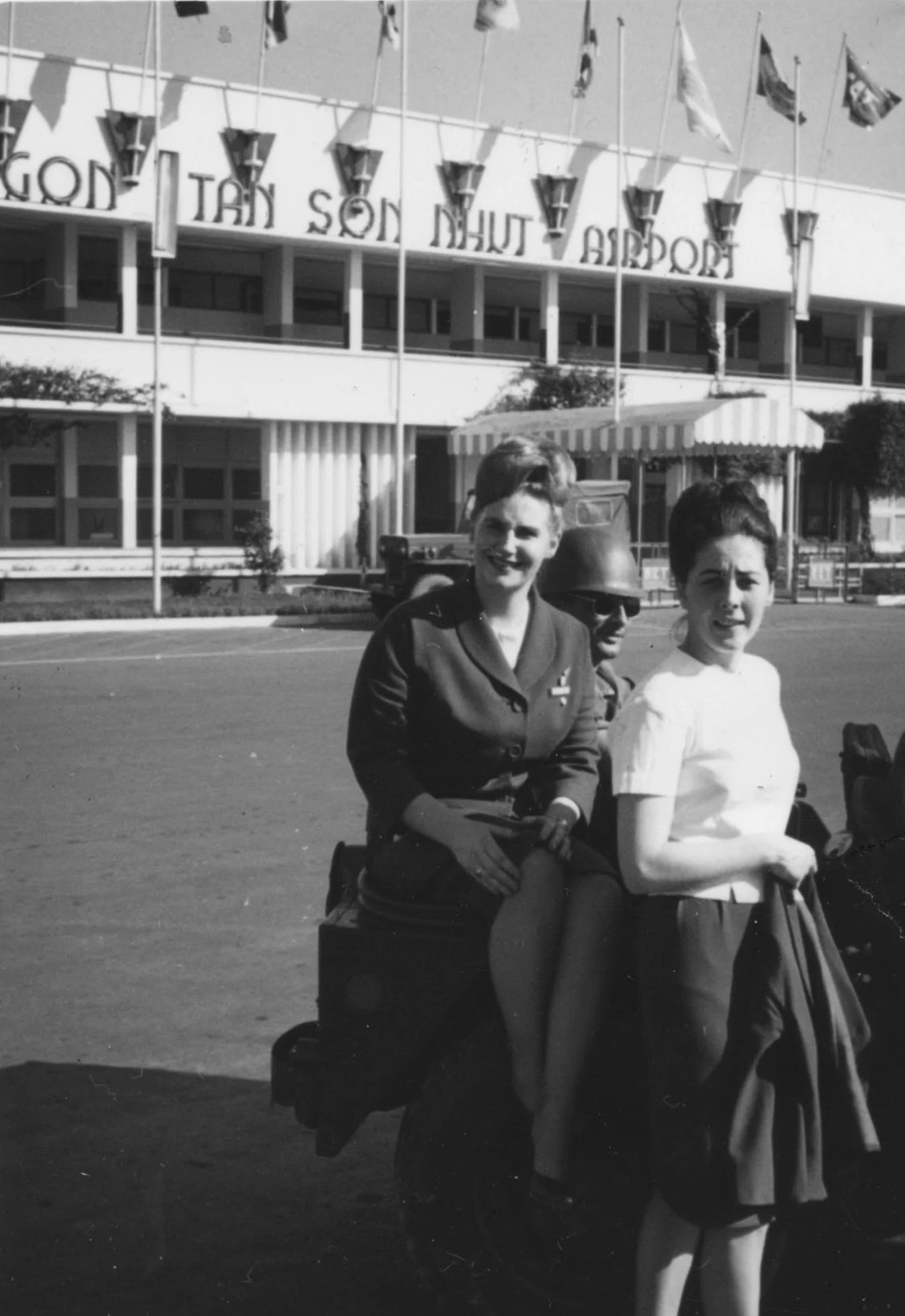 In addition to the U.S. military women who served in Vietnam, an unknown number of female civilians willingly gave their services on Vietnamese soil during the conflict. Many of them worked on behalf of the American Red Cross, Army Special Services, United Service Organizations (USO), and various religious groups such as Catholic Relief Services.
Other American women traveled to Vietnam as foreign correspondents for news organizations, including Denby Fawcett (with snake), Frenchwomen Catherine Leroy (parachuting with the Sky Soldiers of the 173rd Airborne Brigade) and Georgette "Dickey" Chappelle, a WWII veteran writer who was killed by a land mine while on patrol with U.S. Marines outside Chu Lai in November 1965. According to the Vietnam Women's Memorial Foundation, 59 female civilians died during the conflict.
AMERICAN RED CROSS (ARC - DONUT DOLLIES)
Holley Watts noted her official job title was Clubmobile Recreation Worker in the Supplemental Recreational Activities Overseas Program (SRAO) of the American Red Cross. Initially designed to support the morale of the troops in WWII's European Theatre, buses were converted to mobile "canteens" for the fighting men as a rolling place to relax with coffee, snacks & even a small library.
The Korean conflict demanded greater mobility over rough terrain so 2½ ton-truck replaced the buses & hot freshly made donuts replaced the snacks.
When the SRAO program went to Vietnam the soldiers & Marines remembered those patriotic pastries from the previous generation of troops. Vietnamese heat & the large distances between units usually reached only by helicopter made transporting donuts difficult. The donut was gone but the moniker "Donut Dolly" survived. Red Cross HQ discourage its usage as unprofessional & trivial but the overriding positives of its memorable alliteration & a name that evoked fun won out. The name stuck.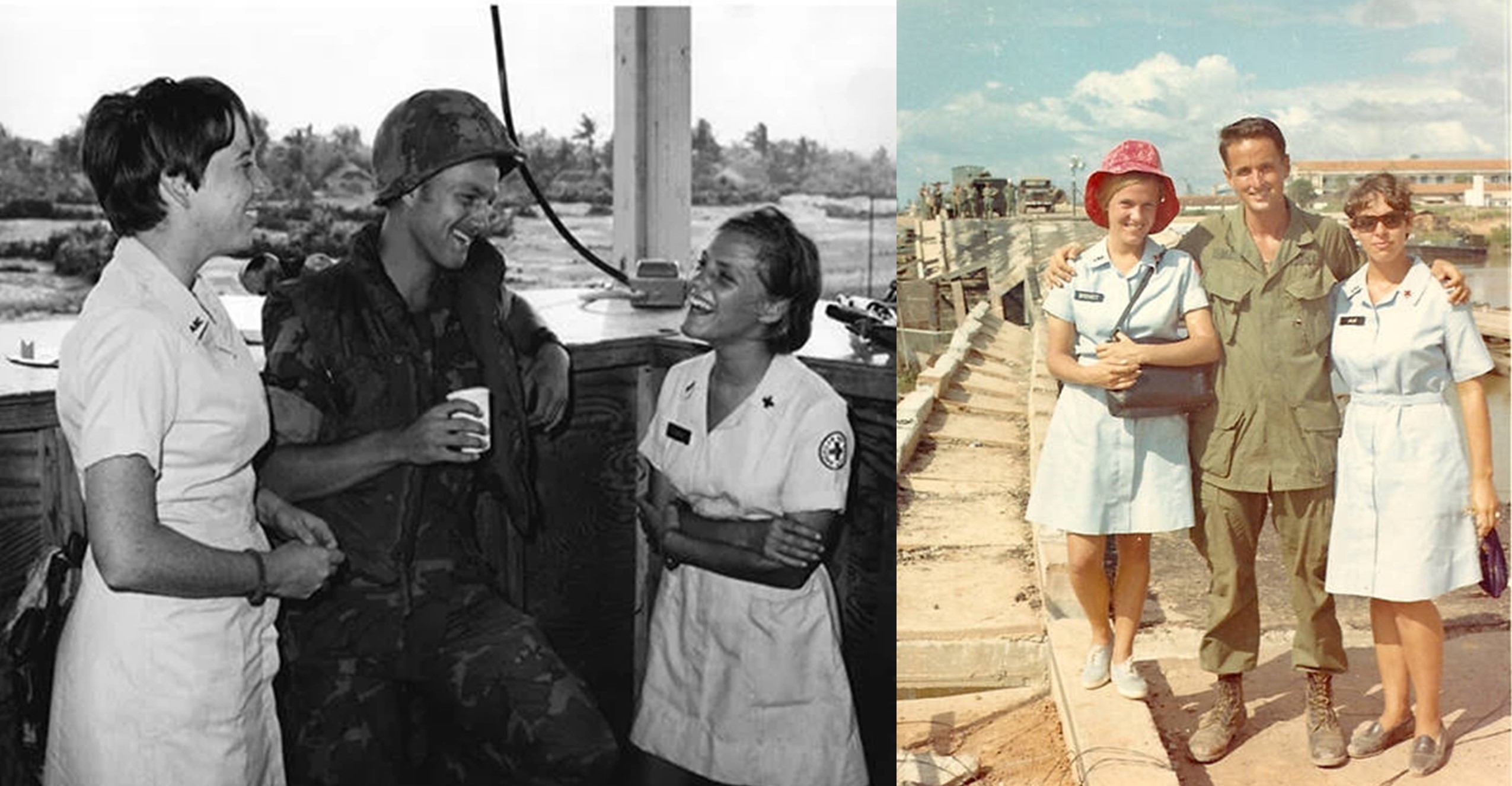 The SRAO Brochure described it as a morale program for the able-bodied. We staffed our centers so the men could come out of the field & enjoy some coffee, Kool-Aid, snacks, conversation, card & board games.
There was no designated method of transportation as the Clubmobile to the men was by helicopter, jeep or six-by (2½ or 5-ton trucks), armored personnel carrier to Fire Support Bases, Combat Outposts, Landing Zones, field hospitals & base camps. We traveled in pairs, like nuns, as troop morale was always their highest priority & in supportive roles women Donut Dollies (DDs) were seen as an integral part of that equation, lopsided though it was at 4,000:1 in Vietnam. They were the face of the girl next door, a connection to family, community, home always armed with smiles, a good ear for regional accents & a quick wit. Sometimes the word was, Charlie's coming tonight & they joined in filling sandbags but always with a cheerful, "Hi, how are ya? Where ya from?"
Recently, one grunt told Holley he never participated in the games or even spoke, yet he was sure to be there whenever we visited. It was, he said, because we brought the gift of our presence, & in doing so helped save his sanity, while reminding him of his humanity. Four to five decades later it really counted for "something." It's been expressed in love, hugs, tears of gratitude, even an apology. The latter from a chopper pilot who frequently took the DDs from one stop to another before heading back home with them at the end of a very long day. "We had a lot of unpleasant odors on that aircraft but when the DDs got on board their perfume was heavenly (Holley admitted regarding perfume as part of the uniform.) So why the apology? "Because," the helo pilot said, "we always took the long way home."
She explained the DDs maintained their sanity with a sense of humor. For the game of "Twister" they were usually able to recruit some willing Marines. The only thing the volunteers hadn't counted on was how long we would take to spin the spinner dial forcing them to topple over to everyone's roars and laughter.
No one was safe, especially initiating a new Dollie on her first helo-Clubmobile flight. Just prior to boarding the chopper we'd introduce her to the crew then one of us would give the pilot a simple nod. His response was a "just-so" dip of the blades & the rotor wash blew the new girl's skirt straight up, usually accompanied by a scream & desperate attempts to push it back down much to the delight of the crew & other DDs (who'd quickly tucked their skirts between their knees). Welcome to 'Nam.
Agency for International Development (AID) clerk and volunteer morale booster, Bobbie Keith.
Jim Roberts Pursuit!
Many saw the national story in the Washington Post (WAPO) of a 50-year hunt for two DDs. Army Lieutenant Jim Roberts had fixated on two DDs whose helicopter had done a forced landing at the remote village where Roberts & two other soldiers were advising South Vietnamese Army troops along with two other soldiers in 1971. The handful of hours he spent with the DDs in Dong Xoai resonated with him a lasting moment of happiness. He forgot their names but did have two photos of both DDs sitting at a table waiting for the helo to return after maintenance & collect them. His photo showed one young woman wore a ribbon in her hair while the other parted her hair in the middle & had a dimpled chin. He hadn't talked much about his assignment in III Corps 50 miles north of Saigon but when he wrote a self-published book of his tour of duty. Now retired in Pittsburg the article ramped up his search via the internet.
Their identities became the mystery of his life. His quest to find them & express his gratitude for that day meant more him with each passing year. Finally, after the WAPO published an article in 2021 on Veterans Day detailing his quest to find them. The piece prompted hundreds of comments, emails and phone calls. Veterans talked about their own special moments with DDs. Sleuthing by Vietnam Veterans across the country identified the duo as Gwen Hejl Roussel (24 years old in 1971) & Karen Jankowski (who was just 22) & only two weeks later the three were reunited in an emotional Zoom call. Roberts choaked up said "What I've wanted to do all this time was just to say, 'Thank you!'" "Oh, Jim, thank you, thank you," Hejl Roussel speaking for all the 600+ DDs who served, "Fifty years later to hear you say, Thank you, with such emotion — it's so meaningful. I just feel like, Wow. Wow. We made a difference."
Nearly every day, they jumped on helicopters to visit the soldiers & Marines but it was a war zone. Once, Hejl Roussel remembers, a fellow DD dangling her legs from the side of a chopper for a while before settling inside. When they landed, there were bullet holes where her colleague's legs had been moments earlier. She admitted sometimes feeling guilty about her time in Vietnam as the Dollies were almost like "celebrities, because there are so many people who want to be in your life for that moment." Jankowski admitted she tried to give all the soldiers the attention they craved. But she's often felt it wasn't enough. "So, after 50 years to have someone say to me that they touched them, it makes you feel less guilty."
I thought there weren't donuts in Vietnam because the Dollies never had them. That was until LtCol Ron Campbell told me he got donuts every day for the III Marine Air Wing Headquarters. I found this picture of Staff Sergeant. Ross Riepman, who was a baker who produced 200 dozen donuts daily at Force Logistic Command's donut shop at Camp Books, Da Nang. In addition to providing Marine units in the field with fresh donuts, the shop, operated by Rations Company, Supply Battalion, has a serve-yourself section where servicemen could help themselves to free donuts & a hot cup of coffee or a cold glass of milk, iced tea or bug (fruit) juice. Riepman said, "the Marines that come in here from the field really appreciate the service. They like it so much that we use about 180 gallons of milk each day, along with 80 gallons of fruit drink and 30 gallons of iced tea."
VIETNAM WEATHER GIRL TWO BOBBIES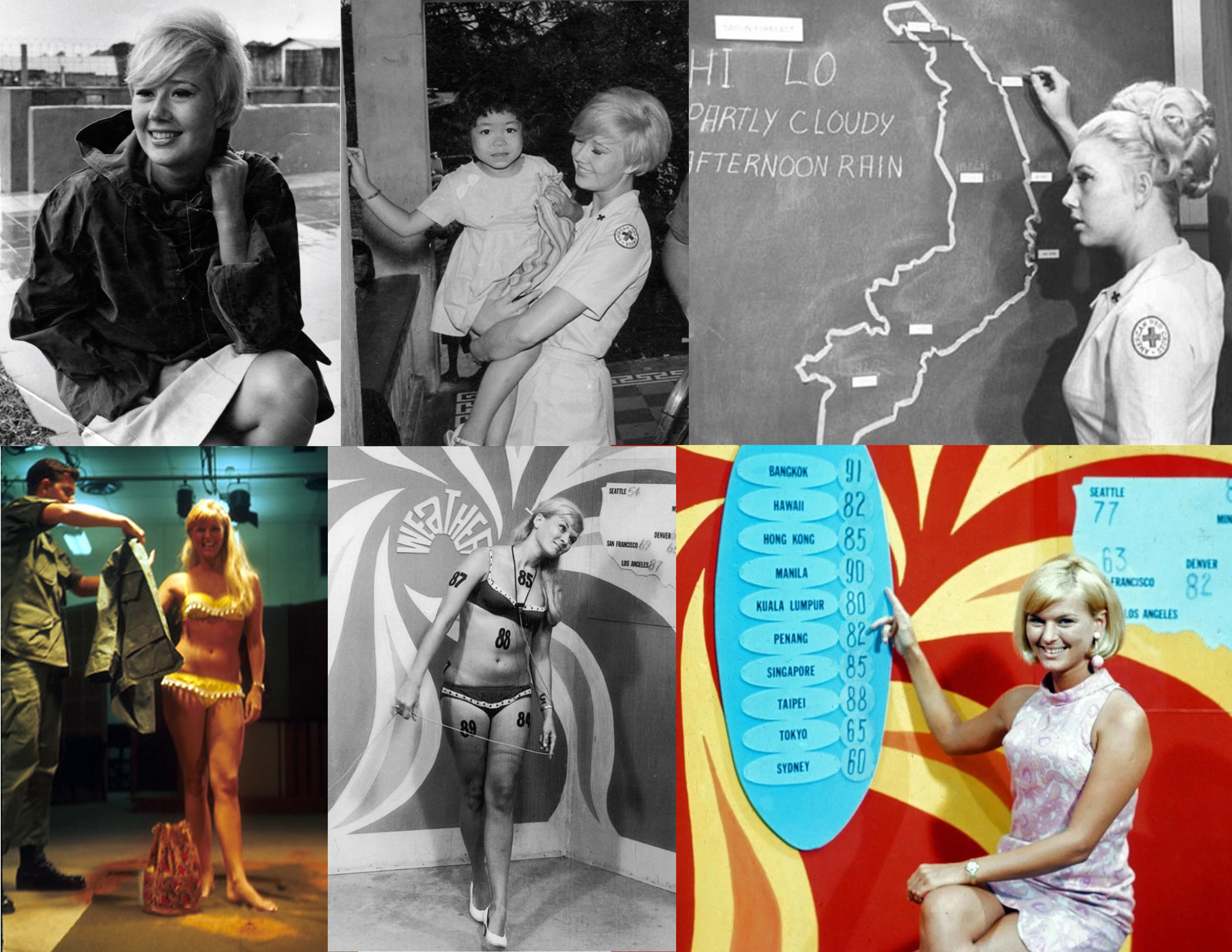 Vietnam's most loved TV personality was a blue-eyed blonde named Bobbie, the Armed Forces Television weather girl. Barbara (Bobbie) Oberhansly (22) (top row of photos) was chosen from a host of American Red Cross girls in Saigon to give the daily weather report nightly (except Sunday) at 7:55 p.m. to point out Stateside, Vietnam and R&R Center weather conditions. Her day job in Saigon was as the personal secretary to the Red Cross' Public Relations man in Vietnam. "I went into this (TV) thing cold," Bobbie said. "The people down at AFRTS gave me a jam course on weather and are light-hearted about it all so that I won't be so nervous." After completing her Red Cross tour in Vietnam, Barbara returned to California and went back to work. Unfortunately, her health began to deteriorate in the fall of 1968 and after a week's stay in the hospital, she passed away at just 24 but she will always be remembered for her charm, beauty & sweetness, & for her willingness to serve.
After Oberhansly departed there was a search for a new weather girl. They found the second & an actual "Bobbie," a young (just 20) and adventurous Agency for International Development (AID) clerk who volunteered as a morale booster, Bobbie Keith (bottom row of photos.) After she got the AFVN weather girl gig, she would travel & visit units on weekends. She noted, "I was very fortunate at AID to have the right job with the right people that allowed me to have the liberty & the flexibility to do these extracurricular duties as a volunteer. She was in Saigon for the Tet offensive, however she said, "the May offensive was the most frightening. I was visiting the Marines at Quang Tri, the base came under attack, and I had to stay in a bunker. I felt protected by the Marines but at the same time the fact was the enemy had penetrated the perimeter of the area and you're left with the unknown." Many Veterans remember her signature sign off: "Until tomorrow, have a pleasant evening, weather-wise and you know, of course, otherwise." Followed by the rock band Box Tops' hit single "The Letter" with the blaring lyrics, "Gimme a ticket for an aeroplane, Ain't got time to take a fast train" as Bobbie the Weathergirl starts grooving to the music.
UNITED SERVICE ORGANIZATIONS (USO)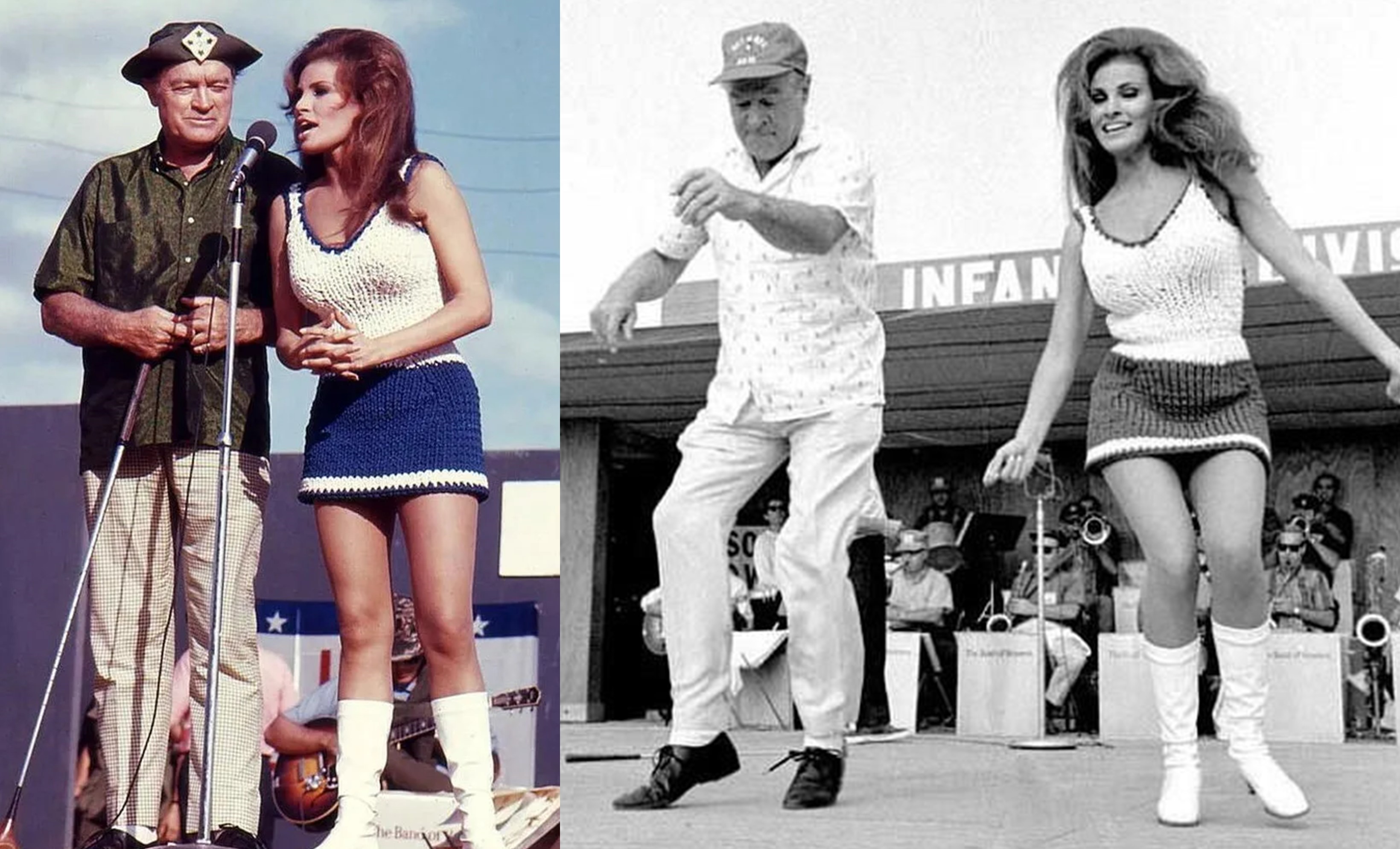 The USO arrived in Vietnam before the first combat troops waded ashore across Red Beach in Da Nang in 1965, with the first USO club opening in Saigon in April 1963. Eventually, 23 centers opened in Vietnam & Thailand serving as many as a million military service members a month. Plus the USO presented more than 5,000 performances during the Vietnam War featuring stars led by everyone's favorite Bob Hope including John Wayne, Ann-Margret, Sammy Davis Jr., Connie Stevens, Raymond Burr, Phyllis Diller, Martha Raye, Miss Americas, Miss Worlds & Runners-up, Joey Heatherton, Wayne Newton, Jayne Mansfield, The Golddiggers, Redd Foxx, Suzanne Pleshette, Rosey Grier, Anita Bryant, Nancy Sinatra, Mamie Van Doren, Robert Mitchum, Jill St. John, Lola Falana, George Peppard & Raquel Welch.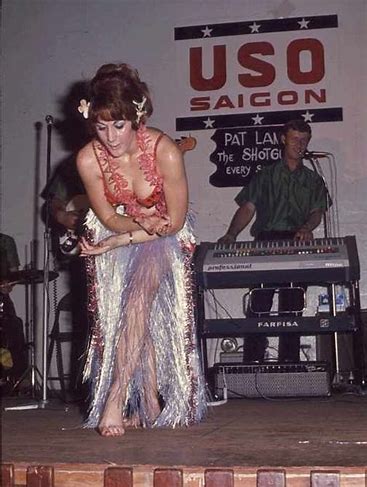 In addition, the USO operated (& still does) centers at major U.S. airports to provide a lounge and place to sleep for American servicemen between their flights. Vietnam Historian James Westheider noted that the USO "tried to bring a little America to Vietnam." American civilians, who signed up for 18-month tours, staffed the clubs. According to Westheider, "The young women wore miniskirts – no slacks were allowed." Each club had a snack bar, gift shops, a barbershop, photo developing, overseas phone lines & hot showers (if possible.)
When providing entertainment, the USO did its best to attract big stars from back home to allow the warriors relieve the stress for an afternoon.
Special Presidential Envoy for Climate John Kerry sailed his brown-water Navy PCF Swiftboat to attend a "Bob Hope Follies" USO show, which included actress Ann-Margret (two left photod, Joey Heatherton is on the right), Miss America & football star Rosey Grier among others. According to Kerry biographer Douglas Brinkley, "When the Swift(boat) finally made it back to the My Tho River, the crew confronted the heartbreaking sight of a huge Navy landing craft ferrying the troops back. The USO show was over." Kerry & crew had missed the show, but for all the GIs who saw the show, it was worth it: "We turned to watch Ann perform, and for about two minutes of American beauty, the war was forgotten. Everyone fully understood just what was really worth fighting for. ... The show was fantastic, but the escape the Bob Hope tour provided us in expectation for days before, and after, helped us keep in touch with what we were there for – God, Country, apple pie ... and Ann-Margret!"
My fave Ann-Margret story occurred during her "My Story" book signing. A Vietnam Veteran asked her to sign a photo he'd taken of her performing in a USO Show. The book's publishing representative for the signing event was adamant about her only signing the book. The veteran's wife recounts Ann took one look at the photo as tears welled up & she said, "This is one of my gentlemen from Viet Nam and I most certainly will sign his photo. I know what these men did for their country & I always have time for my gentlemen."
The visits by the stars meant a lot to the men and women serving in Vietnam. Westheider noted the tours made a profound impression on the stars as well. The effervescent singer & actress Connie Stevens favorably remembers her 1969 tour with Bob Hope, despite the fact she had two children both under the age of two at home. Today, she professes that "veterans were still stopping her and thanking her for visiting Vietnam over 40 years later."
There were many smaller USO Shows that were just as important as the huge Hope spectaculars.
One was the 1968 Sig Sakowitz Troop from Chicago that performed over 36 shows both in big bases like Pleiku, Dalat, Da Nang, Cam Ran Bay, Phu Bai, Phu Loy, Hue City, Nha Trang, Tan Son Nhut Airbase, Saigon but also some combat bases out in "Indian Country" that only the boonie rats & infantry grunts knew about. The Chi-town troop consisted of Doublemint Twins, Terrie & Jennie Frankel, the Windy City's Gaslight Club singer Sara Sue, Comedian Tony Diamond & Polish personality Sig Sakowitz. Shows were also performed with the "Rat Packs" comedian Joey Bishop & Tippi Hedren, one of Hitchcock's icy, patrician blondes.
Patricia Krause, USO
The annals of wartime history are strewn with the deeds of devotion, courage & sacrifice of warriors that are hailed as heroic. However, there is another subset lost to subsequent generations, despite leaving an invaluable mark on the lives of those they encounter in times of crisis. They are the unsung heroes. Many of the men & women who valiantly fought in the Vietnam War certainly deserve the title of hero. Yet, a civilian heroine who served in a different capacity during those difficult time also merits particular acknowledgment. Her name? Patricia Krause. She was the assistant director of the USO Headquarters in Saigon, the operations center for all USO Vietnam & Thailand operations. Subsequently, she worked as the Director of Public Information for the entire USO Vietnam undertaking, spending a total of three-and-a-half years in these capacities from late 1965 to 1968.
No matter her official title, Krause poured her heart & soul into her mission traveling from one end of South Vietnam to the other. She traveled to the front lines and to remote locations by Jeep and helicopter to photograph GIs for hometown newspapers and to deliver the thousands of gifts & letters sent through the USO. Patricia hosted Armed Forces Radio Saigon Program "What's New at the USO?" a radio show that often-featured celebrity interviews with guests such as Charlton Heston, Lana Turner, Nancy Sinatra, Bob Hope & James Garner, who is pictured with Krause.
Her self-sacrificing, tireless devotion to the soldiers, Marines, sailors & airmen did not go unnoticed by the military. She was the recipient of multiple certificates & awards of achievement & appreciation from military leaders. Rear Admiral Kenneth Veth, Commander of U.S. Naval Forces in Vietnam, nominated her for the 1968 Veterans of Foreign Wars Unsung Heroine Award.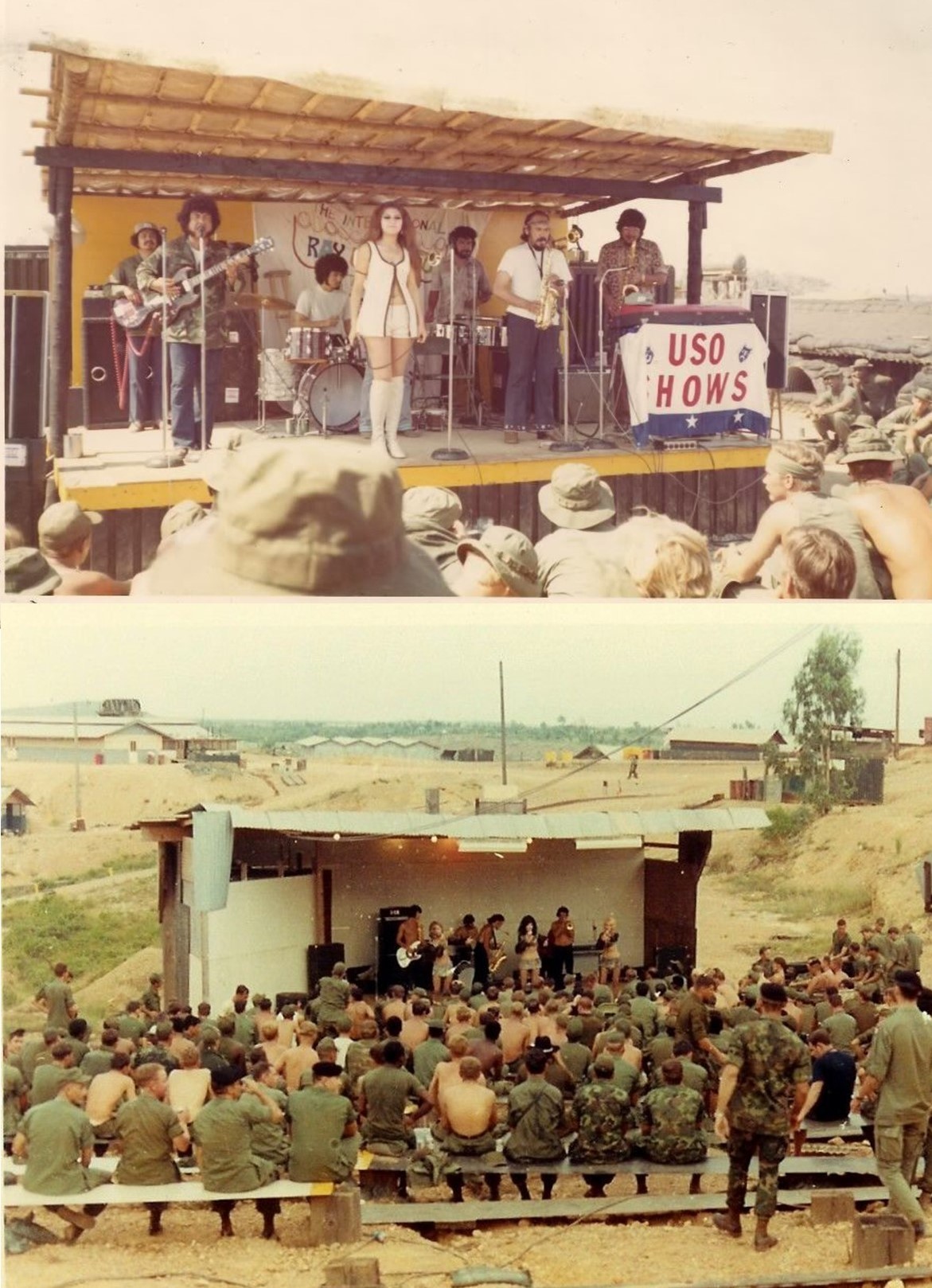 She received a certificate of appreciation from both Army Generals, William Westmoreland & Creighton Abrams. Brigadier General Leo Benade, USA representing the Department of Defense presented Krause with the U.S. Civilian Service in Vietnam Medal in 1969. A Chu Lai squadron gave Krause a less formal acknowledgement of her good work, a hand-made flag decorated with the squadron's tiger symbol & embroidered with the words, "To Patty" as a token of their appreciation. She was awarded the special distinction of being an honorary Green Beret as a thank you for the effort she made to visit Special Forces soldiers at their far-flung forward camps. "Those years in Vietnam are unforgettable," said Krause. "I had an opportunity to travel all over Vietnam visiting remote sites, delivering gifts, just talking with men and bringing them a bit of home."
Carol Quinn-Lassell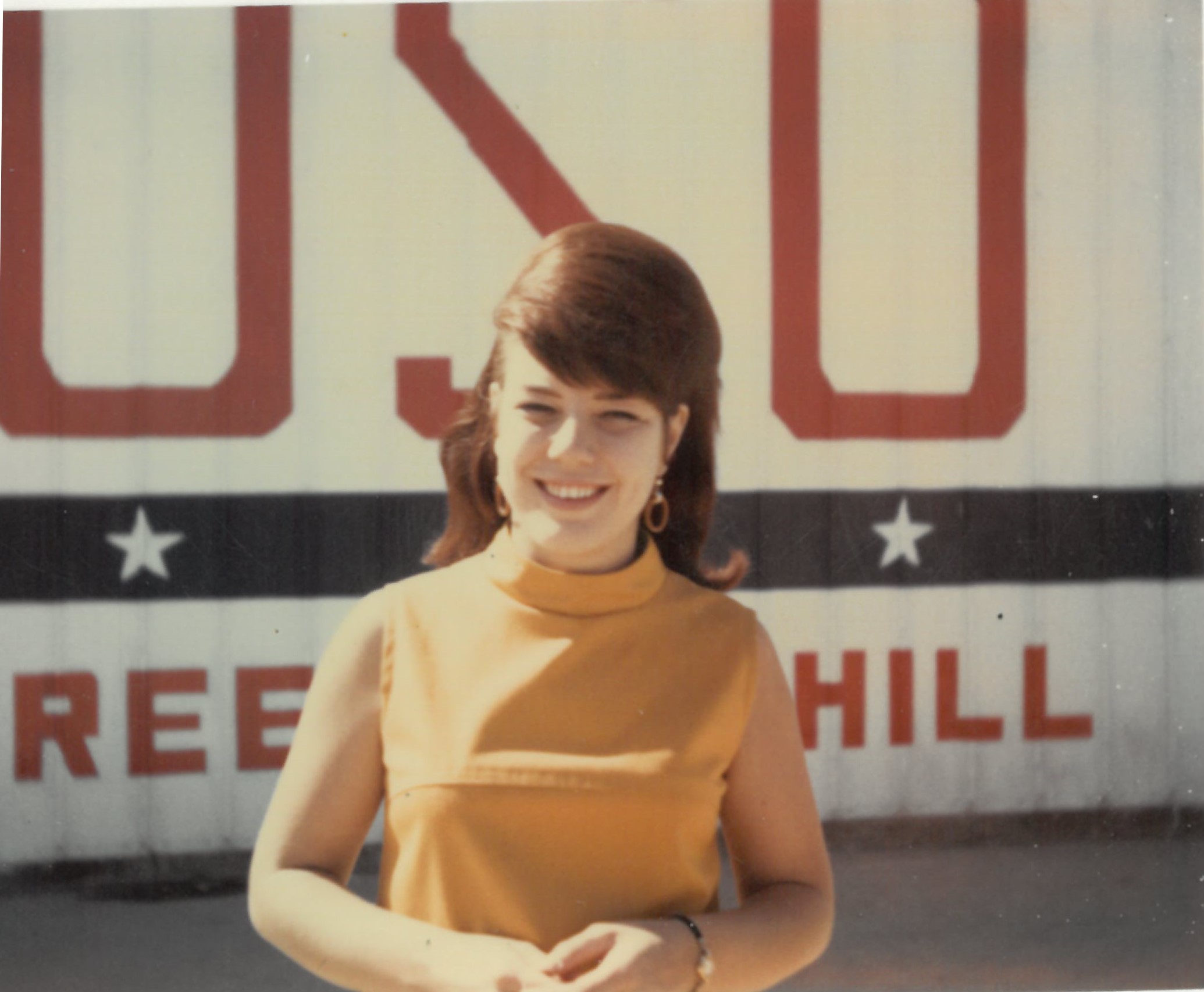 I went to South Vietnam in 1968 with the USO after graduating from Mary Washington College in Fredericksburg, VA. I was eager for adventure & looking for something to counter the anti-war movement & make a statement against all the cowards fleeing to Canada rather than serve their country.
I read an ad in the Washington Post looking for people to staff USO Clubs throughout Vietnam. My initial interview was in Washington, DC before being flown to New York City for a final interview at USO World Headquarters where I was offered the job. Then, it was off to San Diego for two weeks of training in club management. Upon completion it was a flight to Saigon for in-country orientation at the major USO Club there. After a couple of weeks,
I flew up to Da Nang to join the Freedom Hill USO Club. (Hill 327 was also known as Brigade Ridge, Camp Perdue, Camp Reasoner, Division Hill or Division Ridge was a former USMC base established on a ridgeline 4 km west of Da Nang Air Base.) When I arrived, I was billeted at the "Grand Hotel" in downtown Da Nang.
That didn't last long & I was moved to what had been an ARVN barracks. I finally settled in an old French colonial villa & was assigned a van to drive from downtown to the club at Hill 327. Each club had a director & one or two associate directors. Our days were spent on administrative tasks of resupplying the club & planning activities to hopefully let those who came in to let their minds relax & enjoy a friendly, homey atmosphere.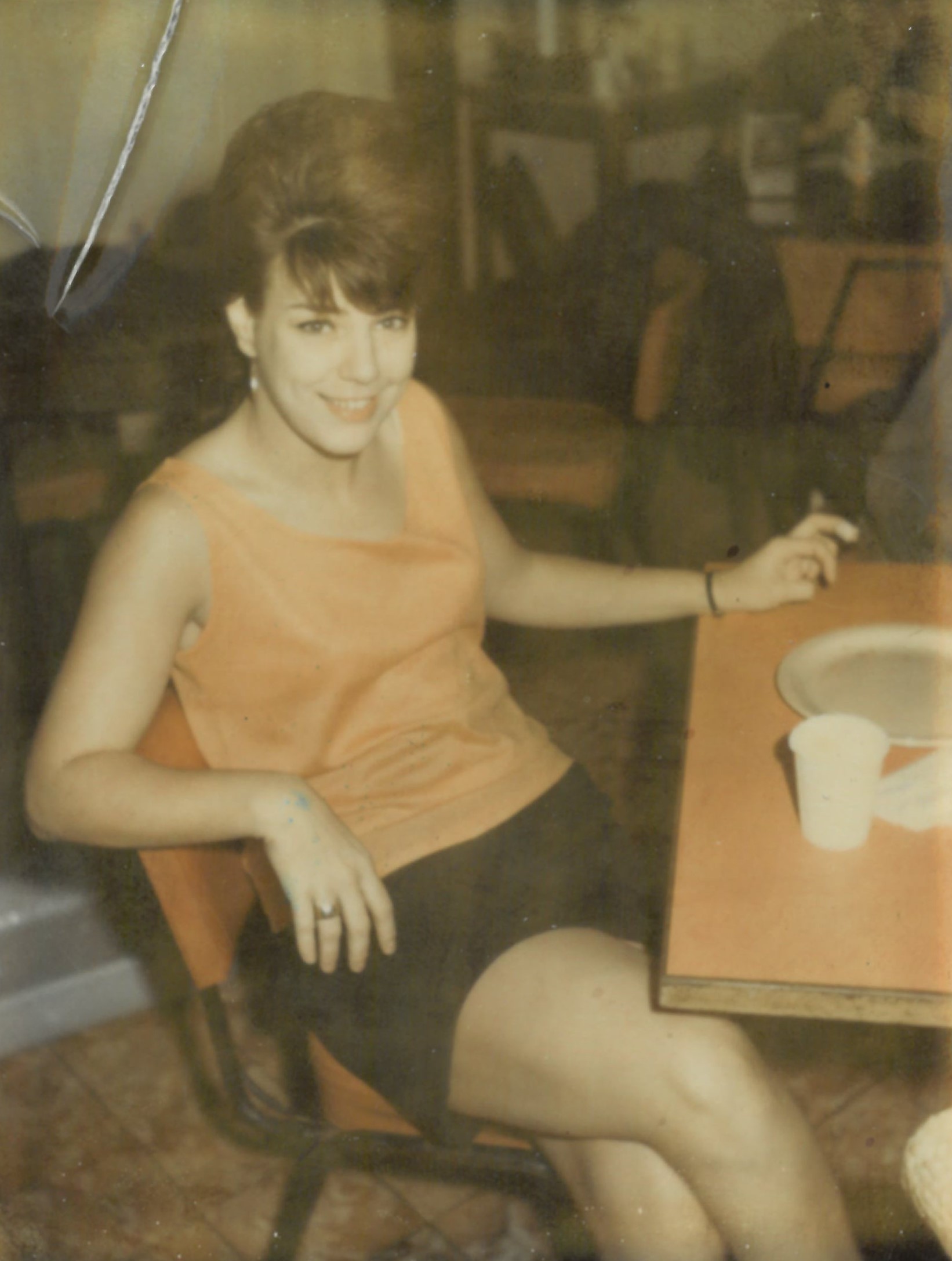 Many times, all the grunts wanted to do was talk to a "round-eye" (American women) particularly the Marines & corpsmen who had been out in bush for months. We had a snack bar where they could get hamburgers, French fries & milk shakes.
Macsurfcat wrote: "I had a little fun there: I was sent down from Fire Support Base An Hoa (southwest of Da Nang) to pick up a couple Marines who had been to hospital for some follow-up care (infections in old wounds.) It was dead summer, and if any of you people were up in the Arizona (Territory – the area west of Da Nang along Liberty Road that was a free fire zone) during the summer you know what red clay dust does to you (your utilities, your hair, and your body, are all dyed a bright red that will take months to wash out). We picked up the two Marines & the 1/4 ton-truck (M151 Jeep) driver says, "why don't we make a pit stop at FREEDOM HILL?"
So away we went. The minute the truck stopped we all ran like banshees out of hell to see if we could find a damn cheeseburger & a coke. You have to imagine the sight: four Marines just in from An Hoa, red as Martians, carrying every sort of firearm you could imagine, ready to fight the NVA for a cheeseburger, running around like madmen, screaming like schoolgirls at all the fancy stuff (metal trays, people with spit-shined boots, GIRLS) surrounding us.
In five seconds flat we had attracted about eleven very large Military Policemen, more than a few senior NCOs, & a Lieutenant, all of whom wanted to know who in god's name did we belong to & when was the last time we had heard of the GROOMING STANDARDS!!
An angel appeared, in the form of an airwing Major (of all things) in a leather jacket and the best-looking mustache I have ever seen. He put them all in their place and we had our cheeseburgers. Marine air support: you call, and that's all . . ."
Besides amazing cheeseburgers, the USO had books, records, tape recordings, a library, ping pong, pool table & a writing room to send a letter home. No cell phones or the internet, so it was important for the warriors to dash off a letter to home & if we had time help them record a cassette to mail home (Note: it was soldiers during the Vietnam war that quickly embraced the cassette for its small size & ease of mailing to and from home.)
Freedom Hill also had USO shows mostly Philippine & Australian bands as well as sports figures & race car drivers. Bob Hope of course came to the big amphitheater every holiday season. We made frequent visits to the big Da Nang Hospital particularly during the holidays as the USO provided Santa & his mini-skirted assistant.
Less frequently, the USO also visited the USS Sanctuary & Repose hospital ships of the coast. I got to meet Cardinal Terence Cooke, Archbishop of NY after he conducted Mass at Freedom Hill. Every so often I would get two-day Rest & Recreation break down in Saigon or locally to go to the Red Beach Recreation Center.
From the perspective of 55 years, it is still the most significant & meaningful job I have ever had.
CHRIS NOEL ARMED FORCES RADIO VIETNAM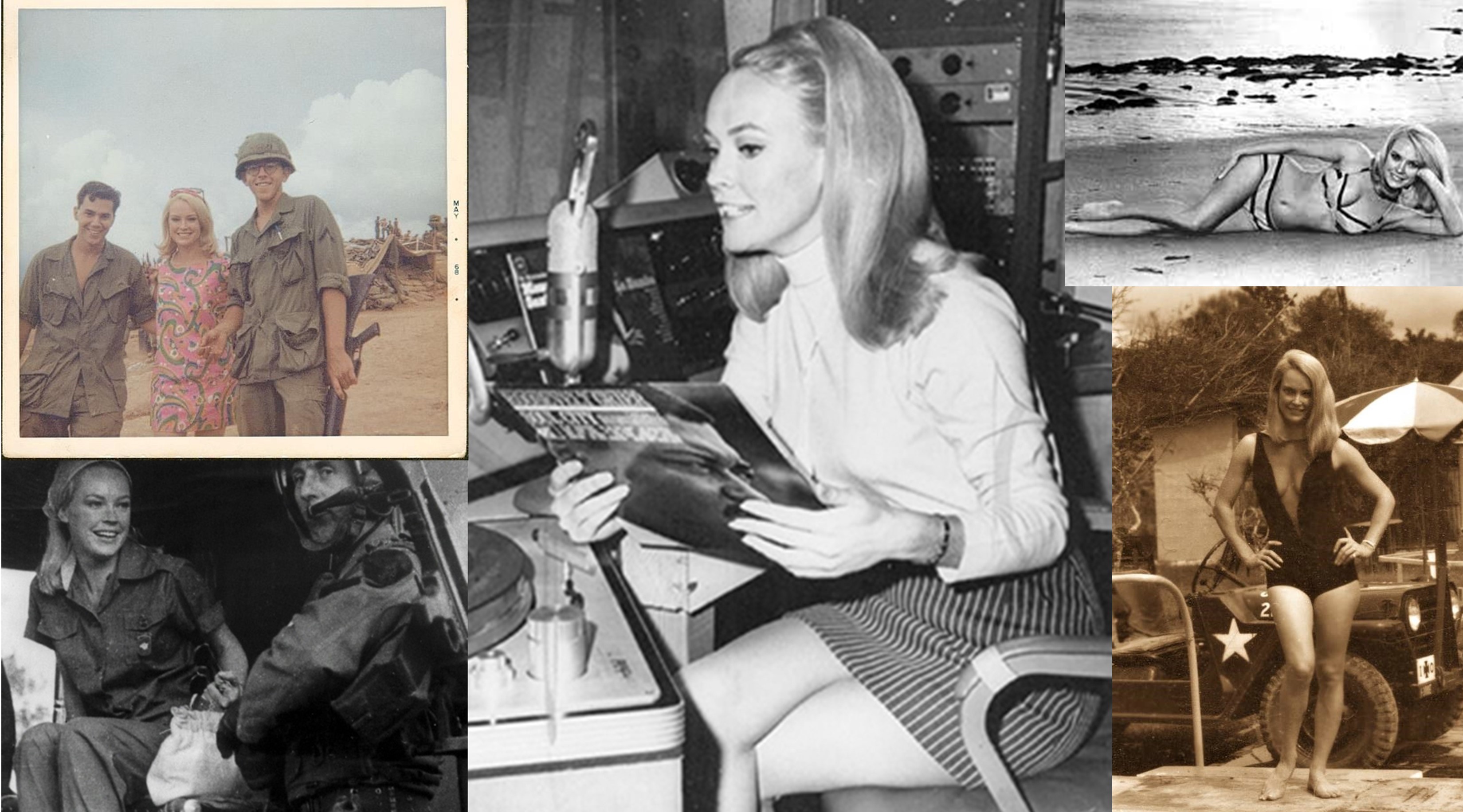 Chris Noel, the 1960's Hollywood Starlet became a popular AFVN radio disk jockey during the war. She was the hostess of "A Date With Chris" on AFVN Radio, & toured the war zone eight times twice with Bob Hope on morale-boosting entertainment missions. She was considered so valuable to counter Hanoi Hannah (the enemy's Tokyo Rose/Axis Sally) and boost American military morale, that the NVA/VC placed a $10,000 bounty on her. Twice the chopper she was flying in took ground fire. Veteran Organizations are lobbying the President of the United States to present the Presidential Medal of Freedom to Noel for her work in Vietnam & post with veterans.
"I don't think the war ever ends" for combat veterans, army nurse Moscatelli said. Decades haven't dulled the pain many veterans still feel, not only from their war experience, but also from the acrimony they encountered when came home.
Carol, the USO veteran went back to Vietnam twice! Go back next year: US Military & Civilian Women in Vietnam (12 - 25 Oct 2024) (miltours.com)
The women who served in Vietnam were all heroines…particularly when you contrast them against one evil traitorous villain!