MHT Blog
Welcome to the MHT Blog Site and our Posts try to not be dusty topics or blah military history but things we find interesting and hope you will too! Below is our MHT Blog Archive for additional topics. We will have more from the sites we visit now that MHT is back on the road. Thanks for checking us out – The Editor
MHT Reviews the Story behind the "Movie Devotion"
The film "Devotion" tells the inspirational story of the US Navy's most famous aviator duo, Lieutenant Junior Grade (LTJG) Tom Hudner and Ensign (ENS) Jesse Brown, and the freezing surrounded Marines they fought to defend. Tomorrow, 22 November, the film from the great book by Adam Makos opens countrywide in local theaters. Do yourself and your family a favor and for a tremendous Thanksgiving take everyone to see this positive movie, the natural successor to Top Gun: Maverick that harkened back to the great Hollywood tradition. When one pilot of the duo is shot down behind enemy lines and pinned in his burning plane, the other faces an unthinkable choice: watch his friend die or attempt history's most audacious one-man rescue mission.
Author Adam Makos an American writer, editor, historian and publisher, rose to fame with his astonishing, true tale of heroism and human compassion during World War II in the ski over Germany in the book "A Higher Call." Makos New York Times Best Seller deftly retold the almost mythical story about the crew of a crippled USAAF Flying Fortress – named 'Ye Olde Pub', alone and defenseless, and a Messerschmitt Bf 109 G-6 fighter ace who chose not to shoot it down, but rather escorted the wounded ship to the safe skies over the English Channel instead. Perhaps the deepest drama in the 2012 book centered on how the two aircraft's pilots who both survived WWII finally found one another, decades later, for a moment of true healing. A year later he authored "Voices of the Pacific" which follows Marines and sailors who served in the Pacific Theater during WWII.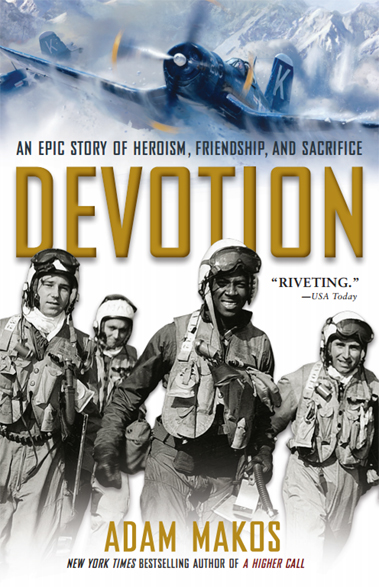 Makos' third novel, Devotion in 2014, has been turned into a film of the same name. His most recent war novel and biography, "Spearhead: An American Tank Gunner, His Enemy, and a Collision of Lives in World War II" is his second on the New York Times Best Seller List.
"Devotion" is the story of Jesse LeRoy Brown (13 October 1926 – 4 December 1950) the first African-American aviator to complete the U.S. Navy's basic flight training program, a recipient of the Distinguished Flying Cross, and the first African-American naval officer killed during the Korean War. It has been made into an awesome movie for the big screen starring Jonathon Majors (Kang the Conqueror in three coming Marvel Avenger blockbusters) as Jesse.
Born in Hattiesburg, Mississippi, to an impoverished family, Brown was avidly interested in aircraft from a young age. He graduated as salutatorian of his high school, despite its racial segregation, went to Ohio State University. He enlisted in the U.S. Naval Reserve on 8 July 1946 and was admitted to the aviation program, becoming a Seaman Apprentice in the U.S. Navy and a member of the school's Naval Reserve Officer Training Corps (NROTC) program. A $50 monthly stipend allowed him to quit his jobs and concentrate on his studies; he completed his architectural engineering degree in 1947. At this time, the NROTC was the normal route to a regular Naval commission, but only 14 of the more than 5,600 NROTC students in 1947 were black.
On 15 March 1947, Brown reported to Glenview Naval Air Station in Glenview, Illinois, for Naval Flight Officer training. There he became the only African American in the program. Although he anticipated antagonism, he found the other cadets were generally friendly and welcoming. He found many of the black cooks and janitors hostile to him, however, possibly due to jealousy.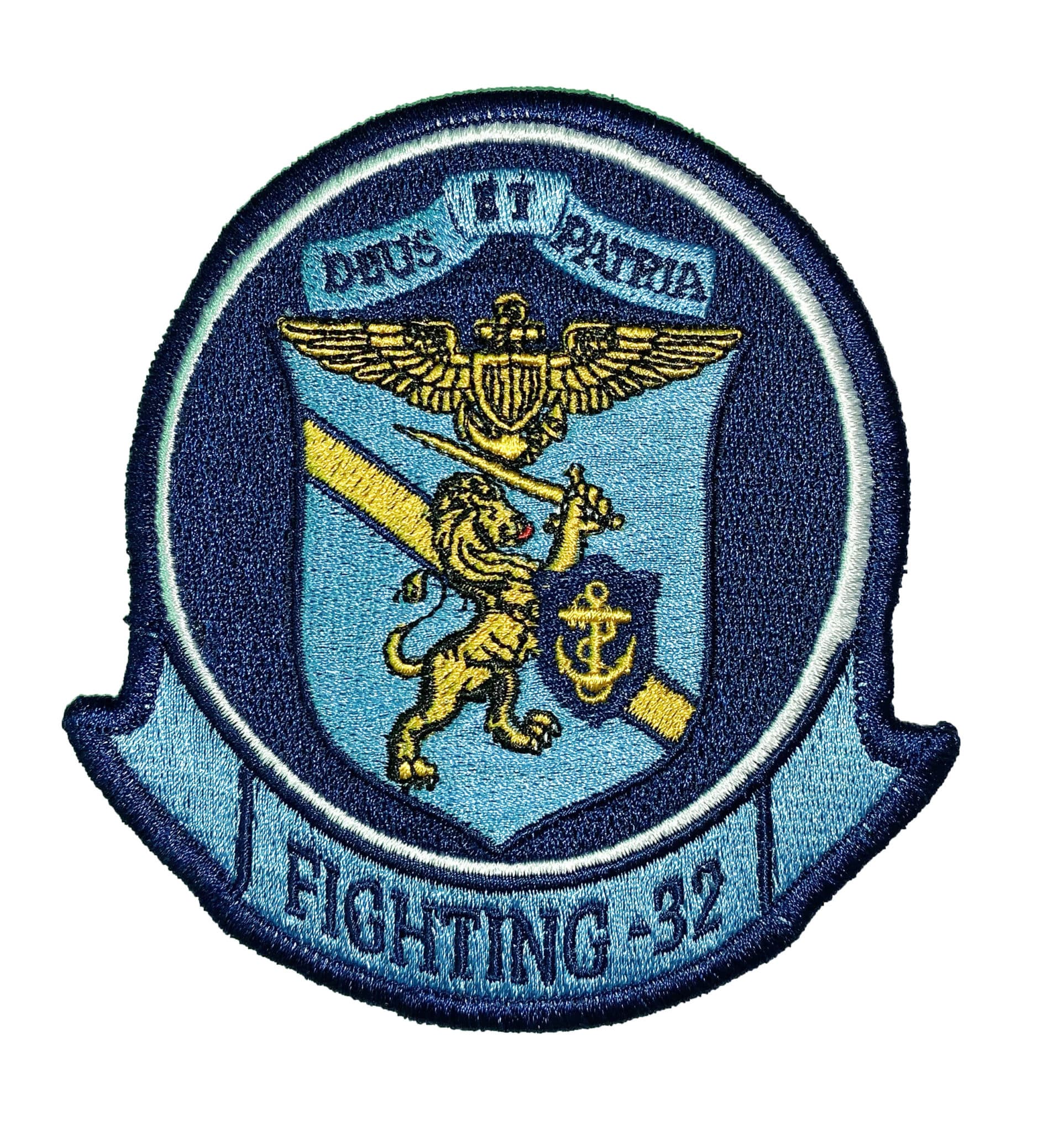 ENS Brown earned his pilot wings on 21 October 1948 amid a flurry of press coverage; in January 1949 he was assigned to Fighter Squadron 32 (VF-32) aboard the Essex-class aircraft carrier USS Leyte (CV-32) on a Mediterranean deployment.
Thomas Jerome Hudner Jr. (August 31, 1924 – November 13, 2017) was an officer of the U.S. Navy and became a naval aviator. Coming straight from his tour de force performance in "Top Gun: Maverick" as "Hangman" Glen Powell adds the right mix of acting chops to make the pilot believable without being a cartoonish hero.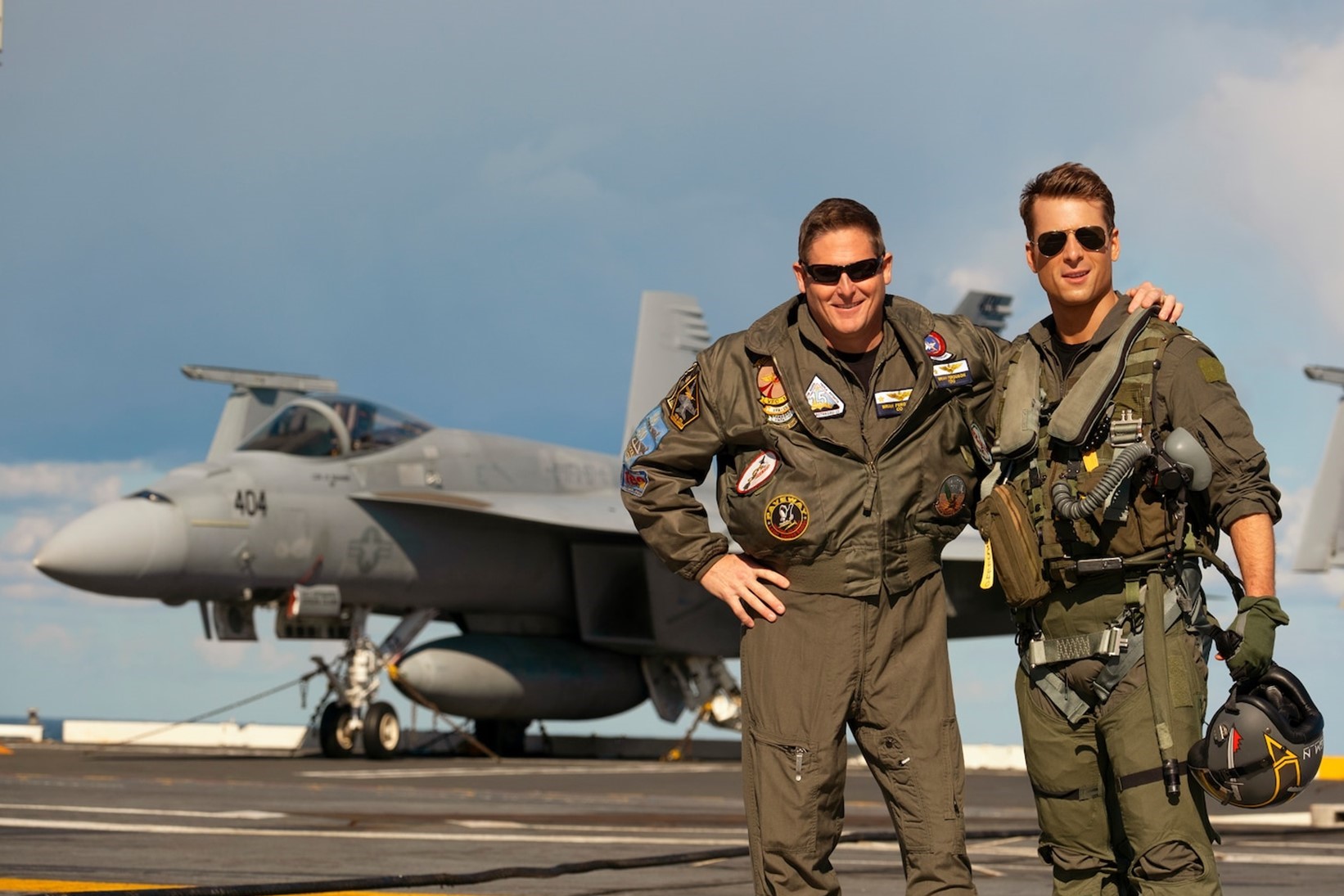 A white New Englander from the country-club scene, Hudner passed up Harvard to serve for his country in WWII. Born in Fall River, Massachusetts, He attended Phillips Academy in Andover as had prior family members. Founded in 1778, Phillips Academy (better known as Andover) is an independent, coeducational secondary boarding school with a reputation as one of the most exclusive and expensive college preparatory schools in America. In 1943, he was accepted into the United States Naval Academy.
Upon graduation in 1946, he served as a surface warfare office aboard the USS Helena, a heavy cruiser before as a LTJG he requesting a transfer to flight training. Upon getting his wings he was assigned to VF-32 arriving on the USS Leyte in August 1949. The Leyte was serving with the 6th Fleet in the Mediterranean.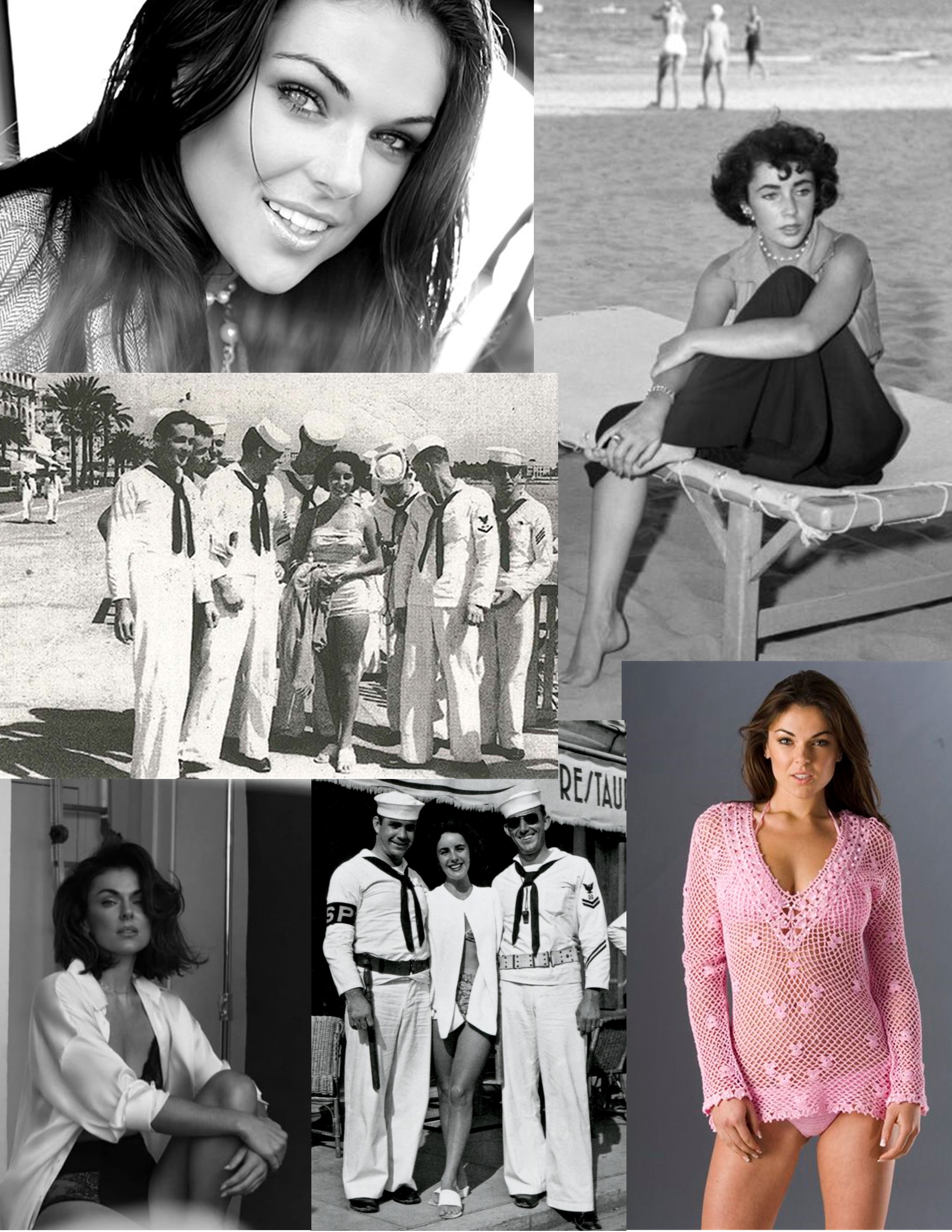 Their first port of call was Nice, France, on the French Riviera. Elizabeth Taylor, one of the decade's hottest starlets, was in Cannes for the famous film festival. While sun bathing on the beach she was approached by one of USS Leyte's Marine Detachment ashore on liberty. Just 18, she responded positively and that led to more Marines and sailor engaging in a banter with the rising movie star, even the Shore Patrol (SP) got a photo op. She invited them to a 4:00 o'clock tea at her hotel. With no knowledge that the Marines had stormed ashore with a starlet objective, Hudner and Brown happened to walk into her hotel and sat down for a drink. However, feeling awkward in such a sophisticated English High Tea environment, the flyers were stumbling over the four o'clock refreshment formalities when Elizabeth Taylor walked up to their table. Even a better bit of good luck for the flyers Elizabeth let them know she would be at the casino that evening. She would except an invitation to visit their ship later in the week. The delectable actress Serinda Swan will play the incomparable Taylor in the film.
Tom Hudner and Jesse Brown became close friends and wingmen training as a team at the Quonset Point Naval Air Station (NAS), Rhode Island. The famed WWII Quonset Hut, was developed and designed at nearby Davisville and used in the Pacific and Atlantic theaters during World War II. In the spring of 1950, Jesse was married to Daisy played with a deft touch by Christina Jackson; Tom was a friend to both.
10 Soviet trained North Korean communist military divisions crossed the border and drove into South Korea on 25 June 1950. 21 nations in the United Nations (UN) condemned the invasion and sent support to South Korea under the UN flag. General Douglas MacArthur's risky but brilliant amphibious UN counteroffensive at Inchon turned the tide, cutting off the North Korean troops and supply lines in South Korea. Those who escaped envelopment and capture were forced back north. UN forces invaded North Korea in October 1950 and moved rapidly towards the Yalu River, the border with China. Mao Zedong on 19 October 1950, ordered the Communist Chinese Armies to crossed the Yalu and infiltrate North Korea.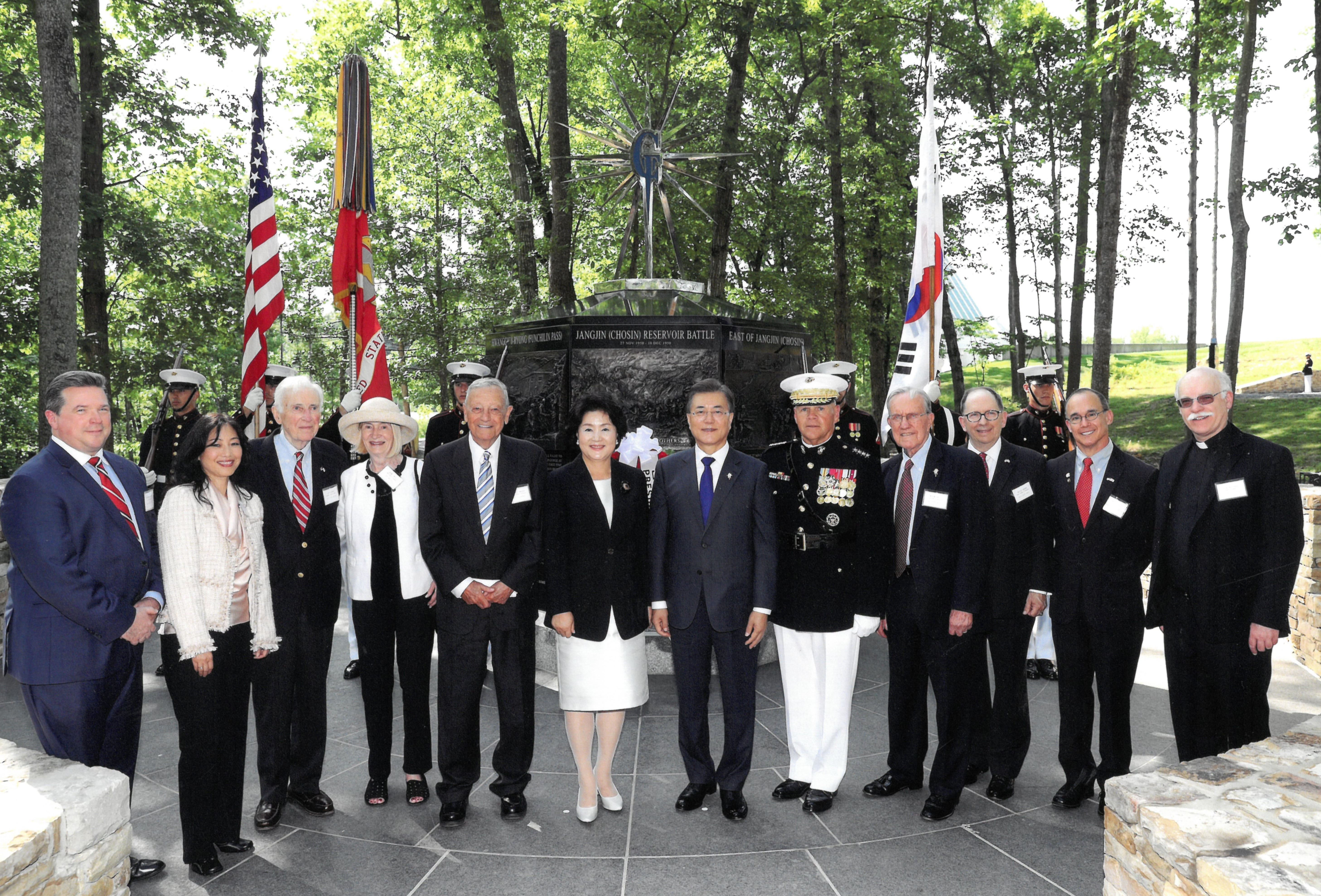 The Chosen Few memorial at the National Museum of the Marine Corps in Quantico, VA (https://chosinfew.org)
On 27 November 1950, the Chinese force sprung their trap on the US X (Tenth) Corps in the Chosin Reservoir area. The ensuing brutal 17-day battle in freezing weather pitted 120,000 Chinese troops versus 30,000 US troops (primarily the 1st Marine Division under the field command of MajGen Oliver P. Smith, USMC) who Mao Zedong ordered encircled and annihilated. These Marines, US Army 7th Infantry Division, British Commandos and South Korean troops were later nicknamed "The Chosin Few" as they fought a dramatic fighting retreat to the sea.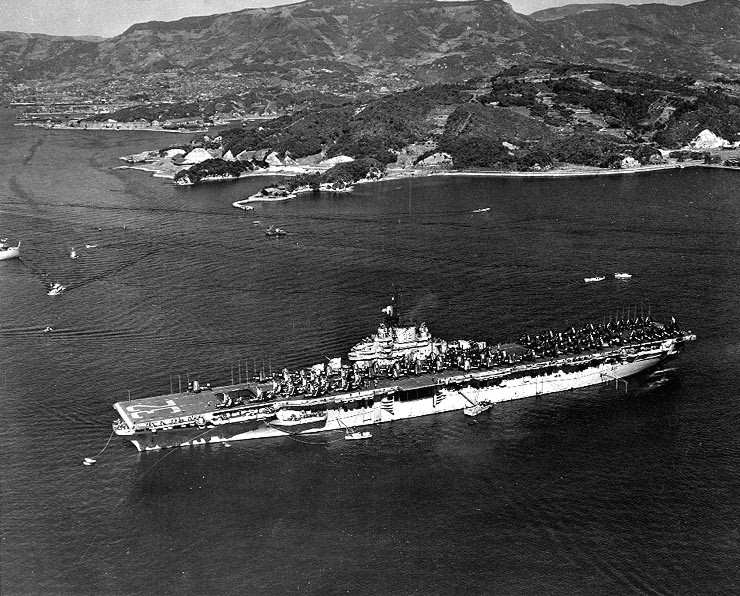 At the outset of the Korean War, the USS Leyte was training at Quonset Point NAS ordered to the Korean Peninsula, arriving in October 1950. During the Korean War, VF-32 flew F4U-4 Corsair fighters in support of the United Nations forces performing attacks with cannons, napalm canisters, various iron bombs, and unguided High Velocity Aircraft Rockets (HVAR.)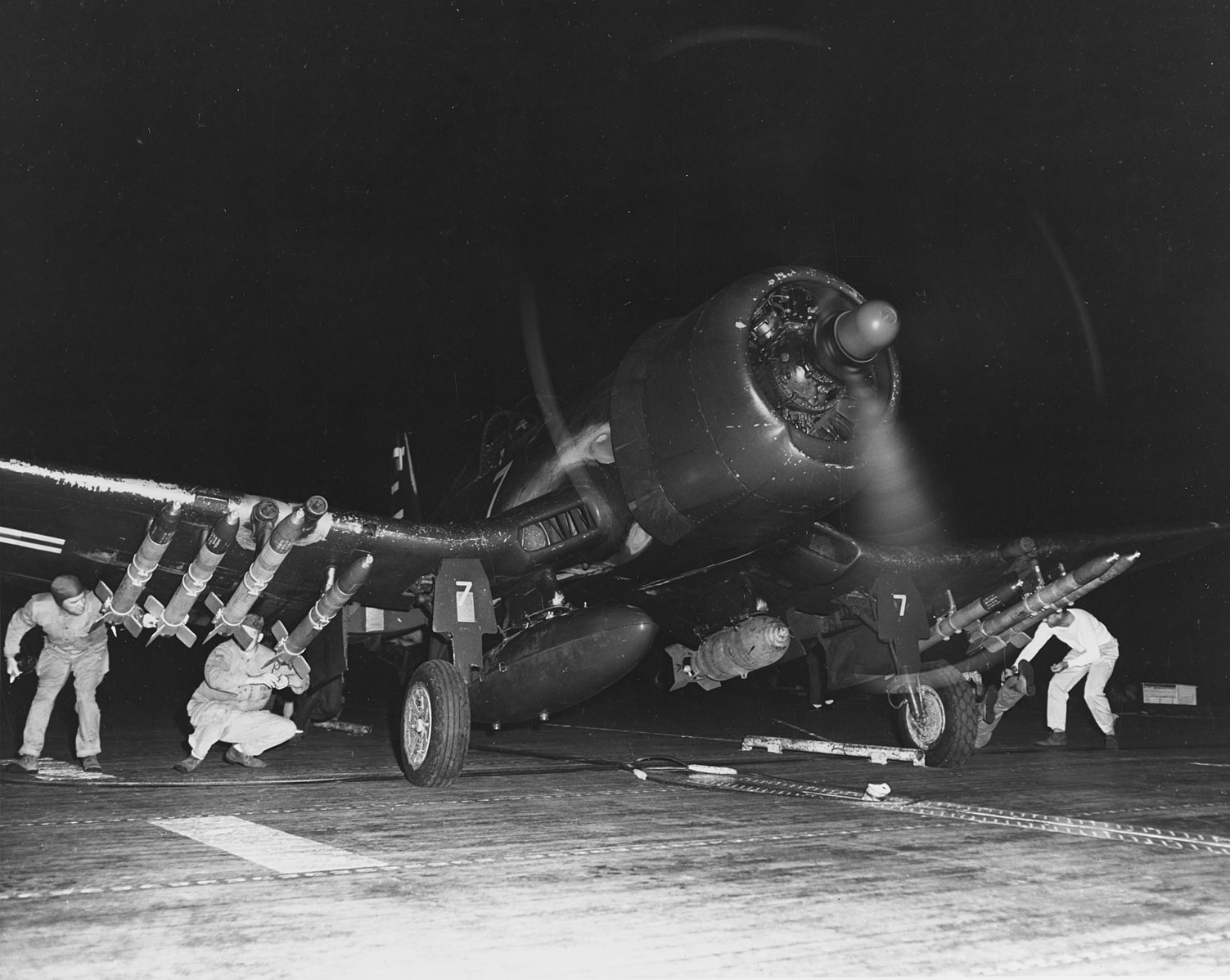 The 5-inch HVAR was a reliable standby against soft targets but the T-34-85 Soviet-built tank armor proved resistant to the HVAR's punch, which led to a new 6.5-inch shaped charge antitank warhead being developed. The result was called the "Anti-Tank Aircraft Rocket (ATAR)." The 11-inch "Tiny Tim" was also used in combat, with two under the belly.
MHT's CEO Colonel Warren Wiedhahn, USMC(Ret) was a Marine Private First Class and part of a 4.2-inch mortar team who helped hold the Pusan Perimeter, landed in Inchon and marched north with the 1st Marine Division up to the Chosen Reservoir. Warren returned to North Korea with Medal of Honor Recipient General Ray Davis whose battalion moved in 40° below zero weather to reinforce the lone Marine company holding Toktong Pass that the 5th and 7th Marine Regiments needed to pass through to begin the retrograde from the Reservoir.
https://www.spreaker.com/user/10614200/colonel-warren-wiedhahn
Author Makos & Tom Hudner also went back to Pyongyang in 2013 to honor Tom's promise to return for Jesse's remains but the North Koreans came up with a story about roads flooding, forgetting about a thing that was around even in 1950, the helicopter.
During a trip to Beijing, Warren was able to talk with some Chinese soldiers who fought at the Chosen. They admitted that the weather was devastating as they lost many who simply froze to death or had crippling frostbite due to a lack of suitable cold-weather gear. They admitted many died from hiding all day as any movement during daylight hours brought a quick death from the Corsairs that were always hunting overhead.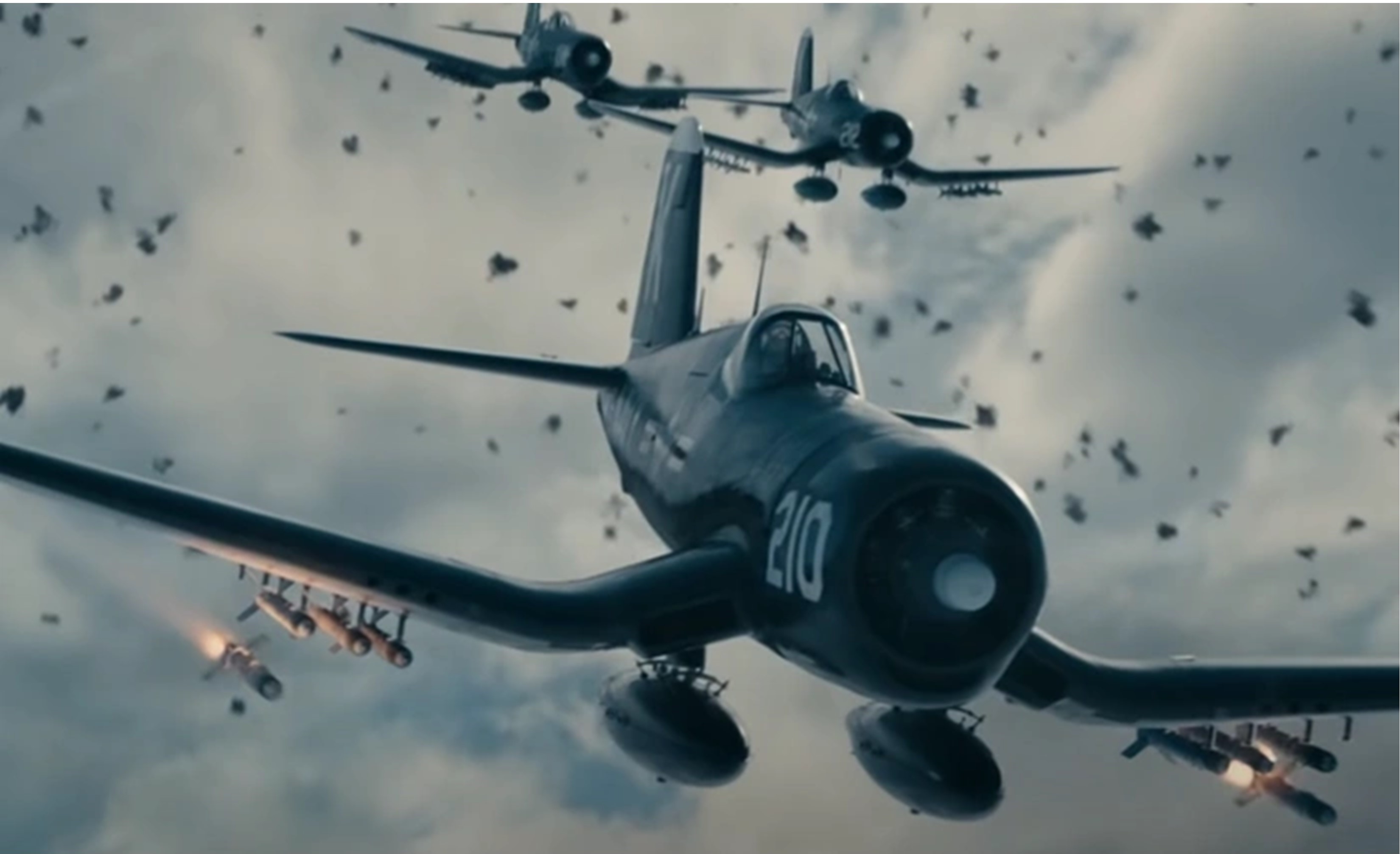 They so feared the US planes close air support capabilities, all attacks were forced to be at night so as to not be machine gunned, bombed, face the missile barrages or the worst fate to face one final heat wave of deadly napalm. Warren has said that from the high ridges you could see the F4 Navy and Marine pilots in their cockpits as they flew past hunting Chinese targets and they would give the overwatch Marines a thumbs up.
ENS Brown & LTJG Hudner had already flown 20 combat missions when Brown's Corsair came under fire, was damaged and crashed in a remote valley on 4 December 1950, while supporting the UN forces during the Battle of the Chosin Reservoir. Brown died from wounds he received during the crash despite the efforts of Hudner who intentionally crashed his own aircraft nearby in a rescue attempt, for which he was awarded the Medal of Honor.
Hudner rose to the rank of Navy Captain, holding positions aboard several ships and with a number of aviation units, including a brief stint as the Executive Officer of USS Kitty Hawk during a tour in the Vietnam War, before retiring in 1973. In subsequent years, he worked as a regional USO president and as the Commissioner for Veterans Services for the State of Massachusetts.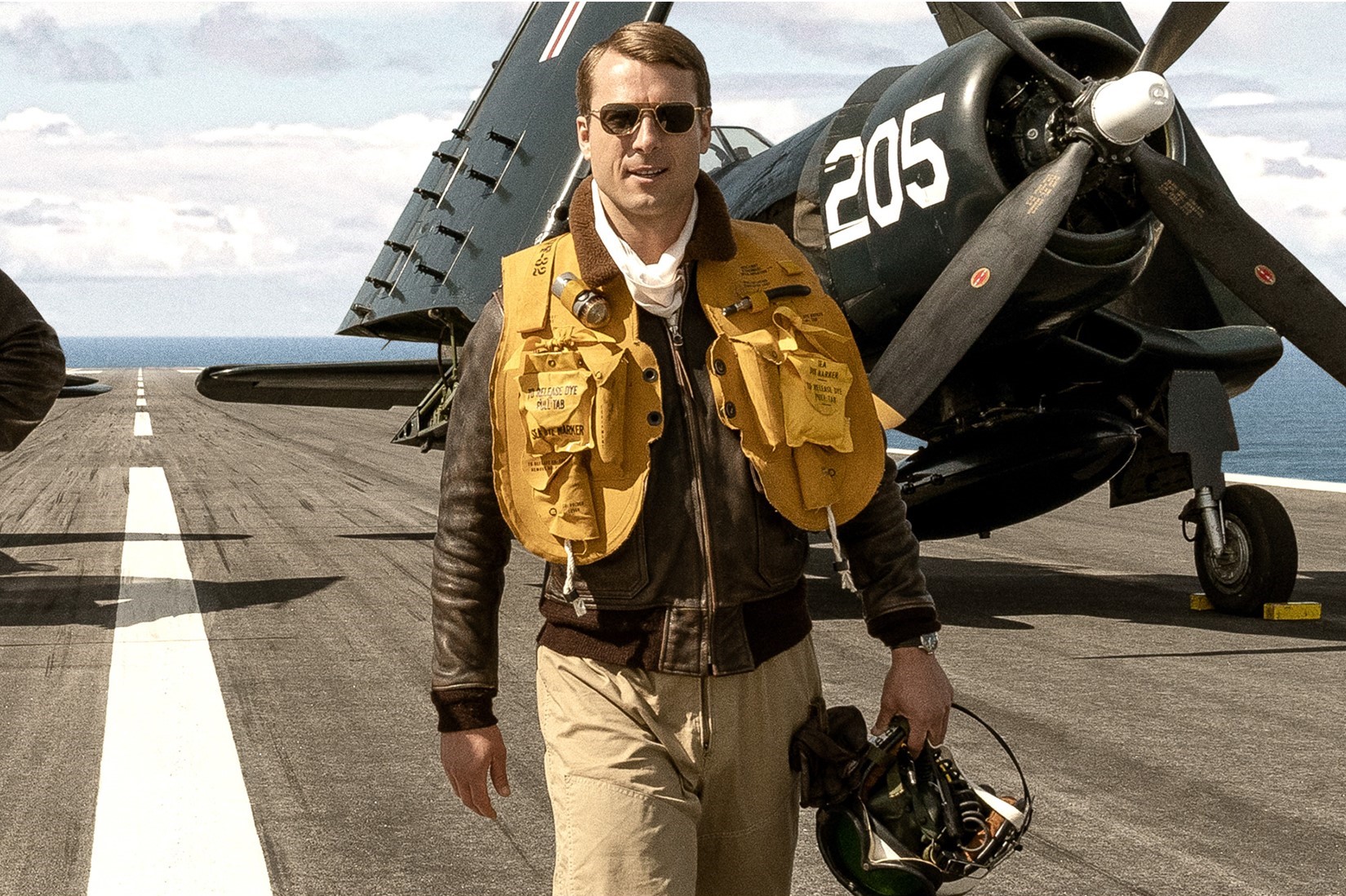 On many occasions he lectured on the events of December 4, 1950, often accompanied by Daisy Brown. The Arleigh Burke-class guided missile destroyer USS Thomas Hudner (DDG-116) is named for him. He was interred in Arlington National Cemetery on 4 April 2018.
Posthumously Jesse Brown received the Navy Cross and other honors. The US Navy frigate, USS Jesse L. Brown (FF-1089) was named in Jesse's honor.
Warren introducing Tom at the American Veterans Center Korean war Symposium: https://taskandpurpose.com/military-life/why-medal-of-honor-hero-crashed-plane/
While much of America remained divided by segregation in 1950, Jesse and Tom joined forces as wingmen in Fighter Squadron 32. This film takes us into the Corsair cockpit as two naval aviators mastered the world's most dangerous job, landing on the deck of an aircraft carrier and facing antiaircraft fire on bombing runs. "Devotion" further brings us down to the frozen ground and into the foxholes with the Marines as they battle for survival against the Communist Chinese in the bitter North Korean winter.
Movie Magic: Glen Powell sits on the fake USS Leyte flight deck, notice the ship superstructure but the forest at the end of the runway in the distance.
You could see a movie about fake-empires-race-wars but it is probably far better to show what two men and their shipmates did to overcome real racism by seeing "Devotion." The film will make you ask: How far would you go to save a friend?
Post note: The crew of the USS Leyte, took up a collection in cash on the trip back to San Diego to accomplish Jesse's dream of sending his daughter Pamela Brown to college. Every one of the two-thousand shipmates made the trip to the ship's bridge, to present Captain T.U. Sisson with the amount of cash they possessed to fulfill Jesse's dream of a college education for Pam. Captain Sisson's first task on returning from the cruise was to travel to New York City to start a trust fund with the $2,700 dollars collected. Pamela Brown, graduated college and became an elementary school teacher.
As part of the film's theme of bravery and selflessness, Joe Jonas (who plays one of the VF-32 pilots) and Khalid produced a Music Video for their song for the film's soundtrack "Not Alone."
https://www.youtube.com/watch?v=NRffZj1ARfI
MHT Blog Archive
11/22/2022 – Movie Devotion
11/09/2022 – Cancel Culture China
10/07/2022 - Jeff's Pirates Cove, Guam
09/20/2022 - Truth vs the Fantasy of a Playmate in VN 1966!
08/21/2022 – Top 10 Secret Police
08/07/2022 – MHT's French Adventure 5th Post Le Mans
07/26/2022 – MHT's French Adventure 4th Post Lyon
07/13/2022 – MHT's French Adventure 3rd Post Geneva
07/05/2022 – MHT's French Adventure 2nd Post Dijon
06/22/22 – MHT French Adventure – 1st Post Paris
06/20/22 – MHT Movie Review – Judgement at Nuremberg
05/21/22 – Top Cover for D-Day
03/31/22 - Women in Combat in Ukraine
03/21/2022 – For Want of a Horse, the MiG-29s Were Lost?
02/27/2022 – MHT Movie Review – The North Star
01/10/2022 – Sailors a Girl in Every Port...Myth or Truth!
12/16/2021 – A Marine Hero & a Bell Return
12/04/2021 - MHT Wartime & Military Musicals
11/20/2021 – Teak & Orange – And Night Became Day
09/18/2021 – The Best & Worst Tank Movies
08/31/2021 – The World's Most Important Bomber
08/15/2021 - VJ Day Almost Wasn't
08/09/2021 – Tinian – Atomic Bomb Island
08/05/2021 - Suni Lee & the Hmong's Secret War
07/28/2021 – The Fate of the USS Indianapolis
07/11/2021 - Battle of Saipan Facts & Fiction
07/03/2021 – Humphrey Bogart's Top 10 WWII Movies
06/13/2021 - Three Okinawa Temple Bells
06/06/2021 - Battle of Midway
05/26/2021 - WWI "Through the Eyes of a Marine"
05/16/2021 – A Journey to Sugar Loaf Hill
05/04/2021 – MHT Movie Review – WWI Aviation
04/24/2021 – Manfred von Richthofen – The Red Baron
04/19/2021 - Death of the Wehrmacht
04/10/2021 – The Three Bells of Balangiga
04/07/2021 - The Iraqi Thunder Runs
03/29/2021 - Women in the Military Trifecta Movie Review
03/22/2021 - Iwo Jima & Baron Nishi
03/19/2021 – The History of the Iron Cross
03/12/2021 – MHT Movie Reviews - John Garfield WWII Trifecta
03/05/2021 - MHT Reviews TV's Special Ops Shows
02/26/2021 – MHT Movie & Book Review "Flight of the Intruder"
02/23/2021 - A Salute to the Flag Raisings on Mount Suribachi
02/19/2021 - Anzio Beachhead on the Brink
02/16/2021 – MHT Salutes the Gallant Defense of Chipyong-ni
02/09/2021 – MHT Movie Review of "The Eagle Has Landed"
02/01/2021 - "Picture That Lost the Vietnam War"
01/27/2021 – MHT Looks in the Old Footlocker
01/21/2021 – MHT Movie Review: The James Garner 1964 D-Day Doubleheader
01/11/2021 – MHT Movie Review "WWI in the Movies / The African Queen"
01/09/2021 – Cape Gloucester – "The Green Hell"
01/06/2021 – USS Saginaw – Midway, Cure, Kauai & Oahu Islan
01/03/2021 - Solomon Island Campaign
12/30/2020 - Battle of the Bulge – Part 5 – "Kampfgruppe Peiper Leaves Massacres in Its Wake"
12/26/2020 - Battle of the Bulge – Part 4 – "General Patton's Drive North"
12/23/2020 - Battle of the Bulge – Part 3 – "General Patton's Famous Weather Prayer"
12/22/2020 - Battle of the Bulge – Part 2 - "Bastogne Surrounded"
12/19/2020 - Battle of the Bulge – Part 1 – "German Special Operations"
12/16/2020 - MHT Movie Reviews - U.S. Military Academy
12/11/2020 - Chosin Reservoir - Tootsie Rolls
12/10/2020 - Chosin Reservoir - Retreat Hell!
12/09/2020 – Chosin Reservoir – My Division for a Bridge Over Frozen Water
12/08/2020 – Chosin Reservoir – Not a Retreat, Just Fighting in Another Direction
12/07/2020 – Pearl Harbor – Hawaii
12/06/2020 – MHT Movie Reviews – The Dirty Dozen & Where Eagles Dare
12/03/2020 - Deployment Military Baggage – The Valpak
12/01/2020 – Chosin Reservoir – RCT-31 & Task Force Faith
11/30/2020 – 245th USMC Birthday – Quantico, VA
11/27/2020 – Civil War – Artilleryman's Delight
11/26/2020 – Civil War – Fort Sumter
11/25/2020 – Korean War – Chinese 2nd Phase Offensive
11/24/2020 – Saipan – Bombing of Tokyo
11/23/2020 – Stalingrad – Russia Eastern Front
11/22/2020 – China Clipper – Inaugural Flight
11/21/2020 – Nuremberg – Military Tribunal
11/20/2020 – The Big Guns of Tarawa
11/19/2020 – MHT Movie Review: Casablanca
11/18/2020 – The Battle of Beecher Island
11/17/2020 – French Ghost Town