MHT Blog
Welcome to the MHT Blog Site and our Posts try to not be dusty topics or blah military history but things we find interesting and hope you will too! The most recent two posts are printed below and at the bottom of this page is our MHT Blog Archive for additional topics. We will have more from the sites we visit once we get back on the road later this year. Thanks for checking us out – The Editor
MHT's Best Wartime & Military Musicals.
Click Picture Above for the Prehistoric Man Dance Routine from On the Town
1) South Pacific (1958)
Director: Joshua Logan | Stars: Rossano Brazzi, Mitzi Gaynor, John Kerr, Ray Walston
On a South Pacific Island during World War II, love blooms between a young U.S. Navy nurse (Gaynor) and a secretive French planter (Brazzi) who's being courted for a dangerous military mission. A secondary romance, between a U.S. Marine lieutenant and a young Tonkinese woman, explores his fears of the social consequences should he marry his Asian sweetheart. The issue of racial prejudice is candidly explored throughout the musical, most controversially in the lieutenant's song, "You've Got to Be Carefully Taught." The musical composed by Richard Rodgers, with lyrics by Oscar Hammerstein II premiered in 1949 on Broadway and was an immediate hit, running for 1,925 performances. The plot is based on James A. Michener's Pulitzer Prize–winning 1947 book "Tales of the South Pacific" and combines elements of several of those stories. Supporting characters, including a comic Seabee petty officer and Bloody Mary, the Tonkinese girl's mother, help to tie the stories together. Rodgers and Hammerstein believed they could write a musical based on Michener's work that would be financially successful and, at the same time, send a strong progressive message on racism. Especially in the Southern U.S., its racial theme provoked controversy, for which its authors were unapologetic. Several of its songs, including "Bali Ha'i," "I'm Gonna Wash That Man Right Outa My Hair," "Some Enchanted Evening," "There Is Nothing Like a Dame," "Happy Talk," "Younger Than Springtime," and "I'm in Love with a Wonderful Guy" have become timeless standards.
Click Picture for classic "There is Nothing Like a Dame" Video
Character Description
Nellie Forbush A young U.S. Navy nurse
Emile de Becque A middle-aged expatriate French planter
Lt. Joseph Cable, USMC A young Marine officer
Liat A young Tonkinese woman
Bloody Mary Liat's mother; an island wheeler-dealer
Seabee Luther Billis An entrepreneurial sailor
2) The Sound of Music (1965)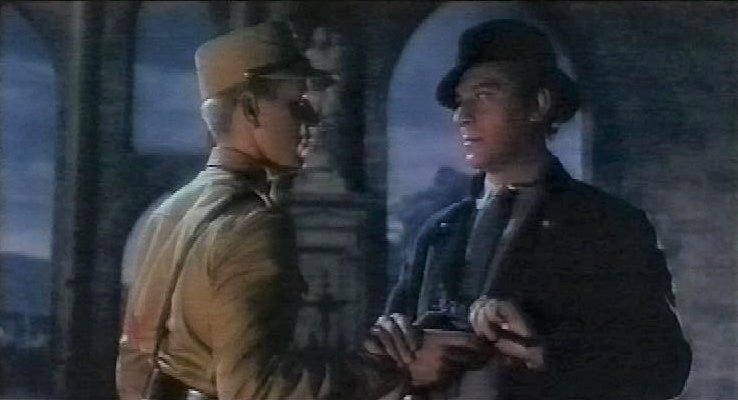 Director: Robert Wise | Stars: Julie Andrews and Christopher Plummer, Richard Haydn, Peggy Wood, Charmian Carr and Eleanor Parker
Arguably one of Rodgers and Hammerstein 's most successful musicals, The Sound of Music centers on Maria, a young woman who looks after the von Trapp children, later marrying their widowed father and fleeing Austria with the family. Even though the musical received its Broadway premiere in 1959, the story earned global acclaim thanks to the five-time Academy Award-winning film adaptation, starring Julie Andrews as Maria.
3) Anchors Away (1945)
Director: George Sidney | Stars: Frank Sinatra, Kathryn Grayson, Gene Kelly & José Iturbi
The movie opens with a rousing rendition of the title song by a Navy Band conducted by Jose Iturbi. A pair of sailors (Joe & Clarence) are awarded Silver Stars & give 4-day passes from San Diego & head to Hollywood with Kelly to meet Lola. However, they meet Aunt Susie & try to help her move from a movie extra to become a singing star. The two best scenes are Kelly dancing with cartoon Jerry the mouse of Tom & Jerry fame plus when the female extras wolf whistle Kelly when he walks by them at the movie studio.
4) On The Town (1949)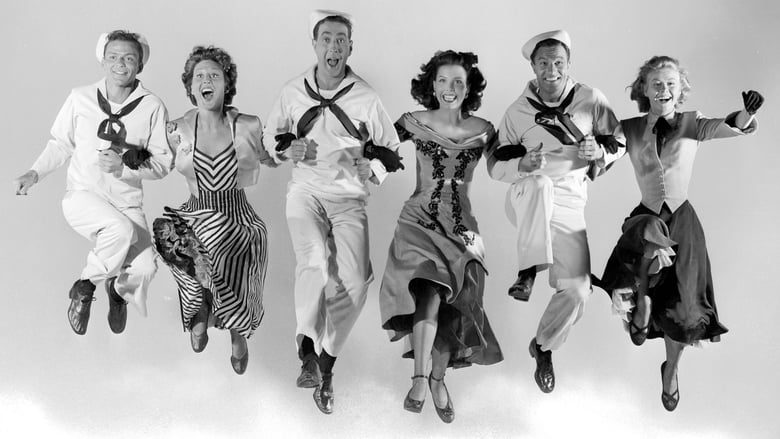 Directors: Stanley Donen & Gene Kelly | Stars: Gene Kelly, Frank Sinatra, Betty Garrett, Ann Miller, Jules Munshin & Vera-Ellen
Three Sailors, Gabey, Chip and Ozzie - let loose on a 24-hour pass in New York and the Big Apple will never be the same! Gabey falls head over heels for "Miss Turnstiles of the Month" (he thinks she's a high society deb when she's really a 'cooch dancer at Coney Island); innocent Chip gets highjacked (literally) by a lady cab driver; and Ozzie becomes the object of interest of a gorgeous anthropologist who thinks he's the perfect example of a "prehistoric man". Wonderful music by Leonard Bernstein and terrific shots of "golden age" New York at its best.
5) Hit the Deck (1955)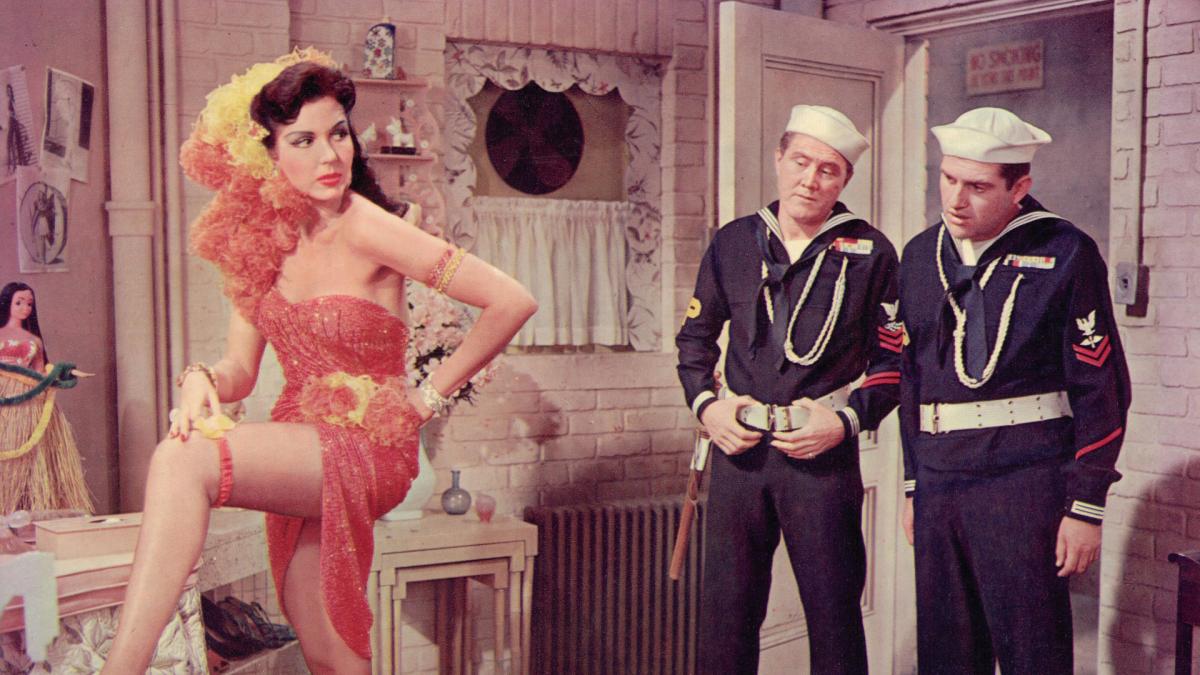 Click Picture for "Hit the Deck" Trailer
Director: Roy Rowland | Stars: Jane Powell, Tony Martin, Debbie Reynolds, Walter Pidgeon, Vic Damone & Ann Miller
Three sailors come ashore and take San Francisco by storm, but can they win the hearts of three women by song and romantic high jinks ensue!
6) Darling Lili (1970)
Director: Blake Edwards | Stars: Julie Andrews, Rock Hudson, Jeremy Kemp, Gloria Paul & Lance Percival
Set during World War I, this movie is a cute spin on the Mata Hari legend with lots of aviation stunts. Music was by Henry Mancini with lyrics by Johnny Mercer producing the Oscar winning "Whistling Away the Dark." When Lili (Andrews) the German Spy goes to see her rival Crepe Suzette (Paul), a girl in a burlesque to weigh up the competition.
Click for Crepe Suzette's Dance
She decides to introduce striptease into her own usually strait-laced show like Mata Hari. It did horribly at the box office but Edward's "Directors Cut" shaved 29 minutes from the bloated studio release & did much better.
7) Follow The Fleet (1936)
Click Picture for Fred & Ginger Dance Sequence
Director: Mark Sandrich | Stars: Fred Astaire, Ginger Rogers & Randolph Scott
A Navy sailor Bake with buddy Bilge tries to rekindle a romance with the woman he loves and was his former dance partner while on liberty in San Francisco. Music by Irving Berlin with the centerpiece the magnificent continuous take of Fred in tails and Ginger Rogers in her swirling translucent gown in "Let's Face the Music and Dance."
8) At War with the Army (1950)
Director: Hal Walker | Stars: Dean Martin, Jerry Lewis, Polly Bergen & Jimmie Dundee
The film is set at a U.S. Army base in Kentucky at the end of 1944, during WWII. The protagonists are First Sergeant Vic Puccinelli (Martin) and Private First-Class Alvin Korwin (Lewis,) who were partners in a nightclub song-and-dance act before joining the Army. Puccinelli wants to be transferred from his dull job to active duty overseas and Corwin is low man on the army totem pole, and goes from one mishap to another.
9 & 10) Buck Privates (1941)/In the Navy (1941)
Both Films: Director: Arthur Lubin | Stars: Bud Abbott, Lou Costello, Lee Bowman & Shemp Howard Songs by the Andrew Sisters.
The two films star the popular comedy team of Abbott and Costello. In the first two sidewalk salesman enlist in the U.S. Army in order to avoid jail, only to find that their drill instructor is the police officer who tried having them imprisoned. in the worthy naval follow-up to their initial successful army film its opening credits starts off with a tease as Bud and Lou in sailor suits are seen hoisting the flag on top of the pole reading "Bud Abbott and Lou Costello in Buck Privates."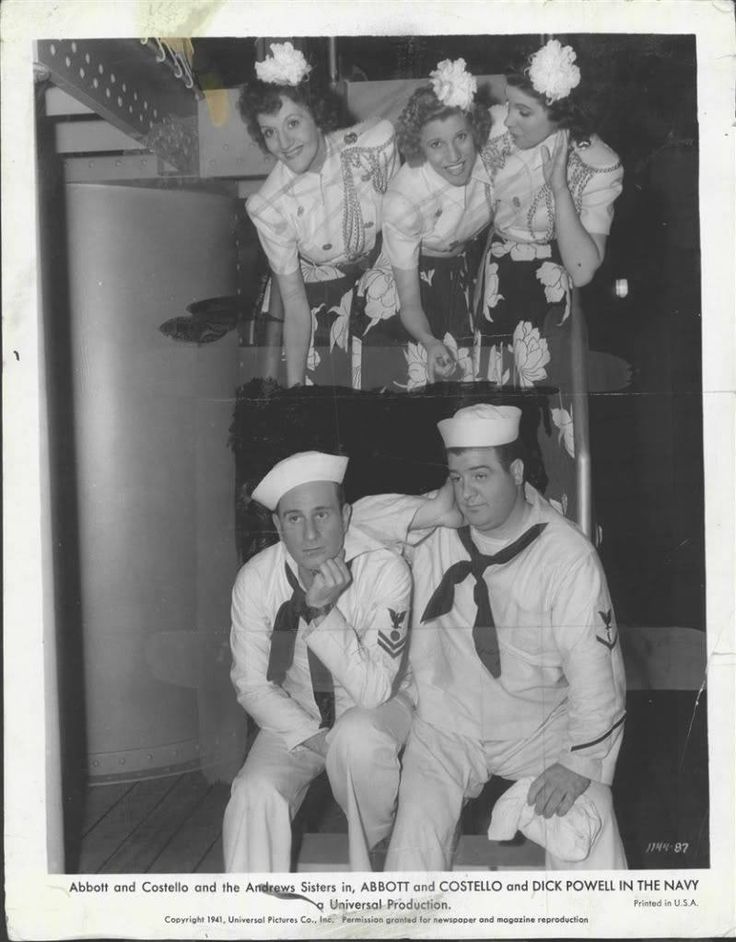 As the flag waves through the air, Bud looks up and slaps his little partner across the face. Realizing this error, they rope down the flag and replace it with, "Bud Abbott and Lou Costello and Dick Powell In the Navy." An amusing start to Bud and Lou's second peacetime military farce. It brings back the Andrews Sisters and Shemp Howard who made such an impact with them in the first film. This time, the Andrews Sisters participate in the story instead of just appearing as singing specialties.
11) The Sky's the Limit (1943)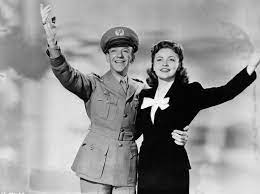 Director: Edward Griffith | Stars: Fred Astaire, Joan Leslie, Robert Benchley & Robert Ryan
During World War II, Flying Tiger triple ace Lieutenant Fred Atwell (Astaire) and his almost-as-successful comrades, Reginald Fenton (Ryan) and Richard Merlin (Benchley,) are brought back to the U.S. for a ticker tape parade and a ten-day "leave" that is in reality a nationwide morale-boosting tour. Fred sneaks off the train to seek some fun and eventually ends up in New York City. He spots a beautiful woman, Joan Manion (Leslie,) and if filmed today would be accused of stalking her. Eavesdropping, he learns that she is a newspaper photographer fed up with taking pictures of celebrities. Her pleas for an assignment in a war zone fall on deaf ears. Her boss, newspaper publisher Phil Harriman, likes her just where she is, nearby so he can try to wear her down and persuade her to marry him. Romance & dancing ensue.
12) White Christmas (1954)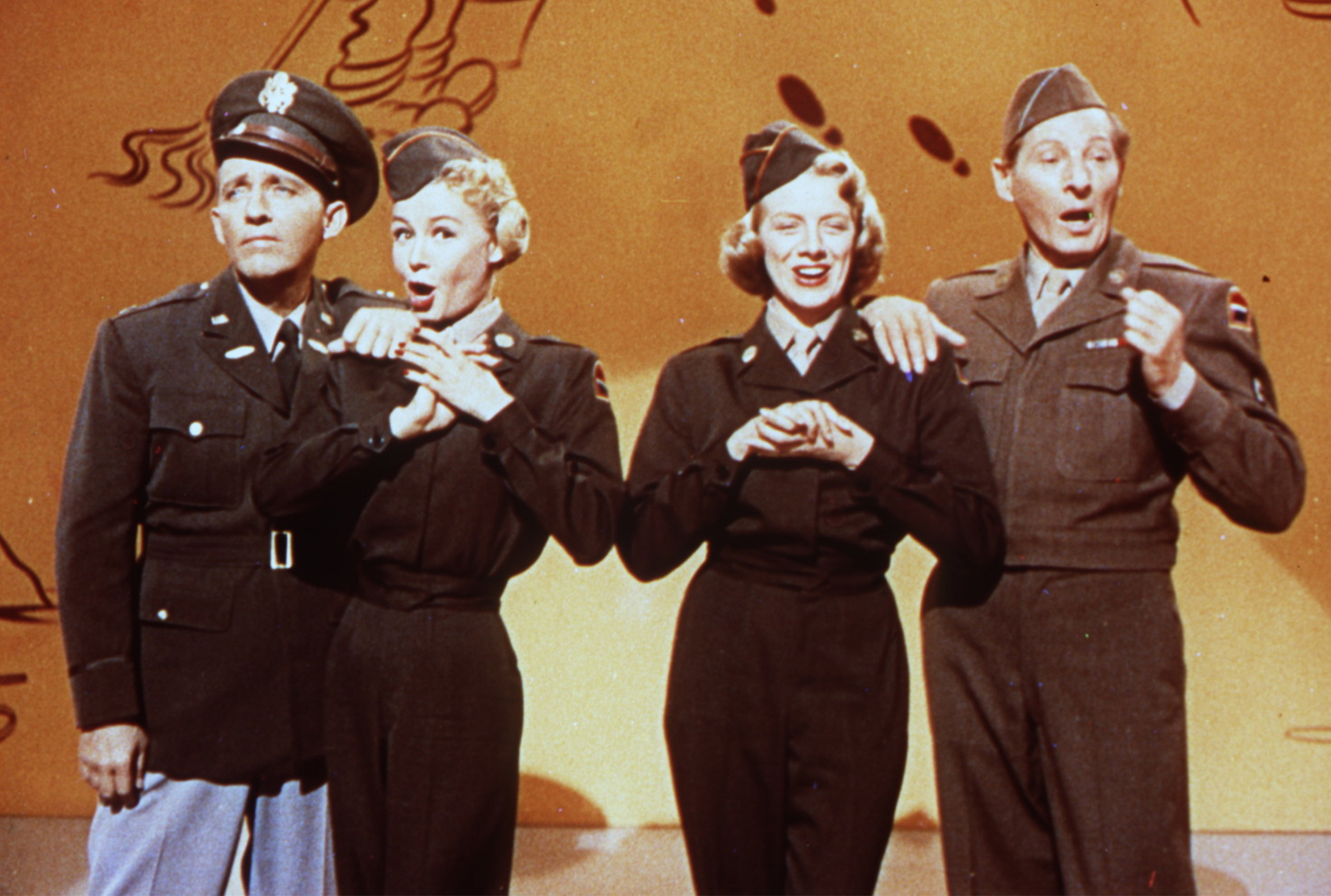 Director: Michael Curtiz | Stars: Bing Crosby, Danny Kaye, Rosemary Clooney, Vera-Ellen & Dean Jagger
This film is a festive, feel-good musical, the Bing Crosby version of the White Christmas is one of the best-selling singles of all time. The musical follows ex-army pals Bob Wallace (Crosby) and Phil Davis (Kaye,) helped by sisters Judy (Vera-Ellen) and Betty (Clooney) Haynes as they put on a show to save their former General's (Jagger) ski lodge.
13) Cabaret (1972)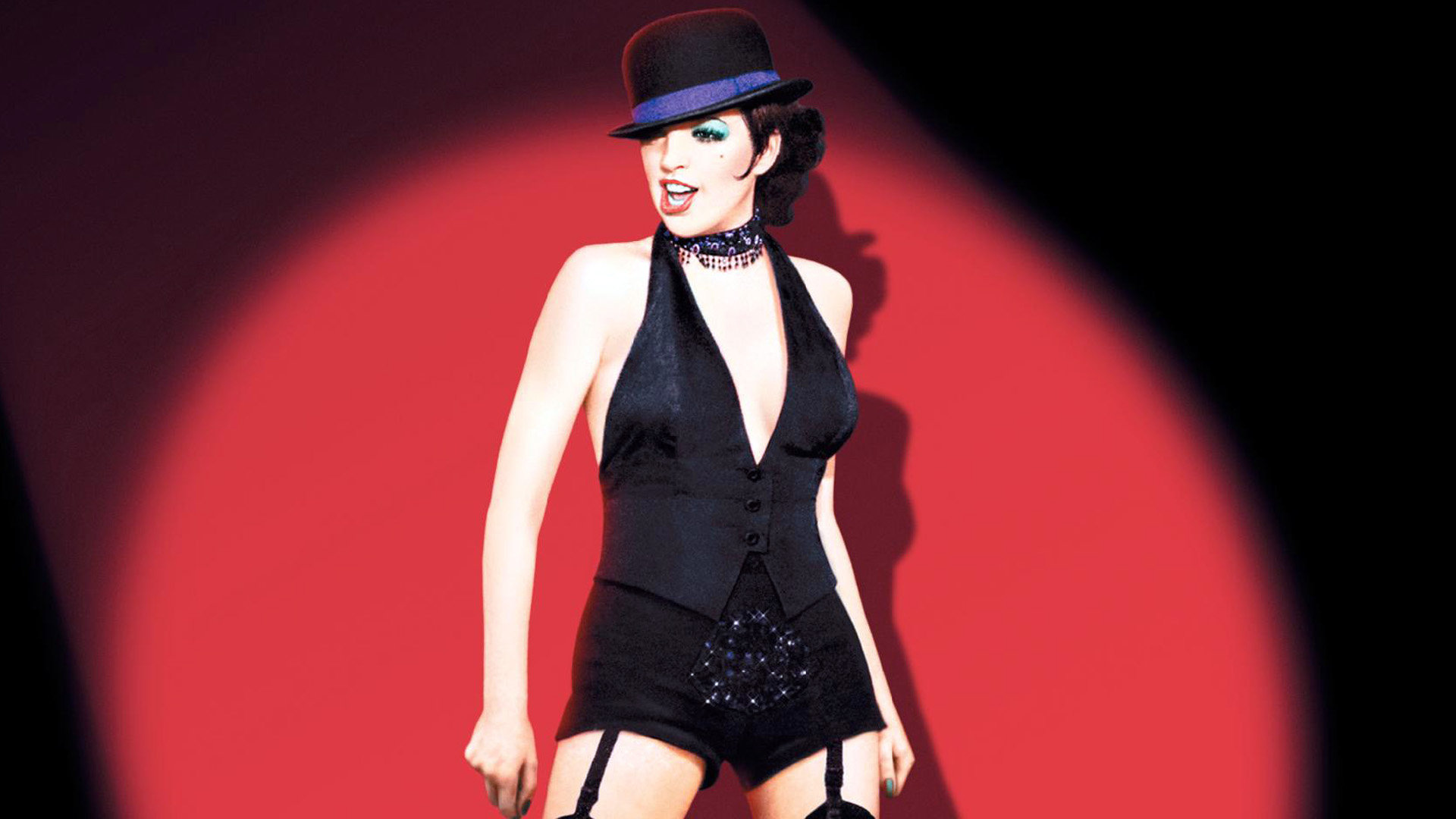 Director: Bob Fosse | Stars: Liza Minnelli, Michael York, Joel Grey & Marisa Berenson
Cabaret is an American musical drama film set in Berlin during the Weimar Republic in 1931, under the presence of the growing Nazi Party. The film is loosely based on the 1966 Broadway musical by Kander and Ebb. Multiple numbers from the stage score were used for the film, which also featured three other songs by Kander and Ebb, including two written for the adaptation. The film also brought Minnelli, daughter of Judy Garland and Vincente Minnelli, as Sally Bowles an English woman who regularly impresses the crowd. It was her first chance to sing on screen, and she won the Academy Award for Best Actress. At the start of the show, an eccentric Master of Ceremonies (Grey) greets audience members to the Kit Kat Klub Cabaret Bar.
14)Here Comes the Waves (1944)
Director: Mark Sandrich | Stars: Bing Crosby and Betty Hutton
The film opens with naval scenes and a chorus of WAVES singing 'The Navy Song' on stage, and continues with a sister act, the Allison Twins (both played by Betty Hutton), singing the same song in a night club. Identical twins, except that one is blonde, the other brunette, they are temperamentally very different. Susie, the blonde, is brash and scatter-brained, while Rosemary is serious and reliable. They leave their night club job to join the WAVES although Susie is infatuated with popular singer Johnny Cabot (Crosby in a parody of Sinatra.) The songs were all composed by Harold Arlen & Johnny Mercer including the classic "Ac-Cent-Tchu-Ate the Positive." It takes a modern PC hit as it is Bing's 6th and final use of blackface in film. This was nominated for the Academy Award for Best Original Song in 1945, but lost to Rodgers and Hammerstein's "It Might As Well Be Spring" from the movie State Fair.
15) Miss Saigon (2016)
Director: Brett Sullivan | Stars: Jon Jon Briones, Eva Noblezada, Alistair Brammer & Kwang-Ho Hong
The musical by Claude-Michel Schönberg and Alain Boublil centers on the love story between Chris, an American and Kim, a Vietnamese. A filmed production of the musical for its 25th anniversary, was performed at the Prince Edward Theatre, in London's West End. The play is based on Giacomo Puccini's 1904 opera Madame Butterfly, and similarly tells the tragic tale of a doomed romance involving an Asian woman abandoned by her American lover. The setting of the plot is relocated to 1970s Saigon during the Vietnam War, and Madame Butterfly's story of marriage between an American lieutenant and a geisha is replaced by a romance between a United States Marine and a 17-year-old South Vietnamese bargirl.
Editor's Note: MHT is lucky to have a personal account of what it was like in Bikini for a series of nuclear weapons testing from MHT's good friend Admiral Dan Mckinnon.
Teak and Orange … And Night Became Day
By Rear Admiral Daniel W. McKinnon, Jr. SC USN (Ret)
[Editor's Background Note: In 1958 the Cold War arms race proceeded apace, with the enormous weapons production infrastructure and nuclear weapons labs operating at maximum capacity. This burst of testing activity was partially due to building pressure for an imminent world-wide test moratorium. It led the weapons labs to rush as many device types to the Pacific Proving Grounds as possible with a total of 35.6 megatons (Mt) were shot during this series. The series of tests centered on ICBM and SLBM missile warheads and high yield strategic bombs. The DOD conducted high altitude multi-megaton tests to study their usefulness for ABM (anti-ballistic missile) warheads, and discovered the high-altitude EMP (electromagnetic pulse) effect in the process. Effects tests of underwater explosions were also conducted. At least 14 mark-designated warheads were tested, plus additional developmental designs not yet awarded a serial number. These included the Mk/TX/XW - 7, 25, 31, 34, 35, 39, 41, 43, 46/53, 47, 49, 50, and 51. This series fired the largest tests since Operations Ivy and Castle (and never equaled by later U.S. tests) and led to the development and deployment of the largest U.S. weapon ever fielded, the 25 Mt Mk-41 bomb; and the largest U.S. missile warhead ever fielded, the W-53 9 Mt Titan-II warhead.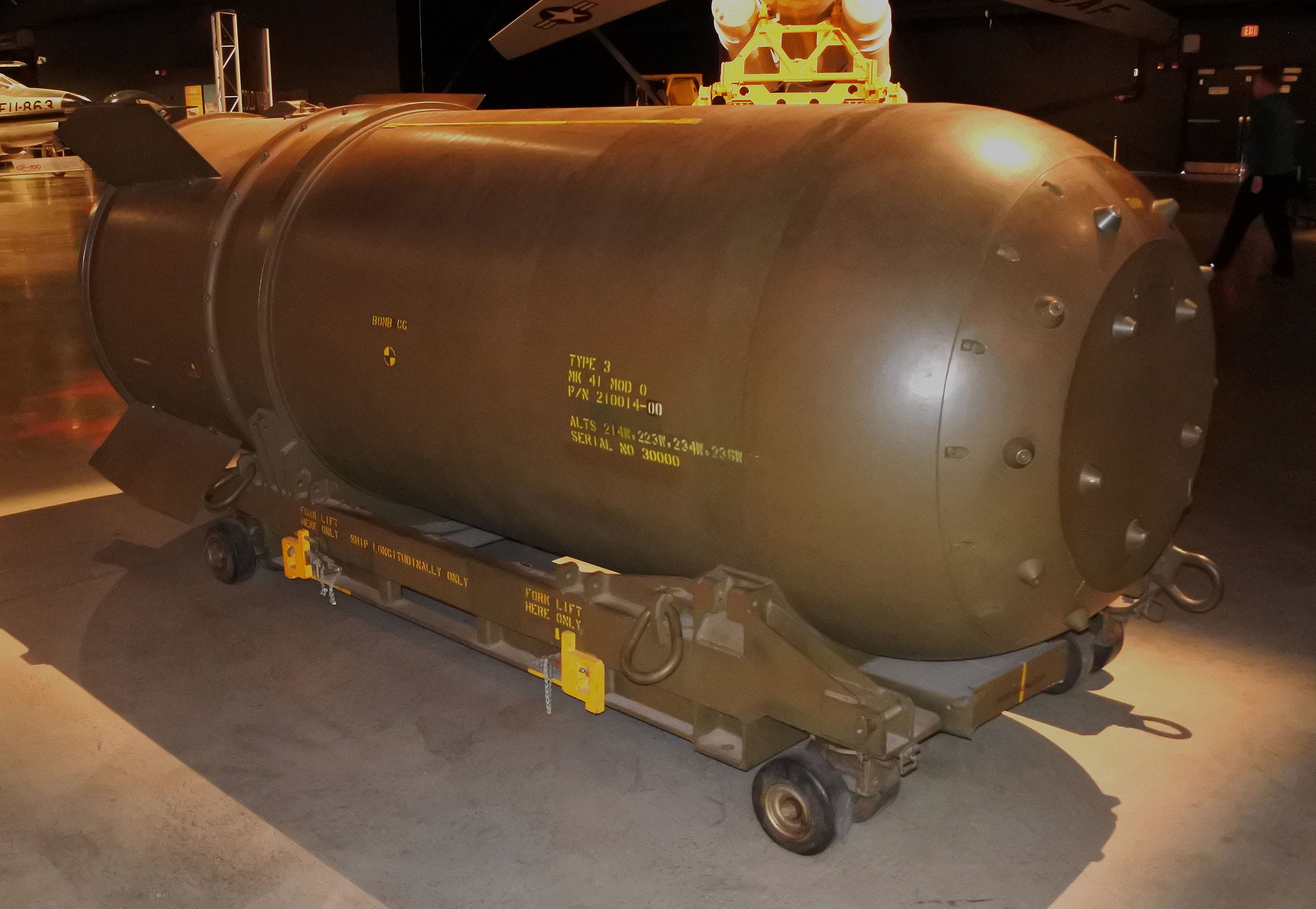 The B41 (Mk-41) Thermonuclear Bomb, the most efficient, highest yield to weight ratio, weapon ever created.
An air dropped bomb variant of the W-53 would be the largest (and oldest) weapon in the U.S. inventory up until its retirement in early 1997. The UCRL test of the W-47 Polaris warhead prototype was a major technological breakthrough that led to high yields in small light packages characteristic of all U.S. missile warheads today.
The 1958 extensive test schedule required the use not only of both atolls (Bikini and Enewetak) but Johnston Island also. This series was the last to conduct atmospheric testing at Bikini and Enewetak Atolls. The 35 weapon test names were taken from North American trees and shrubs.]
If you have never seen an atomic or hydrogen bomb explode, you are lucky. If the world never sees one detonate again, we are all lucky. If you have one go off right over your head, say a prayer. I did.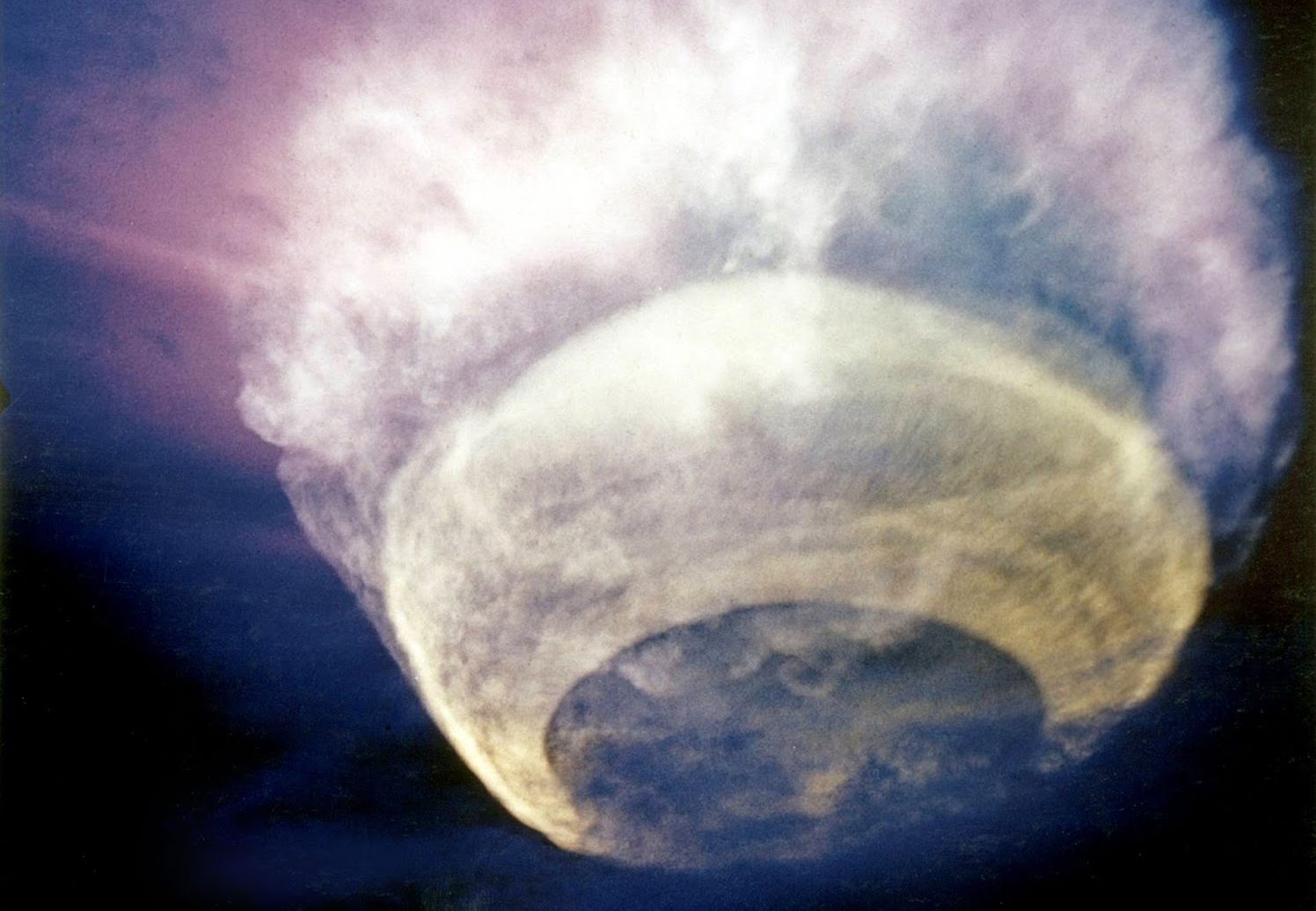 The Orange Test was high altitude shot from Johnston Island
It was spring 1958 when the USS Boxer (CVS-21) was informed it would be the base and flag ship of the last South Pacific atomic weapons test program, on Bikini and Eniwetok atolls. The United States and the USSR were negotiating a test ban treaty. Boxer would serve as command ship for CJTF-7 and CTG-7-3, the Navy component, for the now famous, "Operation Hardtack" to take place at the Pacific Proving Grounds. The JTF-7 operation would ultimately involve over 14,000 military men and civilians, 120 aircraft and nearly 100 ships.
USS Boxer a former Essex-class WWII aircraft carrier that was now an antisubmarine warfare support aircraft carrier
I was a Lieutenant JG that had just turned down orders as a destroyer department head and planning to leave the Navy the following year. Asked if I would like to go to Bikini and establish a Recreation and Relaxation (R&R) Center for sailors from ships and units participating in the weapons tests, my answer was an enthusiastic affirmative.
Bikini Atoll
Soon a parade of scientists and engineers were coming on board in San Diego with exotic equipment. I was ordered for temporary duty to CTG-7.3 in Washington DC and given a $10,000 check made out to me personally from its Morale, Welfare and Recreation (MWR) fund. Assigned ten sailors from the Coronado Amphibious Base, our task was to create an R&R Center. I would become Officer-in-Charge, Camp Blandy, Bikini Atoll. I opened a checking account in a local San Diego bank, and with a Storekeeper First-Class (SK1) tried to figure out what we would need to set up business. The answer was baseball, volleyball and swimming equipment, horse shoes, and all kind of bar supplies. Think shot glasses. I still have the bar guide. After all, there is no recreation without libation.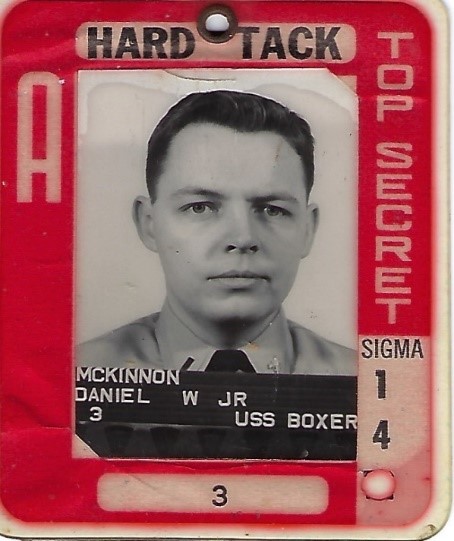 The badge issued to island staff during Operation Hardtack. Sigma 1 and 4 meant the user has complete Top Secret classified access except to weapons.
The camp had existed in previous test series and was named after Rear Admiral William H. P. (Spike) Blandy, commander of the Joint Task Force 1 responsible for the first bomb tests on Bikini in 1946, Operation Crossroads. It was tropical living.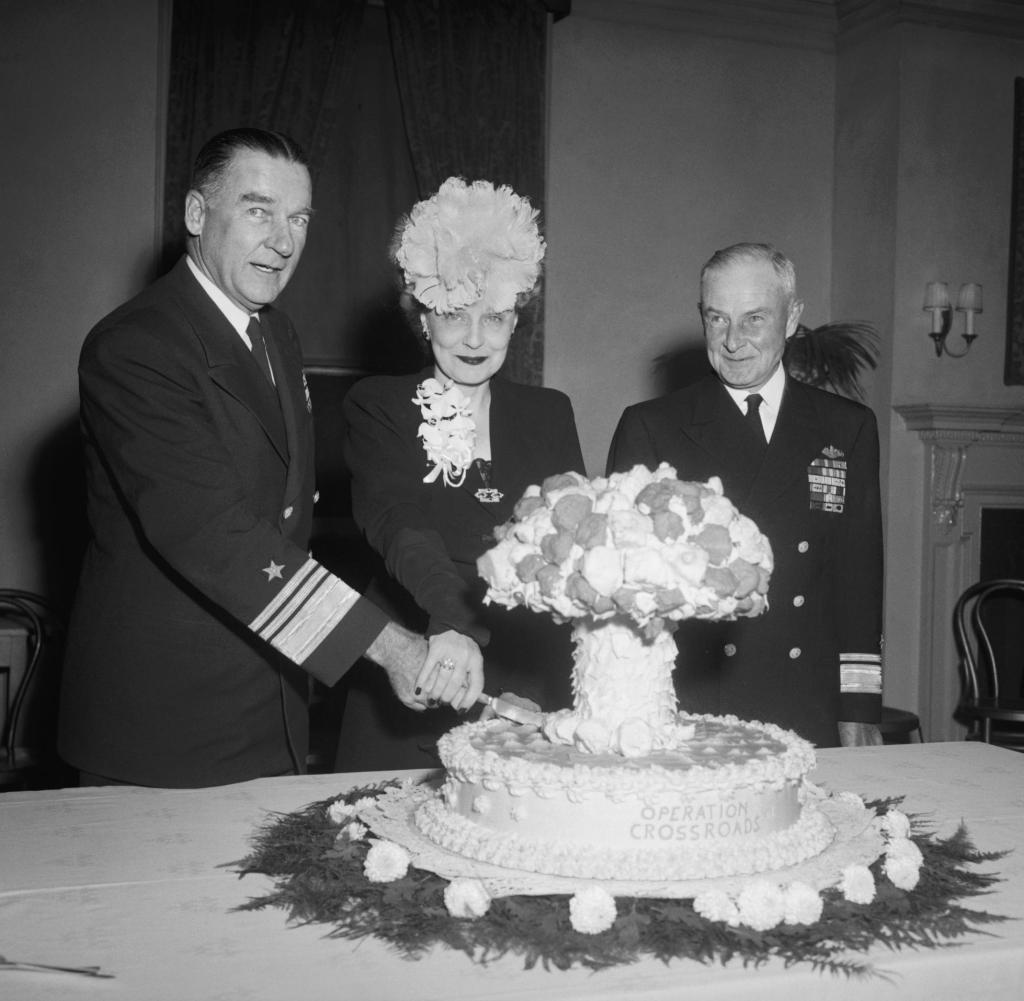 RADM Blandy cutting the cake to celebrate the end of Op Crossroads (Wife's Hat & Cake were controversial)
The Boxer steamed into the atoll lagoon in March leaving me and my team with our gear on an island that was beginning to come alive with contractors, scientists, senior Defense military and civilian officials, and all kinds of equipment. The atoll had 26 islands, the largest, Bikini, had been denuded by previous tests. All test preparations and executions were from the island of Eneu (Marshall Islands) Enyu (Japanese) which still had palm trees and tropical vegetation. The island had three partitions. At one end was the scientific and test preparation area.
Photo of Bikini Lagoon
In the middle was jungle. And the third was Camp Blandy where I was boss with three tenants. A Navy Commander told ships where to anchor. They ignored him. He went on shore leave and worked on his biceps. There was an LCM boat unit to take bombs and scientists around the lagoon.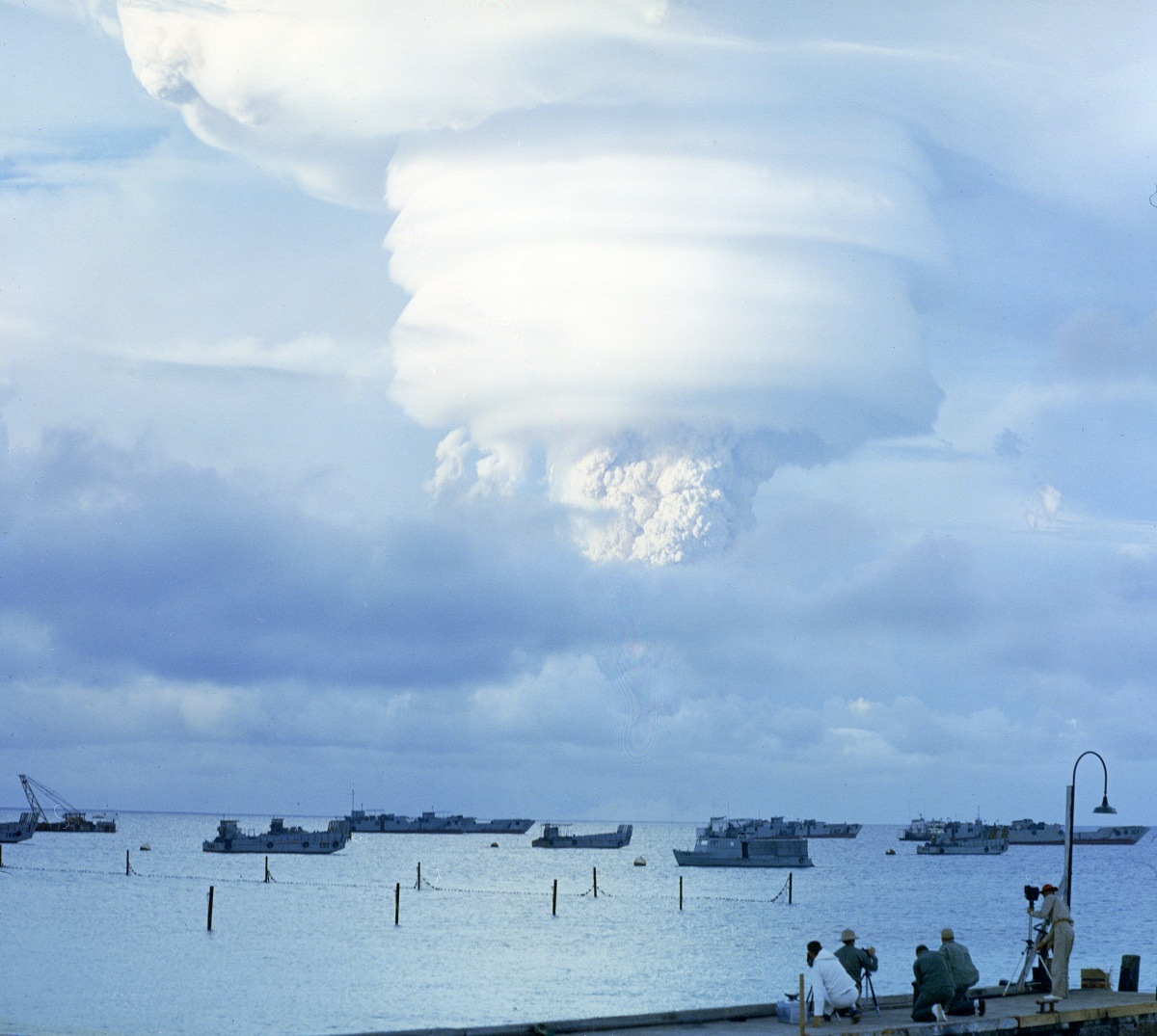 LCU's in the Bikini Lagoon to bring sailors ashore for R&R at Camp Blandy
Finally, there was a Navy amateur radio station to help sailors call home using an experimental radio with new single-side-band technology, it would allow you to communicate with ham short-wave radio operators in the U.S. Remember, "CQ, CQ?" Remember, "I love you, over?" In the QSL world Bikini was station KX6BY. There were four tents, one for the officers and the others for boat unit personal and my men. Rodents were not a nuisance, until one jumped on my chest one night. Traps were set.
Camp Blandy, Bikini Atoll, 1958
We went to work. Boxer provided its pickup truck. We built the Bikini Officer's Club and a White Hat Hanger with a Chief's hangout at one end. The principal atomic weapons test support contractor, Holmes and Narver (H&N), became our source of support.
The H&N California Contractors had billed JTF-7 $40,678,704 in 1954 as they built Camp Nan on Eneu with 26 Permanent Buildings including a Mess Hall & two 100-man Latrines.
We graded three ball fields and blew up coral to create a swimming hole with a shark net. [Ed Note: Don't send that Swedish Media Girl after Admiral Dan as I read a Stanford Team had found the coral in the lagoon was back and flourishing.] We crafted horseshoe pits and volley ball courts while H&N provided liquor, beer, soft drinks and bar munchies. I would place an order and write a check from my San Diego checking account. Tax-less products were so cheap, pricing was a problem. Round everything up to a nickel. Coke a nickel, beer a dime, and bar drinks 15 cents. No pennies. A ship that did not need its safe received a midnight requisition, and two sailors with a blow torch cut it loose providing a means to keep my cash safe. A long, polished brass railing from a ship's Combat Information Center was "borrowed" to add a little class to the O-Club. When officers lean into the bar to tell sea stories, they have to put one foot somewhere. I would turn in money to the H&N finance office, get a check, and mail it to my San Diego account. Each day bar receipts were checked against expectations from a system I designed to measure shots per bottle. There was never a problem with sailors who are trustworthy. When the Center closed, a check from my account was returned to the CTG-7.3 MWR account. There was never an audit. Who needed it? We opened in ten days. I learned independence. No one told me what to do or how to do it.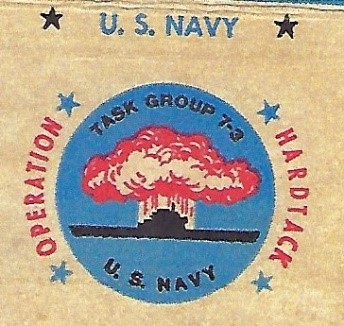 An Op Hardtack U.S. Navy Sign
But the serious business of Operation Hardtack was not about an R&R Center.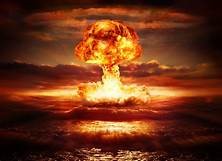 Op Hardtack Shot off Camp Blandy
For today's officers the atomic weapons testing that took place in the South Pacific that began with Operations Crossroads in 1946 is only history. Most of the scientific information learned from those tests is now understood. That was not the case in 1958 when the last major testing cycle took place at Bikini and Eniwetok atolls and at Johnston Island. There would be 35 "shots" from April to August. The military services, the Atomic Energy Commission (AEC), and others, had specific test plans and programs, some shots having more than one sponsor.
Umbrella Underwater Shot
For the first time Navy tested the effects of underwater detonations as antisubmarine warfare weapons. Twenty-two of the shots took place at Eniwetok and ten at Bikini, most from barges anchored in the lagoons.
Yucca Shot Launch from USS Boxer
Shot Yucca was a high-altitude event that took place between the two atolls on a balloon launched from the Boxer. The last two, also high-altitude atmospheric bursts, would come in July and August at Johnston Island. It was an experience never to be forgotten. Shots would occur before dawn when the sky was dark and a night canvas permitted scientific photographic analysis. Detonations were named after trees; Fir, Sycamore, Nutmeg, Maple, Aspen, Redwood, Hickory, Cedar, Poplar, and Juniper at Bikini. On shot days I would take my ten sailors down to the beach below the White Hat Hanger (Enlisted Club.)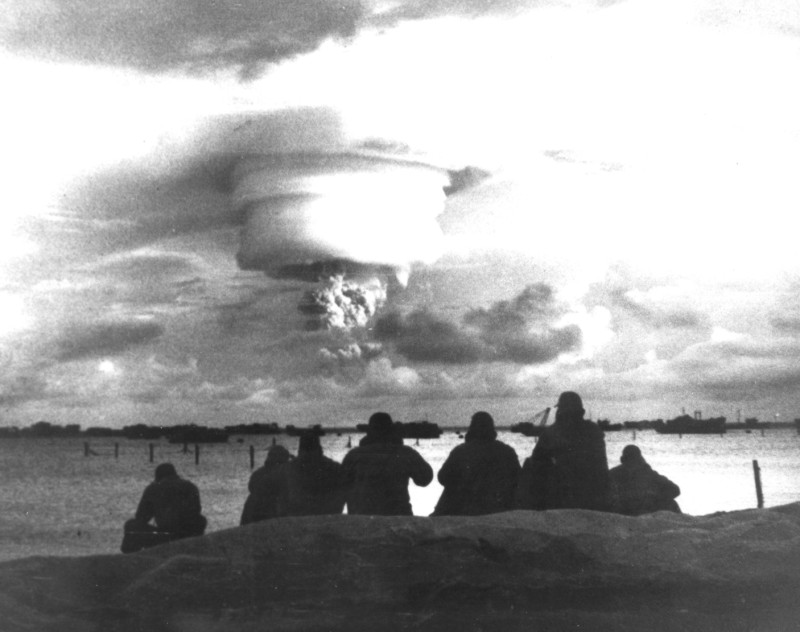 Watching the Oak Shot – Some Hardtack Shots took place at Bikini on anchored barges in the lagoon
They would face me, away from the shot site, and with heads down between their legs. I could watch the detonation with special goggles provided to senior staff. A major concern was flash damage and/or retinal burn. A blare from a horn would signal that my men could turn around and I could remove the googles.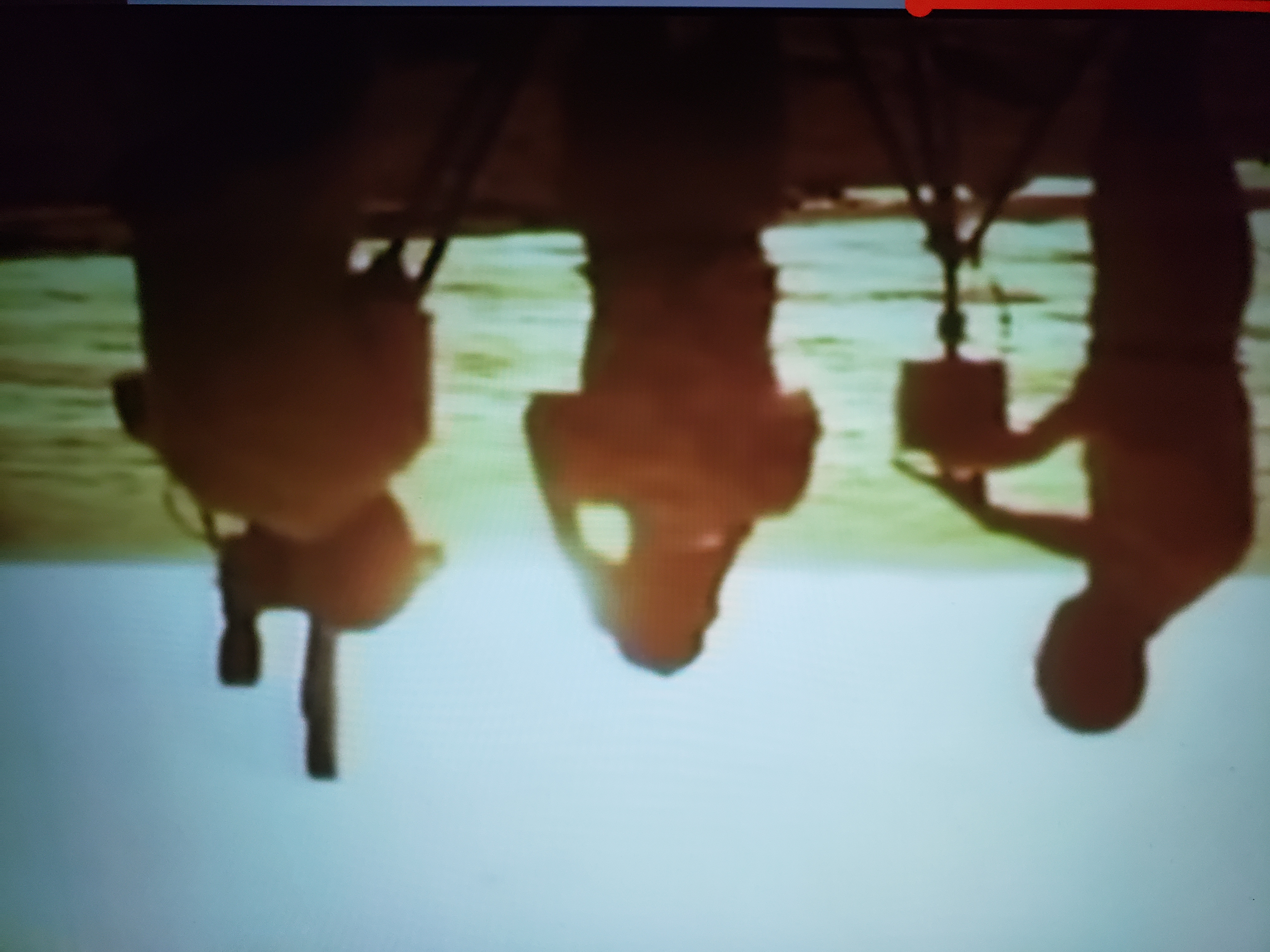 Upon detonation, the first thing you saw was a brilliant flash, then came a rumble, then a rush of warm air. The sky would light up and you could see the familiar mushroom cloud. The water would begin receding as if someone had pulled a plug and was draining the lagoon. Several feet of ocean floor were visible before water rushed back like a rapidly returning tide.
Filming Shot
We wore dosimeters to record the amount of radiation being received. The island was evacuated only once when there was a prediction of serious atomic fall-out. For years I would receive reports on the amount of radiation my body had taken, always within tolerance. One can imagine the bar banter about glowing in the dark. Running Camp Blandy was exciting. I wore tan tropical shorts and a pith helmet; no swagger stick.
Khaki Shorts
We were up in the morning for calisthenics, then down island to the H&N mess hall for breakfast. We took our meals there supported by a $5.40 per-diem, money saved and later used for my wife and I to have our own R&R in Hawaii. Ships would come and go between Kwajalein, Eniwetok, and Bikini.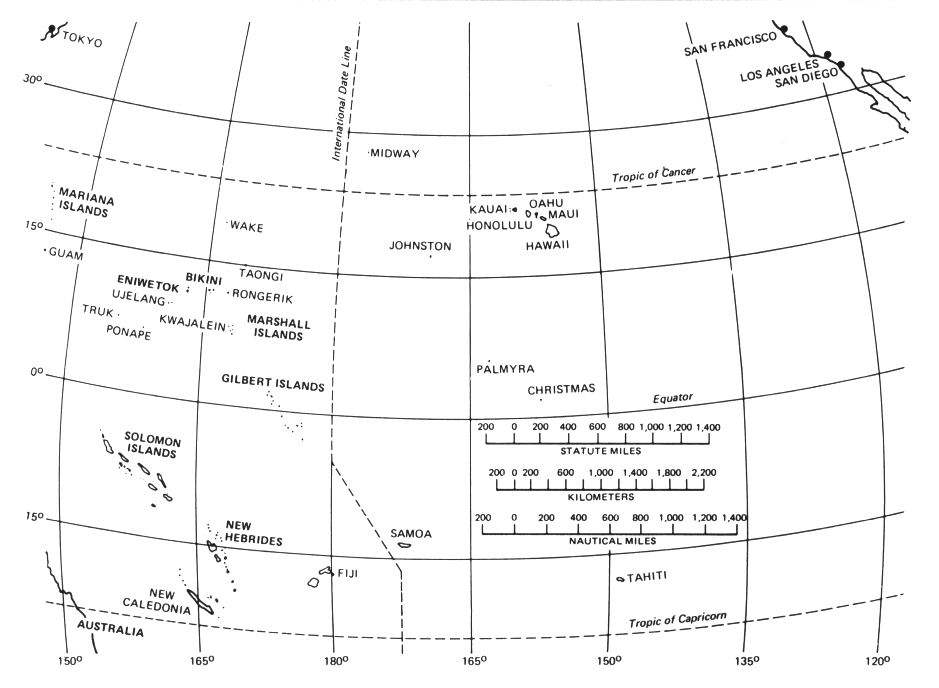 Pacific Proving Grounds
Liberty parties would come ashore at 1100 but had to be off island an hour before dusk. We had a small pier and each ship provided its own shore patrol. Our athletic gear locker was a Conex box and you could check out swim fins, snorkels, balls, bats, horse shoes, etc. The bars were open from 11 am until an hour before dusk. Any "drunks" were laid out on the ground to dry and taken home by shipmates. There was a coral stone wall facing the lagoon where one could sit, ponder, and write home. When not on duty, my team snorkeled, avoided sand sharks, and collected sea shells. The largest were the giant clams.
Giant Clams
Opposite Eneu (Enyu) was a small island with abundant clams on a coral platform that had not yet been obliterated. We would take an LCM, drop the ramp, and dive down seeking giant clams with a three-pronged boat hook. The animals are beautiful with protruding wide translucent colored flesh. We were careful to not put a foot in one of their clam clamps. We dropped the hook into their open lips, they would shut, and we would pull the animal into the Mike boat.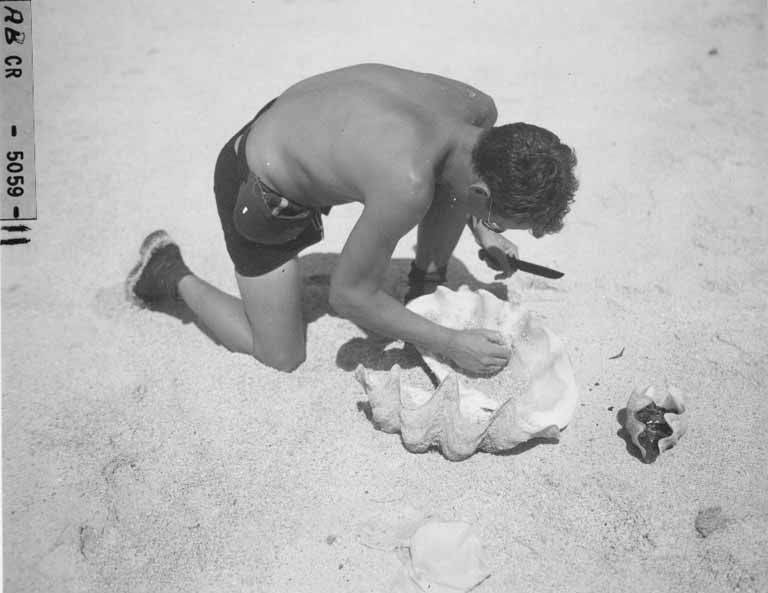 Giant Clams Being Cleaned
Some clams were two feet wide. Immediately we would scan for radiation with a Geiger counter. They were always "hot," a condition all shell fish had from previous tests. Quickly we would cut out the meat and toss it over the side. Back at camp we would soak our catch in 55-gallon drums with bleach that would turn the brown and green mollusks into white yard ornaments. I still have mine in the garden. As an island jungle chieftain, I needed gifts for visiting potentates. Crated clams were perfect.
The 1954 "Operation Castle – Bravo Shot." Hopefully never again
There were 23 atomic weapons tests at Bikini between 1946 and 1958 during four operations, Crossroads, Castle, Redwing, and Hardtack. In the bottom of the lagoon rest eleven ships including the Carrier Saratoga and Battleship Arkansas, along with one German and two Japanese warships. The host island of Eneu is at the bottom starboard of the entrance to the lagoon. Shots were not perfect. One in 1946 caused massive contamination and was called the "world's first nuclear disaster." "Castle Bravo," a multi-megaton device and the first hydrogen bomb test, detonated in 1954 far exceeded expectations and was 1,000 times more powerful than those used to end World War II. [Ed Note: Between 1946 and 1958, a total of 67 nuclear bomb tests were carried out in the Marshall Islands, including in 1954 the world's first deliverable hydrogen bomb, which vaporized three of Bikini's islands.] Toward the end of July, I returned to the Boxer and left what was once a paradise. Then began another experience unique in the history of atomic weapons testing.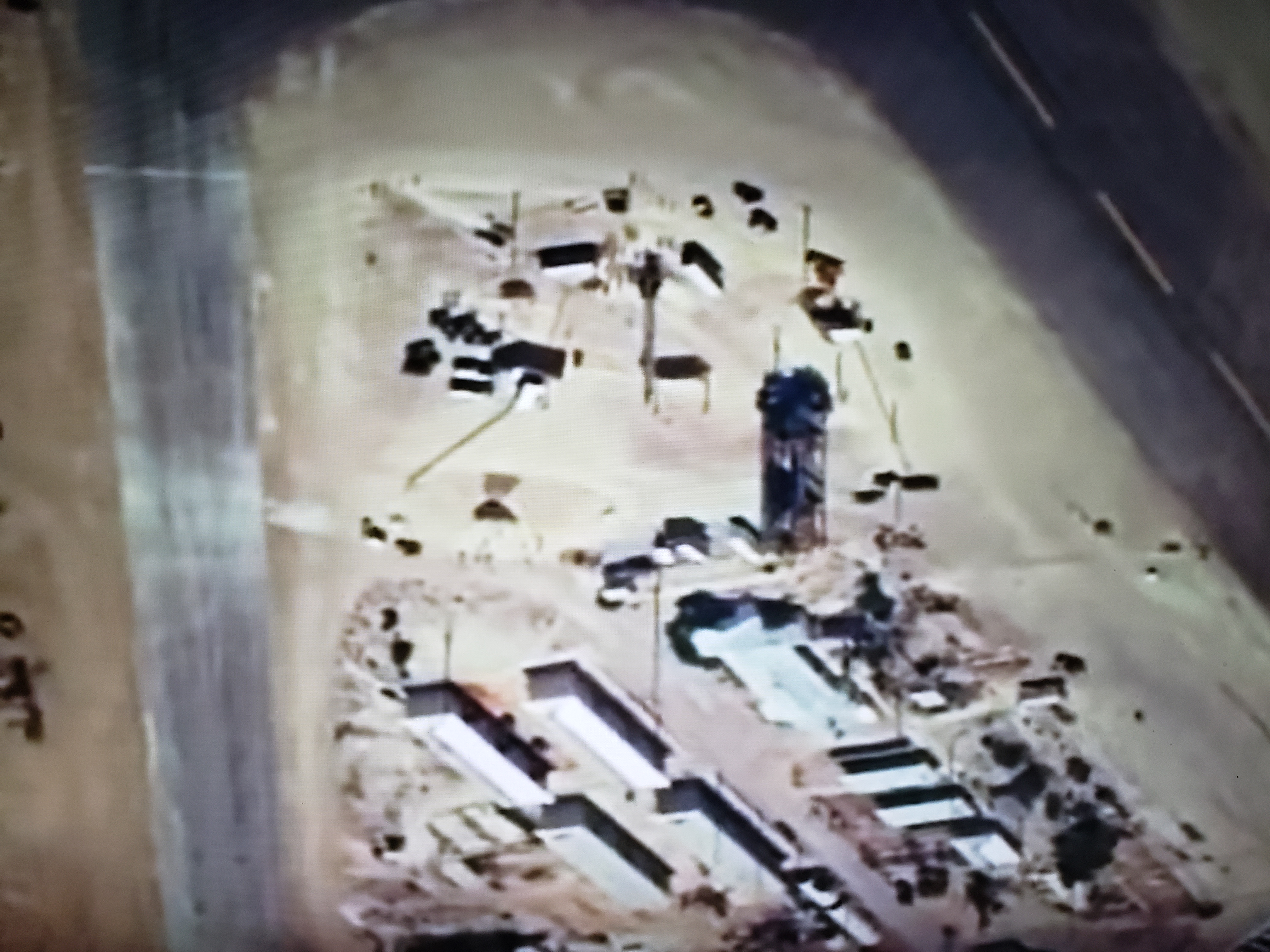 Johnston Island Launch Pad
In an age of Intercontinental Ballistic Missiles (ICBMs), information was needed on the high-altitude effect of denotations in near-space. Previously there had been some high-altitude testing using balloons and rockets but only with devices in the kiloton range; a few at very high altitudes with detonations in the megaton range. There would be two shots, Teak and Orange. Originally scheduled for Bikini, the shots were moved to Johnston Island about 825 miles southwest of Hawaii out of concern for retinal damage among South Pacific islanders in a test called "Operation Newsreel." Teak would be a 3.8 megaton (million-ton pounds of TNT equivalent) detonation taking place 50 miles in the atmosphere, and Orange, also at 3.8 megatons, about 25 miles high. The detonations were over 170 times more powerful than the below 22 kilotons (thousand, not millions, pounds of TNT equivalent) "Little Boy" and "Fat Man" of World War II. We were not there for R&R. Teak took place on 31 July with Boxer off Johnston Island serving as host platform. The U.S. Army's intermediate range PGM-11 Redstone missile had been chosen to execute the test. The Redstone was proven reliable having been used in a previous 3 kiloton test called "Operation Teapot" and then earlier in January used to send Explorer 1, the first U.S. satellite, into space.
Redstone Missile Launcher on Johnston Island
The purpose was to assess high altitude electromagnetic pulse (HEMP) effects. A "Notice to Mariners" was issued and the "Civilian Aeronautic Authority (CAA)" advised to keep aircraft 600 miles distant. Johnston island personnel were evacuated to Boxer with 175 left on shore in bunkers. Among those on Boxer was Dr. Wernher von Braun, the father of the Redstone and our nation's missile program. We were told he was there as testament of his missile's reliability. I think he was there to watch history being made. Due to programming problems, the device detonated at 2350 directly over the island and not the planned six miles south.
Teak as seen from Hawaii, over 825 miles away
The visual effects were remarkable. I had my high security access tag and special protective googles and could join the dignitaries on the flight deck. I sat directly behind Dr. von Braun. Flash blindness was a concern. The flight deck on this 888-foot Essex class aircraft carrier was covered with over 700 evacuees from Johnston Island as well as the ship's officers and crew. Like on Bikini, heads were down between the knees until a signal was given that it was safe to look up. What we saw was light. Bright light. All around. And beautiful spectrum colored light bands with charged particles shooting in every direction in the earth's magnetic field. Even with low level clouds, we were momentarily in daylight.
Teak Shot Turned Night into Day
Some members of the crew leaped to their feet, frightened, and ran down ladders below deck. Above us was an artificial aroura far different from the Northern Lights. Atomic particles were captured in the earth's magnetic field and it seemed every few seconds lights would flash, going one way, and then another, and then another. High frequency communications were interrupted across parts of the Pacific. The shot was seen in Hawaii and woke up the islands. Although aircraft had been warned to stay away, the people of Hawaii had not been informed. There were hundreds of calls to emergency numbers. Communications with Johnston Island were slow to return, and a first message was, "Are you still there?" The sight lingered for almost 30 minutes. A newspaper later described a resident thinking Pearl Harbor was once again under attack.
The V-2, Dr. von Braun & President Kennedy
The Redstone missile was the descendant of the German V-2 rocket technology, developed by Dr. Wernher von Braun with German missile scientists and engineers, came to the United States after World War II in the classified mission, "Operations Paperclip." Known as Juno 1, it was a short ranged ballistic missile (SRBM) weapon of the Cold War deployed in Germany from 1958 to 1964. It was the first to carry a nuclear warhead. On the last day of July, 1958, I was among the many grateful for its reliability even Dr. von Braun showed his confidence by joining us.
PGM-11 Redstone Missile Proved Reliable & Would Take the Mercury 7 Capsules into Orbit
Orange took place eleven days later. This time the public was informed. Hawaiian parties were planned, people stayed up late, but the shot provided only a disappointing five to ten-minute glow.
In 1961, the Soviet Union announced an end to a three-year moratorium on nuclear testing. There was still much to be learned from high altitude bursts, especially those on the fringe of space. In 1962 "Operation Fishbowl" took place at Johnston Island, with only five of the nine planned shots successful. None used the Redstone. There were four in the kiloton range, and one very important shot, Starfish Prime. It was a planned detonation of 1.4 MT at an altitude over 250 miles above the earth. The aroura phenomena were wide spread across parts of the Pacific and the resulting electromagnetic pulse (EMP) disabled both U.S. and Soviet satellites and knocked out streetlights and set off bugler alarms in Hawaii. Believe me. Mutually assured destruction is real.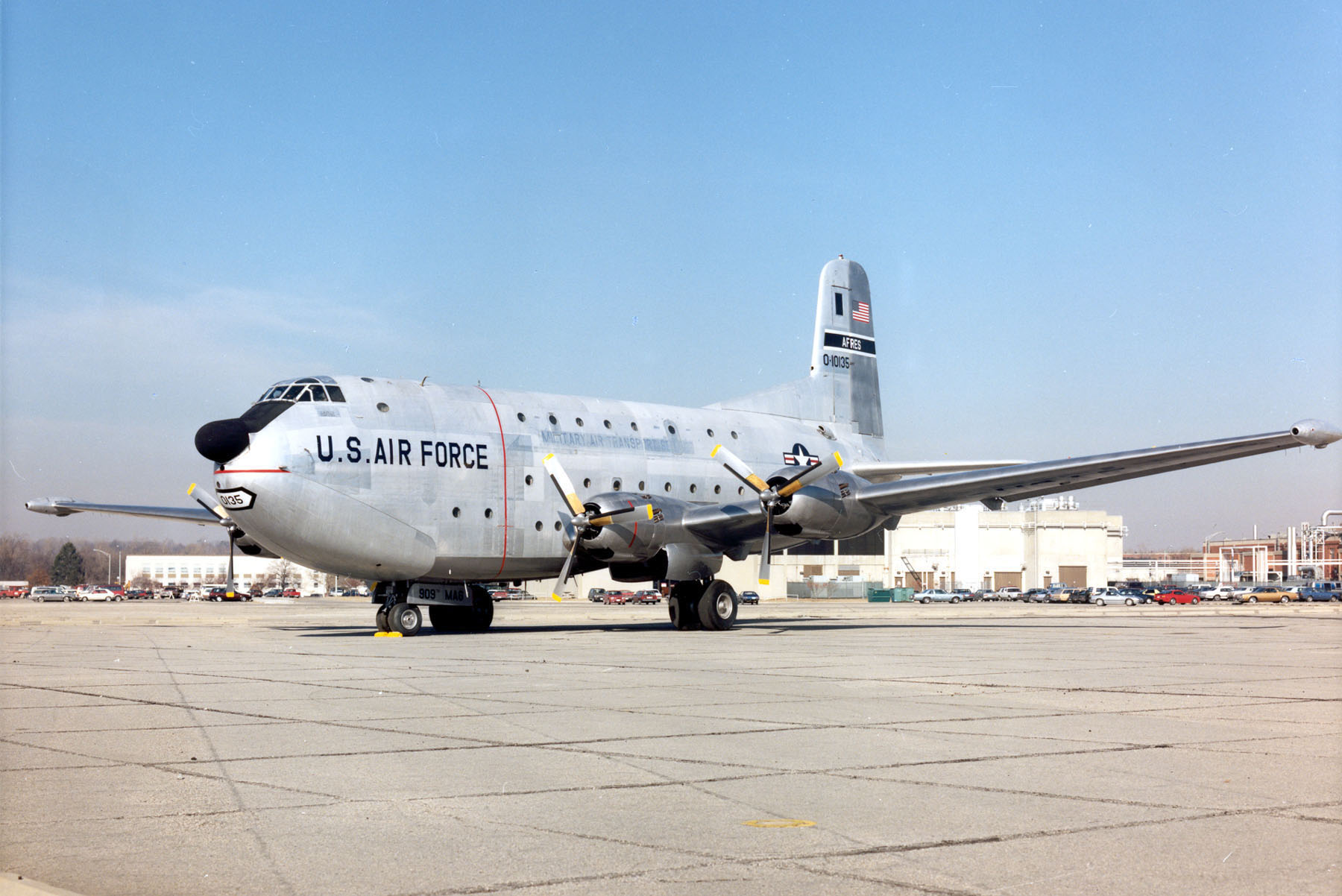 USAF C-124 Globemaster
The Boxer left for Pearl Harbor on 13 August and in route was diverted to pick-up the remaining crew members of a U.S. Force C-124 Globemaster cargo aircraft downed at sea. Three of nine survived as we arrived in the early morning to a shark filled crash area. Hanging all night onto mail bags had saved some lives. Our helicopter recovered bodies being tossed about by sharks by scooping them up with a suspended basket used to pick up atomic test instruments at sea. I watched a shark get snared in a basket and then flop back into the waves.
USS Princeton (LPH-5)
A decade later as Supply Officer of the USS Princeton (LPH-5), another Essex class aircraft carrier, my ship was ordered to support another nuclear test, this time underground on the Aleutian Island of Amchitka. We were about to be decommissioned and most supplies had been offloaded. No problem, the deployment would be up, back and brief. We would be a floating hotel and evacuation station for scientists and technicians. I was the only member of ship's company that had ever seen a nuclear detonation.
Milrow Shot 1969
Amchitka was a known volcanic tectonically unstable island and there was fear of earthquake and tsunami. The one megaton shot would be 4,000 feet underground in a hole drilled in solid volcanic rock. Called Milrow, it was a "calibration shot." International protests began including Russia and Japan. In Canada, there were student protests at our border. Fearing a tsunami, the "Don't Make a Wave Committee" was formed. We waited, boring holes in the ocean. Supplies ran low. Our Navy Special Fuel Oil (NSFO) was dangerously below 40%. We called for resupply.
USS Princeton's final Underway Replenishment (UNREP) off Amchitka in the Aleutians Islands. Extremely rough seas made it dangerous, but the badly needed oils, Navy Special Fuel Oil (NFSO) for the power plant and popcorn oil for the crew and Wardroom, was worth the risk. I can still hear the Bos'n call, "Stand by on the Cacapon." The USS Cacapon (AO-52) was the last Fleet Oiler to refuel and re-supply the USS Princeton. A week later a Fleet Oiler (AO) came alongside bouncing in turbulent seas passing fuel oil by hose and supplies by high-line. I was on the bridge with the Commanding Officer and Chief Engineer. All feared we might need an emergency break-away. We watched as the fuel level rose to where the ship was safe. We were still swinging pallets across by ship-to-ship highline in rough seas. There were two pallets of oil left. The Skipper asked if we could break away. I said, "Captain, let's just bring those last pallets on board. The ship needs the oil." Soon we were steaming to safety.
16mm Wardroom Navy Movie Projector
Have you ever tried to entertain a Wardroom of bored and grumpy scientists and engineers? Along with the new movies, those two pallets of popcorn oil saved the day.
Damage from the Milrow Shot
The shot was successful, detonated on the second of October, and we headed for home. Milrow was the second of three. The final in November, Cannikin, was to test the design of the Spartan anti-ballistic missile (ABM) interceptor. https://imgur.com/t/underground/i6TPlAz
An interesting outcome of the protests against Milrow was that at a meeting following the test of the "Don't Make a Wave Committee", one member held up two fingers and said, "Peace". Another replied, "Make it a green peace." Thus, "Green Peace" was born.
The final Op Hardtack Shot "Fig" on 18 Aug
The last United States nuclear weapons tests took place in Nevada on 23 September 1992.
Rear Admiral McKinnon retired from the U.S. Navy in 1991 as Commander, Naval Supply Systems Command, and 36tth Chief of Supply Corps.
MHT Blog Archive
12/04/2021 - MHT Wartime & Military Musicals
11/20/2021 – Teak & Orange – And Night Became Day
09/18/2021 – The Best & Worst Tank Movies
08/31/2021 – The World's Most Important Bomber
08/15/2021 - VJ Day Almost Wasn't
08/09/2021 – Tinian – Atomic Bomb Island
08/05/2021 - Suni Lee & the Hmong's Secret War
07/28/2021 – The Fate of the USS Indianapolis
07/11/2021 - Battle of Saipan Facts & Fiction
07/03/2021 – Humphrey Bogart's Top 10 WWII Movies
06/13/2021 - Three Okinawa Temple Bells
06/06/2021 - Battle of Midway
05/26/2021 - WWI "Through the Eyes of a Marine"
05/16/2021 – A Journey to Sugar Loaf Hill
05/04/2021 – MHT Movie Review – WWI Aviation
04/24/2021 – Manfred von Richthofen – The Red Baron
04/19/2021 - Death of the Wehrmacht
04/10/2021 – The Three Bells of Balangiga
04/07/2021 - The Iraqi Thunder Runs
03/29/2021 - Women in the Military Trifecta Movie Review
03/22/2021 - Iwo Jima & Baron Nishi
03/19/2021 – The History of the Iron Cross
03/12/2021 – MHT Movie Reviews - John Garfield WWII Trifecta
03/05/2021 - MHT Reviews TV's Special Ops Shows
02/26/2021 – MHT Movie & Book Review "Flight of the Intruder"
02/23/2021 - A Salute to the Flag Raisings on Mount Suribachi
02/19/2021 - Anzio Beachhead on the Brink
02/16/2021 – MHT Salutes the Gallant Defense of Chipyong-ni
02/09/2021 – MHT Movie Review of "The Eagle Has Landed"
02/01/2021 - "Picture That Lost the Vietnam War"
01/27/2021 – MHT Looks in the Old Footlocker
01/21/2021 – MHT Movie Review: The James Garner 1964 D-Day Doubleheader
01/11/2021 – MHT Movie Review "WWI in the Movies / The African Queen"
01/09/2021 – Cape Gloucester – "The Green Hell"
01/06/2021 – USS Saginaw – Midway, Cure, Kauai & Oahu Islan
01/03/2021 - Solomon Island Campaign
12/30/2020 - Battle of the Bulge – Part 5 – "Kampfgruppe Peiper Leaves Massacres in Its Wake"
12/26/2020 - Battle of the Bulge – Part 4 – "General Patton's Drive North"
12/23/2020 - Battle of the Bulge – Part 3 – "General Patton's Famous Weather Prayer"
12/22/2020 - Battle of the Bulge – Part 2 - "Bastogne Surrounded"
12/19/2020 - Battle of the Bulge – Part 1 – "German Special Operations"
12/16/2020 - MHT Movie Reviews - U.S. Military Academy
12/11/2020 - Chosin Reservoir - Tootsie Rolls
12/10/2020 - Chosin Reservoir - Retreat Hell!
12/09/2020 – Chosin Reservoir – My Division for a Bridge Over Frozen Water
12/08/2020 – Chosin Reservoir – Not a Retreat, Just Fighting in Another Direction
12/07/2020 – Pearl Harbor – Hawaii
12/06/2020 – MHT Movie Reviews – The Dirty Dozen & Where Eagles Dare
12/03/2020 - Deployment Military Baggage – The Valpak