MHT Blog
Welcome to the MHT Blog Site and our Posts try to not be dusty topics or blah military history but things we find interesting and hope you will too! The most recent two posts are printed below and at the bottom of this page is our MHT Blog Archive for additional topics. We will have more from the sites we visit once we get back on the road later this year. Thanks for checking us out – The Editor
TOP COVER FOR D-DAY
By LTC Gary Andrejak USAF(Ret)
When I "retired" in 2018 as a Tour Director for Military Historical Tours, Inc., I wrote a photo essay entitled "In the Presence of Heroes." It featured four of the true heroes among heroes that I had met on my Normandy D-Day tours. They were the GIs who came ashore on D-Day, 1944, to liberate Europe.
It was well-received. Over the years I have been fortunate to accompany several dozen D‐Day veterans and their families back to those beaches. Our D-Day tours naturally were focused on what happened on the ground. However, I was lucky on the 2013 and 2014 tours that I would have a few WWII pilots on several of the tours. On my D‐Day visits I have met some remarkable heroes that are special to me and with whom I have shared some very personal memories. Being a retired USAF C-130 pilot, I had intended to do the same thing about the airmen who flew "top cover" for the troops on the ground before, during and after D-Day. I never got around to it and three of the five of them are now gone. I flew combat in the
Vietnam War. As a pilot, I am in awe of these five men and their buddies who accomplished so much and sacrificed so much. They flew what are now vintage aircraft with only basic cockpit instruments and limited navigational aids. They endured the European weather and stark living conditions while daily performing the most hazardous and dangerous missions against a determined enemy.
I owe them this tribute:
First Lieutenant Joe Turecky, USAAF – 440th Troop Carrier Group, 96th Squadron
Joe was a C-47 Skytrain ("Goonybird") pilot who flew combat missions in four airborne invasions starting with D-Day.
Once the engineers were able to scratch out a landing strip just above Omaha Beach, he was able to land between barrage balloons. As our troops advanced, he delivered supplies to more hastily-constructed strips. Joe dropped paratroops, towed gliders, and delivered gasoline to General Patton's tankers in his relief of Bastogne. His C-47 was hit by ground fire in Normandy and Holland.
The Daughters of World War Two (DWWII) is a non‐profit group, co‐founded by Laura Leppert, wife of the former Mayor of Dallas. They have a program called "Wings of Freedom" that provides North Texas World War II veterans the chance to return to the battlefields of their youth where many of their friends made the ultimate sacrifice. All expenses are paid for by private and corporate donors. In 2013 and 2014, MHT asked me to organize and lead group tours of their veterans back to Normandy. I knew of two C-47s on static display in Normandy. I was determined that if Joe was physically able (it turned out he was!), I was going to get him into one of the cockpits.
I had become friends with the Curator at the Airborne Museum in Ste. Mere Eglise and asked if I could get Joe into their C-47? The initial answer was no because of liability issues and that the aircraft interior was not set up for visitors. I persisted and mentioned that I would have a film crew from a Dallas TV station who wanted to interview Joe in the cockpit and there was a French film crew wanting to do the same. Great advertising for the museum! That did it and with a crowd watching, Joe and I (after all there HAD to be a safety observer!) climb into the fuselage. Joe was thrilled. He later sent me a letter saying it was one of the finest, most memorable days in his life. In November, 2021, Lt. Col. Joe Turecky, USAF Reserve (Retired), celebrated his 100th birthday!
Captain Archie F. Maltbie, USAAF & First Lieutenant Ralph F. Kling, USAAF – 388th Fighter Squadron, 365th Fighter Group, 9th Air Force
Archie and Ralph were P-47 Thunderbolt pilots in the "Hell Hawks" of the 365th Fighter Group. Each had flown many missions in support of D-Day and later Patton's 3rd Army. Each scored air-to-air victories over German Luftwaffe Messerschmitt 109s. Each was eventually shot down. On his 68th mission, Ralph's plane was hit by ground fire during a strafing pass. He was seriously burned when he bailed out and spent time in a German hospital
before being transferred to Stalag III (site of the infamous "The Great Escape.") Before being liberated by Patton's 3rd Army, his POW group was marched for three days and nights without food or water. Ralph passed away peacefully in his sleep in 2020. He was 95.
The author & MHT President LTC John Powell, USA(Ret) at Gen George Patton's gravesite.
In 1944, Archie was on the tail of an ME-109 when his fire caused it to blow up. Debris hit Archie's P-47 and he bailed out seconds before it blew up.
He avoided German patrols looking for him and found shelter with a French farmer's family. They disguised his as a Basque (German troops couldn't
speak Basque) farmer and gave him ration stamps and other identification so he would blend in. With the help of the French Resistance, he avoided German patrols for seven days and made his way back to the unit…which had moved to an abandoned German airfield in northern France. Archie went on to fly a total of 98 missions. He passed away in 2018 at the age of 94.
In 2012, the 365th Fighter Group Association asked MHT to design a tour to the airfields used by the 365 th in WWII. I was the tour leader for the group and spent over two years researching the locations of those airfields, their current condition and contacting possible occupants or owners. Once the Allies had gained a foothold on the continent after D-Day, the fighter squadrons moved every few weeks as the troops advanced. The 365th eventually was based at 11 different airfields in five countries. These forward bases ranged from dirt strips carved out of farmland by combat engineers to hard-surface runways on former French or German bases. Everyone that I contacted enthusiastically welcomed the opportunity to host the 365th tour participants. Ceremonies and presentations were held at American, French, Belgian and German active bases. In Normandy we enjoyed a lavish seafood lunch on the grounds of a destroyed French chateau. Some of the old airstrips are now in civilian hands and used by industry and general aviation. At a reception and ceremony at one field currently used as a German auto test track, Ralph and Archie were formally inducted into the Order of Lafayette by German and French officials.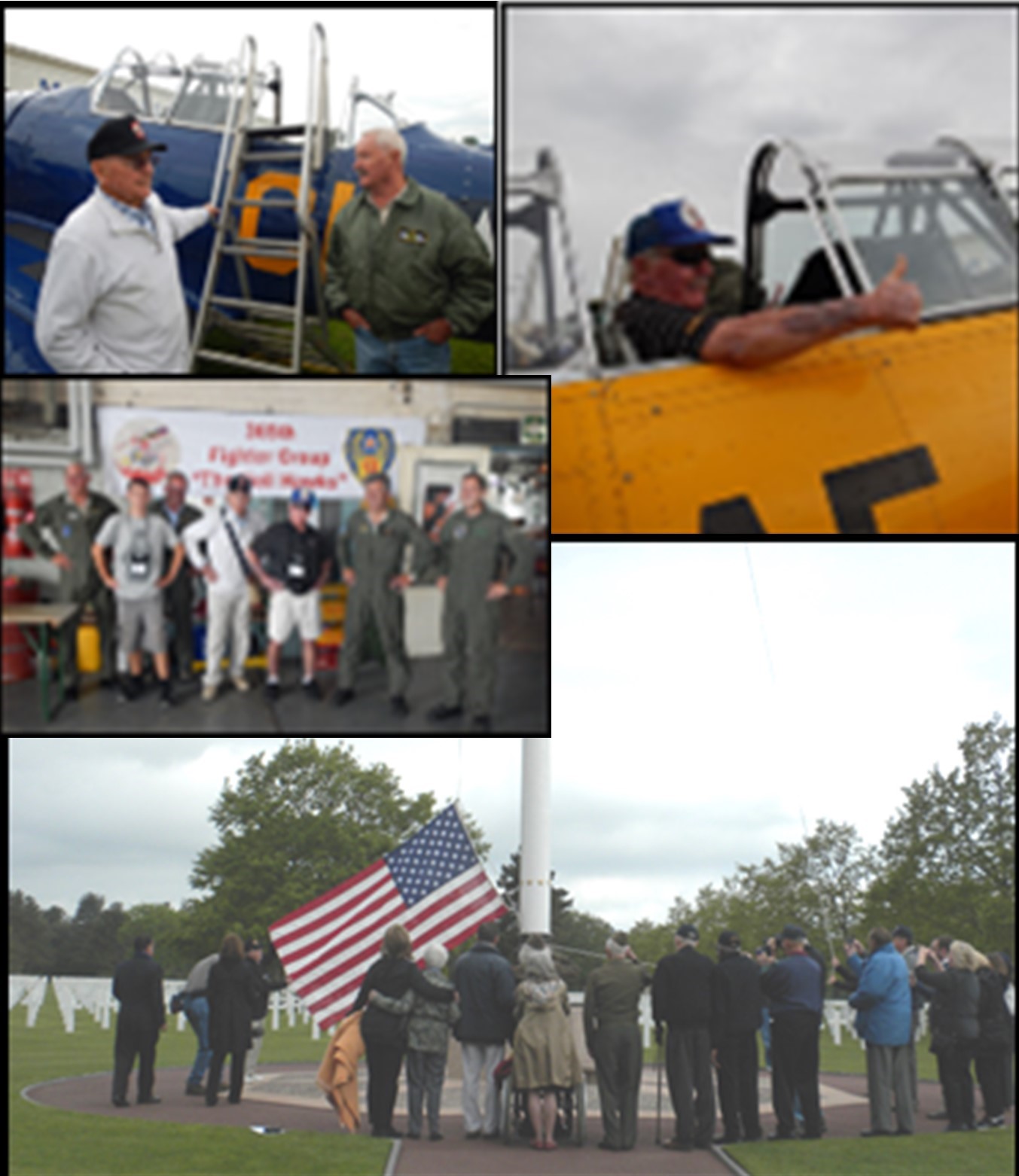 Later in Germany, we visited a former grass field once used by the 365th. A German civilian flying club there flew T-6 Texan trainer aircraft. Since this was the very type of aircraft in which Ralph and Archie flew in during training in the States, I arranged in advance for the club to take them up for some formation flying. They loved it! Fighter pilots of any era are a special breed and Archie and Ralph certainly are fighter pilots in the truest sense!
First Lieutenant William W. Thomas, Jr., USAAF – 8th Air Force.
His nickname was "Blackie" and at age 89, he had a long white beard. He told us he was a 19-year-old B-17 pilot. His father was an early aviation enthusiast and as a result, Blackie had been flying a lot as a civilian before WWII. He was one of the thousands of B-17 Flying Fortress aircrew members who flew those incredibly demanding and dangerous missions over continental Europe. He was a great storyteller and told us about his D-Day missions and later bombing runs in support of the Battle of the Bulge. He later flew in the Berlin Airlift. Blackie came alone on the 2014 D-Day tour because his family couldn't afford to send someone with him. The tour group consisted mostly of a large contingent of D-Day veterans and fami
lies from Texas. Blackie was not part of that group, and neither were three of my good friends, Bob, John, and Randy, who were also on the trip. As it turned out, the three of them bonded immediately with Blackie and looked after him on the tour. The day we visited Ste. Mere Eglise, a USAF Reserve C-130 was giving an impromptu low level (I stress LOW!) airshow over the town center. Later, the loadmaster from that crew happened to have lunch with my friends and Blackie. After hearing Blackie talk about his WWII experiences, the loadmaster gave him a current, authentic, nylon USAF flight jacket!

For the rest of the tour, Blackie proudly wore that jacket. I bought a replica set of USAAF Command Pilot wings and in front of a WWII C-47 aircraft at the Airborne Museum, I pinned them on Blackie while he was wearing the jacket. At the end of the tour, I took Blackie to the airport for his flight home. I explained to the airline agent who Blackie was and we said goodbye. I later learned that the airline put Blackie in a wheelchair, took him to the V.I.P. lounge and drove him in a private shuttle to the departure gate. They gave him a seat in First Class…very fitting for a first-class member of the Greatest Generation. Today, Blackie is a young 97-year-old and lives in NY State.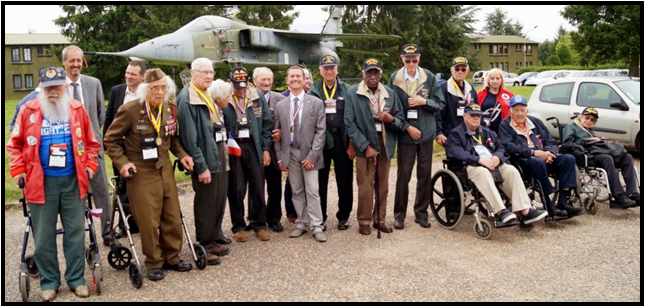 First Lieutenant Billie D. Harris, USAAF – 355th Fighter Squadron 354th Fighter Group
Billie was a P-51 Mustang pilot from Texas. Billie was not on one of my tours…he died in France on July 17, 1944. However, his widow, Peggy, was on the two The Daughters of World War Two tours I led for MHT. Billie and Peggy, high school sweethearts, were married on September 22, 1943. They used her high school graduation ring as their wedding ring.
Six weeks later Billie shipped out. Peggy never saw him again. Billie's P-51 was hit by German groundfire over Normandy, but he maneuvered his stricken fighter to avoid the small village of Les Vents and crashed in a nearby forest. He was killed on impact and the villagers recovered his body and buried him in the church cemetery. They continue to this day to honor his sacrifice every year in a solemn ceremony. Peggy was simply told by the US Army that he was missing in action. As happens so often in the fog of post-war, Billie was misidentified when his remains were transferred by US authorities to several interim cemeteries. He was finally properly identified and interred in the US Normandy American Cemetery with 9,388 other of our heroes.
But no one ever told Peggy! She spent the next 60 years not knowing what happened to her husband. In 2005, a local official (Ms. Valerie Quesnel) in the Les Vents Mayor's office decided to finally find out more about Billie and visited the US Archives in Washington, D.C.to inquire about him. She found that his widow, Peggy, was still alive and living in Colorado. Coincidentally, at the same time, Peggy's cousin in Texas was in the process of requesting Billie's records from the US Government.
There were 25 people in our group, including 11 veterans and Peggy. I visited Les Ventes before the tour and met Ms. Quesnel. For our tour the villagers had organized a reception by the village school children followed by a classic, local, French country luncheon to honor Peggy and the group. We later visited the church cemetery, Billie's gravestone is still there, and the crash site. It was a memorable occasion. When Billie was officially identified after the war, the village Mayor's office turned over Billie's personal effects from the crash to US authorities…including Peggy's graduation /wedding ring.

Somewhere along the chain of custody the ring disappeared. A year after the MHT tour, I had the idea to have a duplicate ring made to give to Peggy on what would have been their 72nd wedding anniversary. After a year and a half of inquiries,

I finally found the jeweler in Texas who had made Peggy's ring and I had a copy made inscribed with their initials and wedding date. I sent it to Peggy's cousin in Vernon, TX, and it was presented to her at a suprise luncheon. I was told that someone asked her if she was going to wear it, she said "Yes, on a chain next to my heart." Peggy passed away in 2020 at the age of 95. She never remarried.
In the five months prior to D-Day, 1944, the 8th Air Force lost 2600 Heavy Bombers and 980 Fighters resulting in 18,400 casualties with over 10,000 combat deaths…….

Our first duty is to REMEMBER!
WOMEN IN COMBAT IN UKRAINE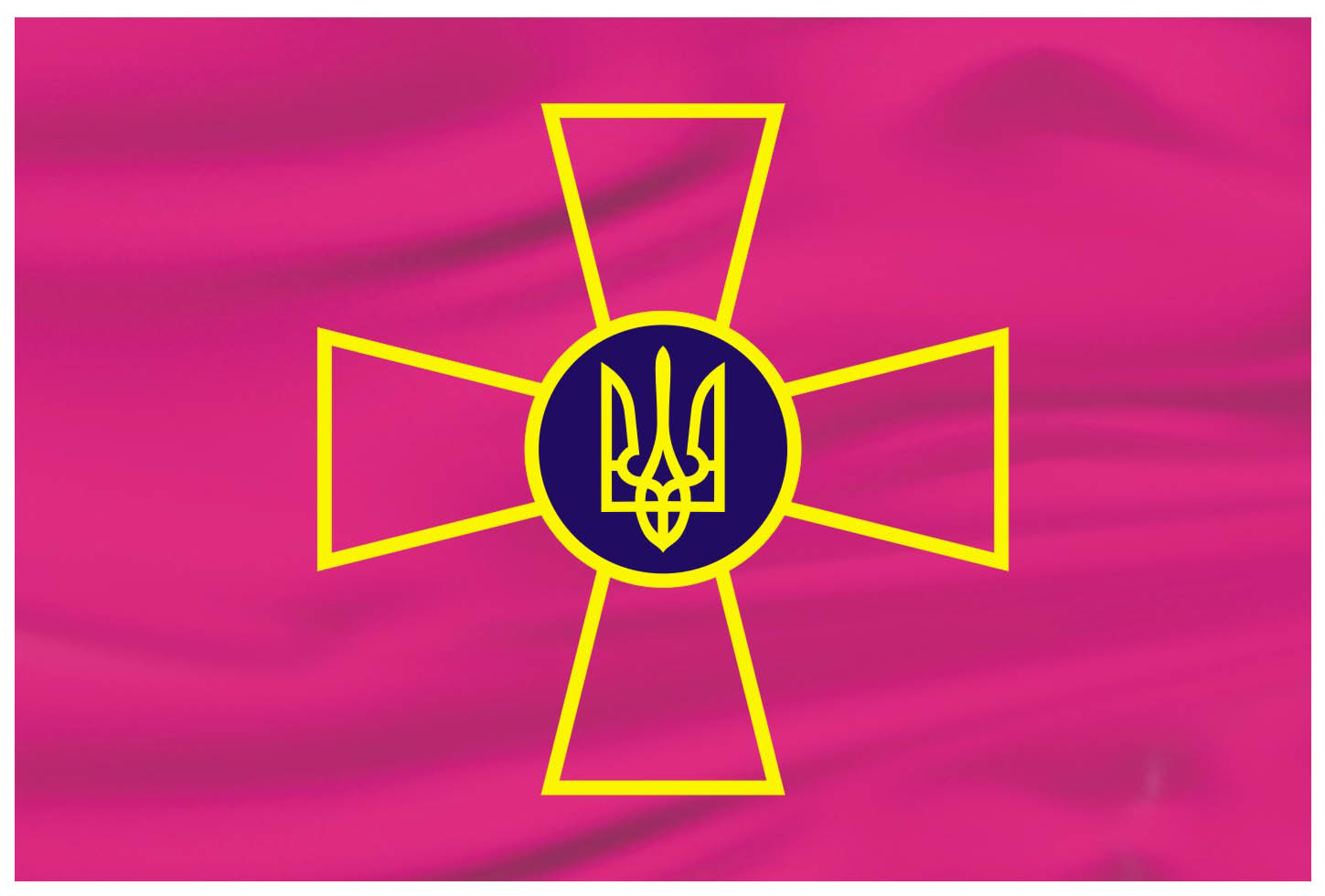 With Women History Month we look at Women in the Military particularly those serving in combat in Ukraine. There are 57,000 women in the Armed Forces of Ukraine, this is more than 22.5% of the total army. With multiple fronts, multiple cities women are being required to fight the Russians so this will be one of the best chances to evaluate women in combat on a large & brutal scale.
Vladimir Putin has long had imperialistic ambitions to take control of Ukrainian territory & re-establish a Russian Empire with himself as the new Tsar. Former US President Barack Obama has targeted Putin for criticism suggesting that the Russian President has put the thirst for power over scruples and calling him the leader of a government that resembled a "criminal syndicate."
In "A Promised Land," the first volume of his presidential memoirs, Obama says Putin reminded him of a modern-day version of the corrupt political bosses that ran US cities in the late 19th & early 20th centuries & with his political start in Chicago he is an expert. Obama had reason to be angry as after criticizing President George W. Bush for the five-day Georgia incursion he was bullied far worse in the 2014 month long annexation of Crimea and his inability to stop the 22 August invasion of Ukraine's in the Donbas Region.
In 2014, the Ukraine President before Volodymyr Zelenskyy thanked the female soldiers for serving the Ukrainian people during the Crimea Annexation by Russia: With such women, we will definitely beat the enemy. President Petro Poroshenko met with female representatives of their security structures who took part in attempts to repel the aggression in the east of Ukraine.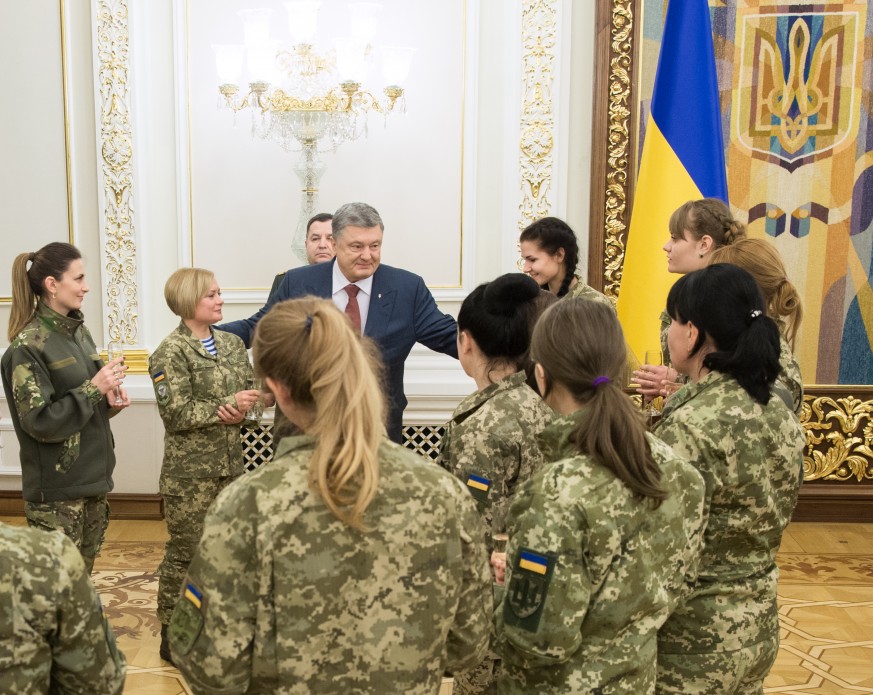 According to Poroshenko, Ukrainian women did not remain aloof after Russia's aggression, "Starting from 2014, we live in absolutely different realities — in the realities of the illegal annexation of Crimea by the Russian Federation, in the realities of the Russian aggression in the east of our state. And the Ukrainian woman got a very unusual role for her — protecting mother Ukraine together & side by side with men," Petro Poroshenko noted. "It was always considered that the service in the Armed Forces of Ukraine is a male affair & women have nothing to do there. But look, now more than 25 thousand women serve in the Armed Forces of Ukraine. There have never been so much women. Maybe women feel a special pain & cannot stay away from these processes," the President said.
Natalka of the 128th Separate Mountain Assault Brigade
With war raging in Ukraine after 70+ years of peace, in 2014 Ukraine faced a war started by Russia for eight years, since Putin ordered his forces to occupy the Crimea and invaded the Donbas Region. It has to be acknowledged the courage, intellect & grit of the extraordinary women who stepped up in key roles in every aspect of this conflict.
To those fighting on the front lines or supporting the fight to the married women fleeing the violence with their children & older family members. To those in critical first responders, journalists & geopolitical leaders remaining int eh whirlwind of the crisis, there are many women playing pivotal roles.
The need to establish a Ukrainian-American Joint Coordination Committee arose in 2014, when the US was the first to provide practical assistance & training to the Armed Forces of Ukraine in repelling Russian armed aggression. It was then that a battalion of the California National Guard was sent to Ukraine to train combat units of the Ukrainian Armed Forces at the International Peacekeeping & Security Centre (near Lviv) to implement NATO Standards in the Ukrainian Army.
Captain Yulia Schukina, Spokeswomen of Armed Forces of Ukraine (Note the NATO Flag)
In October 2014, the first meeting of the Committee was held & the following year both Canada & the United Kingdom joined the committee, followed by Lithuania & Poland. Accordingly, the Committee was reorganized into the Multinational Joint Committee on Military Cooperation & Defense Reform (MJC.) With the addition of the Kingdoms of Sweden & Denmark to the Committee, the number of participating countries increased the MJC to eight.
The Female Fighters of Ukraine's Forgotten War: https://www.youtube.com/watch?v=FGVc4HPhanc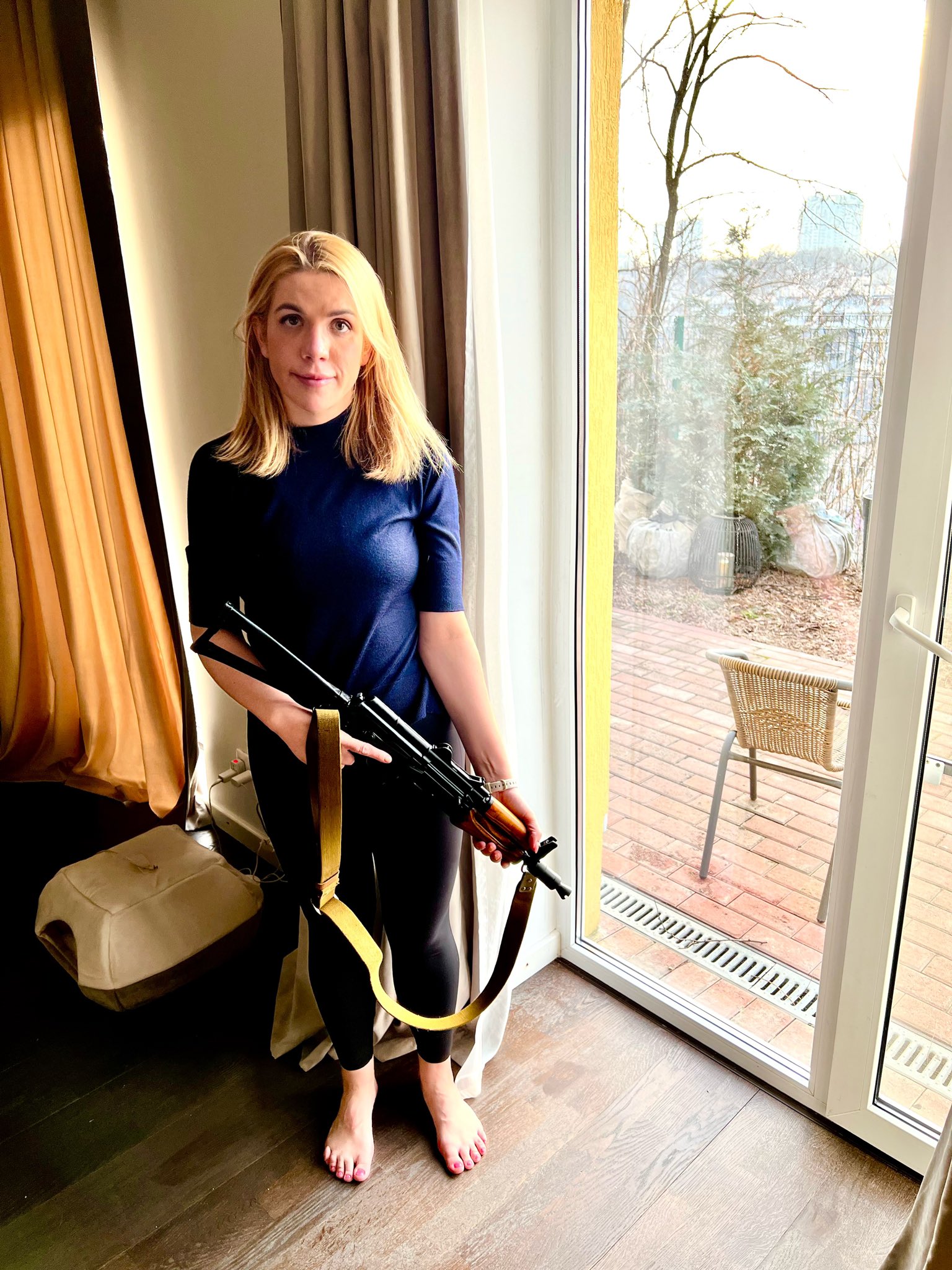 Ukrainian Member of Parliament & leader of the political party Voice, Kira Rudik also took to social media, sharing an image of herself holding arms. "I learn to use Kalashnikov and prepare to bear arms. It sounds surreal as just a few days ago it would never come to my mind. Our women will protect our soil the same way as our men. Go Ukraine!" Rudik tweeted.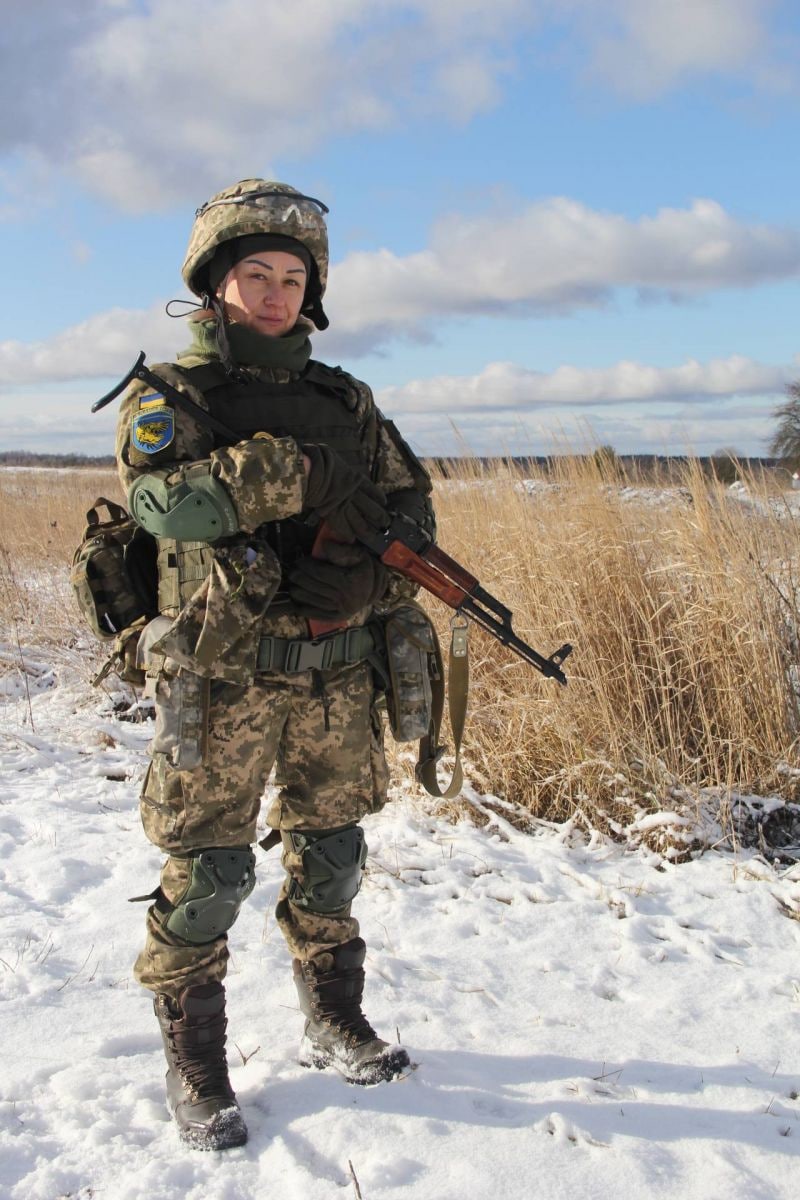 48-year-old Olga Semidianowa & her husband ran a family orphanage near Marganiec. She served in the Armed Forces of Ukraine as a seamstress, & then, after training, as a nurse. She has participated in the fighting in the Donetsk Oblast since the outbreak of the war in 2014. She has received many awards for her courage & poise on the battlefield. She was awarded the Commander-in-Chief of the Armed Forces of Ukraine highest award, the "Glory and Honor" badge. Semidianowa died in a firefight on March 3 this year.
There was some propaganda when a Miss Ukraine, Anastasiia Leena put a picture of herself in a military-faux outfit with an airsoft gun to support those fighting. When called out she admitted her embellished post that did receive a lot of attention for obvious reasons.

Anna Krivonos, the reigning Junior World Champion in Biathlon that combines rifle marksmanship & cross-country skiing has stopped her athletic career to join the Army to defend her country.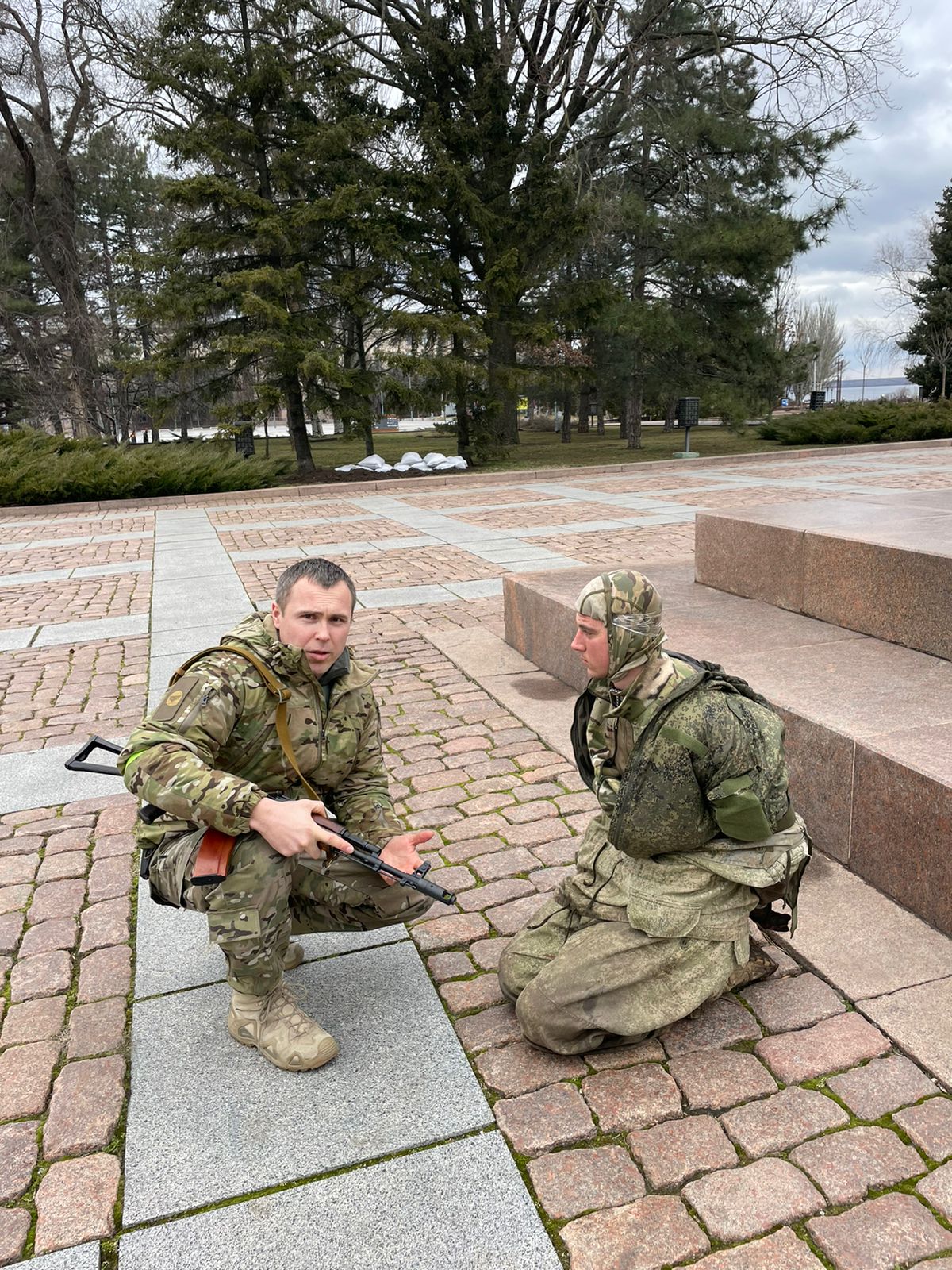 Another Parliament Member: MP Roman Kostenko & Russian POW
Tweet from Inna Sovsun another Member of Ukrainian Parliament, she tweeted of a refugee who did more than required:
A woman from Mariupol came to Hungary with 4 kids.
Her own.
Her sister's kid (mother went to find water & disappeared).
Child of her killed neighbors.
She was running for an evacuation bus & saw a kid, sitting on the street next to his dead parents. She took him too.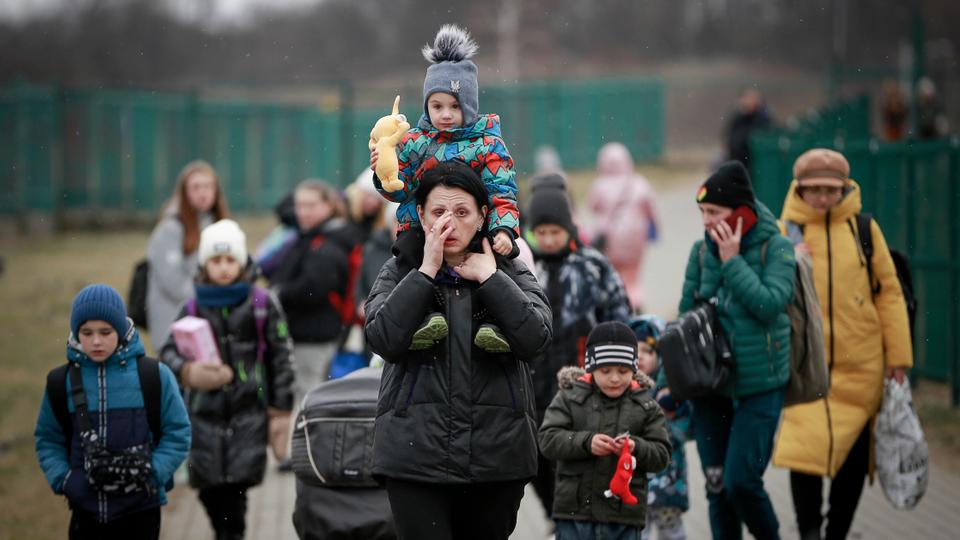 God Bless all the women of Ukraine & all Ukrainians!
MHT Blog Archive
05/21/22 – Top Cover for D-Day
03/31/22 - Women in Combat in Ukraine
03/21/2022 – For Want of a Horse, the MiG-29s Were Lost?
02/27/2022 – MHT Movie Review – The North Star
01/10/2022 – Sailors a Girl in Every Port...Myth or Truth!
12/16/2021 – A Marine Hero & a Bell Return
12/04/2021 - MHT Wartime & Military Musicals
11/20/2021 – Teak & Orange – And Night Became Day
09/18/2021 – The Best & Worst Tank Movies
08/31/2021 – The World's Most Important Bomber
08/15/2021 - VJ Day Almost Wasn't
08/09/2021 – Tinian – Atomic Bomb Island
08/05/2021 - Suni Lee & the Hmong's Secret War
07/28/2021 – The Fate of the USS Indianapolis
07/11/2021 - Battle of Saipan Facts & Fiction
07/03/2021 – Humphrey Bogart's Top 10 WWII Movies
06/13/2021 - Three Okinawa Temple Bells
06/06/2021 - Battle of Midway
05/26/2021 - WWI "Through the Eyes of a Marine"
05/16/2021 – A Journey to Sugar Loaf Hill
05/04/2021 – MHT Movie Review – WWI Aviation
04/24/2021 – Manfred von Richthofen – The Red Baron
04/19/2021 - Death of the Wehrmacht
04/10/2021 – The Three Bells of Balangiga
04/07/2021 - The Iraqi Thunder Runs
03/29/2021 - Women in the Military Trifecta Movie Review
03/22/2021 - Iwo Jima & Baron Nishi
03/19/2021 – The History of the Iron Cross
03/12/2021 – MHT Movie Reviews - John Garfield WWII Trifecta
03/05/2021 - MHT Reviews TV's Special Ops Shows
02/26/2021 – MHT Movie & Book Review "Flight of the Intruder"
02/23/2021 - A Salute to the Flag Raisings on Mount Suribachi
02/19/2021 - Anzio Beachhead on the Brink
02/16/2021 – MHT Salutes the Gallant Defense of Chipyong-ni
02/09/2021 – MHT Movie Review of "The Eagle Has Landed"
02/01/2021 - "Picture That Lost the Vietnam War"
01/27/2021 – MHT Looks in the Old Footlocker
01/21/2021 – MHT Movie Review: The James Garner 1964 D-Day Doubleheader
01/11/2021 – MHT Movie Review "WWI in the Movies / The African Queen"
01/09/2021 – Cape Gloucester – "The Green Hell"
01/06/2021 – USS Saginaw – Midway, Cure, Kauai & Oahu Islan
01/03/2021 - Solomon Island Campaign
12/30/2020 - Battle of the Bulge – Part 5 – "Kampfgruppe Peiper Leaves Massacres in Its Wake"
12/26/2020 - Battle of the Bulge – Part 4 – "General Patton's Drive North"
12/23/2020 - Battle of the Bulge – Part 3 – "General Patton's Famous Weather Prayer"
12/22/2020 - Battle of the Bulge – Part 2 - "Bastogne Surrounded"
12/19/2020 - Battle of the Bulge – Part 1 – "German Special Operations"
12/16/2020 - MHT Movie Reviews - U.S. Military Academy
12/11/2020 - Chosin Reservoir - Tootsie Rolls
12/10/2020 - Chosin Reservoir - Retreat Hell!
12/09/2020 – Chosin Reservoir – My Division for a Bridge Over Frozen Water
12/08/2020 – Chosin Reservoir – Not a Retreat, Just Fighting in Another Direction
12/07/2020 – Pearl Harbor – Hawaii
12/06/2020 – MHT Movie Reviews – The Dirty Dozen & Where Eagles Dare
12/03/2020 - Deployment Military Baggage – The Valpak
12/01/2020 – Chosin Reservoir – RCT-31 & Task Force Faith
11/30/2020 – 245th USMC Birthday – Quantico, VA
11/27/2020 – Civil War – Artilleryman's Delight
11/26/2020 – Civil War – Fort Sumter
11/25/2020 – Korean War – Chinese 2nd Phase Offensive
11/24/2020 – Saipan – Bombing of Tokyo
11/23/2020 – Stalingrad – Russia Eastern Front
11/22/2020 – China Clipper – Inaugural Flight
11/21/2020 – Nuremberg – Military Tribunal
11/20/2020 – The Big Guns of Tarawa
11/19/2020 – MHT Movie Review: Casablanca
11/18/2020 – The Battle of Beecher Island
11/17/2020 – French Ghost Town